By Jim Fanning
Put that pedal to the metal—it's time to celebrate the 10th anniversary of Disney•Pixar's Cars. Originally released on June 9, 2006, this revved-up CGI-animated feature speedily made silver screen stars of racy Lightning McQueen, sporty, sweet, and sensible Sally, scene-stealing Tow Mater, and the whole garage-filling gang from Radiator Springs. To celebrate a decade of Cars-driven good times, strap on your seat belts as we take a road trip through the top 10 fave things we have from this accelerated animated classic.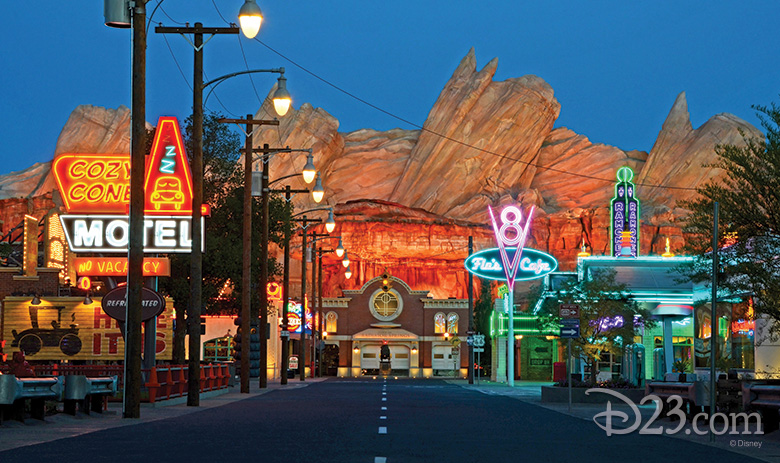 Welcome to Cars Land
Ever since opening at Disney California Adventure Park at Disneyland Resort in 2012, Cars Land—a 12-acre themed realm inspired by everyone's favorite Route 66 town—has immersed guests in Radiator Springs. Featuring restaurants, such as Flo's V8 Café, and shops like Ramone's House of Body Art, the high-octane attractions include Radiator Springs Racers. Covering six acres—the largest attraction by acreage at the Disneyland Resort—this "E-Ticket" adventure starts out as a leisurely tour of Ornament Valley but goes from zero to 60 as it plunges passengers into an all-out race for the Piston Cup. But there's more than racing thrills to experience in this incredibly detailed land. The Cars Land rockwork spans more than 300,000 square feet, making it the largest rockwork construction in any U.S. Disney theme park. And in a wondrously beautiful reflection of the film, at sunset 16 neon signs light up the Radiator Springs sky.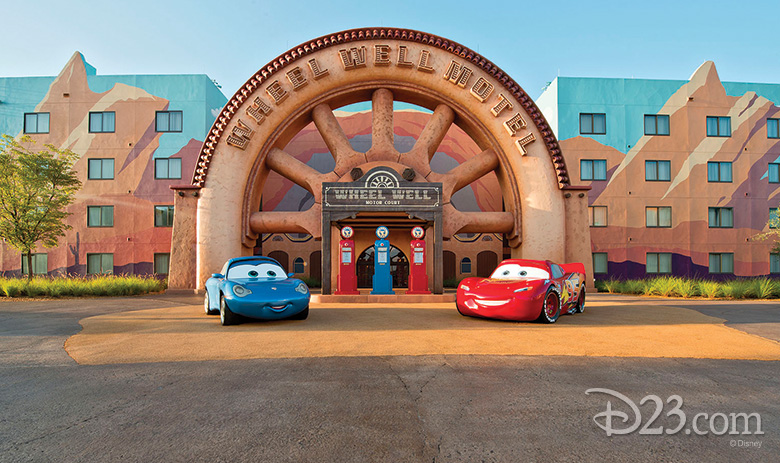 Cars Courtyard at Disney's Art of Animation Resort
Perhaps you don't want to just visit Radiator Springs… Maybe you want to stay there? If that's so, drive on up to Disney's Art of Animation Resort at Walt Disney World Resort, which has a section devoted entirely to the film. A winding "Route 66" path right off the lobby offers guests plenty to see in the desert-themed landscaping including Tow Mater's Tow & Salvage, the Wheel Well Motel, and Sally's Coze Cone Motel. Plus, there are multiple photo opportunities with your favorite Cars characters including Lightning McQueen, Mater, Sally, Ramone, Doc Hudson, Luigi, Guido and Fillmore. Even the rooms feel right out of Ornament Valley with "traffic cone" lamps, sofas designed to look like the comfy backseat of a car, and furnishings with a mid-century modern feel. It's the perfect place to park your family.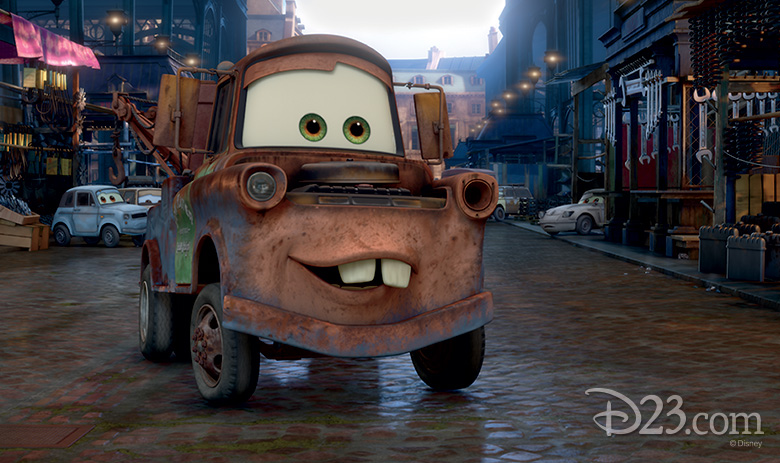 Tow Mater, Superstar
If you're going to create a movie where cars are the characters, you'd better make sure that the film is character driven—and of all the top-gear personalities in Cars, the rusty-but-trusty tow truck, Tow Mater, is the breakout Cars star. This lovable lunk of a 1955 Wrecker has gone on to headline other films, theme park attractions and even his very own Little Golden Books, including Look Out For Mater! and Deputy Mater Saves the Day! The inspiration for the "world's best backwards driver"? An old tow truck found along Route 66 in Galena, Kansas. "More than any other character that we've created at Pixar," Lasseter said in 2006, "I'm probably proudest of Mater."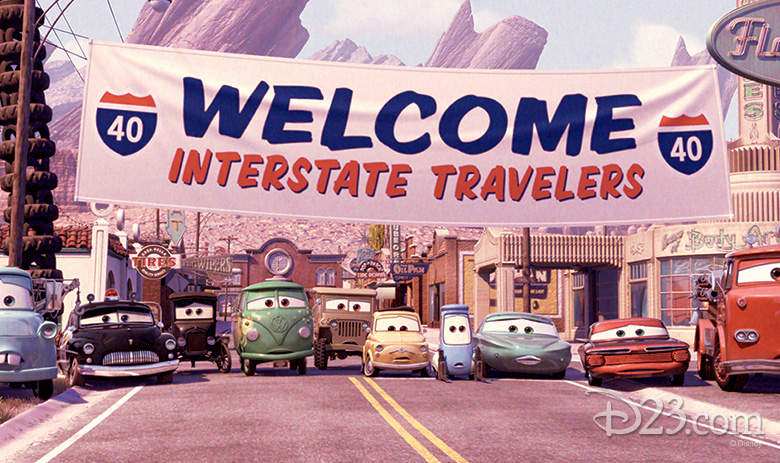 Getting Cars Kicks on Route 66
The Cars connection with the United States' legendary "Mother Road" have led many a fan to rediscover—or discover for the first time— the history and legacy of Route 66. A great believer in firsthand research, Lasseter went into overdrive, taking nine key members of the creative team on a nine-day road trip along Route 66 in 2001 in four white Cadillacs to help create the world of Cars. Route 66 expert Michael Wallis was the tour guide. "On our research trip, we went to the cafes, mom-and-pop shops and motels along the way," Wallis explained. "If you're a real road warrior and you know the old highway, you will be pleased, because the film is going to remind you of places and people you might know on the Mother Road." (Mike Wallis makes an audio appearance in the film as the voice of the Sherriff.) And then there's the 1946 Bobby Troup standard, "Route 66." Grammy® Award-winning singer/guitarist John Mayer contributed his own distinctive rendition of the classic road-trip tune to the Cars soundtrack.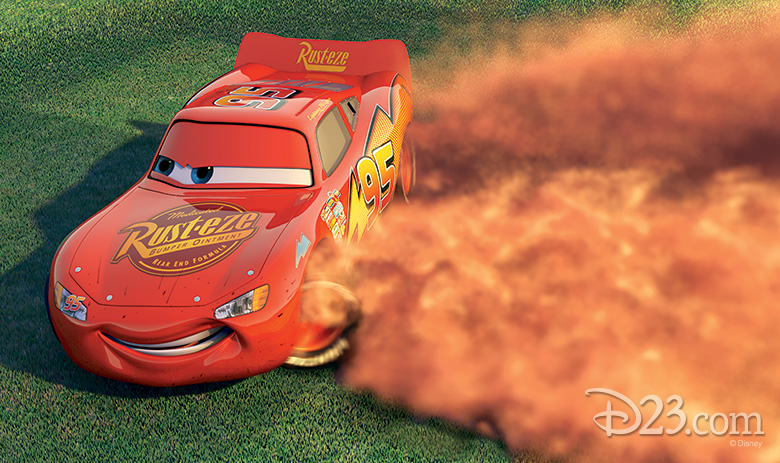 Music to Rev Up Your Motor
The chart-topping Cars: The Soundtrack album showcases the memorable musical score and songs composed by frequent Pixar collaborator and Disney Legend Randy Newman. Among the four songs written for the film is a Randy Newman composition called "Our Town." Sung by legendary Grammy- winning recording artist James Taylor, the tune was nominated for a Best Original Song Academy Award®. As for the score, Cars producer Darla Anderson said, "Randy's music for the parts of the movie that take place in Radiator Springs has almost a kind of Copeland-like quality to it. He worked with a 110-piece orchestra to get this amazing score. And then he did a lot of side sessions that had a bluegrass quality with mandolin, guitar and a harmonica."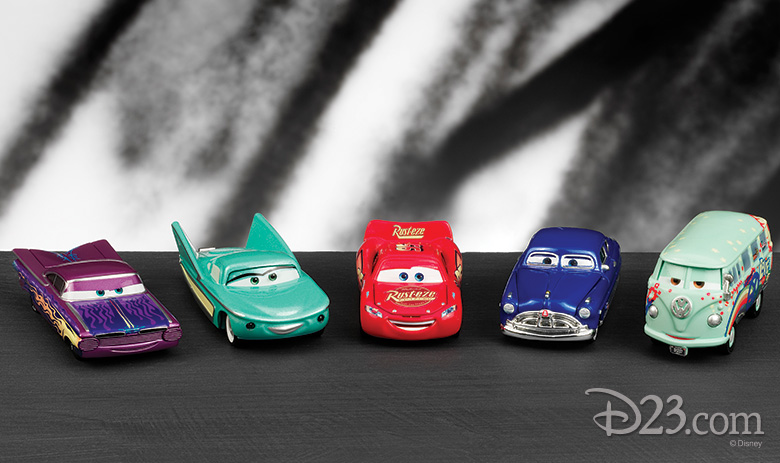 A Cars Toy Story
Though we're celebrating Cars here and not Toy Story, we couldn't help but mention playthings, for Cars-themed toys—playsets, games and even plush— have brought joy to kids and kids-at-heart alike. Since the film first zoomed into theaters 10 years ago, more than 200 million die-cast cars have raced off shelves and into the homes and hearts of Cars enthusiasts. "The products are really a manifestation of the love of those characters," noted Lasseter, an avid toy collector himself, "and are a way that collectors, kids and families can have the characters be with them beyond the boundary of the film."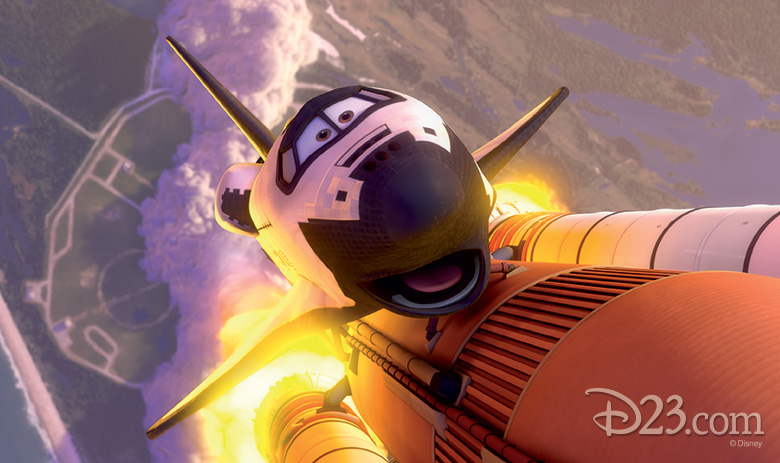 New Cars Cartoons!
Mater and the rest of the Cars crew zoomed past their feature debut to star in showroom-new cartoons. These sleek, sporty shorts—Mater's Tall Tales, including Rescue Squad Mater, Unidentified Flying Mater and Monster Truck Mater—shifted into high gear on Toon Disney in 2008, followed by screenings on Disney Channel and ABC Family (now Freeform). Other speedy shorts include such theatrically released cartoons as Tokyo Mater (2008). Another series of shorts, Tales from Radiator Springs, featured even more animated automobile antics, as in The Radiator Springs 500½, which debuted on Disney Movies Anywhere in 2014.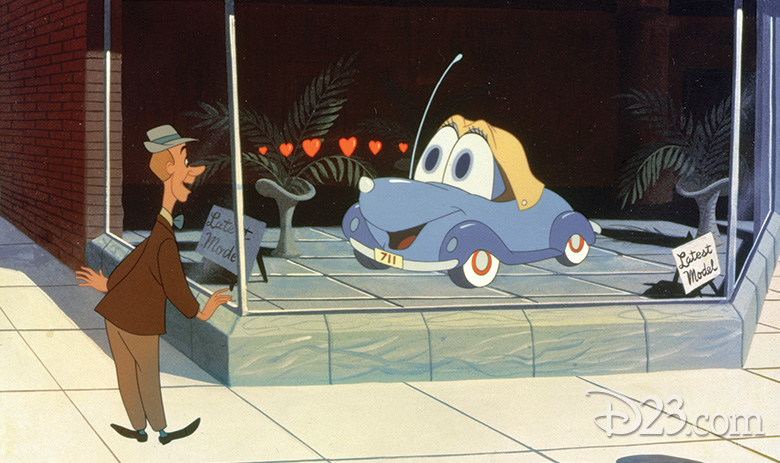 Cars Devotees Discover a Classic Car Cartoon
The runaway popularity of Cars led its fans racing to see an earlier "model" of animated anthropomorphic automobiles. Released in 1952, Walt Disney's Susie, the Little Blue Coupe tells the story of a pretty little subcompact and her various owners. As a youngster, John Lasseter saw the original short on television and ever after it was a favorite—helping to inspire not only the Cars concept but also giving birth to the Cars design aesthetic. He once said, "When you bring an inanimate object like Susie to life, you will always think, 'What is the face?' The natural eyes of a car are the headlights, but when you put the eyes in the windshield, that changes the whole dynamic. Moving the eyes to the windshield separates them from the front of the face, the hood becomes the nose and the mouth is down by the grille. Now the body of the car is the head of the character, and that design gives the animators more opportunities for acting."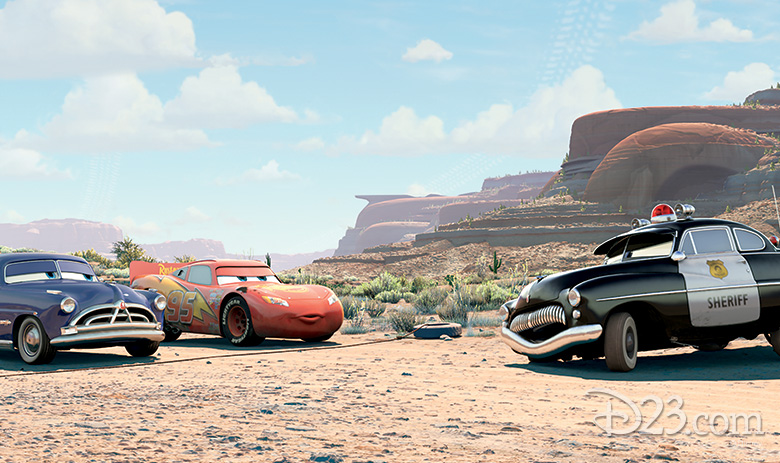 Paul Newman Amps Up a New Audience
In his final role for a major feature film, screen legend and race-car enthusiast Paul Newman voiced racing veteran Doc Hudson. The Oscar® winner and Guinness Book World Record Holder (the oldest driver to win a professionally sanctioned race in 1995 in Daytona) gave a world-class performance as the wise but mysterious 1951 Hudson Hornet. "I'm so proud of this character and thrilled that Paul Newman agreed to provide the voice," Lasseter once said. "Not only is he one of our greatest actors of all time, but his association with racing made him the perfect choice for this role." Lasseter became very close with Newman, attending a number of races with the mega-movie star before his passing in 2008. Thanks to Newman's newfound notoriety, youthful Cars fanatics sought out this 'new' star's previous triumphs, including Newman's Oscar-winning triumph as Fast Eddie (reprising his classic role in 1961's The Hustler) in The Color of Money (1986), produced under Disney's Touchstone label.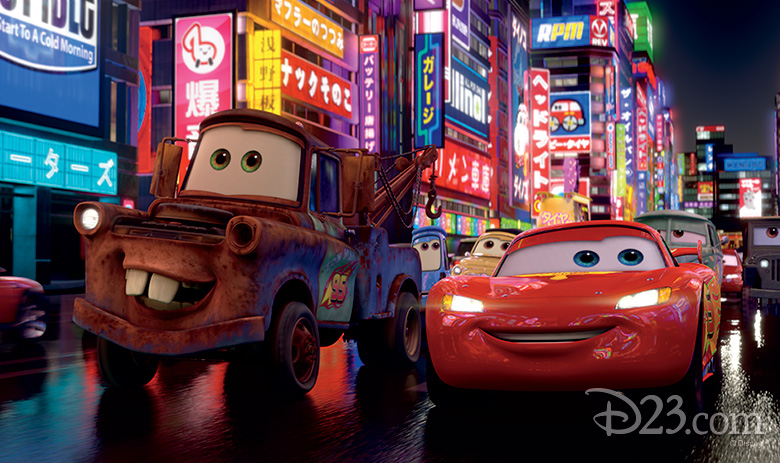 A Shiny New Sequel (or Two)
The popularity of Cars led to a shiny new model, Cars 2 (2011). The sporty sequel actually began during the international Cars promotional tour as Lasseter pondered the many different makes of autos—and even traffic signals and street signs—in England, Japan and Italy, leading to Lightning and Mater becoming embroiled in a World Grand Prix and international intrigue. "It's not a parody of a spy movie," Lasseter once said. "It is a spy movie. But it's with cars as characters. And it's really cool." And waiting at the starting line to zoom into theaters is Cars 3. Headed for the fast lane are such new characters as Cruz Ramirez and Jackson Storm, but those four-wheeled favorites McQueen and Mater won't be left in the dust when Cars 3 cruises into theaters on June 16, 2017.