By Beth Deitchman
Everyone needs neighbors like Coop, Sweetie, and Little Boo. Whether they're rescuing a stranded puppy from a creek, finding a bird's missing food or resolving an argument between two squabbling roommates, the chicken trio is always ready to lend a helping hand—or we should say, wing—in Disney Junior's new animated comedy adventure series The Chicken Squad, premiering on Disney Junior and DisneyNOW this Friday, May 14 (7:30 p.m. EDT/PDT). That desire to help is something that resonated with Disney fan-favorite actress—and friend to D23—Yvette Nicole Brown, who is lending her voice to the role of the chicks' mentor, Captain Tully, a retired search-and-rescue dog.
"This show is just about people finding a way to be of assistance, and I think in the last few years of our lives—collectively in America and in the world—we've all needed help. And so it's kind of nice to be a part of a show that teaches young people how to be assistants and help make things better," Brown recently told D23 when we caught up with her virtually while on location for her latest project. She added, "What a great way to live your life, to try to make things better for people."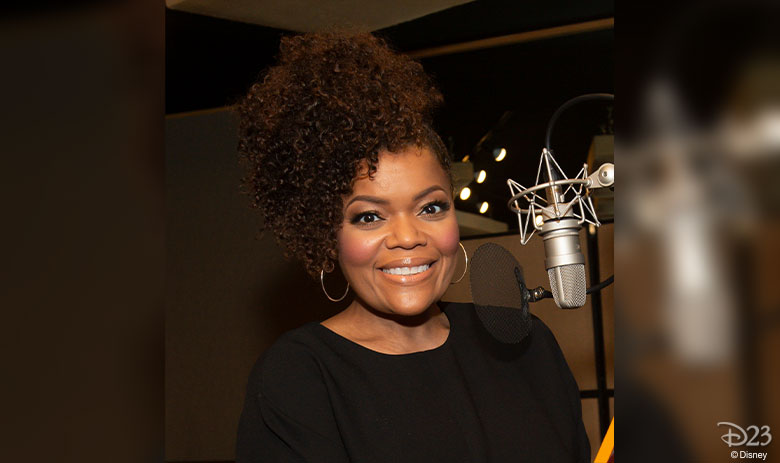 That's exactly how Captain Tully has spent her entire life, Brown noted. "She was a search-and-rescue dog, so her whole life has been spent trying to find people in need and helping. I think that's the most valiant and honorable way to spend your life, whoever you are, so I love that she was the kind of animal that chose to spend her life looking out for those in need," Brown said. She pointed out that in retirement, rather than relaxing, Captain Tully is "instead spending her time making sure these chicks are raised to be the kind of chicks that help the community."
Brown also has a heart for children and her community, and she revealed that she would have been a teacher had she not gone into acting. She has previously lent her voice to roles in Elena of Avalor (she voiced Luna the jaquin) and Sofia the First, and she loves how Disney Junior series are able to inspire young viewers and give her the opportunity to "teach." She emphasized, "These aren't my lessons—these are the wonderful writers' lessons—but I'm able to imbue these characters with the kindness and the love that I would hope to have shown had I been a teacher."
And Captain Tully is very much a teacher, as she guides the Chicken Squad to discover how they can work together and solve their own problems. "Captain Tully is loving; tough when she needs to be. I think that she believes in the chicks and she believes in the good that they can do in the world and I think she's very proud to spend her retirement years teaching them about the world and how to be helpers," Brown said. She recalled the words of Fred Rogers, who famously told children to "look for the helpers" in difficult times. "The world needs more helpers," Brown shared. "And Captain Tully is raising the chicks to be helpers. I think that's a beautiful thing to be part of."
The chicks are fortunate to have Captain Tully in their life, a figure who is kind and fair but also pushes them to work a little harder to be their best selves. When asked about the "Captain Tully" in her own life, Brown pointed to her mother, who she lovingly refers to as "Mama Fran." "My mom is the reason that I'm able to be talking to you now," Brown shared, noting that it's only because her mother stepped up to take care of Brown's father, for whom the actress is a caregiver, and her dog, Harley, that Brown is able to film on location. "And even the fact that Harley's in my life is because of my mom," Brown added. "When I booked Lady and the Tramp I wasn't going to do that film because it was in Savannah and I take care of my dad. And my mother said, 'If Disney wants to let you be in a movie, you're going to go to Savannah and be in a movie.' And that movie is where I met my dog, so my mother is the reason why we have Harley."
Harley was one of the doubles for Rose, who starred as Lady in the 2019 Disney+ Original Lady and the Tramp, and he's given Brown a new understanding of dogs that she carried into voicing Captain Tully. "It's a level of unconditional love that I don't think I have ever experienced in my life. He is everything to me," Brown shared. "It does color how I play a dog because I know their love. I know that sounds weird, but I want to make sure that Captain Tully has love because that's what Harley is to me." Harley sat at Brown's feet while she was recording The Chicken Squad, so the actress believes, "His DNA is in this character."
Brown began voicing the role of Captain Tully before the creative team was able to show her a final design for the character. "I figured because the character was kind, they would give her kind eyes. And she was a lady, so they'd give her little lashes," Brown said, but she could only imagine whether Captain Tully would be a big dog or a small dog, or any other details. "But that didn't matter, because the lines [delivered by Captain Tully] were so loving and caring that you just know how to do that voice," Brown said, and she is always mindful that Disney Junior is for 2–7-year-olds and their families. "You know that you need to explain things and when you say a line you say it clearly so the babies can understand that."
Kids and families won't just hear Brown's speaking voice in The Chicken Squad. Brown revealed, "Captain Tully sings! She has one tour du force R&B ballad that's going to raise the roof." Her upcoming number features music written by series songwriters Alex Geringas and Mike Himelstein, which made the performance extra special for Brown, as Himelstein has a connection to a favorite band. "[Captain Tully's song] was written by a writer who used to write for The Jets and I'm a huge Jets fan. It was an R&B group that was out when I was a kid, and to get to sing a song written by someone who wrote for the Jets is everything," she enthused.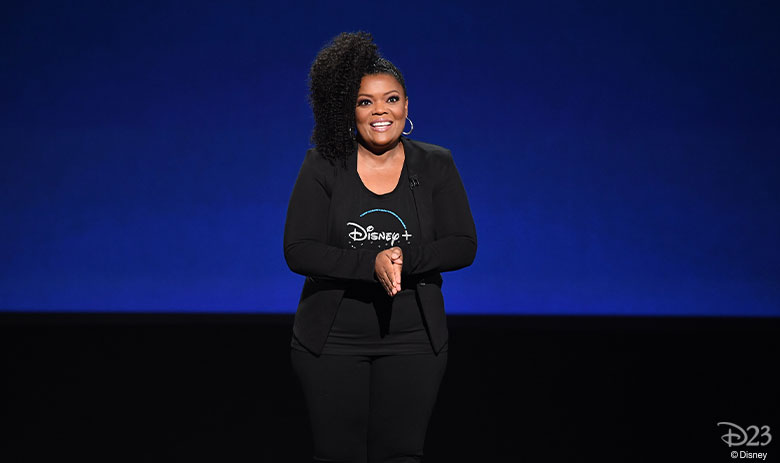 With recent roles in Marvel Studios' Avengers: Endgame, Lady and the Tramp, and the new series Big Shot, as well as her hosting duties on the Disney+ gameshow The Big Fib, voicing Captain Tully in The Chicken Squad is but another reminder of what a beloved member of the Disney family Brown has become. As she recalled hosting the Disney+ presentation in Hall D23 at D23 Expo 2019, Brown was filled with wonder. She remembers taking the stage with the Disney+ logo behind her, while wearing a Disney+ T-shirt, thinking "that they are trusting me to be the face and the voice of this amazing venture blew my mind." She's always thrilled to be part of a Disney project, she said, "Because when I was a kid in East Cleveland, I lived Disney. Everything was Disney—and now everything I love is Disney. Marvel is Disney. The Muppets are Disney. The Star Wars franchise is Disney. It's everything that I love under one umbrella and I get to be a part of that, or a voice or a face of that? There are no words for that for a kid from East Cleveland."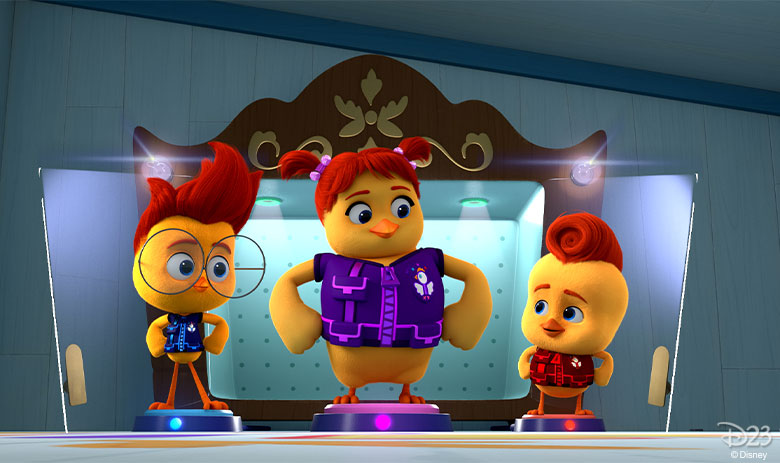 Starring alongside Brown in The Chicken Squad are Ramone Hamilton as Coop, Gabriella Graves as Sweetie, and Maxwell Simkins as Little Boo. See the chicks—and Captain Tully—in action in the clip below, and be sure to tune in for the premiere of Disney Junior's The Chicken Squad on Friday, May 14, at 7:30 p.m. EDT/PDT.