By Karina Schink
The festivities honoring the iconic duo are just getting started, and we plan on celebrating their 90th year in the yummiest of ways. The celebration stretches from Disneyland Resort to Walt Disney World Resort, and it's already begun!
Get Your Ears On over at the Disneyland Resort where we're celebrating everything Mickey and Minnie all the way until May! And, over at Walt Disney World Resort, Mickey & Minnie's Surprise Celebration is also already underway, honoring the true originals with entertainment, merchandise, and, of course, what we're all here for: food!
Make your way to a Park to try each and every one of these incredible treats.
Disneyland Resort
Disneyland Park
Churros
small world Promenade
Mickey Mouse Celebration Churro—warm chocolate churro drizzled with cookie butter, topped with Mickey confetti and served with a side of red marshmallow crème and classic Mickey buttons
Near Big Thunder Mountain Railroad
Fantasia Mickey Churro—warm chocolate churro dusted with red and blue sugar served with a side of red marshmallow crème and Sorcerer Mickey hat
Near Haunted Mansion
Banana Pudding Churro—classic churro rolled in vanilla cookie crumbles with banana pudding dipping sauce
Carnation Café
"Celebrate Mickey" Chicken and Waffles (breakfast only)—mini Mickey waffles with icing, sprinkles, and frosted cereal-crusted chicken
Hot Chicken and Waffles—spicy hot chicken and a large Mickey waffle with blistered tomato and balsamic glaze
TV Dinner Pot Roast—Wagyu pot roast, blue cheese and bacon mac and cheese, sautéed green beans and carrots, and braised red cabbage served with a pineapple upside-down cake
Gibson Girl Ice Cream Parlor
Birthday Sundae—two large scoops of birthday cake ice cream with a Mickey Mouse-shaped brownie, hot fudge, whipped cream, a cherry, and Mickey Mouse-shaped sprinkles served in a Mickey or Minnie Mouse Kitchen Sink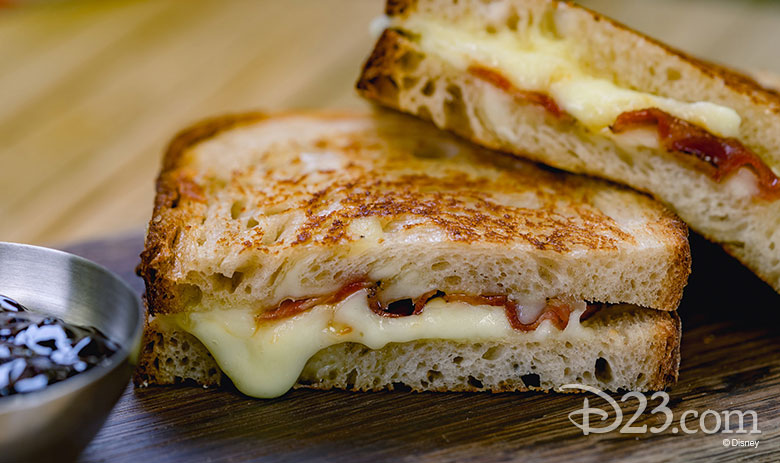 Jolly Holiday Bakery Café
Mickey Mouse Club Hat Dessert—chocolate truffle mousse dome with vanilla bean crème brûlée center, Mickey ears, and Mickey Mouse Club logo
Specialty Toasted Cheese Sandwich—Swiss, Jack, and Fiscalini cheddar cheese with crispy pancetta and blackberry jam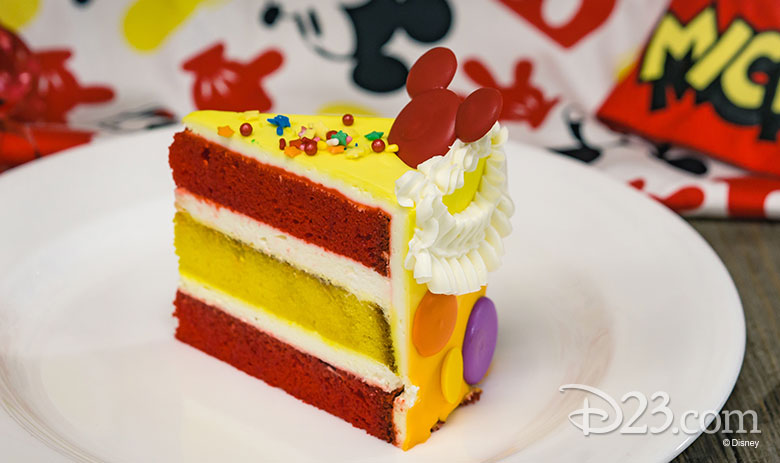 Plaza Inn
Celebration Cake (available starting February 19)—red and yellow cake with raspberry and lemon filling
Red Rose Taverne
Mickey-inspired Cheeseburger–1/3-lb. Angus patty with burger sauce and lettuce on a red potato bun with black sesame seeds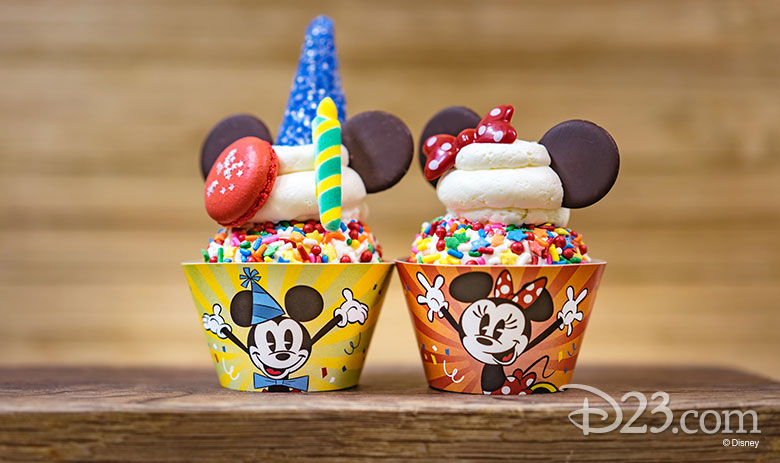 Mickey's Toon Town
 Mickey's Chocolate Chip Cookie Cupcake—topped with buttercream frosting, birthday sprinkles, red glitter macaron, sugar candle, chocolate ears, and a blue sprinkle cone "party hat"
Minnie Chocolate Chip Cookie Cupcake—topped with buttercream frosting, birthday sprinkles, chocolate ears, and a red bow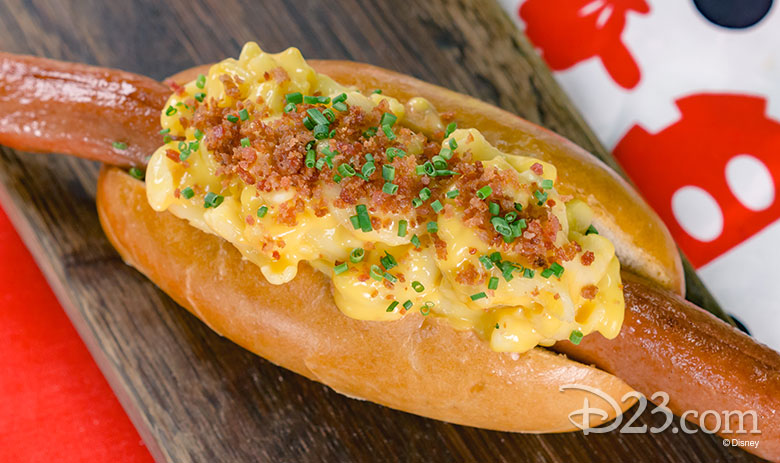 Pluto's Dog House
Bacon Mac & Cheese Footlong Hotdog—topped with creamy bacon mac and cheese, served on an Italian roll
Daisy's Diner
 Mickey Mouse Pepperoni Pizza
Clarabelle's
Mickey's Birthday Sundae—frozen yogurt with fruit popcorn, birthday cake cotton candy, candied chocolates, and colorful celebration cake
Troubadour Tavern
 Jumbo Hand-Crafted Bavarian Pretzel—topped with nacho cheese, crushed spicy onion chips, and smoked black salt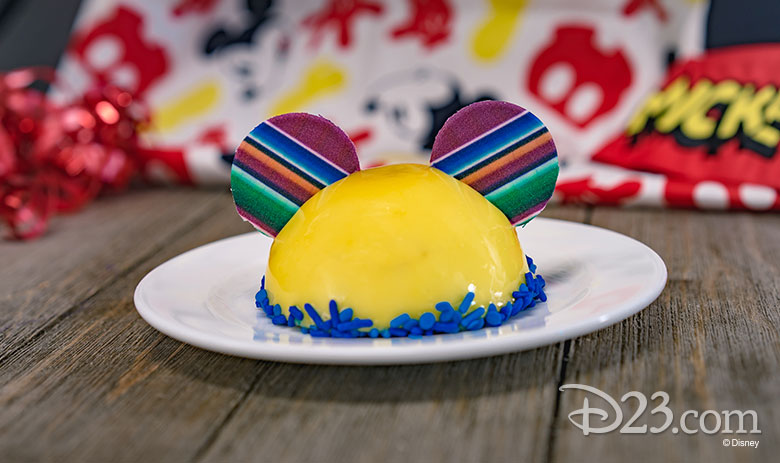 Rancho del Zocalo Restaurante
Mickey Hat Dessert—vanilla mousse dome with churro crunch filling, mango glaze, and striped Mickey ears
Frozen Strawberry Horchata—flavored with strawberry and topped with whipped cream, a dehydrated strawberry, and a sprinkle of cinnamon
Sopes Trio—chicken, beef, and pork served on fried corn dough with refried beans, shredded lettuce, spicy lime aioli, and salsa roja
Café Orléans
Charcuterie Board—artisanal French goat, sheep, and cow milk cheese, sliced meats, honeycomb, dried fruit, nuts, cornichons, creole mustard, and toast
Fried Chicken and Beignets—Buffalo-tossed chicken served with sugar-dusted beignets, herb bacon coleslaw, and waffle fries
Birthday Cake Mickey Beignets—chocolate-coffee cake and white cake beignets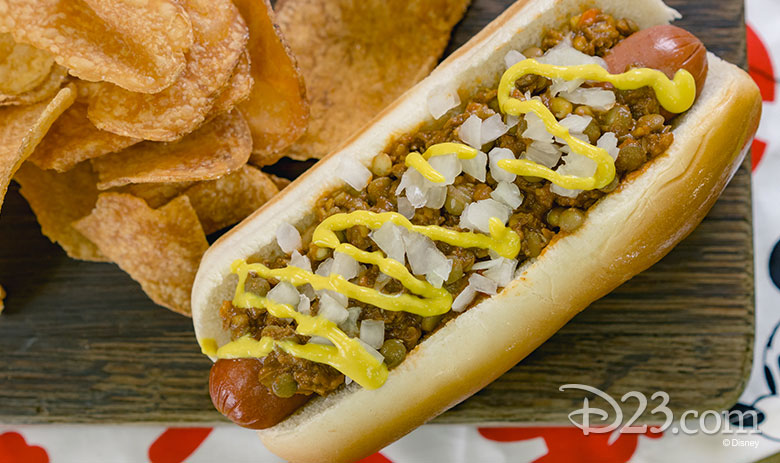 Harbour Galley
Lobster Pot Pie Soup — Lobster, red potatoes, carrots, celery, and herbs in a rich seafood cream sauce, served in a bread bowl
Vegan Hot Diggity Dog — Vegan hot dog topped with spicy lentil chili, onions, and mustard served with seasonal fruit
River Belle Terrace
Cookie Butter Monkey Bread — covered in cookie butter and vanilla ice cream and garnished with two cookie butter cookies
Mickey Jumbo Pretzel — Hand-crafted Bavarian pretzel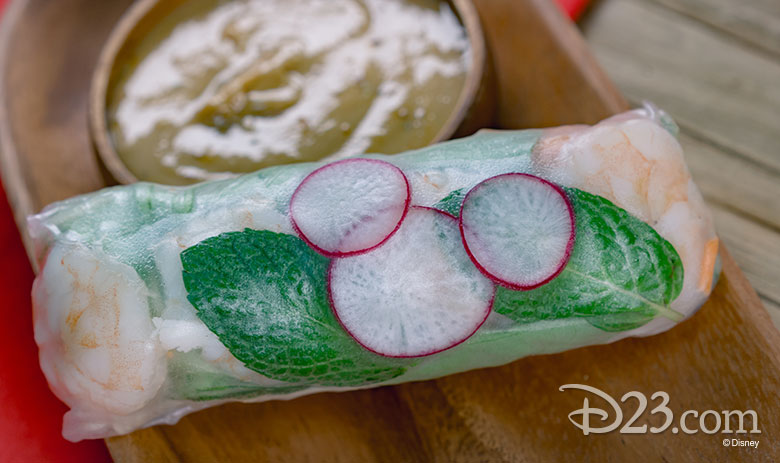 Bengal Barbecue
Pad Thai Spring Roll (available starting February 19) — with shrimp, bean sprouts, sweet and sour-flavored rice noodles, garlic chives, scrambled eggs, cashews, julienne carrots, pickled radishes, and butter lettuce with a cashew-hoisin dipping sauce
Galactic Grill
S'mores Parfait
Alient Pizza Planet
S'mores Parfait
Bowtie Pasta — with tomato cream sauce, sausage, and diced red bell pepper
Buffalo Chicken Pizza — Fried chicken breast pieces, buffalo sauce, and ranch dressing topping with fresh carrots and creamy buffalo sauce
California Adventure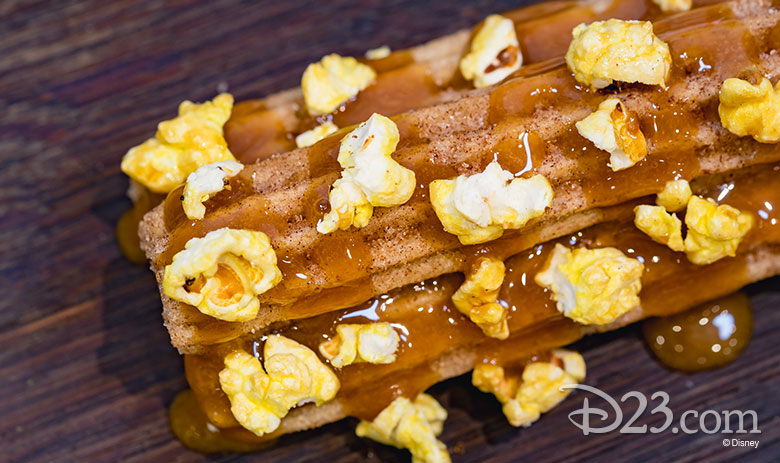 Churros
Willie's Churros
Caramel Corn Churro—classic churro dusted with corn cereal sugar and topped with salted caramel and caramel corn
Near Redwood Creek Challenge Trail
Maple-Bacon Churro—classic churro dusted with cinnamon sugar and topped with maple icing and crumbled bacon
Near Goofy's Sky School
Celebration Mickey Chocolate Churro—chocolate cookie-dusted churro with chocolate icing and sprinkles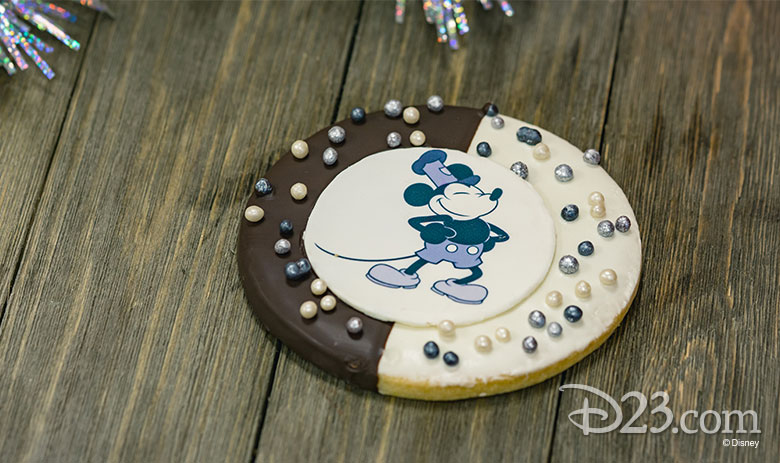 Trolley Treats
 Steamboat Willie Black and White Cookie — Butter shortbread cookie dipped in white and dark chocolate with silver crunch pearls
Fiddler, Fifer & Practical Café
Mickey's Chocolate Cup and Brownie ' Chocolate brownie with cookies and cream mousse-filled chocolate cup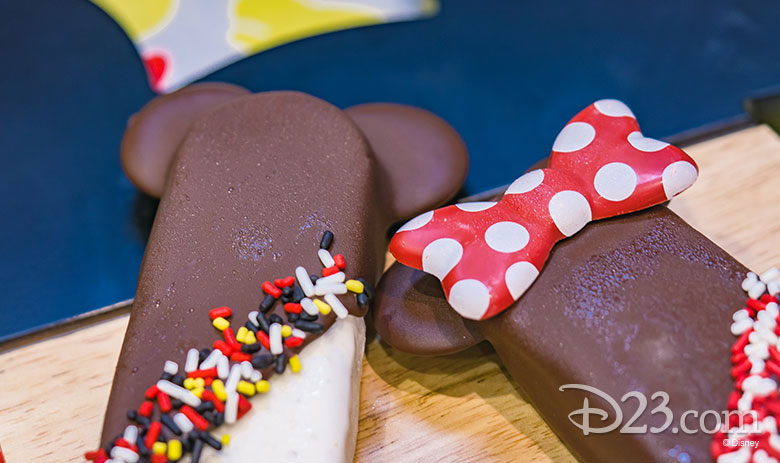 Clarabelle's Hand-Scooped Ice Cream
Hand-dipped Mickey or Minnie Ice Cream Bar — Choice of ice cream bar dipped in chocolate with sprinkles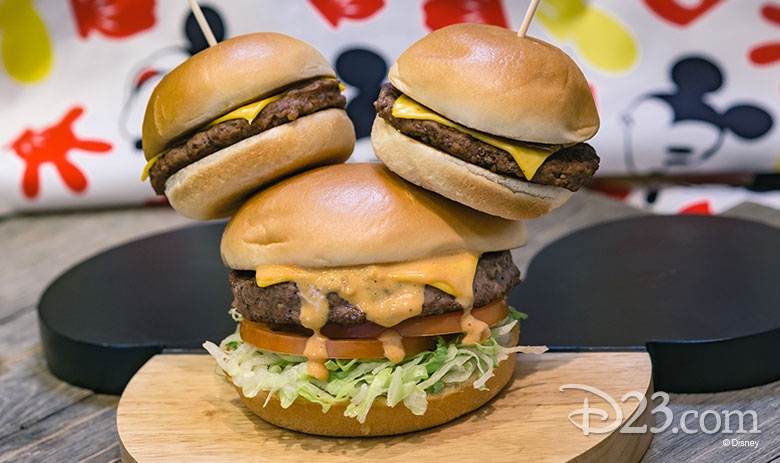 Smokejumpers Grill
Confetti Cake Shake — Vanilla shake with crumbled confetti cake, icing, whipped cream, and Mickey sprinkles
"Share Your Ears" Cheeseburger — Angus 1/3 burger with American cheese and cheeseburger slider "ears"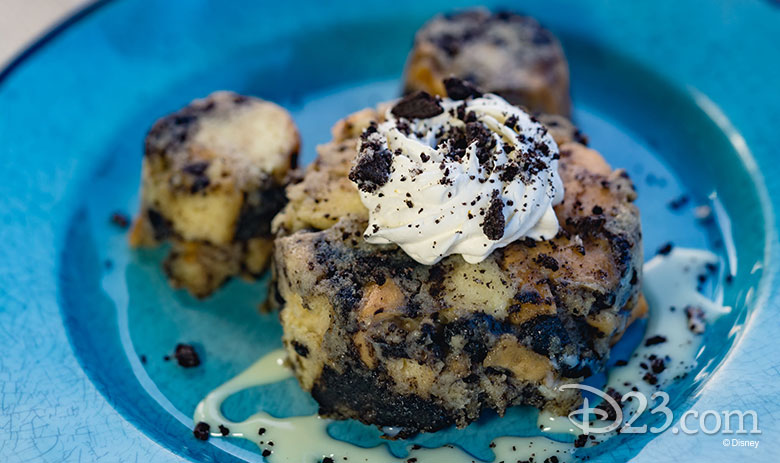 Pacific Wharf Café
Cookies 'n Cream Bread Pudding — with condense milk, whipped cream, and crushed chocolate cream-filled cookies
Gourmet Coffee Cart
Mickey Fun Wheel Cookie — Sugar cookie filled with raspberry jelly topped with colored chocolate drizzle and Mickey Fun Wheel chocolate décor
Celebration Cookies — One sugar shortbread cookie filled with raspberry jam and two sugar shortbread cookies filled with dulce de leche and topped with a chocolate Mickey celebration logo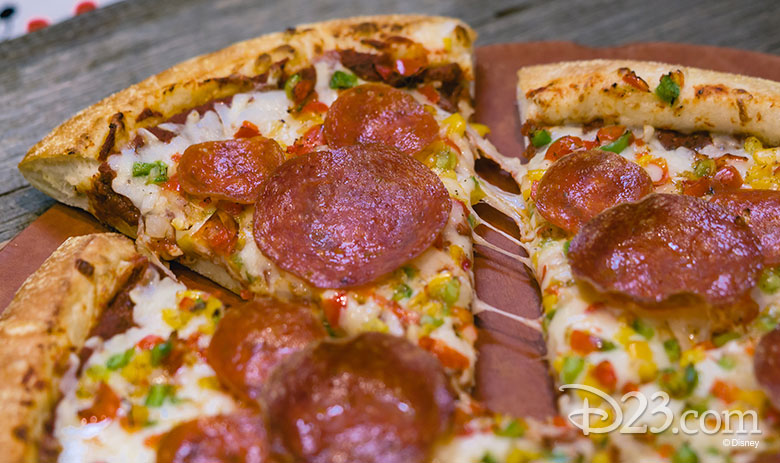 Boardwalk Pizza & Pasta
Spectacular Mickey Pizza — Mickey pepperoni pizza with confetti of peppers and onions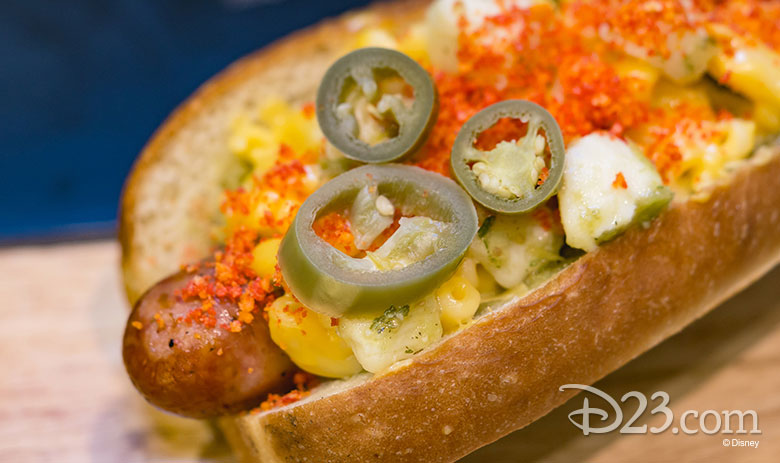 Award Wieners
A Cheesy Celebration — Cheddar sausage link with creamy mac and cheese, salsa verde, crumbled spicy cheese puffs, and cheese curds on a toasted bun
More Cheese Please — Filmstrip fries with creamy mac and cheese, salsa verde, crumbled spicy cheese puffs, and cheese curds
"Get Your Ears On" Funnel Cake Fries — Chocolate cookie-dusted funnel cake fries with cookies and cream icing, whipped cream, chocolate cream-filled cookie ears, and "90" sprinkles
Celebration Cake Funnel Fries — Funnel cake fries topped with crumbled confetti cake, frosting, whipped cream, and Mickey sprinkles
Schmoozies!
Mickey Donut with apple filling
Minnie Donut with cherry filling
Mickey Cookies 'n Cream Shake with "90" sprinkles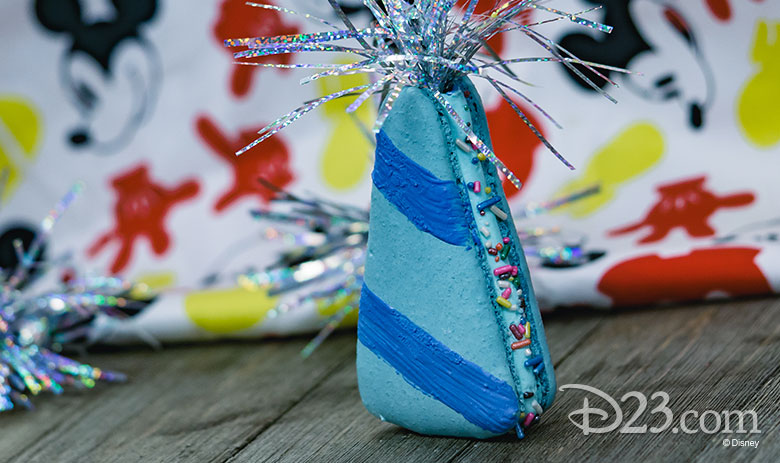 Cozy Cone Motel
 Birthday Hat Macaron
Walt Disney World Resort
Magic Kingdom Park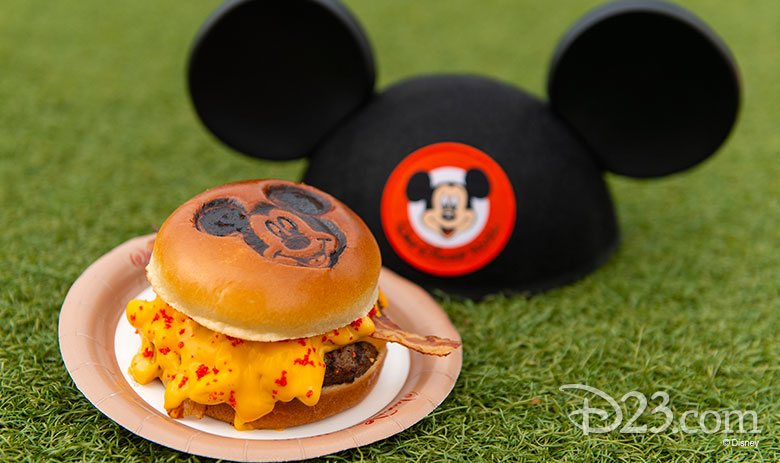 Cosmic Ray's Starlight Café
The Mickey Burger — Angus burger topped with macaroni and cheese, American cheese, cheese sauce, flaming hot cheese dust, and bacon, served on a Mickey Mouse bun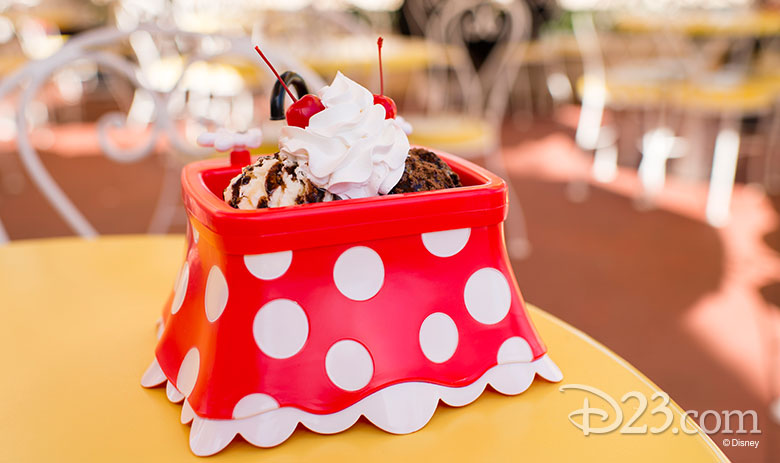 Plaza Ice Cream Parlor
Minnie Kitchen Sink — two scoops of ice cream, topped with whipped cream, cherries, and your choice of hot fudge, peanut butter, or caramel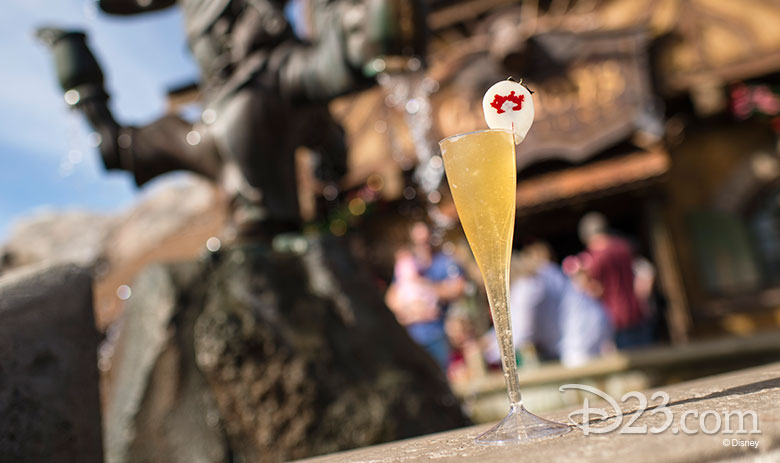 Gaston's Tavern
Now and Forever Slush — sparkling cider slush served in a Champagne flute, garnished with a white chocolate-dipped strawberry featuring Mickey and Minnie
The Crystal Palace, Jungle Navigation Co. LTD Skipepr Canteen, Tony's Town Square Restaurant
True Love Cheesecake — a strawberry-vanilla marble cheesecake with raspberry purée, whipped cream, and a Mickey and Minnie chocolate piece