By the D23 team
They're talking about Bruno now—all over the world. More precisely, they're making tens of thousands of video clips using the song "We Don't Talk About Bruno" from Encanto, the Walt Disney Animation Studios film now streaming on Disney+.
Paraphrasing songwriter Lin-Manuel Miranda, Encanto star Stephanie Beatriz tells D23, "Disney songs are often the kinds of songs that little kids want to sing to themselves in the mirror when they're all alone in the bathroom." Now it seems "Bruno" is the Disney song kids (and adults) most want to dance to in front of their smartphone cameras when they're all alone. Or with friends. Or out in public. Or for a TikTok audience.
No one, it seems, can stop talking about Bruno. The film's soundtrack climbed to No. 1 on the Billboard charts this week, dethroning Adele's 30, and it's the No. 1 album on Apple Music and iTunes. "We Don't Talk About Bruno" is currently the No. 1 song on Spotify's Top 50 U.S. charts, and the video has been viewed over 44 million times since it debuted on YouTube December 28. On TikTok, Encanto is a featured trend, with sounds from the album earning a billion views.
Beatriz, the voice of Mirabel in the film, connects the popularity of "Bruno" and the other songs in Encanto to Disney's long history of creating songs that connect emotionally with viewers. "You're always creating something new, but you're also hearkening back to what has been created [in the past]… the foundation that's been built for you by all these other incredible artists before," she says. "That part [of introducing new music] was really fun."
Within Encanto, Mirabel's estranged uncle Bruno (voiced by John Leguizamo) is a catalyst for the plot "who becomes increasingly important over the course of the story," Jared Bush tells D23. The film is directed by Bush and Byron Howard, and co-directed by Charise Castro Smith. The screenplay is written by Castro Smith and Bush. The reason the family doesn't talk about Bruno was that "he could see the future [and] pretty much everything he saw was not good. So, there's a lot of mystery around Bruno."
Miranda says he pitched the idea for the song because of its relatability. "Every family has the things we talk about at the dinner table and the things we don't—but we still talk about it," he says. "We just don't talk about it in front of Abuela [voiced by María Cecilia Botero] or in front of mom [Julieta, voiced by Angie Cepeda]. I wanted to write a song like that, where everyone says, 'We don't talk about that'… and then proceeds to talk about it!"
Plus, Miranda says, "Bruno" also afforded the filmmakers "an opportunity" to hear from some of the other characters who don't have solos. "[I love] the wonderful surprise of Camilo's [voiced by Rhenzy Feliz] section of the song, where he's made it into a ghost story and he's changing shape and turning into Bruno as he's describing him. Dolores [voiced by Adassa] has this magical hearing ability, so she's the quietest one. She actually talks the fastest and has the most insight on the family dynamic between Bruno and the rest of the family, because she listens to everything. No one really asks her, but she really knows everything. It was a joy to take dictation from Dolores when her musical voice emerged."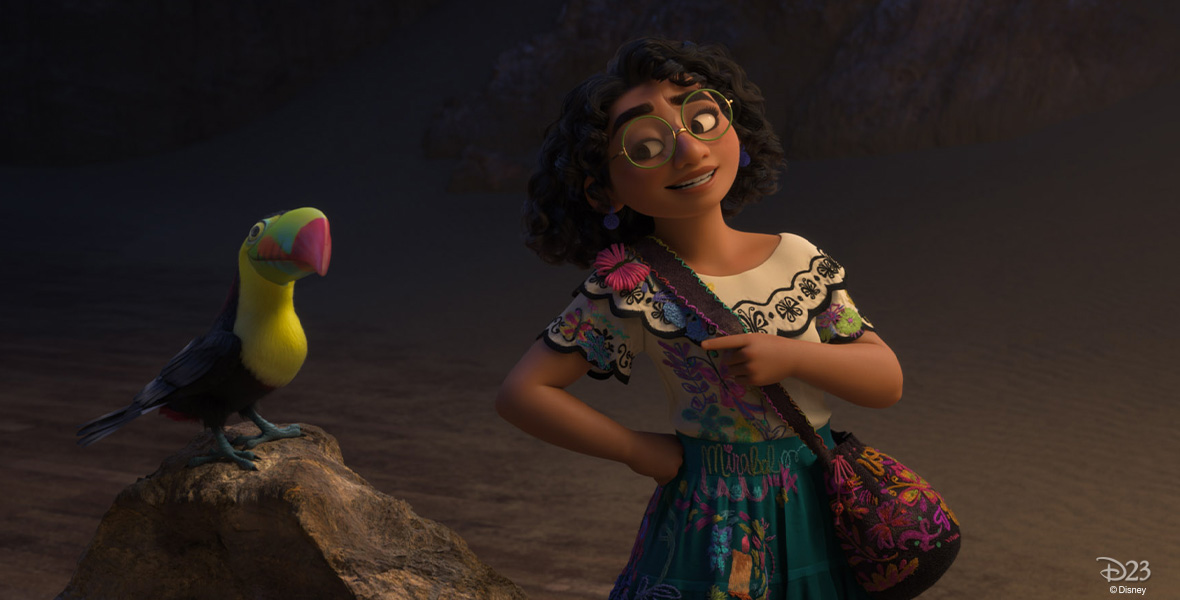 "The other one that's really delicious for me is Pepa [voiced by Carolina Gaitán] and Félix at the beginning of the song," he says. "They're telling a story about how Bruno ruined their wedding, but they keep getting in each other's way telling the story. At one point, Pepa says, 'Are you telling this story, or am I?' And Félix goes, 'I'm sorry, mi vida. Go on!' That's exactly my parents telling every story. It was nice to be able to sneak that into the movie."
The song is one of Beatriz's favorites in the film. "I just love it! It gets caught in my head, man," she says, just before breaking into song: "'We don't talk about Bruno, no, no, no, no.'" Further praising Miranda's songwriting ability, Beatriz adds, "It just gets in there. What Lin can do so very well is write these hooks that get in there and they don't leave. I love them."
Howard emphasizes that the movie, including its songs, keeps the focus on Mirabel's family, and saving her family is Mirabel's mission in the film. Bush, Howard, Castro Smith, and Miranda "talked about, 'Wouldn't it be great if we actually were able to dedicate a lot of time to really learning about all of these people who have so much to do with each other."
Even if, well, "We Don't Talk About Bruno."