By Zach Johnson
Do you have what it bakes?
This Friday, following the premieres of Spin and Descendants: The Royal Wedding, Disney Channel and Tastemade will present the first episode of Disney's Magic Bake-Off, a one-hour competition series that combines the wonder of baking with the ingenuity of young pastry chefs as they create the most extraordinary cakes—inspired by the magic of Disney!
We recently chatted with co-hosts Dara Reneé and Issac Ryan Brown, who previewed what's in store this season—and revealed why the competition is no cake walk for the young bakers, who must race against the clock to design a mouthwatering masterpiece. In each episode, Reneé and Brown, along with Disneyland resort pastry chef Graciela Gomez, guide three teams of two through fun challenges and unexpected twists designed to elevate the contestants' baking abilities, techniques, and creativity to new culinary heights. The winning team will be named the Disney Baking Champion, and the recipe will be a featured Tastemade video available on Disney Channel and on Tastemade's social media.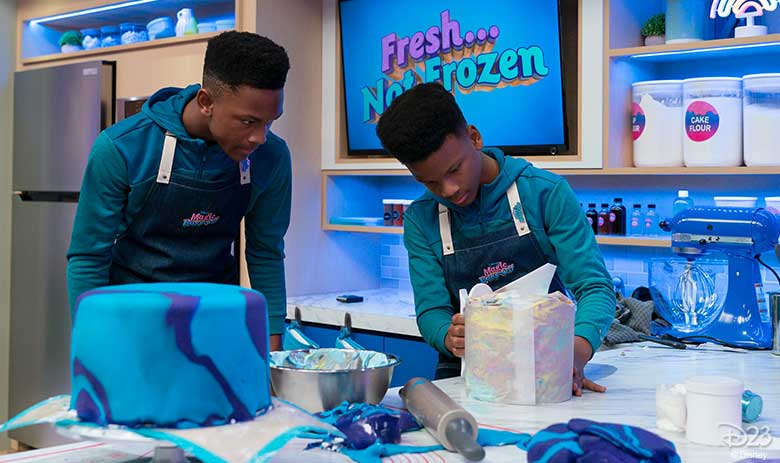 Each episode also features a "Magic Bake Break," in which Reneé, Brown, and Gomez encourage the young pastry chefs to get out of their heads and onto their feet for a moment of levity. "The 'Magic Bake Break' is my favorite part of the show," says Brown. "That's the part I take pride most in when we film. Every week, depending on the theme—whether it's Halloween, or Toy Story, or Disney Princesses—we'll switch it up accordingly."
While working on the main challenge, each team also has to complete a mini challenge, inspired by a Tastemade video. "It's insane how fast they get it," said Reneé. "You see them working on a topsy-turvy cake while also doing a challenge that Tastemade has provided."
Time and again, the co-hosts were amazed and inspired by the bakers' creative genius. "You'll see cakes inspired by things like Star Wars, Frozen and The Lion King," said Reneé. "There are so many wonderful interpretations of the themes. These young bakers left me in awe!" She added that the holiday-themed cakes were her favorite all season, "because I really love the spirit of giving, the snow, cold weather, and being with family and friends."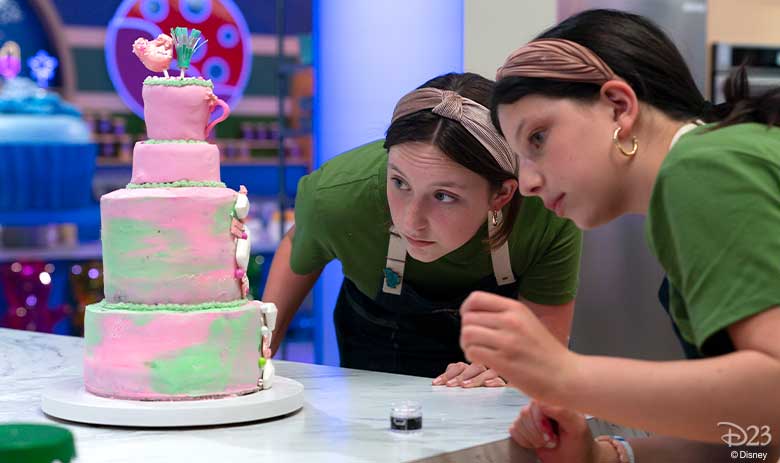 Brown, meanwhile, singled out a Big City Greens-themed challenge that featured special appearances by the series' creators, Chris and Shane Houghton. "Cricket Green stopped by as well," he said. "The 'Magic Bake Break' was really fun. We did a city vs. country battle. I was in some weird chicken costume or something. I couldn't even see! It was really funny."
This season will feature additional appearances from characters, including the Star Wars droid R2-D2 ("I was starstruck, said Reneé), as well as famed bakers like Jocelyn Adams, Rachel Fong, and Mia Starr. "We have a lot of different social media baking influencers on," said Brown. "They actually know about baking, which is great because it balances us out!" The teams are comprised of amateur bakers, and the co-hosts—admitted amateur bakers—are happy to not be competing themselves. "Perhaps we could compete with each other," Brown said of Reneé. "But that's a big maybe considering I hardly bake." Laughing, Reneé adds, "I love to bake. Is it good? I'm not so sure… But I think Issac would win if we ever did a competition."
Following the series debut, new episodes of Disney's Magic Bake-Off will be available Friday evenings at 8 p.m. ET/PT on Disney Channel and DisneyNOW.