Ia Orana, landlubbers! (That's Tahitian for "Hello!") Disney's Polynesian Resort, a lush "island" oasis for guests visiting Walt Disney World, is getting a complete re-imagining—just in time for summer fun! Once again called by its original name—Did you know it was one of the first on-site hotels when Walt Disney World opened in 1971?—Disney's Polynesian Village Resort will enthrall visitors with a completely redesigned entrance and lobby, all-new food and beverage options, Disney Vacation Club accommodations overlooking sparkling lagoons, and so much more!
Guests are now greeted by a new entrance marquee—complete with lava rock and roaring tiki torches, all surrounded by flowing water and flowering hibiscus. Additionally, the Great Ceremonial House lobby has enjoyed a dramatic redesign. The resort already boasts almost 500 traditional hotel rooms, all featuring a tropical motif with bamboo-style fixtures and exotic prints. But once the renovations are complete, the Resort will also include more than 300 studios and 20 two-bedroom, over-the-water bungalows as part of the Disney's Polynesian Villas & Bungalows—the newest member of the Disney Vacation Club.
The new Deluxe Studios at Disney's Polynesian Villas & Bungalows are the largest at a Walt Disney World Resort, sleeping five guests each (complete with a nifty hidden pull-down bed) and offering the flexibility of connecting to an adjacent room. Meanwhile, the Bora Bora Bungalows are the first of their kind ever created by Disney! Each over-the-water bungalow sleeps eight in a two-bedroom, two-bathroom sanctuary that offers a view of the Magic Kingdom Park. The traditional Disney touches are sprinkled throughout—plus amazing modern amenities like flat-panel TVs and even a washer/dryer unit. But that's not all: Guests can also take a relaxing dip in their very own plunge pool, located right outside their bungalow on a private deck! The first phase of Disney's Polynesian Villas & Bungalows opened on April 1, with more phases soon to follow.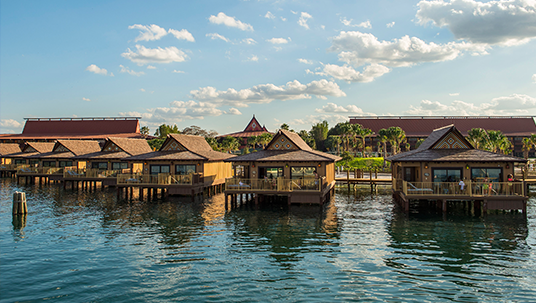 A bouquet of new dining options also await all Polynesian Village Resort guests, including Trader Sam's Grog Grotto—a themed lounge based on the ridiculously popular Disneyland Resort bar; the recently opened Pineapple Lanai kiosk (serving Disney's world-famous Dole Whip soft serve); and a new location for the resort's Captain Cook's 24-hour, quick-service restaurant. These delicious delights join the resort's mainstay restaurants: 'Ohana, Kona Café, and Disney's Spirit of Aloha dinner show.
The resort's redesigned Lava Pool will feature a children's water play area, called "Kiki Tiki Splash Play," and a deck for poolside seating. And if parents want to enjoy a night at Trader Sam's or 'Ohana, no worries; Lilo's Playhouse, the resort's whimsical new children's activity center, finds the Lilo & Stich heroine's favorite classic Disney Little Golden Books tales bursting to life! Kids can dress up, make crafts, and take part in storytelling—all while under adult supervision.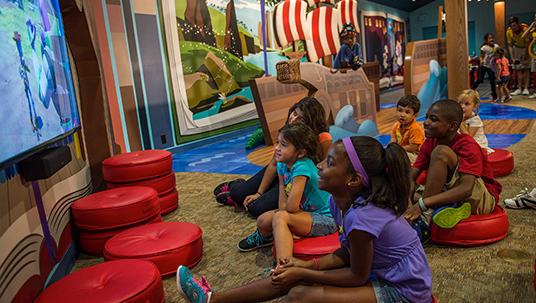 Disney's Polynesian Village Resort already boasts one of the highest return-visit rates for any Disney hotel property, having delighted guests for more than 40 years. These newest additions to its deluxe magical oasis—open now and throughout Summer 2015—are sure to make guests come back for even more island-flavored fun… Haere tatou! ("Let's go!")