When most people go on a Hawaiian honeymoon, they come back with a great tan, stunning photos, and memories to last a lifetime.
But when Jim Murphy went on his honeymoon on the Big Island in Hawaii, he came home with the inspiration for LAVA, the short that's opening in front of Inside Out, starting this Friday, June 19.
The short tells the story of Uku, an adorable volcano in paradise, who wants just one thing: someone to love.
Having an affinity for all things Hawaiian since his honeymoon 25 years ago, Murphy returned to the islands for a family vacation and learned a few things about volcanoes and their life cycle while he was there. That life cycle, by the way, is about 85 million years. Around the time that Murphy was studying volcanoes, his sister got married for the first time, at 43. "I thought about how happy she was and how long she waited for this very special day," Murphy recalls, explaining, "It was there at my sister's wedding that I had an epiphany: What if my sister, Molly, was a volcano? And what if volcanoes spend their entire lives searching for love, like humans do?"
Murphy spent the next eight months developing a story and writing a song. But not just any song. LAVA has no actual dialogue—the soundtrack is a simple, beautiful song that evokes the Hawaiian islands—and love. Murphy shares, "I'll never forget the first time I heard Israel Kamakawiwo'ole's version of 'Over the Rainbow.' It absolutely stunned me and I thought, 'What if I could write a song that makes me feel the way that song does, and feature it in a Pixar short film?'" Murphy sat down at his kitchen table, drew a picture on a napkin of a volcano with a head on it, along with the words, "I lava you," and started playing around with chords on his own ukulele.
So when Murphy pitched the idea for his short film to Pixar and Disney Chief Creative Officer John Lasseter, he didn't just tell him a story—he sang him a song. And, Murphy proudly says, "It worked. After my pitch, LAVA was put into production."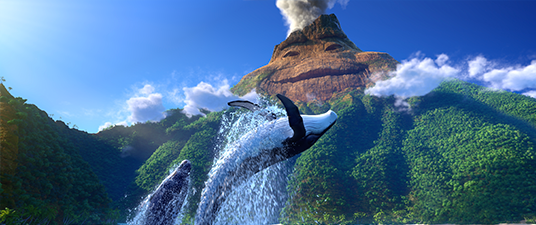 After films about toys (the Toy Story films), robots (WALL•E), and fish (Finding Nemo), LAVA marks the first time that Pixar has made a film about a land mass. But Uku is as full of personality as any creature we've seen from Pixar to date. The animators divided Uku's face—a mountain, essentially—into movable parts (like his eyelids) and nonmovable parts. "We didn't want him to look fleshy. We wanted him to look like a rock," Murphy explains. Producer Andrea Warren adds, "The team tried to make it look like the facial shapes were formed by a water pathway or the way a wind would have eroded it. It was sort of like a face had eroded out of it."
Murphy says that the biggest challenge in creating LAVA, from a technical standpoint, was "To get it all to work properly, where you don't even pay attention to it. It just becomes part of the story, so that you buy that the character is a mountain—to make him look like a mountain before a cartoon character—and then to make the vegetation and the rock textures believable as a place, as rock, and as scale." Scale was a big priority—they really wanted to make everything feel "giant."
Both Murphy and Warren, have a long history with Pixar. Warren was hired by Inside Out producer Jonas Rivera 17 years ago as a production assistant on a bug's life and worked her way up. Pete Docter (Inside Out's director) brought on Murphy in 1996 for animation on a bug's life—he'd been inspired by seeing Toy Story in the theater when it was released, and decided then and there that he wanted to work for Pixar.
"The Hawaiians say the greatest gift you can give someone is a song, and the greatest honor that you can give a song is to perform it as a hula, and I've always loved the sentiment of both of those ideas," Murphy says. "But I'd have to add that in our case, the greatest gift in our song was the privilege and opportunity we had to make it into this film called LAVA."