By Emily Hewitt
Multicultural food, landmarks inspired by San Franciscan and Japanese icons, and merchandise can be expected from Disneyland Resort's most recent addition, San Fransokyo Square.
Beginning August 31, visitors will be able to step into the iconic city from Walt Disney Animation Studios' Academy Award-winning film Big Hero 6 in Disney California Adventure Park. With story points from the film and two series—Big Hero 6 The Series and Baymax!—to pull from, Walt Disney Imagineering Art Director Michael Dobrzycki said there are several show and film references throughout the land.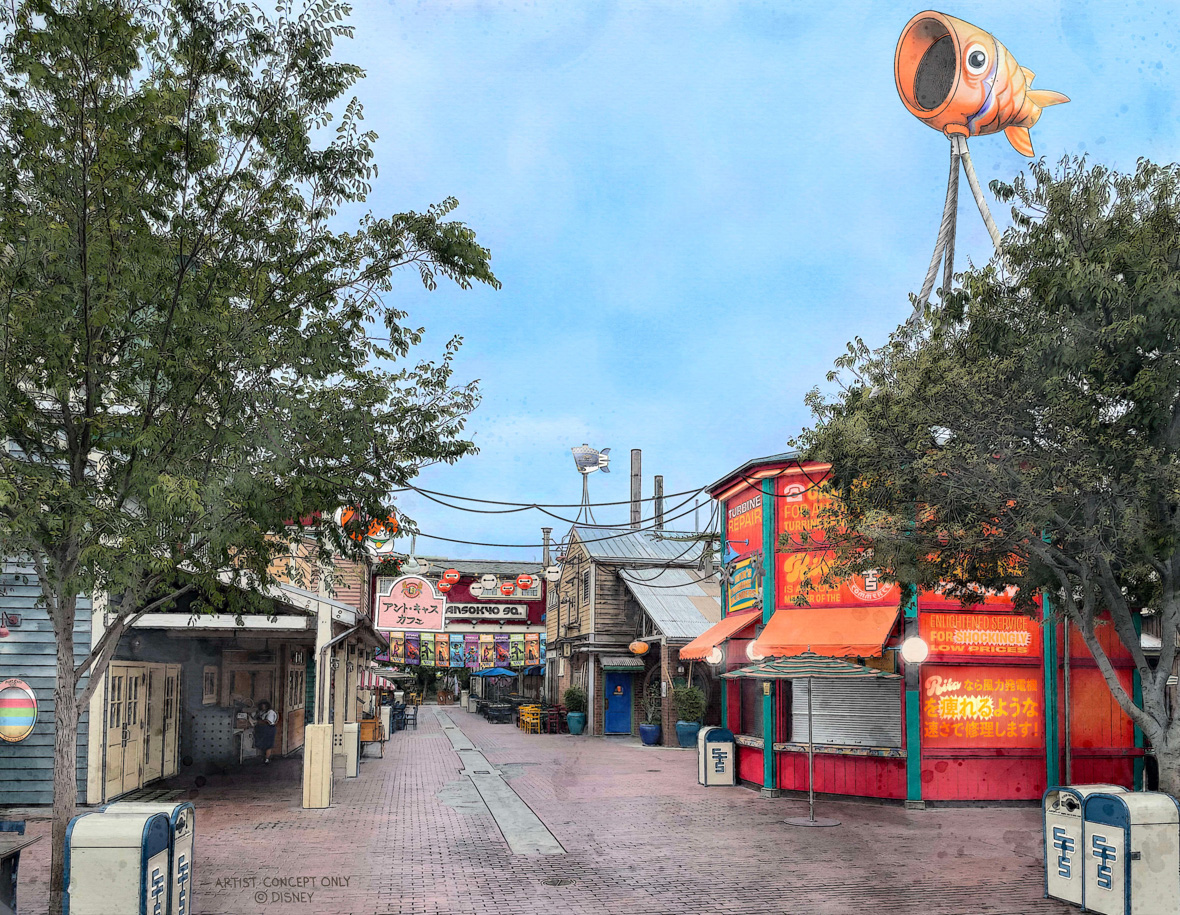 Landmarks
As the Pacific Wharf area transforms into San Fransokyo Square, several familiar landmarks will remain such as Ghirardelli Soda Fountain and Chocolate Shop, a San Francisco-founded company. A koi fish turbine, which powers San Fransokyo in the film, will be added and new lanterns will be hung outside. On the inside will be an animated mural showing the daily life of San Fransokyo, just as it previously showed scenes from the daily life of San Francisco.
"We are, of course, in the footprint of what would be San Francisco, but San Fransokyo is this alternate and parallel reality," Dobrzycki said. "So, it makes sense that if there's a Ghirardelli in our San Francisco, there's a Ghirardelli in our San Fransokyo as well."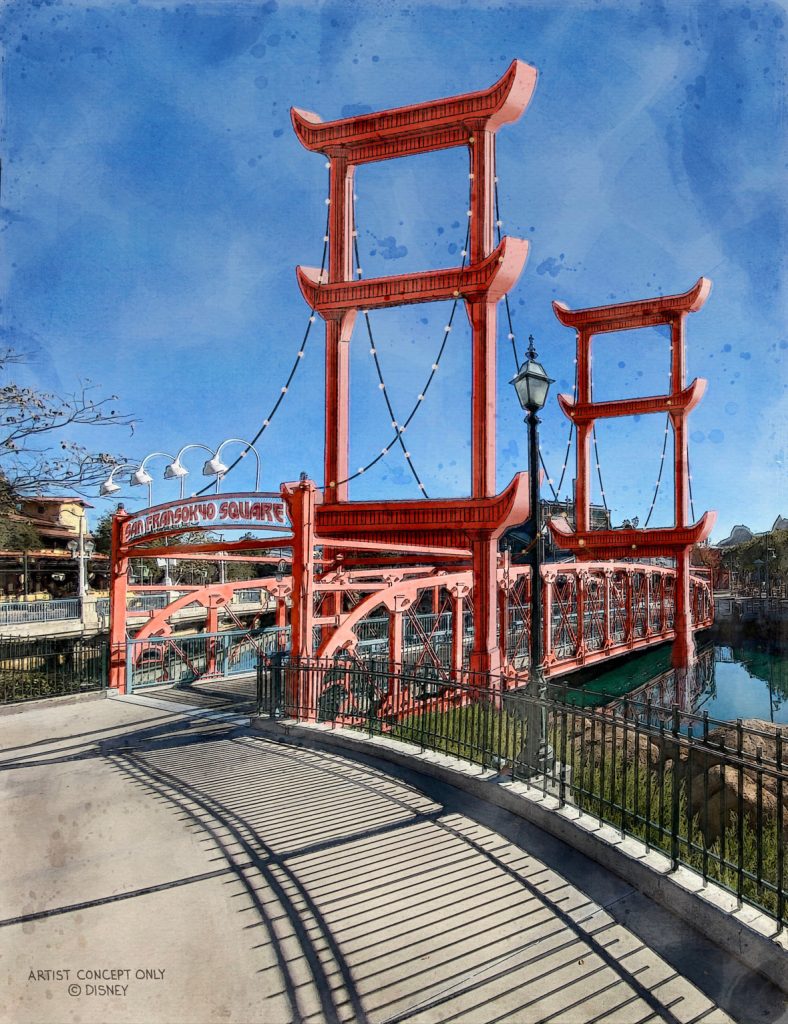 There will also be several landmarks from the film added to the land, including the 54-foot San Fransokyo Gate Bridge which will be the "gateway" to San Fransokyo, Dobrzycki said.
Once the bridge is crossed, specific San Fransokyo music will be heard. To build the land's soundtrack, Dobrzycki and his team started with 2014-era J-pop songs—the year the film was released—and a loop of music from the Japan Pavilion in EPCOT. Four songs from The Happy Ride with Baymax at Tokyo Disneyland were also added to the soundtrack, along with contemporary J-pop songs. If you are in the land for 90 minutes, you will hear the whole soundtrack loop.
At night, the "Port of San Fransokyo" sign will be lit up in neon letters, just as it appears at the beginning of the film.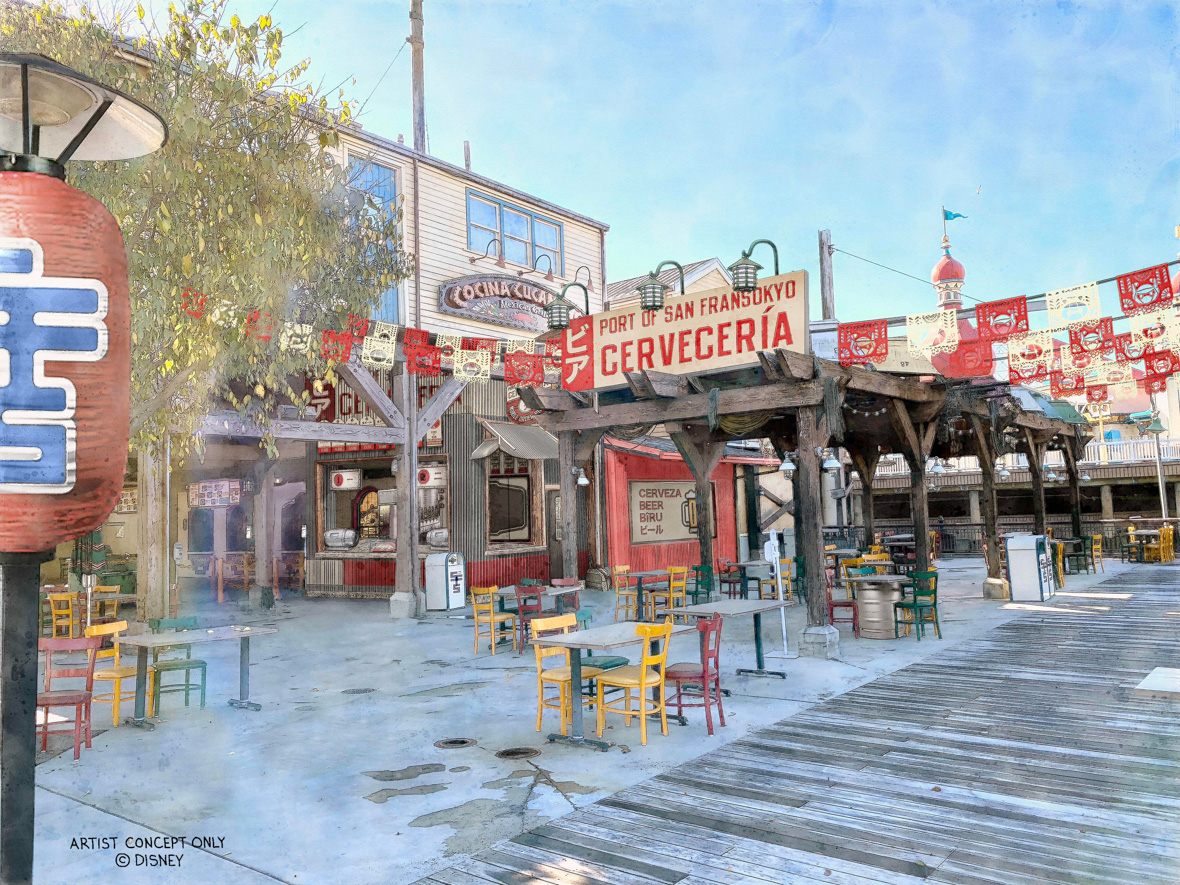 The Port of San Fransokyo Cerveceria will be the new, go-to place for draft beverages and seltzers, so guests can choose from a selection of beers and pair it with the new Garlic Pinwheel Chips Mix.
Hamada Bot Shop is where Hiro Hamada and the Big Hero 6 team improve their hi-tech gear. This is where you will be able to meet Hiro and Baymax!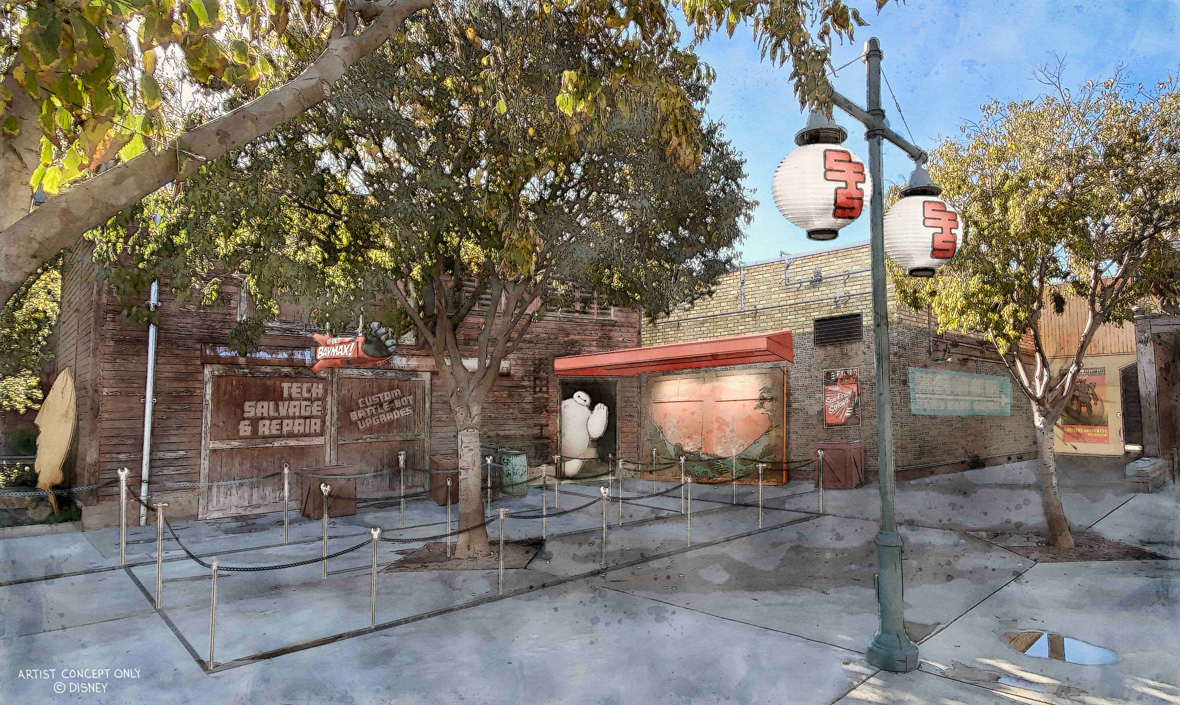 "We're actually creating a portico area for Baymax to come out to meet the guests in," Dobrzycki said.
Near the Hamada Bot Shop, guests will see signage for Good Luck Alley—which in the film is a gambling den where robot makers challenge one another as their robots compete in the evenings. On the other side of the alley, guests will come to the San Fransokyo Maker's Market.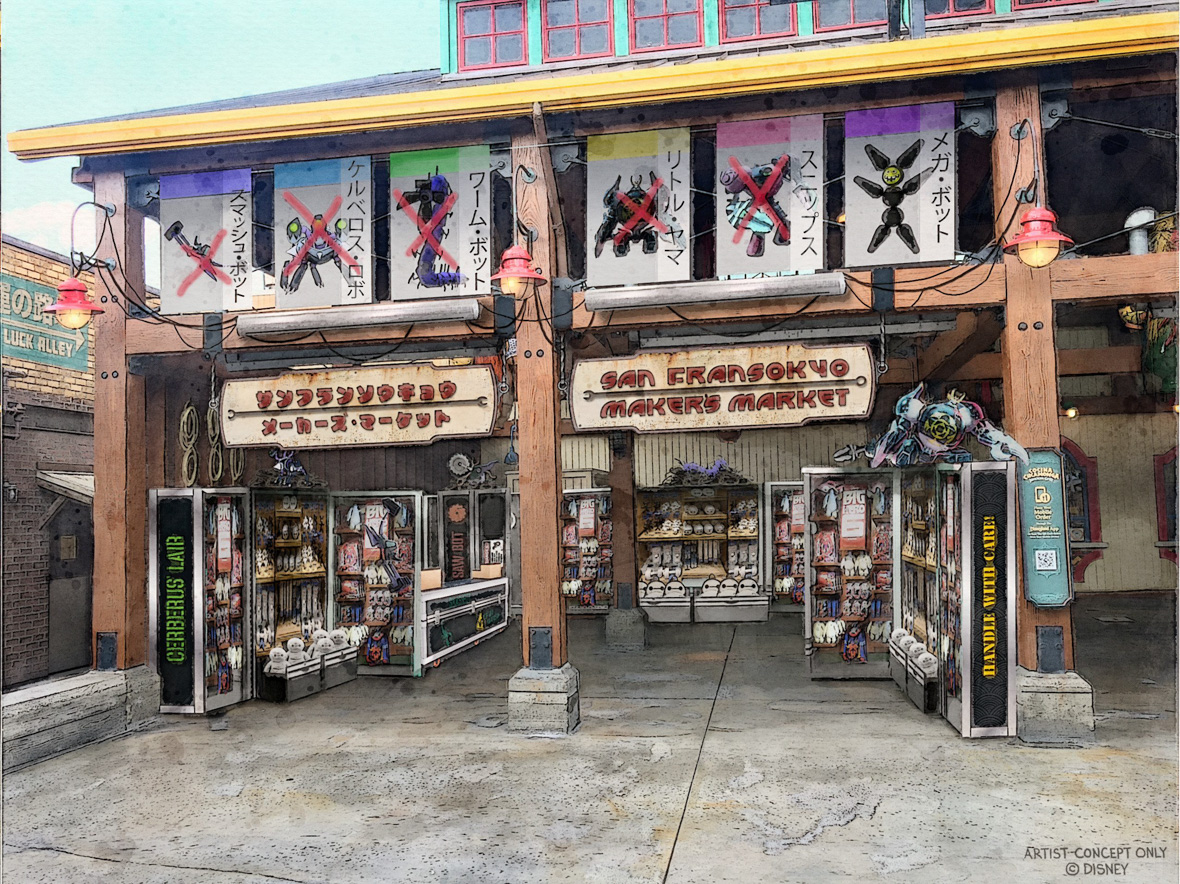 At the San Fransokyo Maker's Market, defeated bots are picked apart so makers can build new creations. The San Fransokyo Maker's Market will be filled with merchandise for guests to choose from.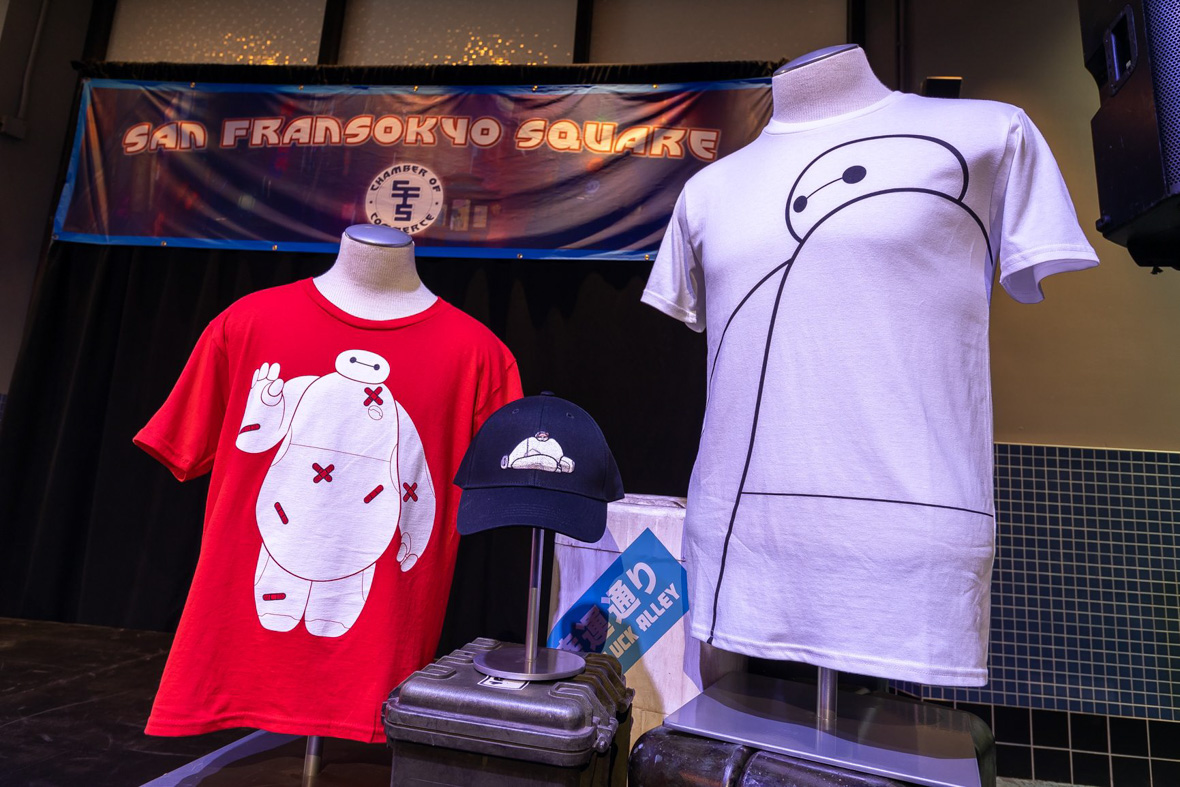 Merchandise
Three pieces of merchandise will debut in the San Fransokyo Maker's Market the day the land opens, Kimberly Wilson, Integration Manager, Retail Product Optimization for Disneyland Resort, said. These will be a white adult T-shirt featuring a black outline of Baymax, a red children's T-shirt featuring Baymax covered in red bandages, and a black ball cap featuring Baymax lying down with Mochi the cat lying on his stomach.
Additional merchandise options will include phone cases, AirPod cases, Apple Watch straps, a plush Baymax toy, magnets, and even a shirt featuring Baymax that says "Hugs All Day, Everyday" for the furry friends of guests.
A vending machine will offer four different collectible medallion designs. The images on the medallions include Baymax, wind turbines, the San Fransokyo Gate Bridge, and one that has a combination of Baymax, San Fransokyo's logo, and two kanjis representing knowledge and courage.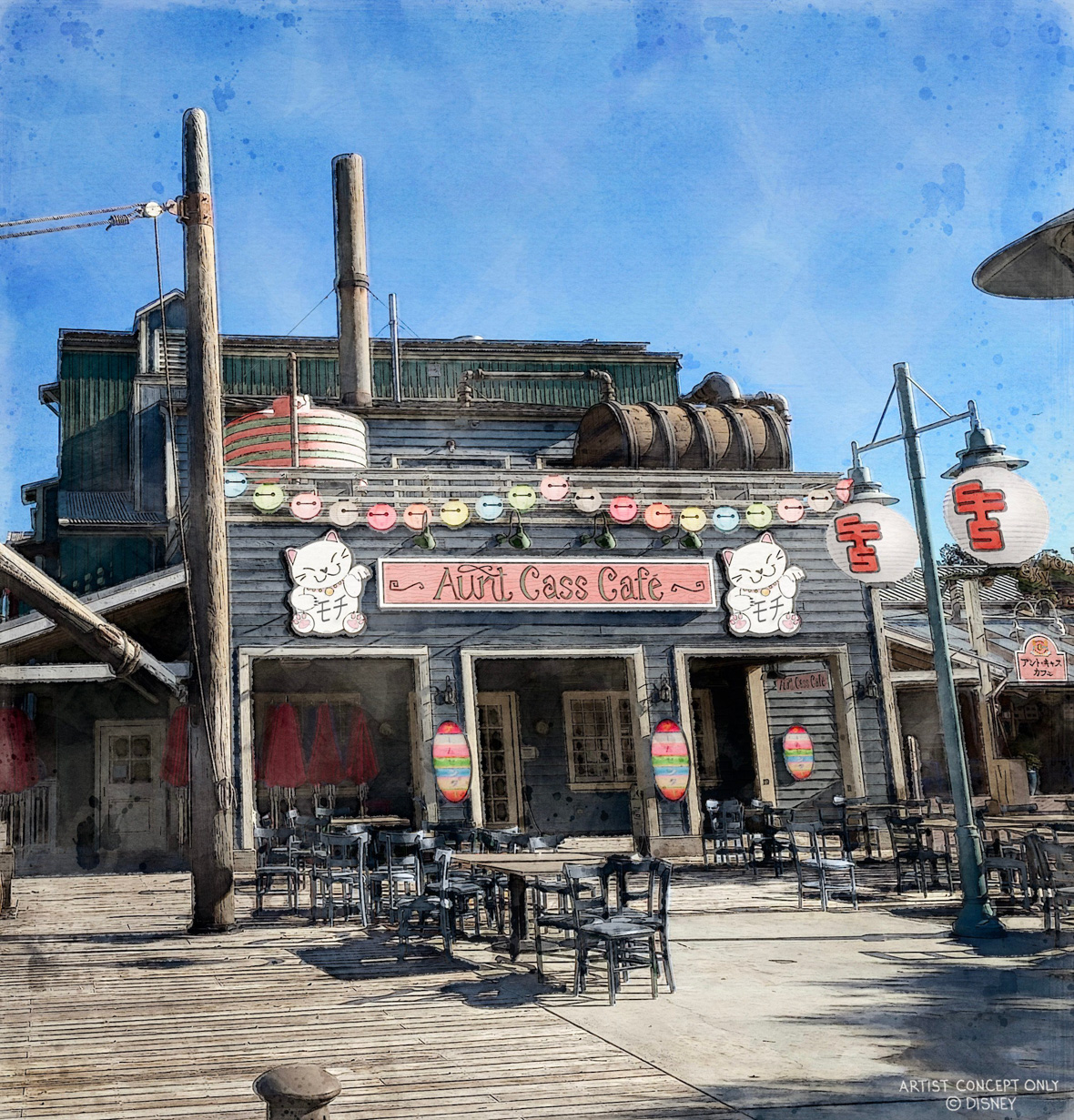 Food
Aunt Cass Café
At Aunt Cass Café, the signature Bay Area dish, clam chowder in a bread bowl, will have miso added to it, giving it a subtle umami flavor, Chef Jeremiah Balogh, Culinary Director of Disney California Adventure, Candy Production, Park Banquets, and Festivals, said. Bread bowls will also serve up curry with rice, green onion, and pickled ginger.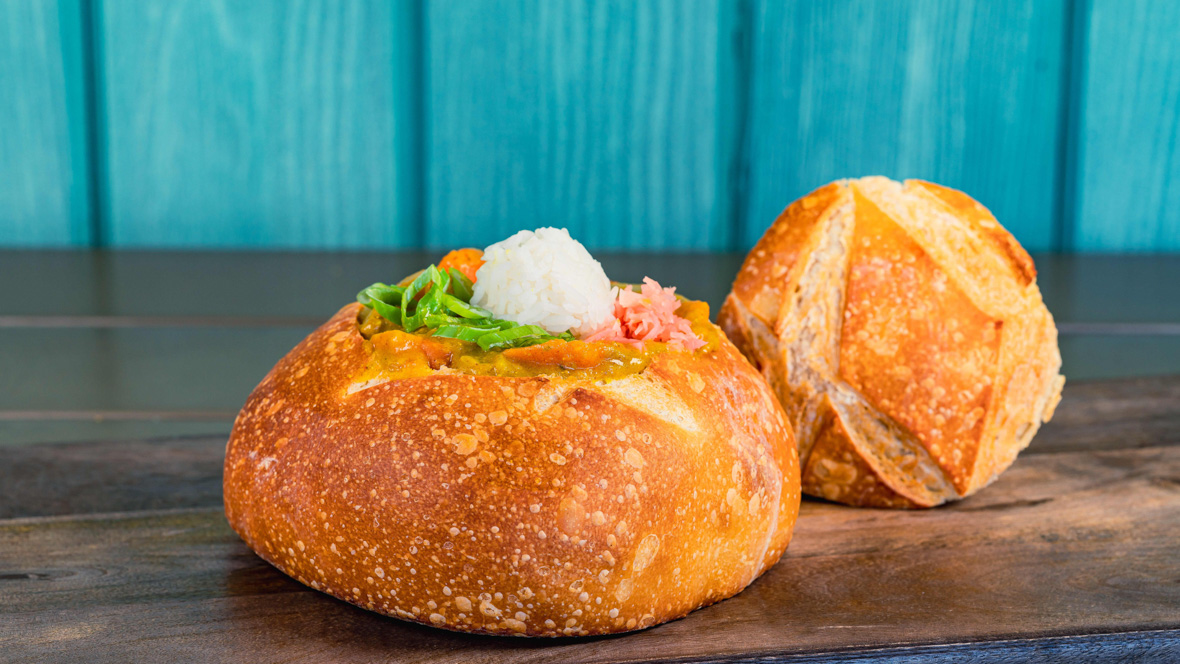 "Boudin Bakery is still part of our San Fransokyo story, and so you're going to continue to see some of those amazing flavors of that sourdough bread that we all enjoy," Balogh said.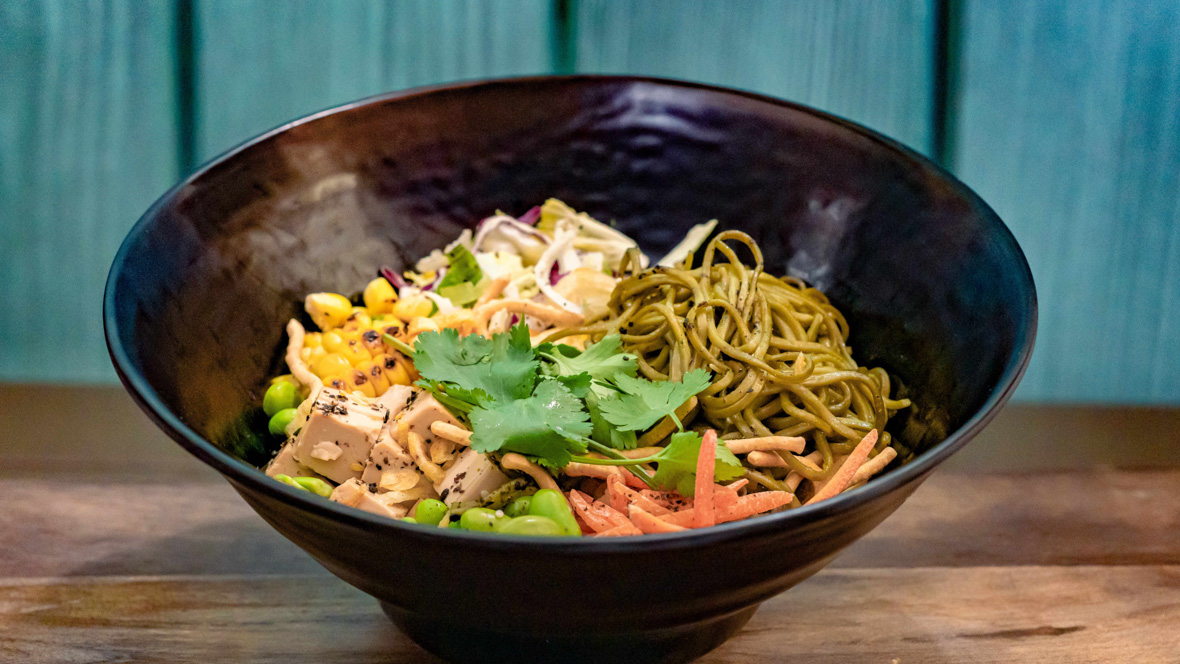 For a refreshing meal, the Soba Noodle Salad is a great light dish with tofu, cabbage, edamame, carrots, roasted corn, scallions, and cilantro topped with crispy shallots and sesame ginger dressing. It can be paired with a refreshing Honey Lemon-Ade with yuzu purée and popping passion fruit and strawberry boba.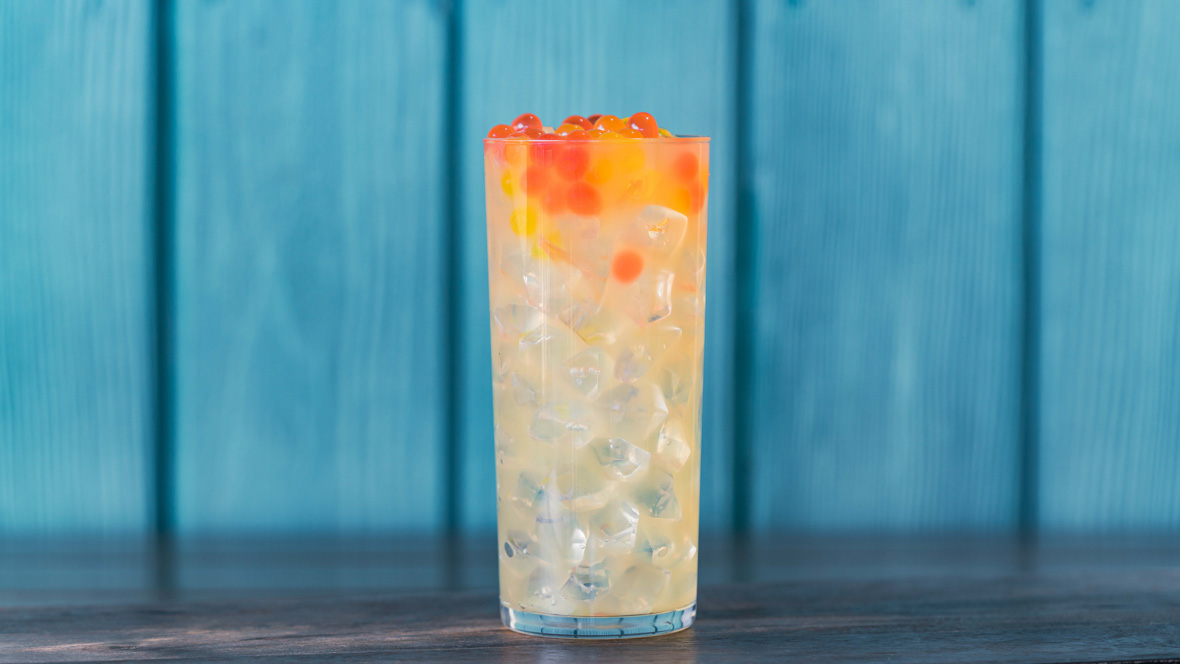 In the series, Baymax enjoys a cold beverage with caramel syrup, and guests will be able to experience this movie moment with their own Caramel Cream Cold Brew—perhaps the perfect pick-me-up.
Aunt Cass has thought of everything, even dessert. Guests can enjoy a fluffy Japanese-style cheesecake with a cherry compote. Made with a meringue, it is much less dense than a typical New York cheesecake, Balogh said.
Lucky Fortune Cookery
Next door to Aunt Cass Café is Lucky Fortune Cookery, which has a multicultural menu of Vietnamese, Korean, Chinese, and Japanese flavors, Balogh said. A Yaki Udon will be available, which is similar to Yakitori but served with thick udon noodles.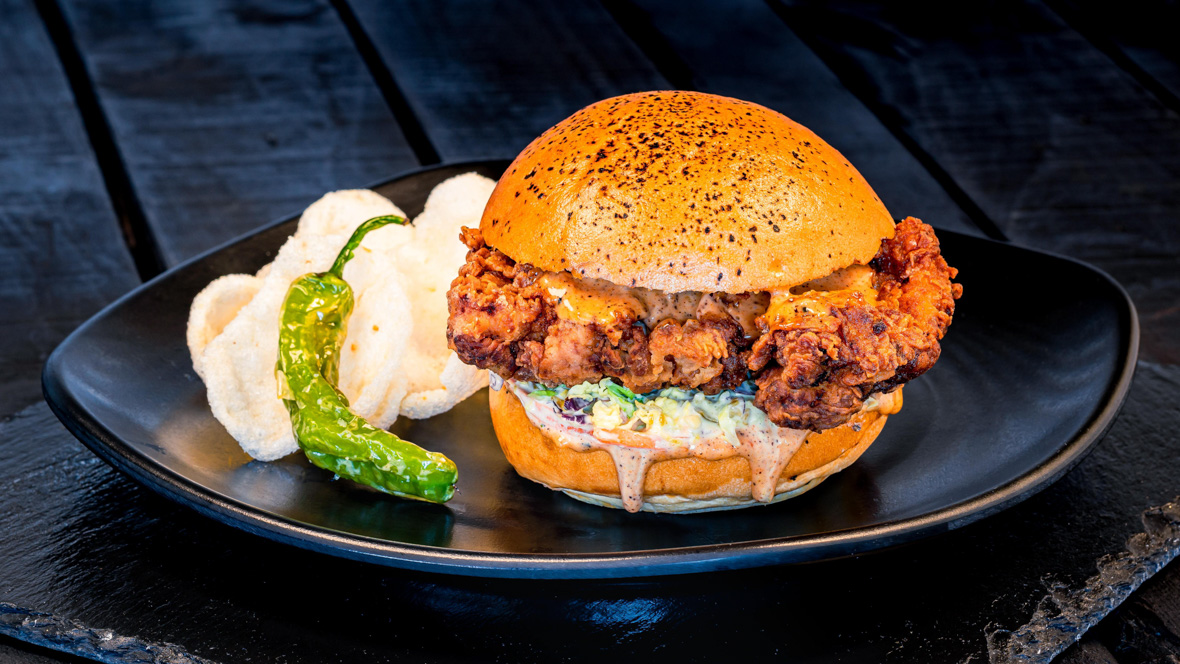 A Karaage-inspired Crispy Chicken Sandwich with slaw and Togarashi mayonnaise will also be available on a potato bun, along with garlic chips.
Inspired by Cocina Cucamonga Mexican Grill's braised beef, there will also be a twist on ramen that includes birria beef, mozzarella cheese, a soft-boiled egg, and roasted corn.
Balogh sees a narrative in the mixing of cultures together in the food he and his team have created for San Fransokyo Square. "I think about these cultures kind of coming together, sharing ideas and thoughts and ingredients, maybe techniques," he said. "And then as they go back to their restaurants, they're practicing some of those things that they're learning into their own menus."
Wash all these flavorful foods down with an unsweetened black iced tea infused with flavor from lychee syrup and lychee coconut jelly.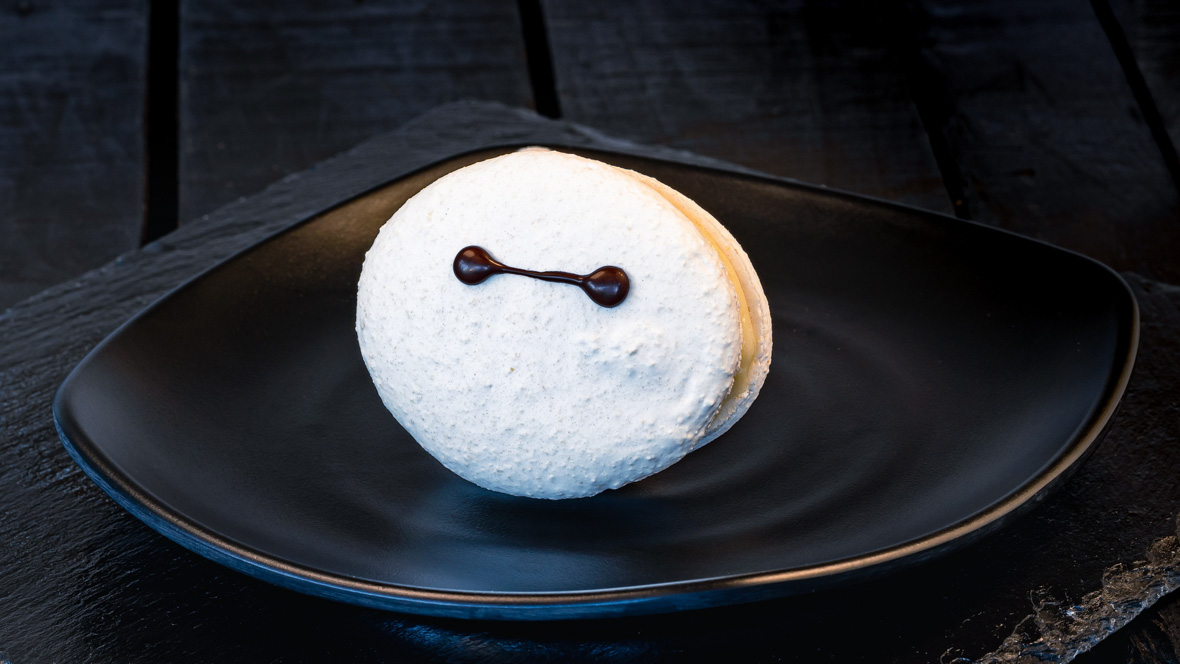 And, of course, there's a Baymax-themed dessert! A white macaron filled with a buttercream and a hazelnut filling is topped with an outline of Baymax's eyes.
Cocina Cucamonga Mexican Grill
While Lucky Fortune Cookery borrows influences from Cocina Cucamonga, Cocina Cucamonga borrows from Lucky Fortune Cookery by adding a Japanese flair to its Mexican street corn. The corn will be topped with Togarashi mayonnaise, queso fresco, furikake, and bonito flakes, which will be served with wheat chicharrons.
"What we've recognized is [the restaurants] want to welcome their new neighbors into the neighborhood," Balogh said. "On the taste side of things, your taste buds are wondering, 'Where am I right now?' And I think that's really exciting."
Rita's Turbine Blenders
Jelly rings will be put on top of non-alcoholic drinks at Rita's Turbine Blenders as a nod to GoGo Tomago.
Food for Children
As Chef Balogh has observed during his several years at Disney, children enjoy eating what the adults around them are eating. Some restaurants do have a kids menu but the items in the kids menu will typically be smaller portions.