That biography is what got me hooked.
Before taking a trip to Walt Disney World with his wife and family in 2004, Timothy Susanin wouldn't have considered himself much of a Disney fan let alone a candidate to write a biography about Walt Disney. "We went there for the kids and we ended up loving it," he recalls. Intrigued by the resort and in turn the man who dreamed up the idea for it, Susanin picked up Bob Thomas' Walt Disney: An American Original. "That biography is what got me hooked," he laughs. From there, he delved into just about anything written about Walt until he had soaked up all that was published. An investigative lawyer by trade, Susanin noticed there were some missing details about Walt's past in the years leading up to the first Mickey Mouse cartoon. Thus began his own search for Walt's missing decade and the rest is history, well, a very specific time in it. Walt Before Mickey transports you back in time, from 1919 to 1928, to meet the 17-year-old black-and-white version of Walt Disney who was just taking his first brush strokes at creating the wonderful world of Disney.
The timeline turned into a chronology that turned into a draft that turned into a book
The idea was to come up with a timeline. "There was a whole decade there that I felt a need to put in order for myself," Susanin explains. He began searching through the trail of documents and details that Walt had left behind. From newspaper articles and interviews to correspondence, census records and obituaries, a life story began to take shape — not only of Walt's, but of those around him. "So the timeline turned into a chronology that turned into a draft that turned into a book," Susanin reveals. "I saw pictures of Walt with all these young kids and you wonder, 'Who are these people?' and 'Could they have ever imagined that they were at the start of this whole iconic saga?' I wanted to jump in and learn about the fun stuff in his glory years and focus on the Hollywood years. And then, as I joked with [Disney Legend] Dave Smith and a number of people, I got stuck in Kansas City."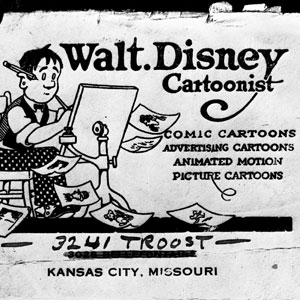 One of the things Susanin noticed was that most of what had been written about Walt's early years began with Steamboat Willie. And if an author dared to go earlier into his past, it usually began with Laugh-O-Gram Films in Kansas City. "Laugh-O-Gram Films is always the headliner when they talk about his Kansas City years, or his career there anyways," Susanin points out. "That was the second of the two studios he had there." The first was called Kaycee Studios. And most people incorrectly think he started doing those first fairytales — Little Red Riding Hood and The Four Musicians Bremen — at Laugh-O-Gram, but he really animated those while he was at Kaycee Studios."
I was struck at how many years went by before he did hit it big.
As a reader you really get a sense of what it was like to be right there with Walt and his animators during the experimental days of animation and the birth of Hollywood. "The book starts out with a flashback, and putting that aside, I try to stay in the moment," Susanin says. "So I'm not referencing Winnie the Pooh or Disneyland. I'm not breaking the image that I am creating there." From photos and interviews, Susanin connects historical quotes with vivid descriptions. Readers learn about Walt's trek to California through his own words and, based on newspaper articles, ads and photos, Susanin describes the surroundings in vivid detail. The book also provides a rare glimpse at Walt's early struggles and his perseverance to go back to the drawing board when things didn't work out. "I was struck at how many years went by before he did hit it big," Susanin says. "One presumes it was an overnight thing."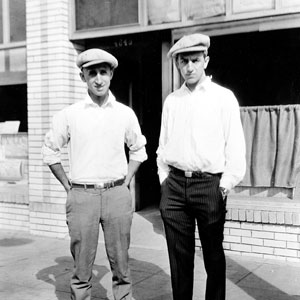 Walt Before Mickey ends with Walt and Lilly departing on a train from New York to California. They just had lost the rights to Oswald the Lucky Rabbit and were on the brink of creating Mickey Mouse. "Most people would give up and go into another line of work, but he remained focused on his goals," Susanin says. "He did not give up, and there is a real lesson there." Susanin adds, "I like that the reader knows the ending as he is getting on the train, but Walt doesn't. He gets on the train having lost — again — but the readers know he ends up a winner, and that his story is really about to begin."