By Beth Deitchman
If you haven't already, you're about to add a new word to your vocabulary: Tiffins.
It's an Indian word that has multiple meanings. A tiffin can be a light midday meal—and we may just start using the word in place of "lunch," which feels kind of passé by comparison. A tiffin also refers to the container said meal is often carried in: usually a round, stackable metal lunchbox. But our favorite definition is the newest: Tiffins is Disney's Animal Kingdom's signature restaurant, which opened just this past weekend, and might just become your favorite, too.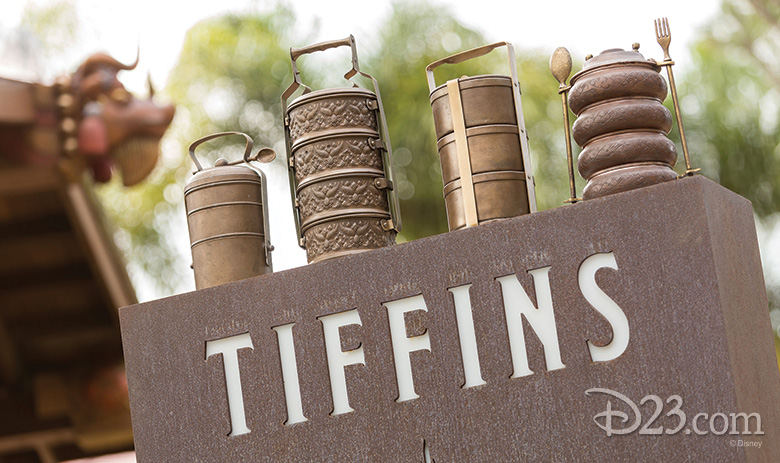 The new fine-dining establishment takes its inspiration from travel, and the menu is a mixture of cuisines from different parts of the world and different cultures. Anthony DeLuca, Tiffins' chef de cuisine, told D23 recently that Walt Disney Imagineers looked to the research trips they took while designing Disney's Animal Kingdom for the elements guests will now find when they dine at the restaurant. According to Deluca, "They took notes, they took sketches and all those places they visited, we get to explore on the menu. So we could have something Asian, we could have something African, we could have something Moroccan. Food can be inspired by wherever they went."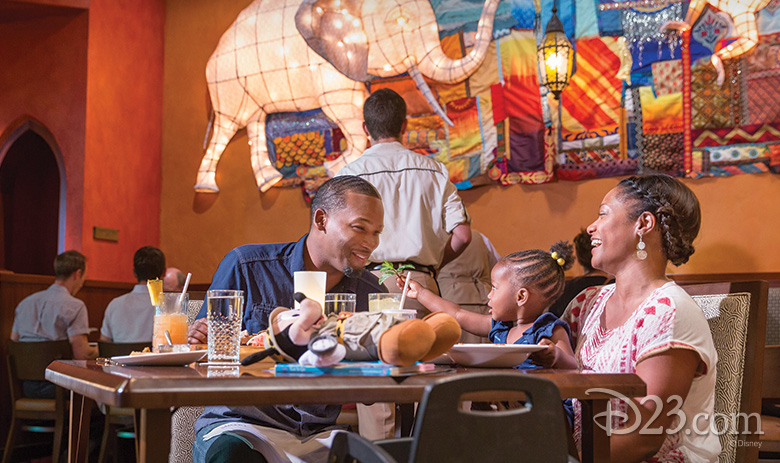 Mark Hoevenaars, the proprietor of Tiffins, explains that guests' global experience begins at the front door. "When you walk into our main entrance, there's this beautiful map of the world that is carved out of wood that instantly shows the theming of the restaurant, which is travel," he says. Hoevenaars and the Disney's Animal Kingdom team also see the restaurant as an experience for the eyes as much as for the tastebuds, so Tiffins functions as an art gallery in addition to serving as an amazing new restaurant. Tiffins is comprised of three different themed dining rooms: an Asian-inspired Trek Gallery, an African-inspired Safari Gallery, and an animal-inspired Grand Gallery. "In that way, we touch all of the different portions of the theming from the Walt Disney Imagineering and animal programs," Hoevenaars points out.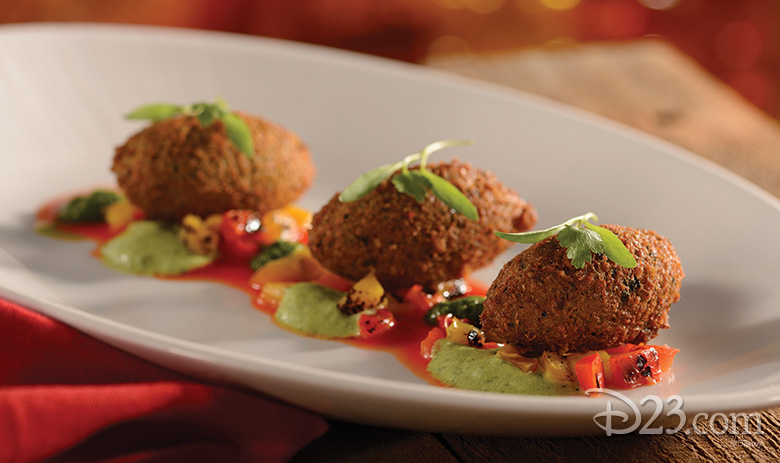 The Tiffins menu offers something for everyone. "I think there's definitely some stuff that's going to be a little bit out there, but we have an audience here at Animal Kingdom that's a little bit more adventurous, more free-spirited, to go out and try some stuff," Hoevenaars says. Main courses include a Berber-spiced lamb chop with mustard greens, lentil stew, and mint chutney, an African-inspired dish; miso-glazed black cod with Forbidden Rice in steamed bok choy with turmeric sauce, which is Asian-inspired; and grilled head-on shrimp with tomatoes, roasted fennel, olives, and sea urchin butter sauce, which has a European sensibility. Tiffins will also serve a classic African black-eyed pea fritter called Akara, which Hoevenaars and DeLuca expect to be popular with guests. But, Hoevenaars confidently professes, "I think that regardless of what their selection will be on the menu, they're going to be very pleasantly surprised."
There's even a dessert inspired by the tiffin itself: a three-tiered creation that will feature a chocolate ganache with multiple garnishes, another layer with an aromatic kaffir lime broth that lightly warms the chocolate, and a top layer that's a microwave sponge cake—made using innovative techniques that help add a crunchy texture to the epicurean experience.
For younger travelers with palates that might not be as worldly as those of their parents, DeLuca assures, "We actually made sure that when we wrote the kids menu that it was a little less adventurous, that we can capture all of our audience. But there's definitely enough of a mix where we think people will identify with something."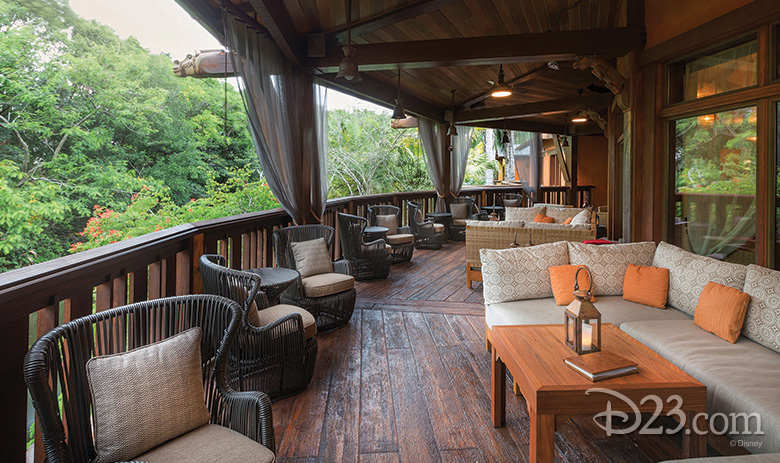 Travelers who see themselves as "just passing through" will enjoy spending time at Nomads Lounge, which celebrates the travel of Disney's Animal Kingdom guests. Hoevenaars is excited about one way that guests can be part of the travel theme—and support worthy causes at the same time. "We'll have these hangtags for sale, which our guests can actually write their own adventures and their own travels on, and we'll actually hang them in the bar. The proceeds of those hangtags will support Disney's conservation efforts. We have a wide variety of different projects that we support here in Animal Kingdom we have a lot of folks that are working to protect wildlife and wild places—it's really exciting to have a component that will actually help support that as well," Hoevenaars says.
Tiffins and Nomads sit on the Discovery River, right by the bridge that will lead into what will be Pandora—The World of Avatar when it opens. At Nomads, guests can enjoy a beverage—either before their meal at Tiffins, or as a chance to relax and taste some of the street food-inspired small plates on the Nomads menu.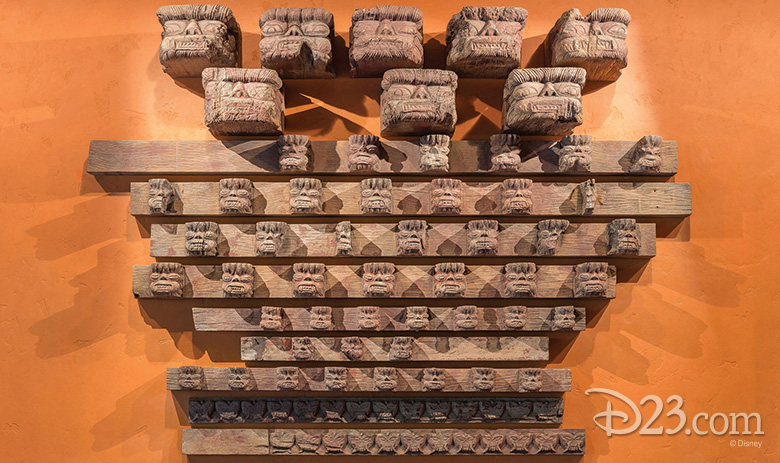 "In general, the restaurant is super exciting for me," Hoevenaars stresses. "I think our theme and the ability of the chefs to really create dishes that are inspired by South African cuisine and Asian cuisine is awesome in itself. But then within those continents there are so many different influences and cultures, and we have the ability to do fusion and things like that. It's really exciting to be working with these chefs to come up with dishes that are just going to truly blow people away."