"Around the lonely campfire, when the wolves begin to call, the writers tell the story of the bravest wolf of all. The king of all the hunters, born to lead the rest, his name became a legend across the great southwest."
Well, partner, those lyrics to the title song of The Legend of Lobo, released on this day in 1962, were penned by Disney Legends Richard M. and Robert B. Sherman and sung by another Disney Legend, singing cowboy Rex Allen.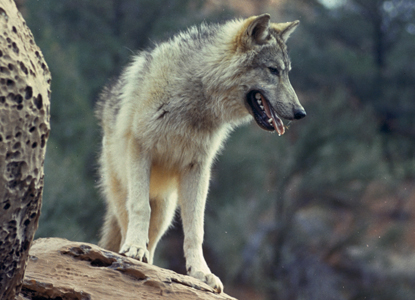 The film tells the tale of a wolf who has lost both his parents to hunters and his struggles to avoid the bounty placed on him, free his captured mate and find safety in a land that man has not yet invaded. Assisting Rex with the singing duties are the Sons of the Pioneers.
If'n y'all reckon they sound familiar, the group appeared with founder Roy Rogers to introduce the "Pecos Bill" segment of Disney's Melody Time, for which they also provided the music. They're also heard in a number of other Disney films, including The Saga of Andy Burnett, The Swamp Fox, Sancho, the Homing Steer, The Saga of Windwagon Smith, and Johnny Shiloh.
If y'all listen closely in Disneyland's Frontierland, as part of the area music, you can hear the group singing some of their signature tunes such as "Cool Water" and "Tumbling Tumbleweeds." Speaking of Frontierland, here's a li'l nugget of trivia. One of the land's longtime residents, Betty Taylor, sang with the group on their Lucky U Ranch radio show in the 1950s before starring for 30 years in Disneyland's Golden Horseshoe Revue. Hope you enjoyed today's This Day.
Y'all come back, y'hear?