By Melissa Pankuch, Walt Disney Archives
Adapted from the 1962 novel written by Madeleine L'Engle, Disney's 2018 film A Wrinkle in Time takes teenager Meg Murry, her little brother Charles Wallace, and friend Calvin to fantastical worlds in search for Meg's missing father. Led by a trio known as the Mrs.'s – Mrs. Whatsit, Mrs. Who, and Mrs. Which – the children are in for the adventure of a lifetime.
Uriel 
"The Foot feels the foot when it feels the ground."— Buddha, Nepali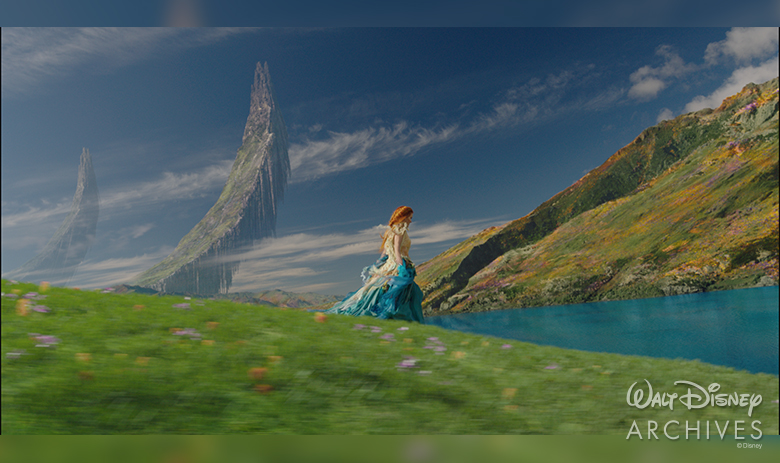 The Mrs.'s use an interstellar, hyperspeed-traveling technique called "tessering" to bring Meg, Charles Wallace, and Calvin to Uriel, the first planet they believe Meg's father visited. Uriel is an ecological paradise, with green rolling hills, filled with flowers and butterflies, birds, and fish. In order to capture this beautiful scenery, production traveled to New Zealand for two weeks, shooting on the western shores of Lake Hawea. Before filming, they met with members of the indigenous Māori community, who held a ceremony that welcomed them to the land, as long as they took care and respected the ground they were about to use.
Orion's Belt
"Love looks not with the eyes, but with the mind." — Shakespeare, British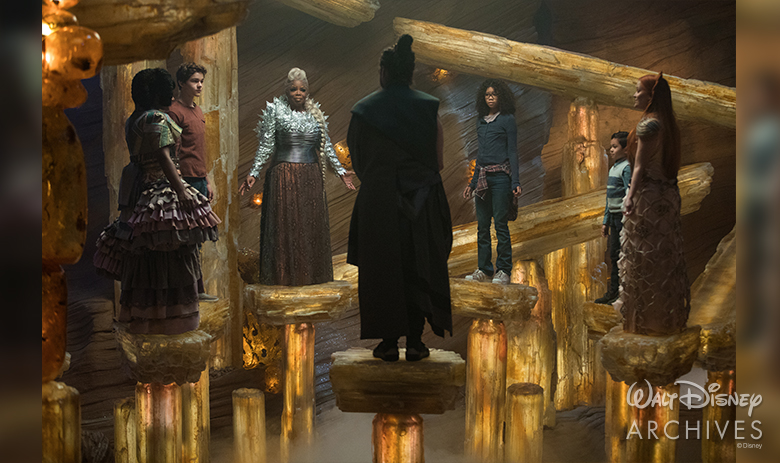 The group then travels to Orion to seek help from the Happy Medium, played by Zach Galifianakis. When they first arrive, they tesser on to a stone, colorless path. It is only when they reach the home of the Happy Medium that they finally see color—in the form of a cave composed of glowing amber-colored beams, which balance one slab on top of another. These beams were inspired by the selenite crystals of the Cueva de los Cristales in Chihuahua, Mexico.
Camazotz
"When shall we three meet again, in thunder, lightning, or in rain?"— Shakespeare, British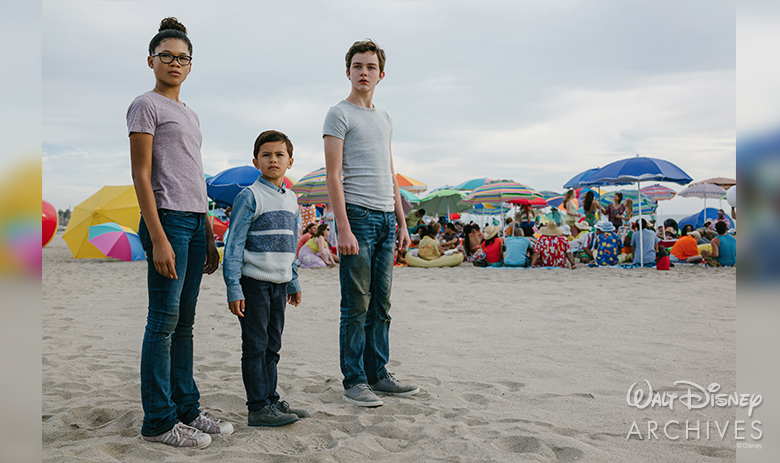 The adventure ultimately brings Meg and her companions to Camazotz, a planet ruled by the evil force known as the IT. While the Mrs.'s cannot stay on the planet due to its lack of light, Meg, Charles Wallace, and Calvin experience the ever-changing landscape of the planet. After racing through a vicious forest and maneuvering through a strangely synchronized suburban neighborhood, the children arrive at a colorful beach, shot at the iconic Venice Beach in Los Angeles, California. It is here that the children meet the character Red (played by Michael Peña), who leads the children to the final leg of their adventure.
Tesser alongside Mrs. Who, Mrs. Whatsit, and Mrs. Which to visit the fantastic worlds featured in Disney's A Wrinkle in Time now streaming on Disney+!