By Jim Frye
The fan-favorite attraction Soarin' Over California has gotten a brand-new, high-tech upgrade; new locations; and a whole new theme in preparation for its spectacular premiere at Shanghai Disney Resort. Back in 2001, Soarin' Over California opened with the most state-of-the-art equipment available, using high-definition film projection, dimensional sounds, scents, and more. But now that digital projection and digital technology have advanced so dramatically, the Walt Disney Imagineering (WDI) team decided they needed to take a leap forward with new state-of-the-art equipment, starting with the camera. Of course, as often happens at WDI, what they wanted didn't exist. So they invented it.
"Just as Walt did with Circle-Vision and some of the other unique formats in the parks, we often custom-design projection and screen technology to create the immersive story environment that we want," says Tom Fitzgerald, Portfolio Creative Executive, Walt Disney Imagineering. "The beauty of being Imagineering is that we have an R&D team here, and our Disney Imagineers and researchers developed a state-of-the-art digital camera, one of the highest resolution cameras in the world."
What that means for guests is that the images on the 80-foot projection screen are going to be as realistic and spectacular as imaginable. But they didn't stop with the camera. They also updated the projection systems to laser-powered digital projection for high resolution and super-high frame rate. This helps to create a super-bright effect with super-high resolution. It won't ever fade, scratch, jitter, or show any dirt. "It will stay pristine for every guest who rides it as time marches on," Fitzgerald notes. "It does what we like to do at Imagineering, which is raise the bar and the quality of an immersive experience for guests. So when you see the new projection system, you absolutely believe you're in those scenes now. It's astonishing."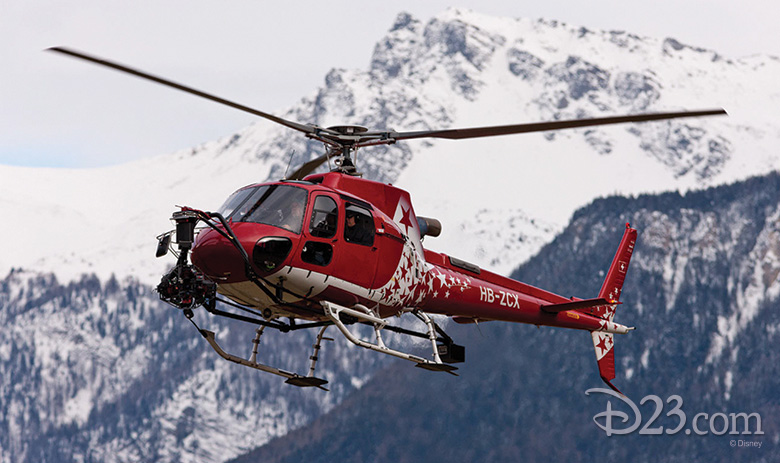 The actual filming process stretched out for more than a year, requiring multiple locations all around the world. As the crew filmed, they'd send back footage, which allowed the California team to adjust the shots in real-time. And because Imagineers needed to see the footage as it would look inside the actual attraction, they built a mini-dome for screening the footage at their headquarters in Glendale.
"We built a quarter-scale dome, with a ladder that would take you up into the center of it and we would go up one by one, stand at the top of that ladder, and watch all the footage from the locations to pick the ideal shot," Fitzgerald says. "And that's how we put it together." It wasn't until the Disney California Adventure Soarin' attraction went digital that Imagineers were able to actually travel down there at night when the park was closed to guests, put it up in the air and run the footage to make sure that they had all the perfect shots that they wanted. They'd see if there were any issues they needed to adjust or tweak. It was a process of back and forth, back and forth.
"Things look very different on a computer monitor or a TV screen than they do on the dome and we needed to go into that dome and look at the shots," he explains. "Sometimes we'd pick a take that we might not have picked if we were just looking at things on a television screen. We had to have that immersive format to look at things. And again that's part of the Imagineering way. You can't go to Hollywood and say 'I need a quarter dome to look at my footage,' so we are in the business and have been for years of building unique screening facilities for our unique film and media experiences in the park."
Fitzgerald adds, "You know, I think Soarin' is a very romantic and beautiful experience with that score and the sensation of flying," he adds. "We wanted postcard-perfect shots to make up the show. Soarin' is one of the most popular attractions we've ever created and this was the natural next step. You've flown over California, so now let's take you on one of the grandest adventures of them all. Let's take you around the world!"
Excerpted from the Summer 2016 issue of Disney twenty-three. Like what you're reading? Become a Gold Member now.