Before Snow White and the Seven Dwarfs… before The Little Mermaid… and way before Frozen… Walt Disney and his brother Roy told their one-of-a-kind stories through the animated short film. Walt Disney Animation Studios (WDAS) celebrated its recent DVD release of their Short Films Collection with a crowd-pleasing panel this morning inside Stage 28 at D23 EXPO 2015.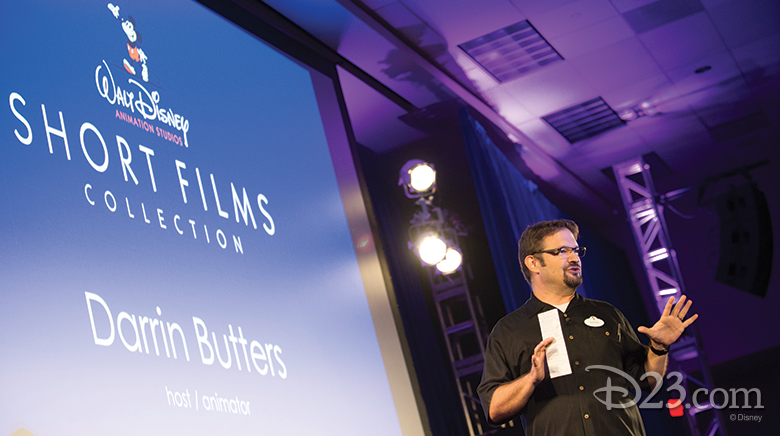 Animator Darrin Butters served as host for an illuminating discussion with the filmmakers of shorts including Get A Horse!; How to Hook Up Your Home Theater; Tangled Ever After; Frozen Fever; and the Oscar®-winning Paperman and Feast. Animators shared stories from the making of their films, and one thing was abundantly clear: More than 90 years later, WDAS is carrying on the tradition with all the same humor and heart as the brothers Disney.
Mickey Mouse came back to the big screen in Get A Horse!—an animated short that played before Frozen. And while it was all new, it was a stunning return of sorts to the classic 2D animation of Disney movies past. "We all had to unlearn everything we knew about animation, setting our minds back to 1928," said animator Eric Goldberg. "The more imperfect we made the characters, the closer they looked in 3D to their original counterparts." And if you thought you heard a familiar voice in that short, you're right: The filmmakers pieced together bits of recorded dialogue from Walt himself to create Mickey's signature sound.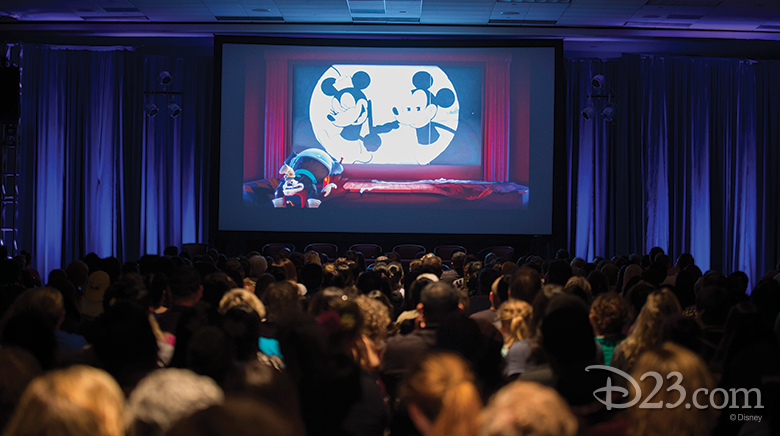 A lesser-known animated short, 2004's Lorenzo began its journey to the big screen all the way back in the 1940s. Disney Legend Joe Grant had always wanted to take an animated look at a mischievous cat… but it wasn't until more than 50 years later when producer Don Hahn tasked current Disney animator Mike Gabriel with creating a short for a proposed Fantasia 3. After finding the perfect tango-flavored cut of music, Gabriel finally helped shepherd Grant's feline friend to the screen—and the short was even nominated for an Oscar!
Filmmakers shared all manner of other behind-the-scenes tidbits. There was the time animator Dean Wellins did research for his short Tick Tock Tale at the clock-filled Yorba Linda tract home of an expert clockmaker. Stevie Wermers told the capacity crowd about nervously pitching Pixar and Walt Disney Animation Studios Chief Creative Officer John Lasseter the idea behind her 12-year-old CalArts student film as the story for 2011's The Ballad of Nessie. And animator Nathan Greno cracked fans up with a quip about the making of 2012's Tangled Ever After; "I really wanted to blow up the castle, for some reason," he admitted. "You never get to do that!"
As Butters reminded the audience, "It all started with a mouse"—and it was that little mouse that thrilled young and old alike with his adventures. Despite their relatively abridged length, the short films of Walt Disney Animation Studios prove one thing: that even to this day, hilarious and heartwarming stories don't always have to be 90 minutes in length.