By Beth Deitchman
Fantasia—it's a word with several meanings. In music, it refers to a composition that doesn't have a clearly defined form. Translated to other works of art, such as poetry or drama, a fantasia is a work that is brought to life with unrestricted creativity. And in the wonderful world of Disney, Fantasia is Walt Disney's 1940 masterpiece, a symphonic concert with Leopold Stokowski and the Philadelphia Orchestra, embellished by Disney animation. "Springtime," the brand-new Mickey Mouse cartoon short debuting this Saturday, May 12, at 7:55 a.m. ET, is also a fantasia. The short has no dialogue and no sound effects; the soundtrack is comprised only of music, with a classical-inspired score that pays homage to the iconic film.
We sat down with Christopher Willis, the Emmy®-nominated composer for the Mickey Mouse shorts (as well as The Lion Guard and the Emmy-winning HBO series Veep) about putting a classical spin on this contemporary series. Here's what the musicologist (who has a PhD on 18th-century music) had to say about "Springtime."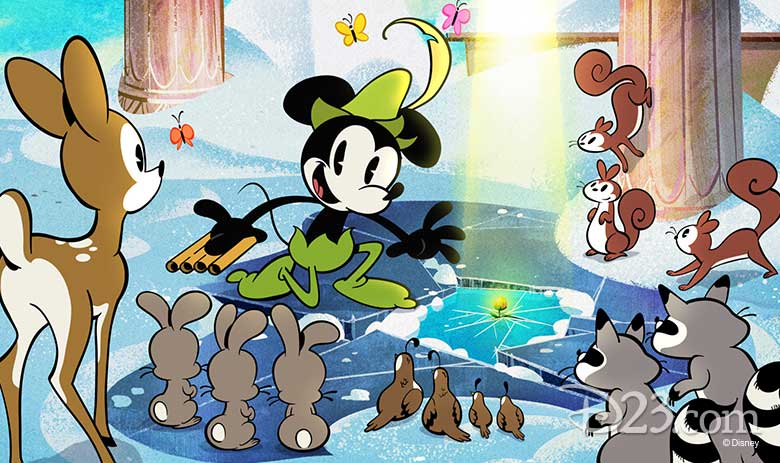 "Springtime" begins with a wonderful nod to Fantasia.
The first sound you'll hear at the start of "Springtime" is the tapping of a conductor's baton against a music stand to gain the attention from his or her orchestra. This is a callback to Fantasia's opening scene, which began with a silhouette of famed conductor Leopold Stokowski, who engages the orchestra to start the film.
Mickey goes on an epic adventure.
Mickey and his nemesis, Pete, face off against each other in what Willis describes as a kind of "ballet." Pete is the spirit of winter, while Mickey is a harbinger of spring. "Winter doesn't want to go away without a fight, so they have to battle it out in order for the seasons to progress," Willis explains.
There is one big difference between the music in "Springtime" and the music in Fantasia.
Willis points out that in Fantasia, "The filmmakers found beloved pieces of classical music and then worked out stories or scenarios that would fit them and would help people to appreciate them even more." He emphasizes that "Springtime" is written in a classical style that's a mixture of 18th- and 19th-century influences such as Beethoven, Rossini and Tchaikovsky. Because "Springtime" is less abstract than the vignettes in Fantasia, Willis knew they needed a new piece that sounds classical. "With the expectation and the history that we've built up with Mickey Mouse, I think it makes more sense to be a complete story."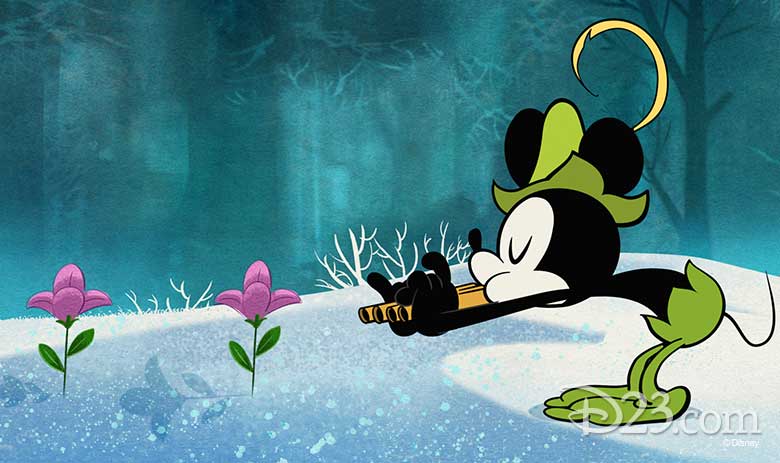 Different instruments represent the iconic characters.
With no dialogue, in "Springtime" it's the music that tells the story and the instruments help guide you along. The low brass instruments, often used by Mozart to signify a powerful and often demonic force, here represent Pete; while the flute signifies Mickey. A solo violin represents a flower in a temple and the object of Mickey's affection. You'll have to tune in to "Springtime" for a grand violin solo—and a grand reveal, as well.
For the first time, Willis didn't so much as score the animation as the artists animated Willis' score.
Because the short is completely music-driven, Willis wrote the score much earlier than he usually would in the animation process. Executive producer/supervising director Paul Rudish and his team presented what were essentially sketches to Willis, so that he could advise on the pacing of specific scenes. "It allowed me to come back and say, 'Well, if you could give me some more time here and a little less time here, a little more time here and a little less time here, then I can make musical phrases that make sense,'" he details.
There are Easter eggs—or should we say Ear-ster eggs?—for classical music aficionados.
When the temple is introduced in the short, Willis reveals that the accompanying music pays homage to Mozart, especially his opera The Magic Flute. And in fact, Mickey actually plays a magic flute throughout the short.
The score for a frenetic sequence when Pete steals Mickey's magic flute features a fugato, a section often included in the middle of a classical composition to signify chaos. And for when spring begins to bloom at the end of "Springtime," Willis composed a folk dance, an 18th-century musical "jig" that signifies a celebration. "Things in the cartoon often mean similar things to what they might have meant in classical music," says Willis. He adds that the more you know about classical music, the more winks and nods you'll discover—or perhaps, the more you enjoy the short, the more you'll be inspired to learn.
The classic end-credits tune becomes a classical end-credits tune.
Stay tuned through the credits for a special version of Mickey's beloved whistling melody, which is performed in "Springtime" by an orchestra in the classical style. Willis explains, "We wanted to give the cartoon a classy sendoff, rather than coming back to the old familiar whistling style."
"Springtime" premieres Saturday at 7:55 a.m. ET/PT and on the DisneyNOW app. But you can view an exclusive clip from the short right here: