By Courtney Potter
Mark Your Calendars for The Mandalorian's Return… This October!
Now this is some truly fantastic, much-anticipated, totally cool news: Our pals at Lucasfilm just announced this week that the second season of The Mandalorian, from creator and Disney Legend Jon Favreau, will debut October 30 on Disney+!
All episodes of The Mandalorian Season One are currently available to stream on Disney+, along with Disney Gallery: The Mandalorian, which features Favreau, executive producer Dave Filoni, and more behind-the-scenes folks as they take fans inside the first live-action Star Wars series.
By the way, in case it's slipped your mind…The Mandalorian, starring Pedro Pascal in the title role, is currently nominated for an incredible 15 Emmy® Awards, including Outstanding Drama Series; Outstanding Guest Actor in a Drama Series (for Giancarlo Esposito); Outstanding Character Voice-Over Performance (for Taika Waititi); and Outstanding Music Composition for a Series — Original Dramatic Score (for composer Ludwig Göransson). Winners of the 72nd Primetime Creative Arts Emmy Awards will be revealed September 14–17, with a virtual ceremony airing September 19 on FXX. And the 72nd Primetime Emmy Awards, hosted by Jimmy Kimmel, will air live September 20 on ABC. Don't miss the fun!
5 Fantastic Things to Watch This Weekend
Welcome to September, friends 'n' fans! The world keeps a-spinnin' and it's almost time to officially welcome fall (well, not for a couple weeks at least). There's a ton of cool stuff to look forward to watching this weekend, from around the worlds of Disney—including the season finale of the supremely silly and super hilarious Muppets Now, as well as the season finale of Pixar in Real Life, both on Disney+; and a brand-new episode of Fancy Nancy on Disney Junior. Learn more about what you can expect on your TV screens and streaming devices by clicking here.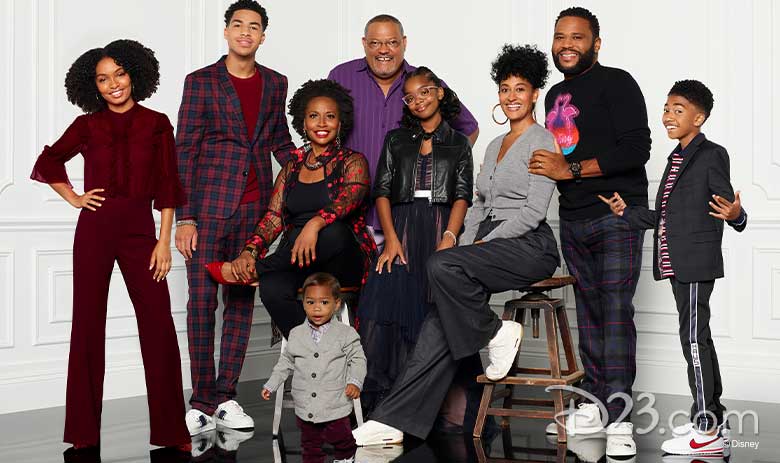 ABC's black-ish Announces Special Standalone Event
ABC's hit series black-ish is returning to our screens in a super-cool way this fall… Airing ahead of the show's season premiere, a one-hour television special is set to debut on Sunday, October 4, at 10 p.m. EDT; the two back-to-back episodes will follow the Johnson family as they navigate the upcoming election. But that's not all: The special will be presented in part as an animated episode—one that Oscar® winner Matthew A. Cherry (Hair Love) is set to direct.
In "Election Special Pt. 1," Junior (Marcus Scribner) embarks on his journey as a first-time voter, but is dismayed to learn there's a problem with his voter registration. Then, in the animated "Election Special Pt. 2," Dre's (Anthony Anderson) colleague Stevens (Peter Mackenzie) makes an ill-advised decision to run for Congress, so Dre enlists his family's help and campaigns against him—but gets caught up with fundraising and private interest groups.
An official premiere date for the highly anticipated seventh season of black-ish will be announced shortly, so keep those eyes peeled…
ICYMI: Dancing with the Stars Reveals New Cast
Speaking of ABC: The ballroom is (almost) back, y'all! Yes—just this week, the next cast of Dancing with the Stars was announced… and by the looks of things, we can expect a memorable, music-filled journey towards the coveted mirror ball trophy! For a full rundown on who to expect on the Tyra Banks-hosted series, click here.
All Aboard Mickey & Minnie's Runaway Railway with #DisneyMagicMoments
For those of you yet to take a ride on Runnamuck Railroad, we have great news: Thanks to #DisneyMagicMoments, now you can! Virtually, from the comfort of your own couch, at least… Check out the brand-new video, featuring a ride on Mickey & Minnie's Runaway Railway at Disney's Hollywood Studios, above.
The attraction, which opened earlier this year, marks the first-ever ride-through attraction in Disney history featuring Mickey Mouse and Minnie Mouse. And in this new "Ride & Learn" video, which debuted earlier this week on the Disney Parks Blog, viewers can step inside the park's Chinese Theatre and into Mickey and Minnie's cartoon world! With Goofy at the controls, what could possibly go wrong?
You'll learn some great tidbits of info along the way, including how the work of Disney Legend Jimmy Macdonald comes into play as you journey through the attraction. Wanna make it even more like a trip to Walt Disney World Resort? Why not make whip up some of these Triple Chocolate Cupcakes (served at the Magic Kingdom's Be Our Guest restaurant) to enjoy after you've watched the clip? Okay, now we're hungry…
Freeform Reveals Spooktacular "31 Days of Halloween" Schedule
Hard to believe, but Halloween is now definitively around the corner—so it stands to reason that the good folks over at Freeform have announced what to expect from 2020's "31 Days of Halloween" programming event. Expect a few cool new additions to the lineup, including The Scorpion King and 2016's Ghostbusters. For the entire lineup (which is subject to change, naturally)—and to get some info on a fang-tastic fan experience kicking things off in Los Angeles, CA—click here!