By Courtney Potter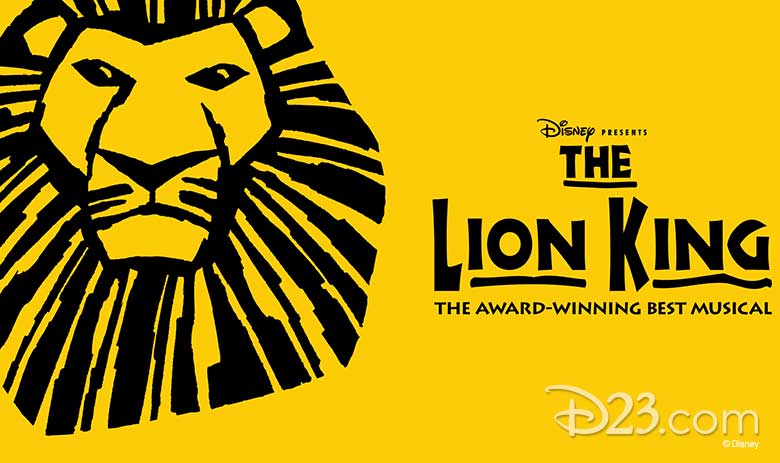 Simba-fy Your Instagram Stories with New Disney's The Lion King Filter
Looking for a cool new way to spruce up all those Instagram stories you've been creating lately? (C'mon, don't be shy; we like to give ourselves some dog ears or neon-colored glasses too.) Then look no further than a brand-new filter, courtesy our pals at Disney Theatrical Productions.
Starting earlier this week, Instagram users can now access filters inspired by Disney's The Lion King, the long-running, Tony® Award-winning musical based on the hit animated film. Users will be able to "wear" the iconic character masks of Simba and Nala, recreated exactly from director/designer Julie Taymor's original Tony-winning designs through Augmented Reality technology. The free filter can also be found by searching "Simba and Nala" in the "browse effect" search tool within Instagram.
In case you need a refresher course on how to use an Instagram filter: Use the camera to focus on a user's face; Simba's filter will appear. Tap the user's face once to switch to Nala's filter. Bring a friend into focus with another user and both filters will appear!
And when using both filters, tap the screen to switch from one user to another.
It's the "Circle of Life" for your social media, and we're (as the kids say) "here for it"…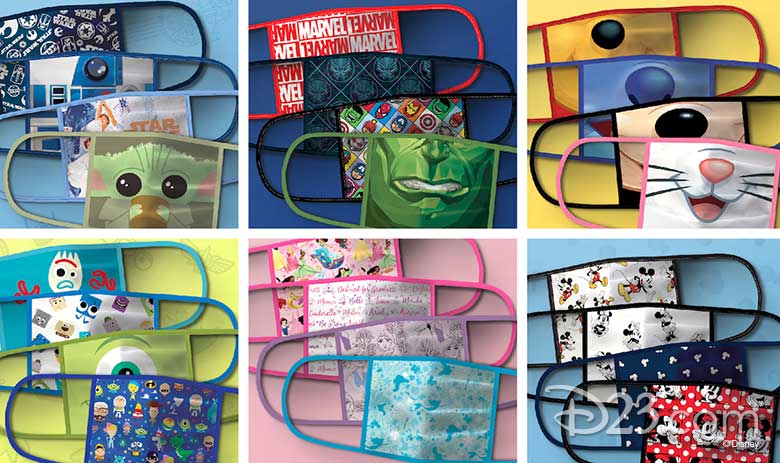 Disney Introduces Cloth Face Masks—Plus Donations for Those in Need
In line with recent recommendations from the Centers for Disease Control regarding wearing cloth face coverings in public, Disney has just announced a new line of non-medical, reusable cloth face masks in the U.S. featuring favorite Disney, Pixar, Marvel and Star Wars characters.
The cloth face masks come in small, medium, and large sizes and in a wide variety of prints highlighting a range of fan-favorite characters—including Mickey Mouse and Minnie Mouse; Anna and Elsa from Frozen; Woody and Buzz Lightyear from the Toy Story franchise; The Avengers; the Child—affectionately known as Baby Yoda—from Disney+'s The Mandalorian; and many more. Disney's cloth face masks are available for pre-order now in packs of four on shopDisney in the U.S., and are estimated to ship in June. These masks align with the FDA's latest recommendations on non-surgical, non-industrial grade face masks.
Additionally, Disney is donating one million cloth face masks for children and families in underserved and vulnerable communities across the U.S.—and they'll be distributed by MedShare, an Atlanta-based humanitarian aid organization that collects and distributes surplus medical supplies and equipment. Disney will also donate all profits from the sales in the U.S. of Disney's cloth face masks to MedShare, up to $1 million, now through September 30.
To purchase—or for more information, including fitting guidelines—head over to visit our friends at shopDisney.com.
5 Fantastic Things to Watch This Weekend
In our continued quest to bring you all things Disney (read: all things awesome) to occupy your days, take a gander at our latest rundown of the coolest episodes and films to watch on your TV (or streaming device of choice) this weekend. A new ep of DuckTales? Check. Iconic fairy tale/comedy The Princess Bride joining the ranks of Disney+? Yes indeedy. Read our rundown by clicking here.
ABC Honors 2020 High School Seniors with #GraduateTogether Special
Get ready to fete your favorite graduating senior this May 16 when ABC—along with CBS, NBC, and FOX—airs a brand-new, commercial-free multimedia event in their honor. XQ Institute, The LeBron James Family Foundation, and The Entertainment Industry Foundation are joining forces to pay special tribute to the Class of 2020 with Graduate Together: America Honors the High School Class of 2020… featuring the likes of LeBron James, Bad Bunny, the Jonas Brothers, Ben Platt, Megan Rapinoe, Yara Shahidi, Lena Waithe, Pharrell Williams, Malala Yousafzai, and many, many more! The special will also air across a host of entertainment, social media, and streaming platforms, including Complex Networks, Facebook App, Instagram, PeopleTV, Snapchat, TikTok, and YouTube—creating an incredible and unique #GraduateTogether experience for each of their audiences.
Curated by high school students and educators throughout the country, with the support of the American Federation of Teachers, the broadcast will include a collection of commencement addresses, celebrity performances, and inspirational vignettes. Plus, #GraduateTogether is inviting students, educators, and families to submit their own videos and photos online for consideration to be included in the telecast. But that's not all: Famed artist JR and his global participatory art project, Inside Out, will invite high school students everywhere to share their portraits in celebration of being part of the graduating Class of 2020.
So mark your calendars for Saturday, May 16, at 8 p.m. ET/PT, on ABC—and get ready for a little pomp-and-circumstance fun!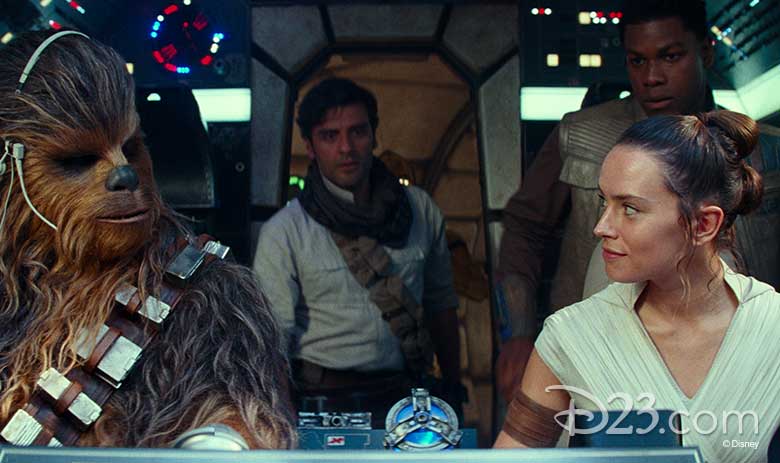 Star Wars: The Rise of Skywalker Debuting Early on Disney+
Awesome news from the world of Disney+: The final chapter of the Skywalker saga, Star Wars: The Rise of Skywalker, will begin streaming two months early, in honor of May the 4th (known by fans around the galaxy as Star Wars Day).
For the first time ever, fans will be able to stream the complete Skywalker saga all in one place. Disney Legend George Lucas' groundbreaking film Star Wars: A New Hope in 1977 made way for an incredible nine-part saga, and all nine will be available as part of Disney+'s extensive collection of Star Wars movies and series—including The Mandalorian and Rogue One: A Star Wars Story.
Star Wars: The Rise of Skywalker will join Disney+'s May the 4th lineup alongside the premiere of the docuseries Disney Gallery: The Mandalorian and the series finale of the award-winning Star Wars: The Clone Wars. So don your best Star Wars t-shirt (or if you're feeling really motivated, break out that Halloween or con costume), grab a spot on the couch, and enjoy!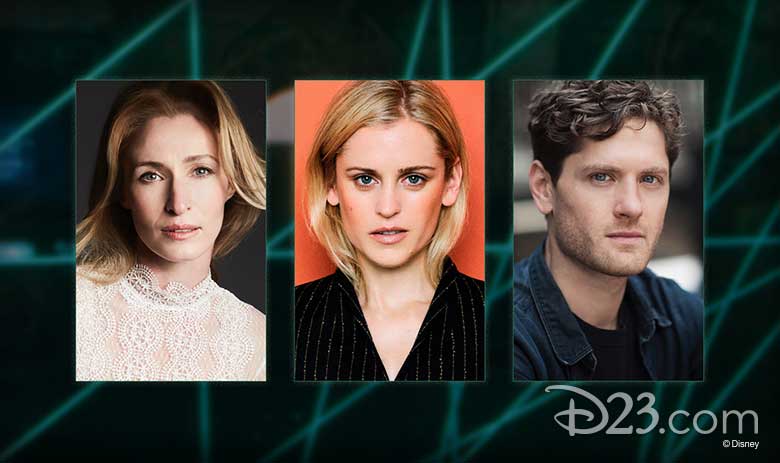 Disney+'s Live-Action Cassian Andor Series Adds Cast
Speaking of the Star Wars galaxy, more news out of Disney+ (by way of the good folks at StarWars.com) concerns its upcoming live-action series showcasing the adventures of Cassian Andor. Joining previously announced cast members Diego Luna (returning as Andor) and Alan Tudyk (once again, the voice of K-2SO) are Genevieve O'Reilly—who will reprise her role as Mon Mothma—and new co-stars Denise Gough (Angels in America) and Kyle Soller (Anna Karenina)… as well as Stellan Skarsgard (Pirates of the Caribbean: At World's End). Tony Gilroy, who co-wrote Rogue One: A Star Wars Story, will write, direct, and serve as showrunner for the series, which takes place five years before the events of the film.
This second-live action Star Wars series from Lucasfilm (following The Mandalorian) will follow Andor's shenanigans as a Rebel spy during the formative years of the Rebellion. Look for more info—including the series' release date—in the coming months.
Celebrate Mother's Day with Another Disney Family Singalong on ABC
The Disney Family Singalong delighted audiences young and young-at-heart on April 16 on ABC… and just this week comes news that another special in the works—this time celebrating Mother's Day! The Disney Family Singalong: Volume II will air on Sunday, May 10, followed by an all-new episode of American Idol. For more info on what you can expect, click here.
New Trailer for Final Season of Marvel's Agents of S.H.I.E.L.D.
Another big event coming to ABC is the premiere of the seventh and final season of Marvel's Agents of S.H.I.E.L.D.—and just this week, they released an intriguing new trailer. Check it out, above…
The story picks up immediately after season six, with the agents traveling to 1931 New York City. Their final mission? To change the past to save the future. With the new Zephyr set to time-jump at any moment, the team must hurry to discover what happened. And if S.H.I.E.L.D. fails, it would mean disaster for the past, present, and future of the world. As you can see in the trailer, the Chronicoms will stop at nothing to steal the faces they need. It's a race against time for S.H.I.E.L.D. to stop them and save… Hydra? Color us intrigued!
Marvel's Agents of S.H.I.E.L.D. stars Clark Gregg as Agent Phil Coulson; Disney Legend Ming-Na Wen as Agent Melinda May; Chloe Bennet as Daisy Johnson; Elizabeth Henstridge as Agent Jemma Simmons; Iain De Caestecker as Agent Leopold Fitz; Henry Simmons as Director Alphonso "Mack" MacKenzie; Natalia Cordova-Buckley as Elena "Yo-Yo" Rodriguez; and Jeff Ward as Deke Shaw. And this season, Enver Gjokaj will be reprising his role as Daniel Sousa from Marvel's Agent Carter.
Look for the return of Marvel's Agents of S.H.I.E.L.D. beginning Wednesday, May 27, at 10 p.m. ET/PT (9 p.m. CT) only on ABC!
Release Your Inner Toy with a (Virtual) Ride on Slinky Dog Dash
We're so thankful the folks over at #DisneyMagicMoments have released another epic first-person attraction video—and this time, you'll be able to live your best toy-sized life!
Get ready to explore Andy's backyard on the ever-so-fun Slinky Dog Dash, located inside Toy Story Land at Disney's Hollywood Studios. In case you hadn't yet heard the attraction's clever backstory: Andy built this Dash & Dodge Mega Coaster in his backyard, then attached his beloved Slinky Dog for extra fun. As an "honorary toy," riders sit inside Slink's coils and zip around Toy Story Land in the first multi-launch coaster in Disney history!
And in this special "Ride & Learn" clip, we'll see some fun facts about the coaster and Toy Story Land itself. For your "playing-along-at-home" pleasure, bonus trivia points for spotting Rex's original toybox, or for figuring out how big Andy's footprint actually is…