Scrooge McDuck's Debut
Christmas on Bear Mountain, Four Color #178 (December 1947)
"No man is poor who can do what he likes to do once in a while!" —Scrooge McDuck
The Lowdown
"Burst me bagpipes!"
He's the most popular Disney character ever created for comics. He's tougher than the toughies and smarter than the smarties—and he made his fortune square!
He's Scrooge McDuck, "the richest old coot in the world": famed for his Beagle Boy battles, his incredible Gold Rush backstory… and his even more incredible thrift. From single-handedly clobbering 25 bandits to reusing the same teabag 25 times, nobody does it quite like Scrooge.
When he's not off searching the world for treasures and business deals, Scrooge is home in Duckburg protecting what he's got… with help from Donald, Huey, Dewey, and Louie, and Launchpad McQuack, of course!
The Gimmicks
Scrooge runs dozens of businesses around the world, including the Duckburg Chronicle newspaper. Scrooge's Money Bin on Duckburg's Killmotor Hill holds "three cubic acres" of cash as well as famous treasures like the Golden Fleece—but Scrooge's most prized possession is his Number One Dime, the first coin he ever earned!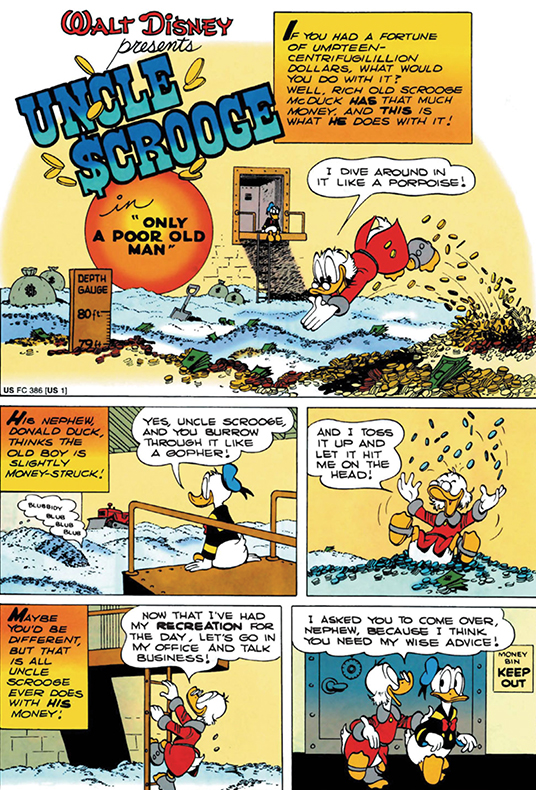 The Creators
Beloved comics "Duck Man" Carl Barks created Scrooge as a one-off antagonist for a Christmas comic. But Barks soon found the old miser taking on a life of his own—and becoming an unlikely hero! "I kind of liked old Scrooge, and he filled a gap."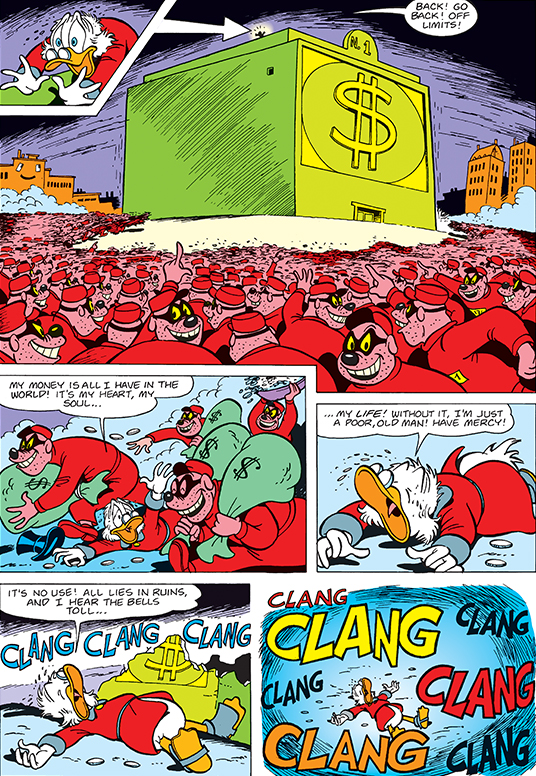 The Family
Depending on which writer/artist you ask, Scrooge's once-mighty clan is now generally down to no-nonsense sisters Hortense and Matilda, lazy half-brother Rumpus McFowl, and luckless miner cousin Douglas—who's so super-stingy he considers Scrooge a spendthrift!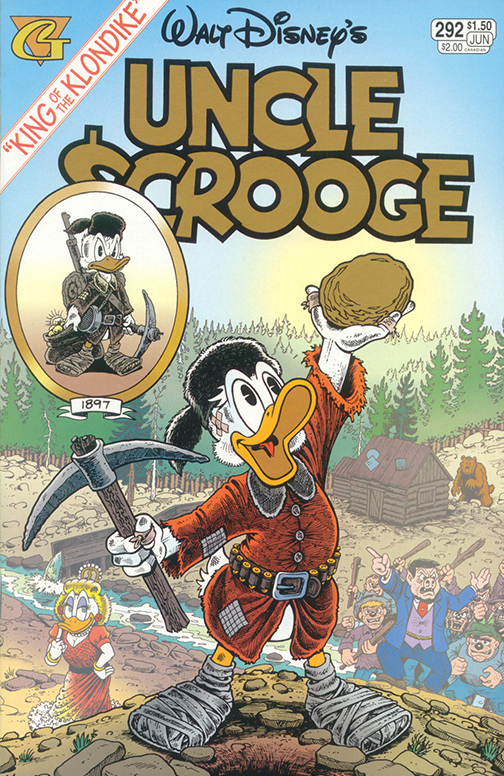 The Bloopers
In a few 1960s stories, an acknowledged misstep by Barks turned the Number One Dime into a lucky dime—implying that Scrooge made his fortune by luck, not hard work! Alas, later non-Barks comics and TV's DuckTales (1987) kept the idea going for a while.