"Giving appreciation—showing it—is fully as important as getting it in our everyday relations," Walt Disney once wrote. And the world's showman certainly showed his appreciation to families and children by sending them gifts every holiday season. In the anterooms of his office suite, Walt's secretaries managed a gift list for hundreds of children around the world—whether offspring of staff, friends, actors, or business partners. Each recipient was personally assigned a collection of Disney merchandise treasures, and stockings stuffed with surprises were sent to children's hospitals and nurseries. Walt even hired a file clerk, Eunice Combs, who exclusively wrapped the presents each year.
But as evidenced by the hundreds of "thank you" notes filed in Walt's correspondence, the lucky gift getters showed their own appreciation to Uncle Walt, whether by sending their own drawings and artwork or writing a few sentences to express their gratitude.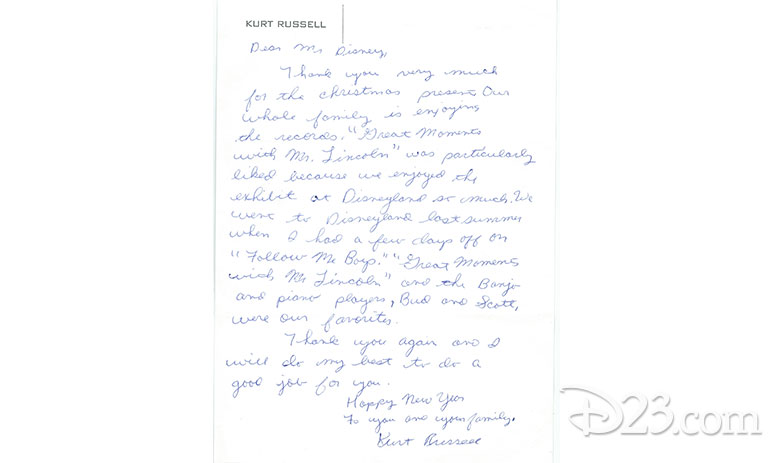 The Walt Disney Archives presents this piece of correspondence from Kurt Russell. In the letter, the 14-year-old actor thanks Walt for a collection of records, including Great Moments with Mr. Lincoln, which Russell recalls as a favorite at the park. "Thank you again," the up-and-coming star concludes, "and I will do my best to do a good job for you."
Here is a gallery of "thank you" cards sent to Walt Disney.