It's downright cold around much of the country this week—so cold that you might be better off staying indoors and watching a Disney movie!
Of course you could argue that all Disney movies are heartwarming in one respect or another, but these 10 films always send us running for the couch, a cup of steaming hot cocoa in one hand, a remote control in the other.
Use #D23SnowDay on Facebook and Twitter to tell us what Disney movies you're watching today!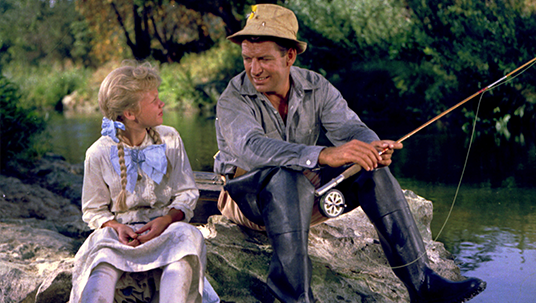 Pollyanna (1960)
Pollyanna, as played by Hayley Mills in the film of the same name, was so adept at bringing positivity and cheer to the lives of the people she encountered that the word "Pollyanna" is now listed in the dictionary and defined as, "someone who thinks good things will always happen and finds something good in everything." Pollyanna melted the heart of her stern Aunt Polly (Jane Wyman)—she'll absolutely make you forget there's a cold, cold winter outside.
---

Finding Nemo (2003)
We can't say which of the film's three main characters are most dear to our hearts: There's Nemo, with his tiny little fin, who reminds us of ourselves when, in a moment of anger, he tells his dad, "I hate you"—like every kid does at some point—and totally doesn't mean it, like kids never do when they say those words. Then there's Marlin, a single, over-attentive father who makes mistakes along the way but only because he wants to keep his son safe. Rounding out this trio is Dory, a Regal Blue Tang fish with no short-term memory and the most awesome catchphrase ever, "Just keep swimming." Dory's mantra will get you through the chilliest of days and the roughest of patches.
---

Saving Mr. Banks (2013)
If there ever was a character that could use a snow day filled with Disney movies, it was P.L. Travers, the curmudgeonly writer of the book on which Mary Poppins was based. As P.L. Travers, Emma Thompson scoffs at the magic of Disney—and Walt Disney's determination—until a charming moment late in the film that proves no one can resist the power of a brilliant song from Richard and Robert Sherman. Enjoy this film today, and dream of a sunnier day when you can go fly your own kite.
---

Eight Below (2006)
Paul Walker stars as Jerry Shepard, an arctic guide and dog trainer forced to leave behind his beloved family of eight dogs when a massive storm forces an evacuation of a research center in Antarctica. Shepard, pained by guilt, must wait months for the weather to clear to travel back to the mountain where he left his canine friends, who have since battled the elements—and predators—for survival. Eight Below is full of heart-wrenching scenes—we personally prefer fast-forwarding past the scene where Shepard must say goodbye to his family of dogs, leaving them to fend for themselves—but by the end of the film, no viewer can possibly remain untouched by this gripping tale about the indomitable spirit of man and man's best friend and the unbreakable power of family.
---

The Parent Trap (1961)
Everything about The Parent Trap makes your heart beat a little faster. There's the super-cute stop-motion animation title sequence, developed by T. Hee, Bill Justice, and X. Atencio; the sing-along quality of the songs "The Parent Trap" and "Let's Get Together," written by the Sherman brothers; the utterly charming storyline of twins Sharon and Susan—separated as children by their divorced parents—who accidentally meet during summer vacation at the improbably named Camp Inch; and the dazzling talent of Hayley Mills, who, with the help of double-exposure and split-screen shots, deftly plays Sharon and Susan. Not to mention a happy ending that puts the perfect bow on this gift of a film released by Walt Disney Studios in 1961. You'll feel so warm and happy after watching this movie, you may just want to head outside to enjoy all that snow!
---

Dead Poets Society (1989)
If you're home from school or work on a snow day, you might think that a movie that takes place at a school and includes highbrow literary references could turn your surprise holiday into a busman's holiday. But Dead Poets Society, anchored by the late, great Disney Legend Robin Williams is as inspirational as Williams' character, John Keating, who encourages his students at a stuffy New England boarding school to think and feel for themselves. The film's line—"Carpe diem. Seize the day, boys. Make your lives extraordinary"—was voted the No. 95 (out of 100) movie quote by the American Film Institute and the phrase continues to be words to live by for students of all ages.
---

Tangled (2010)
After being locked away in a hidden tower for years, Rapunzel is a character that could teach us all a lesson about how to keep busy on a snow day, even if we don't have her long, silky locks to "brush and brush, and brush and brush." She's determined to make her own dreams come true, she's resourceful, she's self-sufficient, and her "prince" is actually a bandit named Eugene Fitzherbert (aka Flynn Rider). But Tangled also offers a gift to romantics everywhere, though it comes from an unlikely source, the film's antagonist, allowing them to borrow Mother Gothel's line to come out on top in a contest of affection: I love you… I love you more… I love you most!
---

Father of the Bride (1991)
Who doesn't cry at a wedding? And who can hold back the tears when the bride is being given away by Steve Martin? Not us! In Father of the Bride, George Banks (Martin) has to accept the fact that his daughter, Annie (Kimberly Williams), has grown up and is ready to get married. He grumbles every step of the way, especially when having to deal with Franck, a flamboyant wedding adviser played hilariously by Martin Short. Disney fans will no doubt feel their heart grow just a few degrees warmer when they realize that the character George Banks shares a name with David Tomlinson's character in Mary Poppins, creating a perfect justification to screen that movie along with Father of the Bride as a double feature.
---

WALL-E (2008)
Set 700 years in the future, WALL-E tells the story of the last robot on earth, who spends his days—alone—cleaning our trash-covered planet. By all logic, we shouldn't feel anything for WALL-E; he's essentially a computer on wheels. But between his odd collection of trinkets—such as a Rubik's Cube, his rubber ducks, and, most memorably, his videocassette of Hello, Dolly!—and his steadfast devotion to fellow robot EVE, WALL-E has us feeling all the feels. WALL-E and EVE are a Disney super-couple to rival any Disney Princess and her mate, and this 2008 film from Pixar Animation is a lovely way to brighten up an otherwise dreary winter day.
---

Enchanted (2007)
In Enchanted, Amy Adams stars as an animated princess, Giselle, from the two-dimensional land of Andalasia, who ends up in the very real, three-dimensional land of New York City. The film has everything we'd expect from a Disney fairy tale, like a "Happy Working Song" song performed with animals, but all with a spin we wouldn't expect… like the fact that the singing critters are rats and pigeons and cockroaches. We can think of no other film that has so successfully managed to spoof an entire genre of movies (Disney animated classics, no less!) while paying them such loving tribute that we want to go back and watch each of them all over again… which might just be the perfect way to get through the winter!