It's no exaggeration to say that Marvel's Avengers: Age of Ultron is, perhaps, the most eagerly anticipated Super-Hero film of all time. Iron Man, Captain America, Black Widow, Hulk, Hawkeye, Thor—the whole gang's back for another save-the-world extravaganza, this time fighting against Ultron, a super-smart—and equally evil—robot that plans to save humanity from itself. Joining them this time are newcomers Quicksilver and Scarlet Witch, along with a few other surprises. Ahead of the May 1 premiere, D23 had the opportunity to sit in on a rollicking, no-holds-barred conversation with the director, Joss Whedon, producer Kevin Feige, and the whole cast of Super Heroes… along with one super-suave villain.
On creating a sequel to the most successful comic-book movie of all time:
Joss Whedon: The thing that drew me back to the movie was, what are the little moments with these characters that I haven't gotten to do yet? What conversations have they not had? Where do they live, how do I get inside their hearts? Those are the moments I write reams and reams of paper just thinking about. The tiniest part, that's really the heart of my writing.
On the script:
Robert Downey Jr. (Iron Man): I read Joss' script and I said, 'I think this is great.' Ask Kevin [Feige, producer]. Kevin said, 'You never say that. You don't mean that.' I said, 'Yeah, I think it's great. Let's go shoot it.' I thought it was a Swiss watch to begin with. Joss really created some great new situations for Tony (Stark) to be in, so rather than digging in my heels and trying to rewrite every scene, to make them even better, if possible, I just showed up and it turned out great.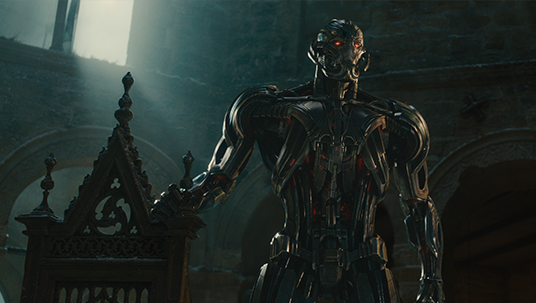 On bringing Ultron, the killer robot, to life:
James Spader (Ultron): I don't really have any idea at all what was going on, it happened so quickly. I was literally just trying to hold on and stay on the train. But I will say this—I arrived in London, and within the first half hour they put on this suit, and they put on all this gear, and within 15 minutes I was watching me move around a big room and watching Ultron, or at least a formative stage of Ultron, on a monitor in front of me. It started right there. The next day I was on the set shooting a scene with Scarlett (Johansson). That pace is where it was throughout the entire project. Luckily I had a meeting before that with Joss with a big meal and whole bunch of wine to figure out who this guy was.
On reading comics growing up:
Spader: Growing up, I didn't have any comic books at all but my friend Will had a whole trunk full of them. And so comic books were like candy for me. I'd go over to his house for a sleepover and I'd be devouring anything I could get my hands on. Because the sleepover was going to be over and I was going to have to go back to my house and it was going to be… Kipling.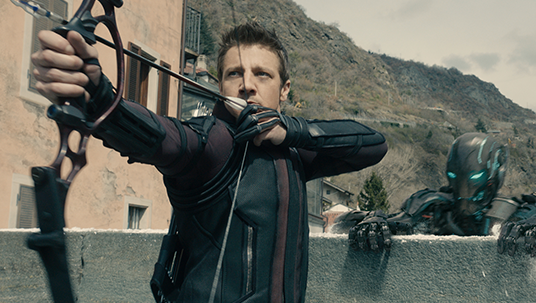 On Hawkeye's bigger part in this film:
Jeremy Renner (Hawkeye): I speak in this movie, which is awesome. I'm part of the team, which is awesome. When I sat down with Joss and Kevin back in the day and talked about why I wanted to play Hawkeye… I understood Hawkeye in the sense that he's a human, so I thought I'd tap into that and explore a little bit more of that.
Kevin Feige: As we were putting together the Phase 2 movies, Joss very much liked the idea—and we honed on that—that Hulk and Hawkeye would be two characters that hadn't gotten much exposure, so he had very big plans for those characters in this one.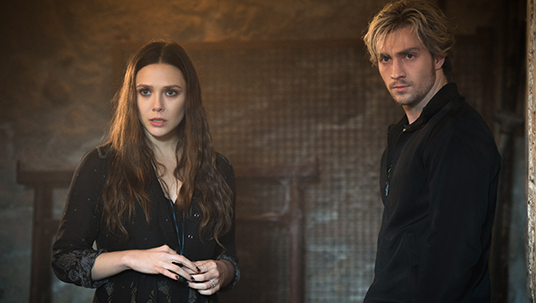 On Elizabeth Olsen and Aaron Taylor-Johnson (Scarlet Witch and Quicksilver) having worked together previously, in Godzilla:
Olsen: I think it's only a benefit. It's kind of intimidating joining this group (the Avengers), so I got to do it with Aaron by my side.
Taylor-Johnson: It's comforting to know, stepping on set with such a big ensemble, that I had someone to feel comfortable with.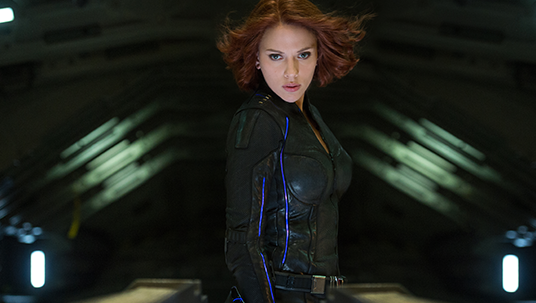 On Black Widow's role and future:
Scarlett Johansson (Black Widow): She realizes that her calling is a greater one—even though that's not necessarily something she's thrilled about—but that's what is heroic about her… There are many different directions to go. Is she going to be able to withstand this huge weight that's bearing down on her, or is she going to crack under it? I guess we'll have to wait and see.