By Jocelyn Buhlman
Yesterday, the Academy Museum in Downtown Los Angeles transformed into Element City as Pixar rolled out the red carpet for Elemental's premiere! The cast and creative team from the film breezed down the carpet to share insight and stories from the newest film.
Elemental, which debuts in theaters June 16, follows the story of Ember, a fiery young woman, who befriends a go-with-the-flow guy named Wade, who challenges her beliefs about the world they live in. We got to chat with the voices behind Ember and Wade—plus more of the fiery minds behind the film!

Leah Lewis, who voices Ember, told us how it didn't fully sink in that she was starring in a Pixar movie until she was about to go onstage at D23 Expo 2022: "That was the first time we saw any kind of snippet or commercial, and right before we went out to greet the crowd, I just got chills up my spine. Seeing how people received it as well—it really warmed my heart." She described herself as someone who "came out the womb Disney, will die Disney," so getting to be part of the Disney legacy is a huge moment for her career.

The film isn't even out yet, but we've already found water-based Wade's number one fan: his voice actor, Mamadou Athie! "I just love his heart," he told us, after listing off several more of Wade's best traits, such as "his endless optimism and his willingness to put himself at risk for the greater good." Like Lewis, Athie is also a lifelong Pixar fan, but he adds that director Pete Sohn's script really drew him to the film: "The script speaks for itself. To work with someone like Pete—you don't really get a chance like that every day."

Athie wasn't the only one wowed by Sohn. Pete Docter, Elemental's executive producer and Chief Creative Officer of Pixar, told us he was amazed the first time he saw Ember and Wade come to life. "When he pitched this, he was like 'Fire and water are characters,' and we were like 'Yeah... How is that gonna work?'" Docter recalled. "So, for them to pull it off and to be able to see their [the characters'] expressions, their gestures—it's unlike anything we've seen before!"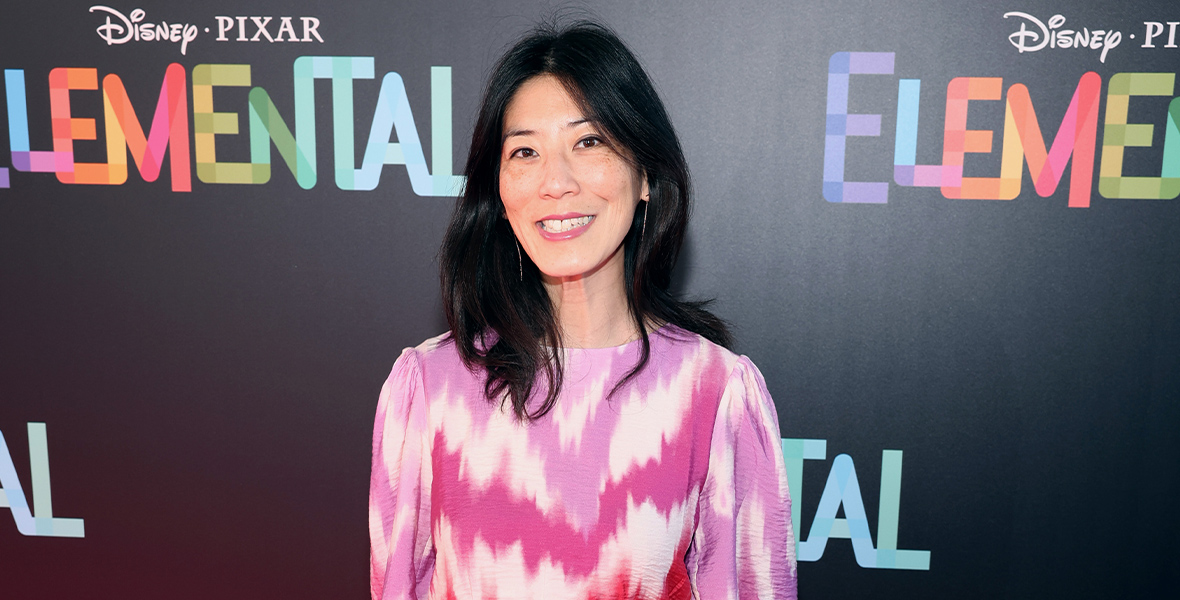 Sohn wasn't alone in creating the world of Element City; screenwriter Brenda Hsueh co-wrote the film along with Sohn and Kat Likkel, and shared how Sohn's idea drew her to the story. "Pete Sohn had that idea for the world of Elements," Hsueh said. "I was really drawn to it because I've literally never heard that before. It was such a unique idea, and then to have it as a metaphor for different immigrant groups, it worked on such a visual level and on an emotional thematic level."
Creating a world made for Elemental people might be a challenge, but to Hsueh it couldn't have been more fun. "It was really exciting to think of the logistics—how would fire people live? What kind of clothes would they wear? How would they travel?" Hsueh told us. "You want it to be relatable, but also unique and funny and special."
Soon you too can discover the world of Element City—but before the film debuts in theaters, check out more images from the premiere below: