By Victoria Hunt
Giddy up, because BUNK'D is heading to a dude ranch in the Wild West!
The long-running hit comedy series will return for its sixth season this Friday, June 10, at 7:30 p.m. ET/PT on Disney Channel and DisneyNOW. A spinoff of the hit comedy Jessie (2011-2015), BUNK'D revolves around the hilarious adventures of the campers and counselors at Maine's rustic Camp Kikiwaka. Each season, fans are introduced to a new cast of characters ready to take part in the adventure of a lifetime. But one camper has never quite left the cabin: Miranda May! Since the series debuted in 2015, fans have watched her character, Lou, evolve from camper to camp director. Behind the scenes, May is now an executive producer and will continue to direct select episodes.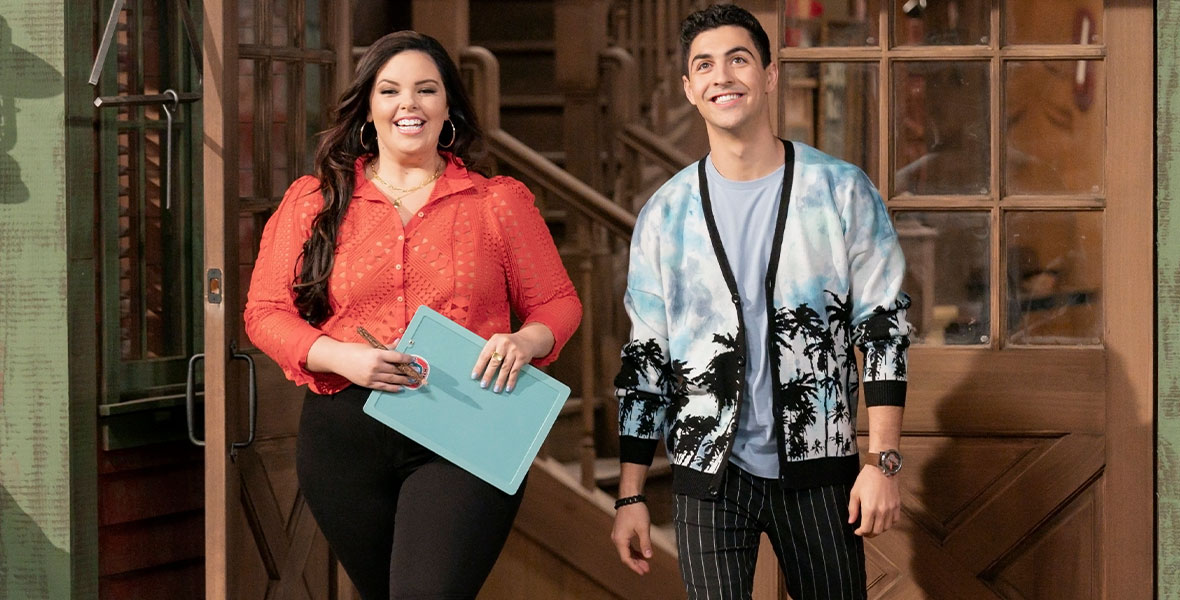 Series regulars Trevor Tordjman, Mallory James Mahoney, and Israel Johnson also return for the new installment, titled BUNK'D: Learning the Ropes, and are joined by new cast members Shiloh Verrico, Luke Busey, and Alfred Lewis. Season six begins as Lou, Parker (Tordjman), Destiny (Mahoney), and Noah (Johnson) arrive at the soon-to-be Kikiwaka Ranch in Dusty Tush, Wyoming, where Lou must convince the surly owner, a.k.a. "The Marshal," to officially sell her the property. In the meantime, counselors Noah and Destiny have their hands full with the new campers, including Bill (Lewis), a no-nonsense descendant of famous cowboy Bill Pickett who prefers roping cattle to hanging out with friends; Winnie (Verrico), a fearless girl who's earned the nickname "Wild Winnie" by breaking the rules and occasionally blowing things up; and Jake (Busey), a laid-back, easy-going boy who also happens to be a video-gaming fanatic.
Ahead of the premiere, May joined D23 for an exclusive Q&A:
D23: You grew up in Ohio. How much do you relate to your character, Lou?
Miranda May (MM): A lot! Lou grew up a country girl and so did I. Lou grew up on a farm and so did I. She loves animals just like me. We're also similar in being strong independent women. I pride myself on that—growing within my career and my space. And Lou does that as well.
D23: Just like real camp, your castmates change every season. How do you keep up with new and old friends?
MM: Those friendships are genuine on- and off-screen. We have always been a really close cast and crew. We go on shopping trips, have dinners together, and meet each other for coffee. I hang out with Trevor [Tordjman] and Mallory [James Mahoney] as much as I can. I keep up with the previous castmates as well.
D23: Do you think you could be a camp counselor in real life?
MM: I feel like I am a camp counselor on set! I'm the oldest one and I kind of help everyone through their troubles while also making the set really fun.
D23: What can fans expect from this upcoming season?
MM: This season is going to be wild, adventurous, and heartfelt. Nothing is what we have seen before, which is exciting in a lot of ways. I'm most excited for people to see the new characters and all the animals.