Ahsoka Tano's story is just beginning.
The fan-favorite character embarks on a new adventure in Lucasfilm's Star Wars: Ahsoka, now streaming exclusively on Disney+. Set after the fall of the Empire, the Original series follows the former Jedi Knight and Padawan to one of the greatest Jedi of all time, Anakin Skywalker, as she investigates an emerging threat to a vulnerable galaxy. In May, star Rosario Dawson opened up to D23: The Official Disney Fan Club about reprising her role as the dynamic and principled warrior.
D23: What was your experience with the Star Wars movies growing up?
Rosario Dawson (RD): I've always just really loved Princess Leia. I loved how strong she was. I loved how capable she was... She was so Force sensitive, even if it wasn't spoken about in the same sort of way as Luke.
D23: What else do you remember about your early Star Wars fandom?
RD: It was very interesting how complex the characters were. It was never like, "I'm the good guy or the bad guy—and that's definitive." There was something more, something deeper.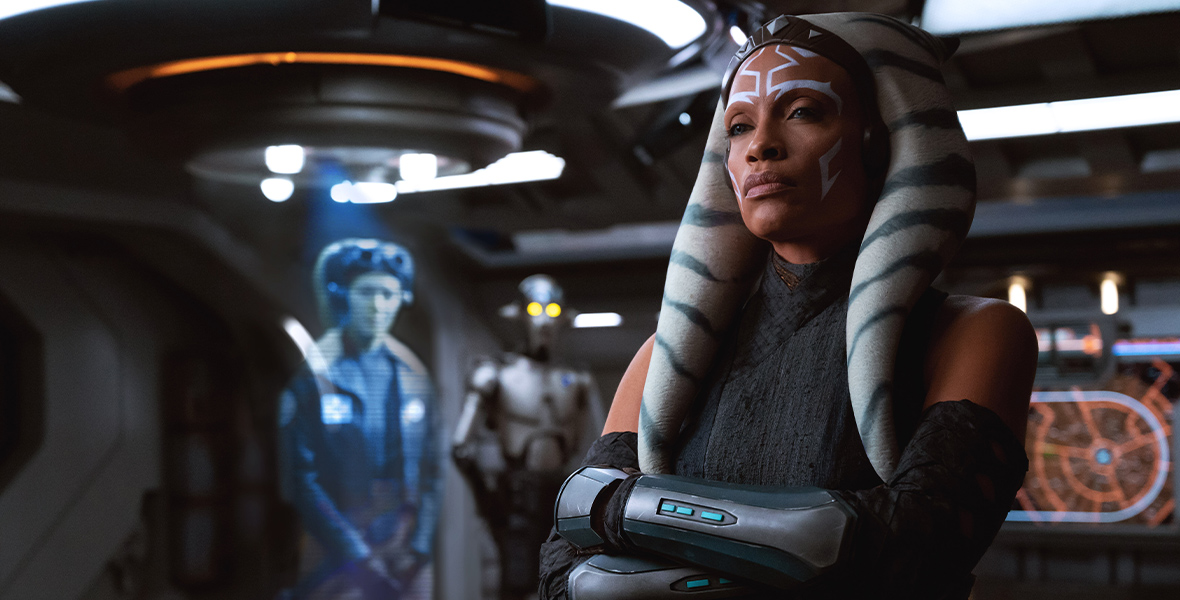 D23: What can you tease about one of your favorite scenes to film in Star Wars: Ahsoka?
RD: There's this forest where we have this really crazy battle; Shin [Ivanna Sakhno] and Sabine [Natasha Liu Bordizzo] are fighting and I am also battling in it. It's really quite beautiful. It's kind of like a burnt-out forest with these red leaves. It's just really striking and very beautiful.
D23: What do you think is special about the Star Wars universe that accounts for its continuing appeal over generations? Why is it such a great universe for storytelling?
RD: I really love the generational-family aspect between a lot of the characters. There are certain callbacks. In Obi-Wan Kenobi, you get to see Obi-Wan take off part of Darth Vader's helmet. You get to see Ahsoka do that in the animated series [Star Wars Rebels]. But the only one who was ever properly able to take it off completely and help him to be seen again in the light was Luke [in Star Wars: Return of the Jedi]... [There's a recurring theme that] the hero can become the villain and the villain can become the hero. I just think there's something quite beautiful about that, and there's a tremendous lesson in that.