By Zach Johnson
Broadway is buzzing over Rogers: The Musical, with critics calling it "a soaring, smashing, flying, fighting, musical triumph." Sadly, the "powerful" stage show that "captures the heart of a hero" exists only in the world of Marvel Studios' Hawkeye, streaming on Disney+—so don't bother lining up outside the Lunt-Fontanne Theatre in the hopes of snagging tickets!
Since the series premiered on the streaming service November 24, we've been singing along to the show-stopping number "Save the City," written by the award-winning duo Marc Shaiman and Scott Wittman (of Hairspray, Mary Poppins Returns, and Smash fame). Luckily, the longtime collaborators agreed to pull back the curtain to share insights into their songwriting process, their path to the Marvel Cinematic Universe (MCU), and more.
D23: Marc, is true that your involvement with Rogers: The Musical stemmed from a chance encounter with Kevin Feige, executive producer and Marvel Studios president?
Marc Shaiman (MS): Sort of. I think I might have put myself and Scott in his head. We were at an Academy Awards function when someone tapped me on my shoulder and said, 'Kevin Feige would love to meet you.' I was like, 'Kevin Feige would like to meet me?' Now, my husband is a complete and total Marvel nerd, so I knew who he was. So, I went over and said, 'Hi! Nice to meet you.' And he started reciting all my film scores; he's a real film score aficionado. There he was, just going on and on! I said, 'Wow! Thank you. My husband, Lou, would die to think he's not here.' So, we took a picture. Then it was two years almost to the day where our agent emailed and said, 'Marvel wants you to write a Broadway musical number for the new Hawkeye series. You want to do it?' I was like, 'Yeah!' That's where Scott came in, and we listened to what they needed and wanted. We knew we had to walk this tightrope between it being an entertaining and hopefully good song. But it also had to be something that makes Clint [Jeremy Renner] kind of roll his eyes, because this musical of this huge event in his life is now being… I don't want to say the word 'reduced,' but it's—
Scott Wittman (SW): Broadway-ized!
MS: That's also why they added Ant-Man into the number, to show that a Broadway musical—or any other kind of entertainment, really—might take some creative liberties.
D23: Ant-Man is a founding Avenger in the comics. Is that why he was chosen?
MS: I think it was, I guess, a random choice—or just someone who didn't belong there. Maybe it could have been someone more obscure, but Ant-Man was the perfect choice.
D23: Was it always the intention to write a song set during the Battle of New York, or had you considered other seminal MCU moments—like a battle with Thanos, perhaps?
SW: Marvel wanted it to be very much that scenario, because that was such an emotional time for those characters, I think. That also added another layer for Clint [in the audience].
MS: And that bridge at Grand Central Station is such a perfect, iconic Broadway set!
D23: How did you manage to seamlessly incorporate so many iconic lines—like "Avengers, assemble," "I could do this all day," and "Hulk smash"—into the lyrics?
MS: Well, like I said, my husband, Lou, he's just a full-on nerd.
SW: Stan! He's not a nerd. He's a stan!
MS: I need a thesaurus for all these words! I mean, I knew about the Tesseract from having seen all the movies, but I'm sure I'd turned to Loui and asked, "It's Tesseract, right? And it's Chitauri?' Shawarma got stuck in my head, because Iron Man is constantly talking about how he wanted to go to that Shawarma restaurant. It had to be all things that the real people who live in the Marvel Cinematic Universe might have heard about. They don't go to the movies; it's in their real life. Right? So, clearly, someone has heard Captain America more than once say, 'I could do this all day.' And, you know, that's such a great line to sing.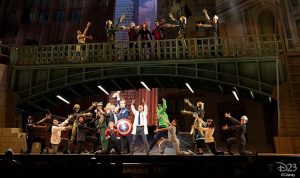 D23: How long did it take you to write "Save the City"?
SW: Well, I had to watch all the movies, because I don't have a husband! [Laughs] But it was also written in the height of the pandemic, so I had a lot of time on my hands anyway.
D23: What was it like to actually see Rogers: The Musical staged in Hawkeye?
SW: Marc is in it! He went to the filming in Atlanta, so he has a little cameo there.
MS: It was thrilling! It's so fun to watch. Some of the people who are performing the number are not the people singing it. Some Broadway stars are supplying a lot of the voices.
SW: Like Adam Pascal, who was the star. [Editor's note: Pascal plays Lead New Yorker #1.]
MS: Luckily, with Adam, he's both the voice and in [the production]. As Scott and I were writing it, usually I'll demo the song and send it to the producers and ask, 'What do you think?' But I knew I couldn't possibly sing the song; I needed that high rock 'n' roll voice. I said, 'I wish I could just call Adam Pascal and see if he could sing the demo.' Then, I realized I can! I got his number and I texted him out of the blue. I had maybe met him in passing, but I was like, 'Hey, would you want to sing this demo for Marvel?' Of course, everyone says yes. The vocal that you hear on the recording is what he and Ty Taylor sang from their own homes—because everyone has their own form of microphone at home now.
D23: Is there any chance we'll ever get to see more from Rogers: The Musical?
SW: Tell people to write to Kevin Feige!
MS: Start petitions! I'll say, it is thrilling to watch how the fans react.
SW: Someone said it 'slaps.' I thought that was better than a rave in the New York Times!