The scene: a slightly eccentric, totally fictional suburb near Reno, Nevada. The protagonists: two small-town teenagers—who just happen to be an emotional brined vegetable and a freewheeling salty legume—as they embark on their last year of high school. Their goal: to cram in as much fun and adventure as possible before assuming the inevitable, seriously boring responsibilities of adulthood…
Don't worry, we here at D23.com aren't collectively having a strange (albeit highly entertaining) fever dream. We just described the premise of Disney XD's newest animated series, Pickle and Peanut! The two underdogs (voiced by Napoleon Dynamite star Jon Heder and 22 Jump Street's Johnny Pemberton, respectively) spend their free time working at their town's Mjärt Mart grocery store while simultaneously dreaming up crazy plans to become anything but ordinary. (Have we mentioned they're also rappers who can drop some super-sick beats?!) Created and executive-produced by Noah Z. Jones (Fish Hooks), and developed and executive-produced by Joel Trussell (Yo Gabba Gabba!), the show uses a whimsical mix of 2-D animation and live-action clips to add to its already-quirky nature.
"We definitely want the laughs, but it's all built on top of that relationship between the two characters…"
Pickle and Peanut makes its big series debut on Disney XD on Monday, September 7, at 9 p.m. ET/PT. However, if you're eager to see what all the funny fuss is about (and trust us, you do), you can check out the premiere episode right now on WATCH Disney XD, Disney XD on Demand, and DisneyXD.com. (Bonus tip: Check out DisneyXD.com and Watch Disney XD for two lively new Pickle and Peanut games involving churning large vats of cheese and shooting customers with tasty "Spoonicorn" cereal.)
D23 was lucky enough to chat with Noah and Joel—the masterminds behind Pickle and Peanut—just as they were gearing up for the show's launch. Read on for a behind-the-scenes look into what makes the show so unique!
D23: So how did the idea for this series first take shape?
Noah: I'd worked on Fish Hooks, and [Disney] said, "Do you have any more ideas? [laughs] And I'm like, "Yeah! Let me see what I can come up with." I had these two characters, Pickle and Peanut, kind of sitting around—and you know, almost more than who they are, I knew what kind of show I wanted to work on. So, when they introduced me to Joel very early on, I realized we got along creatively—we had the same point of view, the same work ethic, and sense of humor. And so we wanted to construct the kind of world that allowed us to work on a show that was fun to work on… So that's why it's kind of "Lo-Fi"—everything is just a little grittier, a little more "indie-feeling" than other animated productions.
Joel: And by the time I came in, Noah had already established [the characters]… I liked the idea of having a show about a pickle and a peanut, too. But it was way more than that alone. It's more about, well, these characters could be anything… It was just the vibe of the show, the relationship of these two characters together, just looking to have fun with each other. And sort of being in the time of their life, as teenagers, where you can be a little reckless and careless—and the consequences aren't so bad. I remember being at that time of my life and having a really good time.
And I think Noah remembered that time too, so we were able to throw stories back and forth… It's a great time in your life to make mistakes. You can try out new personas or interests; if you want to make a movie with your friends, it just takes an afternoon and like 20 bucks worth of whatever supplies you can throw together. We want that vibe to carry through the show—we don't want it to feel overproduced or too "slick."
D23: Can you talk a bit about your decision to use a combo of 2-D animation and live action?
Noah: Truly, we want to keep the audience on their toes [with] every aspect of the show—from the design, to the kind of jokes we're telling. And visually, that's why we really like the flavor that the live action stuff brings to the show. Because when we sprinkle it in, that's a potent flavor. We like when the viewer thinks, "Wait, did I see what I just saw? What's going on over there?" That's the reaction we're trying to get with that.
D23: What about those funny whispered "asides" throughout each episode? Are they scripted?
Noah: To be honest, when we initially did our storyboard for our pilot pitch, our drawings really weren't that great. [laughs] Our drawings were a little bit scribbly, and a little haphazard, so sometimes we put text on the screen just to remind ourselves exactly what's going on. Initially, I know there was a scene where Pickle and Peanut get punched into a giant display, and we're like, "Oh, there's some [whispers] 'ACTION, action, action… ' going on right here." It would accentuate something, like us saying "This is [whispers] 'DRAMATIC, dramatic, dramatic… '. Those statements were just supposed to be, sort of a crutch for us during pitching. But everybody would laugh, so we thought, "What if we carried this on through each episode, just to see what happens?" It's definitely resonated with a few people. And Joel is Mr. Whispers—all the whispers come from Joel.
Joel: Yep, sure enough…
D23: That's hilarious! Did you guys have Jon Heder and Johnny Pemberton already in mind for the voices, or was their casting a "happy accident"?
Noah: From the very beginning, those were the two guys we wanted. They really embodied the characters really well, and they're both really funny.
Joel: And they already knew each other, and had worked together before—so they had a rapport. We felt like those two actors kind of "live" in our space, comically. We wanted to reach out to them initially. We still looked at so many people, you know, just to make sure we had the right thing in mind, but everybody felt really good about what our initial instincts were.
D23: How long does it take to make a typical episode? What's the process like?
Noah: It takes years! YEARS! [laughs] But seriously, it's hard to say, start to finish. Like right now, we're "at the mountaintop," as we say—because we're writing outlines for new shows, creating storyboards from those outlines, cutting things together, editing together "animatic" versions of the storyboards. As well as doing design; as well as finishing up the post-production on animation…
Joel: And shooting the live action stuff on top of all that.
Noah: Right! So at any point, we're probably working on 10 different shows. I would say, from start to finish, for one episode, it probably takes what—like, four months?
Joel: Yeah, at least that. It's tough to say.
Noah: We show up, we get pointed in a direction, and we just work until someone tells us to stop! [laughs]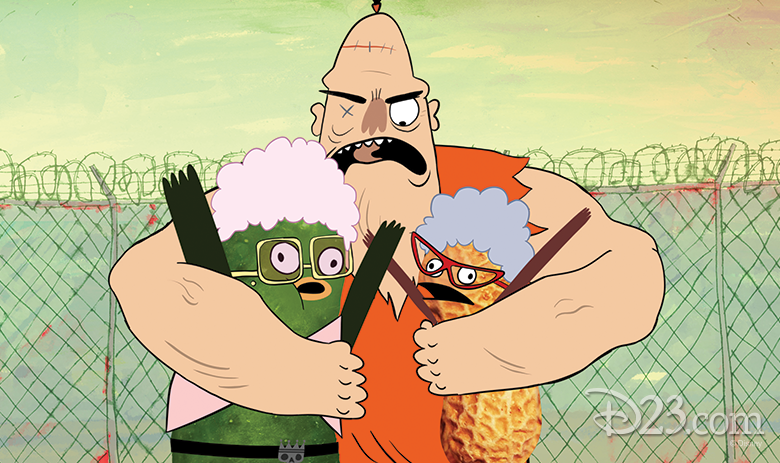 D23: Do you have a favorite episode, so far?
Noah: I'm really proud of this first season… "Gramma Jail," which is part of the first episode—I like that one a lot, because that was just Joel and me sitting in a cubicle, just trying to make each other laugh, you know? I feel like a lot of shows have a hard time finding their voice. We found our voice very early on, and it's now about retaining that voice; retaining that tone and sense of humor. I think it works best when it's us working with other people, just trying to make each other laugh.
Joel: "Gramma Jail" is a good one—I feel like just the title alone says so much. [laughs] But we have a lot of surprises in there, coming up in future episodes.
D23: Sounds great! All told, what do you hope audiences take away from this show?
Noah: One of the things I want audiences to take away is, I want that relationship, that friendship between Pickle and Peanut, to feel real and authentic and grounded. And that's despite all of the chaos and weirdness that we surround them with. It almost doesn't matter what the story or the plot is, or what's going on around them; you just see these two guys and you know that they're on the same wavelength. That relationship feels authentic to me, because those are the kinds of friendships I had at that age.
Joel: At the end of the day, it's a comedy, right? So we definitely want the laughs, but it's all built on top of that relationship between the two characters… It's sort of their safety zone. They have each other, so they're able to take these risks—because, no matter what they do, they're gonna have their friendship as support.
Mark those calendars: Pickle and Peanut debuts on Disney XD this Monday, September 7, at 9 p.m. ET/PT! Check out a clip from the show, below: