By Robert Yoshioka
Refreshing ocean views from the Cape of Good Hope kicked off our morning. Originally thought to be the southernmost tip of Africa, this was an important stopping point for ships sailing between Europe and the eastern colonies.
Two oceans' currents from two completely different Oceans meet in these waters, resulting in wild and stormy seas. The region was named the Cape of Storms in 1488, and this point has at least 26 sunken ships. Watch for the spray of humpback whales at sea, and the beautiful nectar-feeding orange-breasted sunbirds among the vegetation.
-Dr. Mark
Joe broke out his art supplies and shared why sketching is so important to him as a world traveler: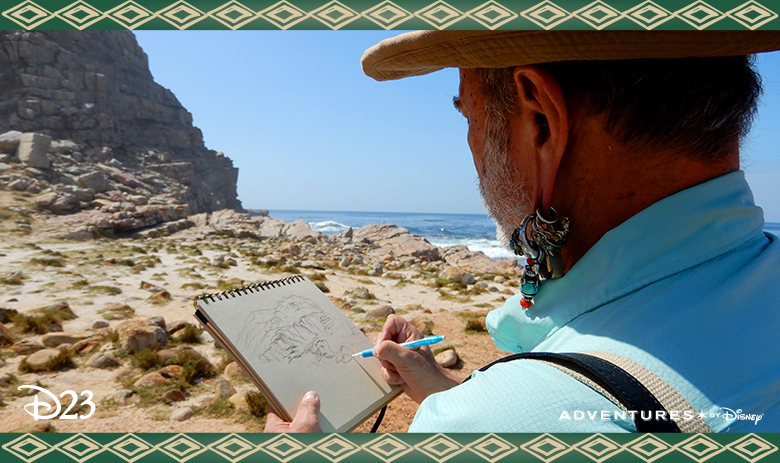 I always bring a sketchbook when I travel, and on this trip, so will everybody else. People might be worried that they can't draw, or that their work isn't good enough, whatever that means, but sketching is not really about making a great picture. Sketching is about making yourself look. You can take a photograph of something and be looking in the complete opposite direction, never really looking at it at all. But if you sketch it…no matter the quality of the sketch, you have to really really look. If you really really look, you are going to see things you would not have seen. And if you are on a once in a lifetime Adventures by Disney trip to Africa…you want to see those things.
-Joe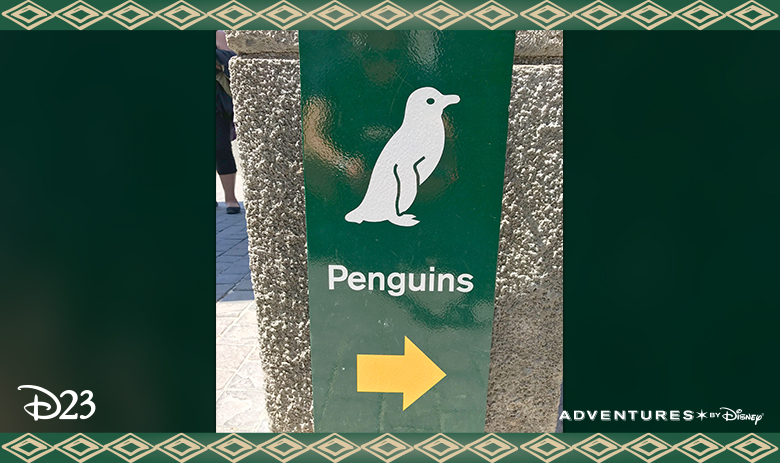 From the crisp ocean visit at the Cape of Good Hope, we then headed to a special beach with a VERY strict dress code.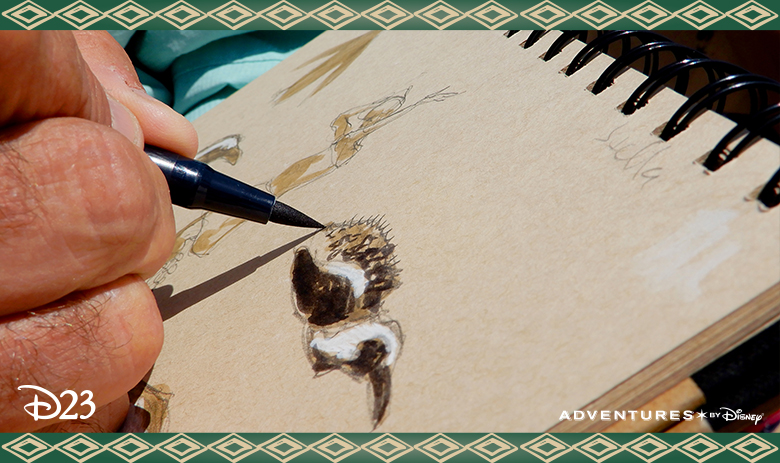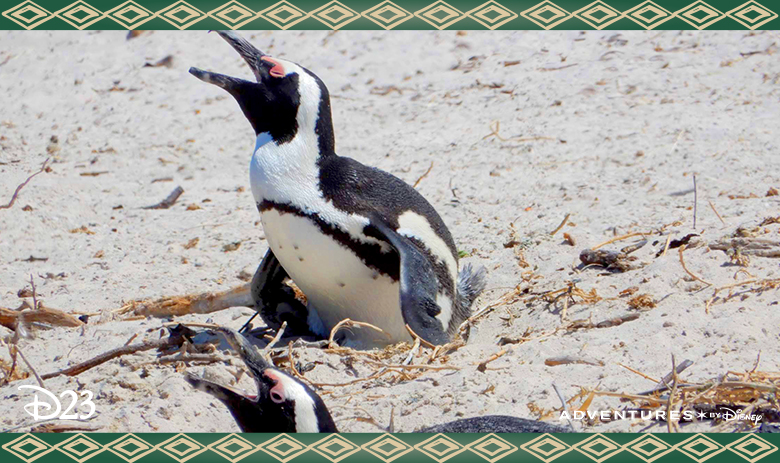 Boulders Beach is one of only three land based penguin colonies in South Africa.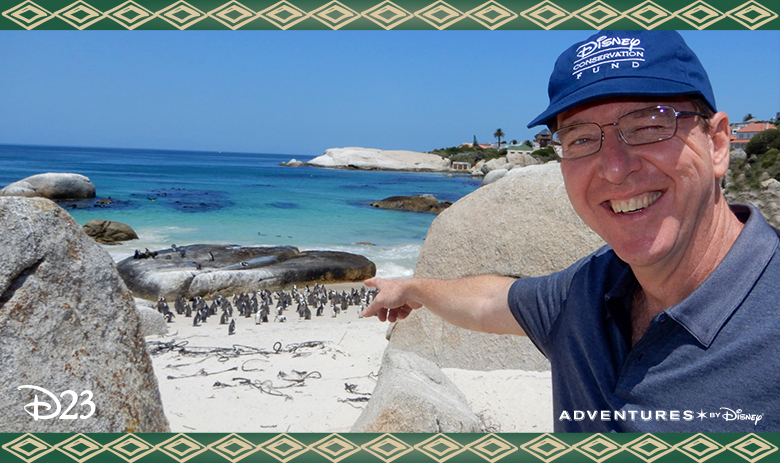 Among the beautiful granite boulders you'll find the African penguin. There are about 3000 birds in this colony – a great success story showing how people can live with nature around them. Listen for the sound of donkeys braying – those are penguins! They used to be known as the jackass penguin.
-Dr. Mark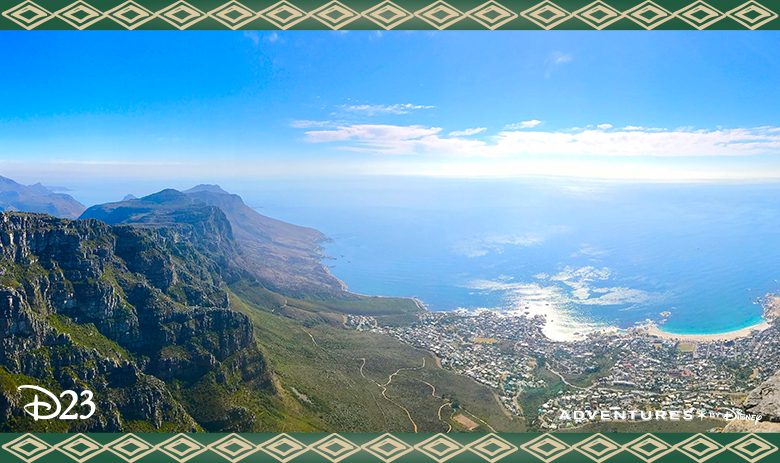 After Boulders Beach, the clouds cleared and we headed up to the beautiful Table Mountain.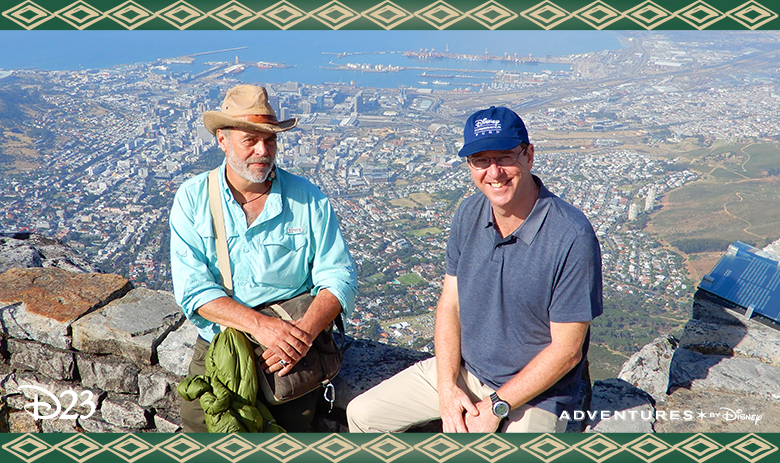 Table Mountain is South Africa's most iconic landmark. It rises up 3,500ft and is often covered with a beautiful white tablecloth. Best view of Cape Town from the top!
-Dr. Mark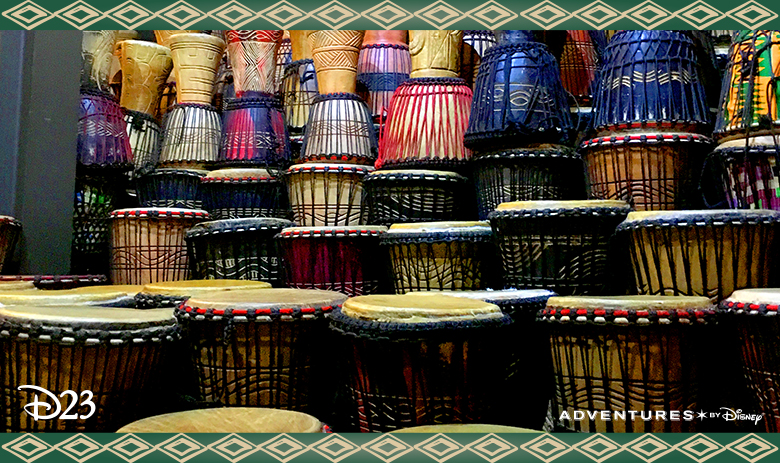 We wrapped up our first full day of adventure with a Celebration of Africa dinner! Before the meal was served, we "earned" our food with an interactive African drumming class.
Join in the drum experience – in Africa, drums are not just about entertainment. They have great cultural importance, and allow communication over vast distances – when your cell phone isn't working!
-Dr. Mark
Combined with the evening's accompanying masks, music and Malian puppeteering – this was truly the perfect way to celebrate the day's experiences!
Click here to see more about this amazing safari adventure.