By Courtney Potter
The holiday season is in full, festive swing at Disney Parks and Resorts around the world… Mickey and Minnie appearing in their yuletide best; all manner of holiday-related treats tickling the taste buds of young and young-at-heart; and merrily memorable entertainment you can find only at this special time of year. Case in point? Holiday-themed parades at both Disneyland and Walt Disney World Resorts!
The very first Disneyland holiday parade was held only a few months after the park's opening, in November 1955 (that year's Thanksgiving Day), and it featured a procession led by Walt Disney himself—plus appearances by Fess "Davey Crockett" Parker, several local high school marching bands, and other traditional holiday details (including live animals).
Nowadays, parades are bigger and more colorful than ever before—making memories for visitors from every corner of the globe. D23 wondered what it's like to participate in the holiday parades at Disneyland and Magic Kingdom parks, and reached out to a few Cast Members for the inside scoop!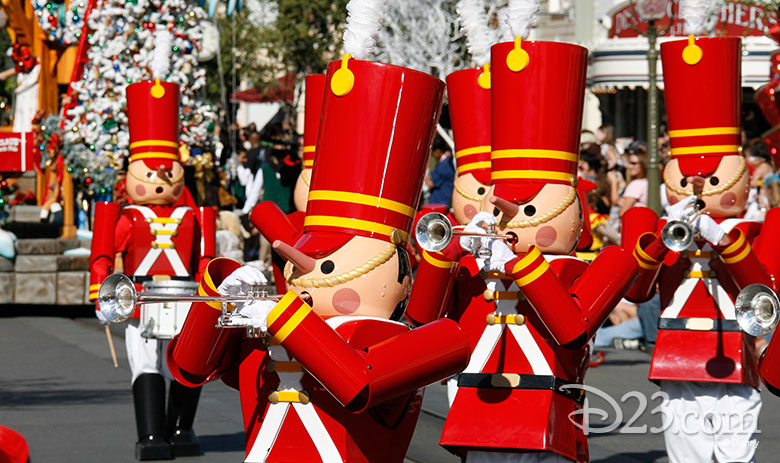 A Christmas Fantasy Parade at Disneyland Resort
Kelsie Blackwell has been working at Disneyland Resort for a little more than eight years, and has performed in Disneyland park's A Christmas Fantasy Parade since that very first year. Along the parade route—which makes its way down Main Street, U.S.A. with six "units" (each consisting of several floats)—you might find Kelsie as a Candlelight Ball Dancer in the "Christmas Ball"; as a Candy Baker in the "Candy Shop"; or at the back of the parade during the big finale featuring Santa's sleigh. "It's a parade that I didn't know much about when I started," she admits. "Now, eight years later, it's become a tradition for me too. When you look out, and you see parents who are saying, 'Oh look, here come the snow people!,' or 'Here come the gingerbread cookies!'—and they're pointing out the characters to their kids… it's really cool that we can be a part of passing that tradition on, generation to generation."
As you might suspect, it's difficult for Kelsie to choose which "unit" of the parade she enjoys being in most: "I would say being Santa's Little Helper at the back of the parade—holding the rope—is really fun, because you get to be cute and sassy. But then there's when you bake candy in the bakery. I love helping out Chef Goofy!" However, it's much easier for her to explain what makes performing in A Christmas Fantasy Parade for special for her—and for others like her. "I come in grumpy sometimes," Kelsie admits, "but when I look out on the parade route and see a kid really enjoying the show, it truly makes it all worth it."
All told, Kelsie is most proud of the community of Cast Members—performers and technicians alike—that come together to bring holiday enchantment to guests each day. "It's a beautiful, magical parade," she says. "But it takes a lot of people to make that magic happen… All the hair and makeup people, the costuming people, the float drivers, and all the maintenance people—there really is a lot of pixie dust going on. After all these years, it's still baffling to me that everybody's making this happen like clockwork. It's one of my favorite things about working here!"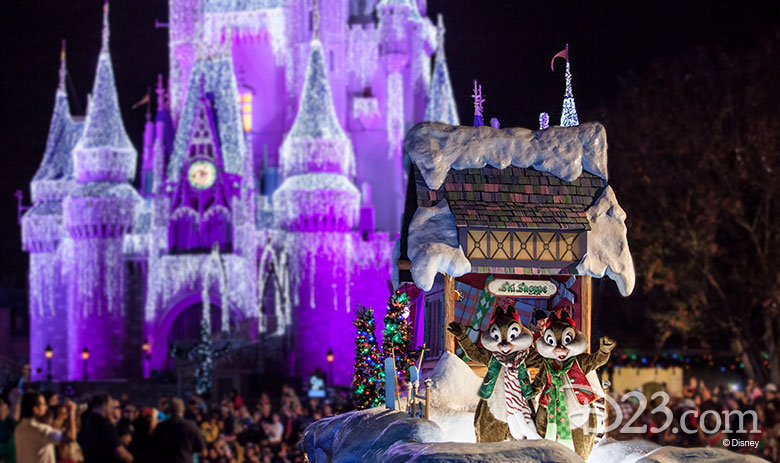 Mickey's Once Upon a Christmastime Parade at Magic Kingdom Park
Over on the other side of the continent, Victor Getchel has been bringing joy to Walt Disney World Resort guests for two full decades. As he explains, "I'm a performer and a trainer, working all areas of the entertainment department—but mainly in parades." And it's his work in Mickey's Once Upon a Christmastime Parade at the Magic Kingdom (held nightly during the "Mickey's Very Merry Christmas Party" special event, and also during the day the two weeks before and after Christmas) that brings him lasting joy; when asked what it's like to be a part of a holiday tradition for so many people, he can think of three very meaningful words: "Honored. Blessed. Privileged."
"It's nice to work in an environment where our job is to take people out of reality, [and] bring them into fantasy and make it come true."
The love Victor has for his job is palpable—and it's the memories he creates not only for guests, but also for himself, that stay with him long after the holidays are over. "I always tell people that in this crazy world, where so many things are happening to everybody each and every day, it's nice to work in an environment where our job is to take people out of reality, [and] bring them into fantasy and make it come true," he says. "And I'm a strong believer that, to make that happen, I have to believe that as well. It's so easy for me to clock in every day and get ready to perform… I'm just overwhelmed by the belief that the guests have—and their smiles. They're making memories—and then I go home and think, 'I was part of that!' It's unlike any other job I've ever had in my life."
With two decades under his Once Upon a Christmastime belt, it's easy to imagine Victor has a plethora of "favorite memories"—but there's one in particular that moves him, and it's a memory that actually continues to this day. "There's a family that [travels down to Walt Disney World Resort] many times each year," explains Victor. "They have three children… and all three boys are autistic. Everybody in the parade knows them, and they're just amazing people. So I became friends with them. I can [perform in the parade] a million times, and [the mom] still contacts me and says, 'You have no idea what you've just done for our family. The boys don't speak—they only communicate through iPads—but they will try to say words. And after you [interact with them during the parade]… they respond to you!' When I see them, they don't realize that I'm fighting back my own tears… The struggles that they obviously have, and yet we can still put a smile on their faces. They love their boys and they're blessed with their boys—and they're sharing their beautiful family with us and letting us know how much we mean to them. In return, it's the same for us."
Like holiday memories made throughout the world, as years ago by, the connection between past and present at the Magic Kingdom itself can be especially meaningful. "I'll never forget when I first got hired as a performer," Victor recalls. "My trainer told me that she remembers being in California watching a parade, and a parade performer making eye contact with her—and winked at her. And she thought, 'I'm going to do that one day.' And then she did… and she became a trainer, and then my manager… So it just passes on. The real world is outside this gate, and what's important in here is what's happening right now—making people smile and having a good time… That's what's great."
Visiting a Disney park in the next few weeks? You still have time to see Kelsie and Victor do what they do best! Disneyland's A Christmas Fantasy Parade will be entertaining guests through January 8, and Mickey's Once Upon a Christmastime Parade makes its way through the Magic Kingdom during Mickey's Very Merry Christmas Party through December 22, and then during the day from December 23 through 31.