By Courtney Potter
It's almost time to reacquaint ourselves with the Resistance, and Disney Channel announces a brand-new live-action mystery series… Read more, along with other news from around Disney, in this week's news briefs!
Star Wars: The Rise of Skywalker: The Resistance is Ready…
We cannot believe it's almost time to bear witness to the beloved Skywalker saga's conclusion with Star Wars: The Rise of Skywalker (luckily, we can always relive the first eight parts of the saga on Disney+). In case you'd like a second—or 42nd—viewing of the latest (and final) Rise of Skywalker trailer, take a gander at the incredible clip, above.
Lucasfilm and director J.J. Abrams join forces once again to take viewers on an epic journey to a galaxy far, far away with Star Wars: The Rise of Skywalker—where new legends will be born, and the final battle for freedom is yet to come…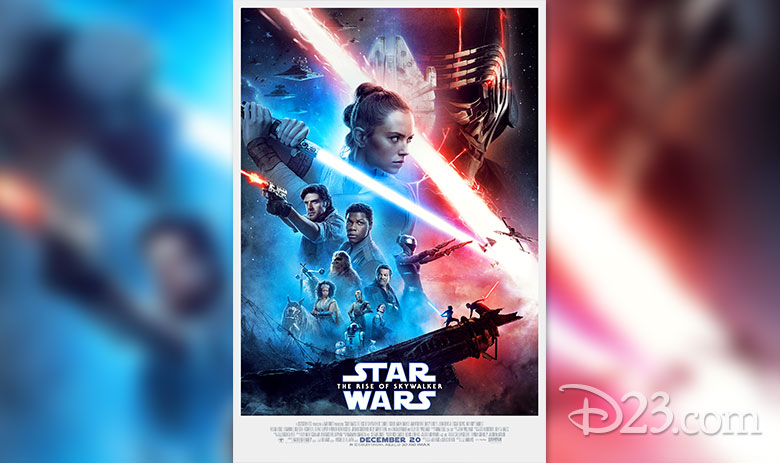 The film's truly all-star cast (most of whom are seen in the brand-new poster, above) boasts the likes of Daisy Ridley, Adam Driver, John Boyega, Oscar Isaac, Anthony Daniels, Naomi Ackie, Domhnall Gleeson, Richard E. Grant, Lupita Nyong'o, Keri Russell, Joonas Suotamo, Kelly Marie Tran, Ian McDiarmid, Billy Dee Williams, Mark Hamill, and Carrie Fisher.
Tickets for Star Wars: The Rise of Skywalker, opening in theaters around the globe on December 20, are on sale now!
Star Wars: Force for Change and FIRST Announce "Build My Droid" Contest
In further fun Star Wars news: If you've ever dreamt of creating a droid and seeing it come to life, do not miss you chance to enter Star Wars: Force for Change and FIRST's brand-new "Build My Droid" contest. You (and your droid) might just win a trip to the Star Wars: The Rise of Skywalker red carpet premiere this December! We've got all the pertinent info; click here to read more.
New Destination Coming to Star Tours – The Adventure Continues
And the Star Wars-related news keeps on comin'! Just this week, our pals at the Disney Parks Blog announced that a new destination—inspired by Star Wars: The Rise of Skywalker—will be introduced in Star Tours – The Adventures Continue at several Disney Parks around the world. Click here for more!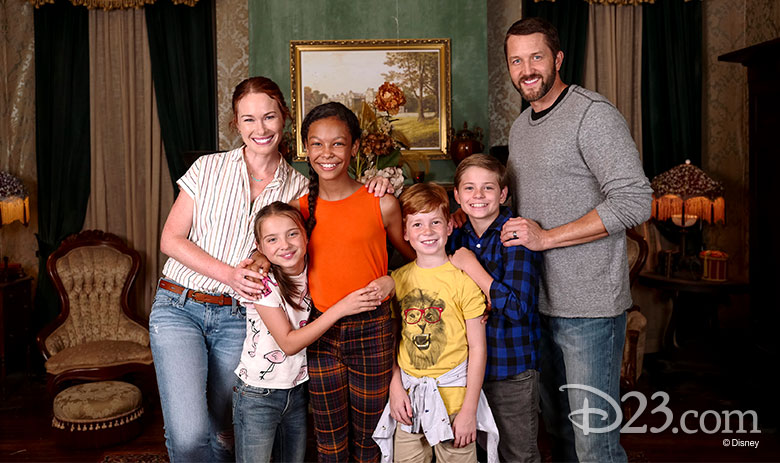 Disney Channel Announces Live-Action Mystery Series Sulphur Springs
Time travel and mystery are ever so appropriate for this spooky Halloween season, so we're particularly excited for this latest news from our friends at Disney Channel: There's a new live-action, genre-bending series on the horizon.
Set to begin production in New Orleans next year, Sulphur Springs is an 11-episode series that follows 12-year-old Griffin Campbell (Preston Oliver), whose family has just uprooted their lives to move to a new town and take ownership of an abandoned hotel—all in hopes of restoring it back to the bustling vacation destination it once was. Not long after Griffin begins his first day at a new school, however, he learns that the hotel he's just moved into is rumored to be haunted by the ghost of a girl who disappeared decades ago. Along the way, Griffin befriends Harper (Kyliegh Curran), a mystery-obsessed classmate; together, they uncover a secret portal that allows them to travel back in time, where they'll discover that the key to solving the mystery may lie within Griffin's own family.
Stay tuned for more info on Sulphur Springs—also starring Elle Graham, Kelly Frye, Josh Braaten, Landon Gordon, and Madeleine McGraw—as it becomes available…
Get a Special Look at Frozen 2 at Disney Parks Beginning November 2
Walt Disney Animation Studios' Frozen 2 is set to flurry into theaters November 22—but in the weeks leading up to its big debut, folks set to enjoy some vacay time at Disneyland and Walt Disney World Resorts, as well as Disney Cruise Line and Disneyland Paris, will get a sneak peek! See two of the film's voice stars, Josh Gad (Olaf) and Kristen Bell (Anna), announce the cool news in the clip, above.
Beginning November 3, a special look at moments from the film will be presented in the Hyperion Theater at Disney California Adventure park, for guests gathered to experience the Frozen – Live at the Hyperion stage spectacular. Sneak peeks of the film will also be shown in the Studio Theater at Walt Disney Studios Park in Disneyland Paris starting November 4; as part of the Walt Disney Presents attraction at Disney's Hollywood Studios in Walt Disney World beginning on November 5; and onboard Disney Cruise Line during the month of November.
Frozen 2 follows Elsa (voice of Idina Menzel) as she sets out—together with Anna, Kristoff (voice of Jonathan Groff), Olaf, and Sven—on a dangerous but remarkable journey to discover why she was born with magical powers. The answer is calling her and threatening her kingdom… Elsa once feared her powers were too much for the world; now, she must hope they are enough. We can't wait to find out what happens!
ICYMI: High School Musical: The Musical: The Series Gets Second Season
We've already seen (along with some equally lucky folks at D23 Expo 2019) the first episode of High School Musical: The Musical: The Series, and trust us—not only is it hilariously fantastic, but it also made us even more excited to watch the whole series once it launches on Disney+ on November 12. So we're tickled pink to hear that they've already renewed the show for a second season! Read up on the news right here at D23.com.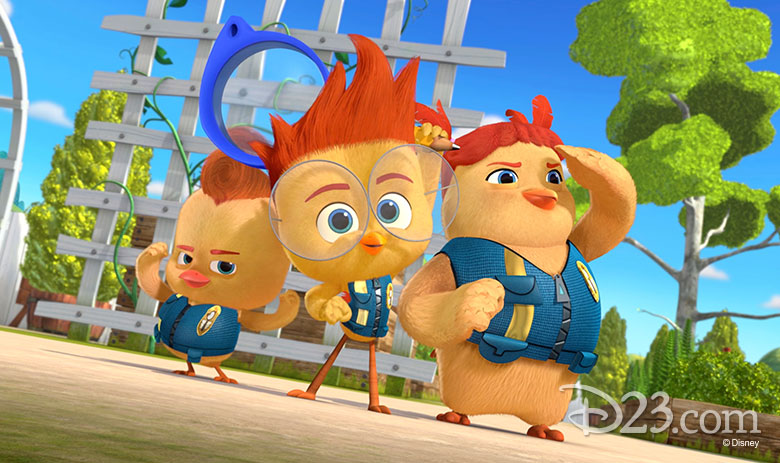 "Bagawk!" Production Has Begun on Disney Junior's New The Chicken Squad
Do you need some problem-solving chickens in your life? (Honestly, who doesn't?) Then look no further than an adorable new animated show coming to Disney Junior!
Production has begun on The Chicken Squad, a series aimed at preschoolers and their families that's slated to debut in 2020. Inspired by Doreen Cronin's popular book series, The Chicken Squad follows Coop, Little Boo, and Sweetie—a trio of young chicken siblings—and Captain Tully, a seasoned watchdog, who use teamwork and critical thinking skills to solve problems in the neighborhood and keep the peace in their backyard.
The series' voice cast includes Ramone Hamilton as Coop, the enthusiastic and inventive leader; Maxwell Simkins as Little Boo, the quick and confident younger brother; Gabriella Graves as Sweetie, the strong and big-hearted sister; and friend-of-D23 Yvette Nicole Brown (Disney+'s Lady and the Tramp) as Captain J.J. Tully, a caring retired police dog and mentor to the Chicken Squad.