By Courtney Potter
Marvel Studios' Echo Set for a 2023 Debut on Disney+
Here's some cool Marvel news, friends: Production is now underway in Atlanta on Marvel Studios' Echo, a series set for a 2023 debut, exclusively on Disney+. Alaqua Cox returns as the unforgiving Maya Lopez, who made her Marvel Cinematic Universe (MCU) debut in '21 in Marvel Studios' Hawkeye as a deaf gang leader determined to make Ronin, a.k.a. Clint Barton (Jeremy Renner), pay for his own vengeful deeds.
The origin story of Echo revisits Maya, whose ruthless behavior in New York City catches up with her in her hometown. She must face her past; reconnect with her Native American roots; and embrace the meaning of family and community if she ever hopes to move forward.
Echo also stars Chaske Spencer, Tantoo Cardinal, Devery Jacobs, and Cody Lightning, with Graham Greene and Zahn McClarnon.
Episodes of the series are directed by Sydney Freeland (Navajo) and Catriona McKenzie (Gunaikurnai)—with Kevin Feige, Louis D'Esposito, Victoria Alonso, Brad Winderbaum, Stephen Broussard, Richie Palmer, Marion Dayre, and Jason Gavin (Blackfeet) as executive producers, and Amy Rardin, Sydney Freeland, Christina King (Seminole), and Jennifer Booth as co-executive producers. Stay tuned for more info on Echo as it becomes available…
5 Fantastic Things to Watch This Weekend Presented by State Farm®
"This… is your next American Idol!" Yes, it's time to crown a winner—so pop up the corn and settle in for this Sunday's American Idol season finale on ABC, where we'll find out whether HunterGirl, Leah Marlene, or Noah Thompson takes home the title. See what other Idol-favorites-adjacent goodies you can watch from around the worlds of Disney in this weekend's "5 Fantastic Things."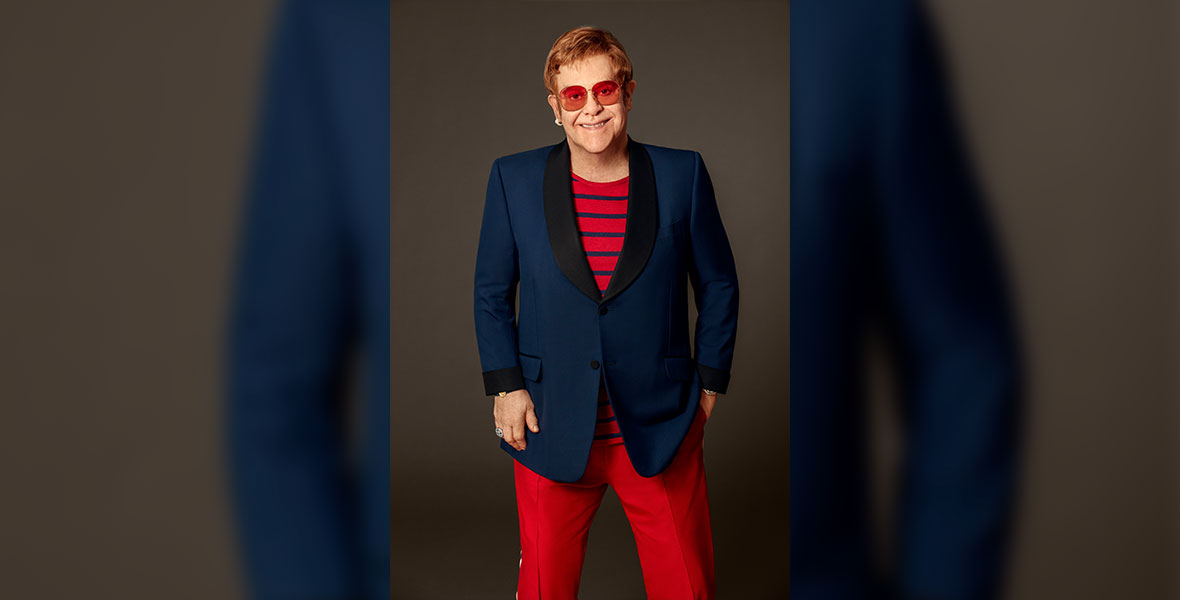 New Disney Original Documentary Film to Follow Disney Legend Elton John
Earlier this week, Disney Original Documentary and Disney+ announced the feature documentary Goodbye Yellow Brick Road: The Final Elton John Performances and The Years That Made His Legend. From Academy Award® nominee R.J. Cutler and filmmaker David Furnish (John's husband), the documentary will serve as the official feature on Disney Legend Elton John—chock full of unseen concert footage of him over the past 50 years; handwritten journals; and present-day footage of him and his family. Following a limited theatrical release, the film will be available exclusively on Disney+.
Rooted in John's Farewell Yellow Brick Road Tour, the feature documentary will capture his final months on the road, culminating in what promises to be one of the greatest send-offs in rock 'n' roll history, when John performs his final North American show at Dodger Stadium this coming November. The film will also look back at the extraordinary first five years of John's career when, between 1970 and 1975, he released 10 iconic albums, seven of which went to No. 1 on the Billboard charts—a true global phenomenon.
With exclusive new interviews and performance clips from Madison Square Garden, London, and other performance venues, Goodbye Yellow Brick Road will be the definitive portrait of one of the world's most successful musical artists of all time—one who's inspired multiple generations of audiences and musicians. Keep an eye out for more about the project, including an official release date, soon.
All the News That's Fit to Print from Disney Upfront 2022
It was an embarrassment of entertainment riches this past Tuesday when all manner of Disney stars and creative executives took the stage in New York City for The Walt Disney Company's 2022 Upfront presentation. From fresh info on Disney+ projects including Disenchanted and Hocus Pocus 2, to a release date—and trailer!—for She-Hulk: Attorney at Law, there's so much to look forward to. Check out our robust rundown of the event by clicking here.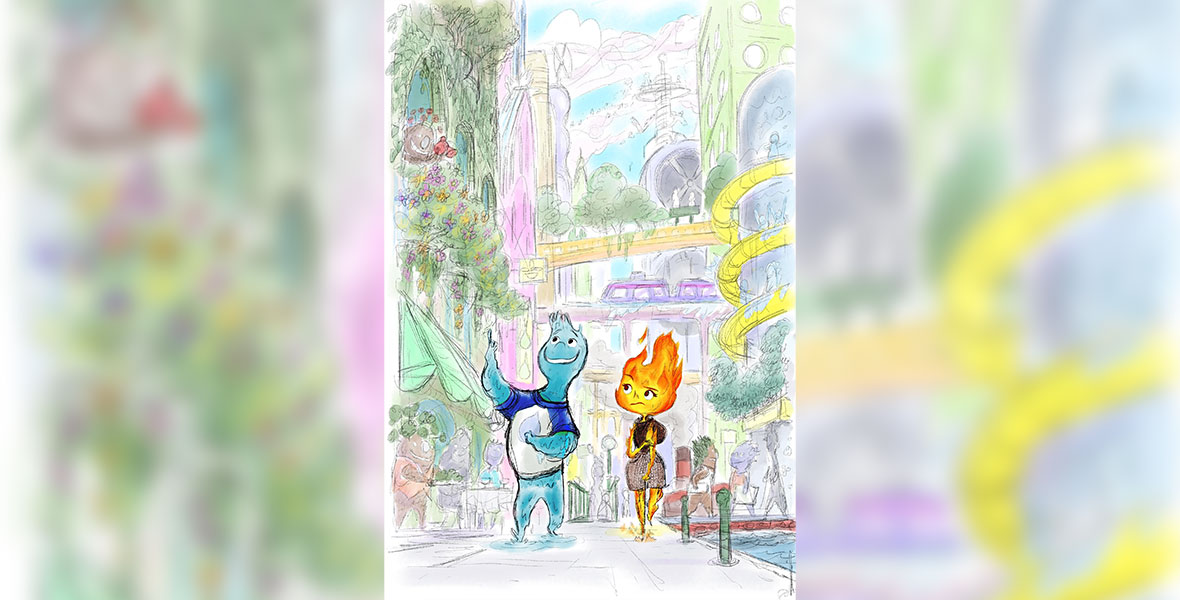 Disney and Pixar Announce New Feature Film Elemental
We're positively fired up about this news: Pixar Animation Studios just revealed details about its 27th feature film, Elemental, which is set to debut on June 16, 2023. Directed by Peter Sohn (The Good Dinosaur) and produced by Denise Ream (The Good Dinosaur, Cars 2), the film follows an unlikely pair, Ember and Wade, in a city where fire-, water-, land-, and air-residents live together. The fiery young woman and the go-with-the-flow guy are about to discover something elemental: how much they actually have in common. In announcing the film, Pixar also shared concept art that features the two characters, seen above.
Elemental is an original film inspired by Sohn's childhood in New York. "My parents emigrated from Korea in the early 1970s and built a bustling grocery store in the Bronx," he said. "We were among many families who ventured to a new land with hopes and dreams—all of us mixing into one big salad bowl of cultures, languages, and beautiful little neighborhoods. That's what led me to Elemental."
Follow along with D23.com for further Elemental developments!
Celebrate The Orville: New Horizons' Upcoming Premiere with New Trailer
The crew of the U.S.S. Orville is back—and this time, they're on Hulu!
Creator, executive producer, and star Seth MacFarlane's epic space adventure series The Orville returns exclusively as a Hulu original series—launching Thursday, June 2, on the streaming service, with new episodes airing weekly.
Set 400 years in the future, The Orville: New Horizons finds the crew of the U.S.S. Orville continuing their mission of exploration, navigating both the mysteries of the universe and the complexities of their own interpersonal relationships.
In addition to MacFarlane, the cast includes Adrianne Palicki, Penny Johnson Jerald, Scott Grimes, Peter Macon, Jessica Szohr, J Lee, Mark Jackson, Anne Winters, and Chad L. Coleman.
See a Sneak Peek of Disney and Pixar's Lightyear at Disney's Hollywood Studios
That's right: Beginning today, guests visiting Disney's Hollywood Studios at Walt Disney World Resort can go to infinity and beyond with a sneak peek at scenes from Disney and Pixar's Lightyear inside the Walt Disney Presents attraction! Our good pals at the Disney Parks Blog shared this exciting announcement with the help of Chris Evans, the voice of Buzz—take a look, above.
Lightyear, arriving exclusively in theaters June 17, is the definitive origin story of Buzz Lightyear—the hero who inspired the toy—and follows the legendary Space Ranger on an intergalactic adventure. Directed by Angus MacLane, the film also features the voices of Uzo Aduba as Buzz's commander and best friend Alisha Hawthorne, and Peter Sohn as robot companion Sox. Keke Palmer, Taika Waititi, and Dale Soules lend their voices to the Junior Zap Patrol's Izzy Hawthorne, Mo Morrison, and Darby Steel, respectively; and James Brolin voices the ever-enigmatic Zurg. Mary McDonald-Lewis as onboard computer I.V.A.N., Isiah Whitlock Jr. as Commander Burnside, Efren Ramirez as Airman Diaz, and Keira Hairston as Young Izzy round out the film's voice cast.
First looks at Lightyear will also be coming soon to Disneyland Paris and Disney Cruise Line—so, should you be making a jaunt to France or taking to the high seas in the very near future, a) have a great time, and b) stay tuned!
ICYMI: Your Ultimate Watchlist to Prepare for Obi-Wan Kenobi
We're looking ridiculously forward (seriously, we're counting the days!) to Ewan McGregor's return as Obi-Wan Kenobi in Disney+'s upcoming limited series—and to that end, we've put together a handy-dandy watch list of Star Wars films and series to prepare for what's sure to be a galactically epic debut. See what you should add to your viewing calendar over this next week!