Join the Dark Side with New Star Wars Half Marathon at Walt Disney World
Break out those Lightsabers and lace up those sneakers: After the inaugural Star Wars Half Marathon Weekend delighted runners at Disneyland Resort this past January, runDisney is bringing the intergalactic fun to the East Coast for the first time! Star Wars Half Marathon—The Dark Side will blast off at Walt Disney World from April 14–17, 2016. Events are set to include a 5K, 10K, kids races, and half marathon—all channeling the infamous dark side of the Force. (There's even special recognition for completing both the 10K and half marathon, called the Star Wars Dark Side Challenge.) Runners brave enough to join the Galactic Empire will enjoy a true Star Wars experience throughout the weekend, including Dark Side-inspired medals and merchandise.
To differentiate between the two races, Disneyland Resort will now embrace the light side of the Force (with a 5K, 10K, kids races, half marathon, and their own Star Wars Rebel Challenge). Plus, by participating in both Star Wars Half Marathon events, runners can earn the inaugural Kessel Run Challenge medal—which, Star Wars fans know, is the ultimate test of skill. (Can you complete it in 12 parsecs? As Yoda is fond of saying, "Do or do not. There is no try.")
Registration for the East Coast event opens on September 22, 2015, at 12 noon ET.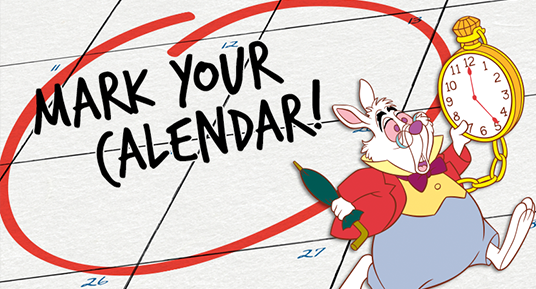 Save the Date!
Be sure to mark these upcoming Disney events on your calendar:
D23 and Walt Disney Archives


Fall 2015


D23 Member VIP Nights at The Lion King


September 19


Never Had a Friend Like D23


September 26


The Art of Disney—Featuring 75 Years of Pinocchio


October 3


D23's Sip & Stroll


November 6


VIP Studio Experience with Disney Legend Andreas Deja


November 7


D23 Day at the Walt Disney Studios and Archives


Studios




November 25


The Good Dinosaur opens in theaters.


December 18


Star Wars: The Force Awakens opens in theaters.


January 29


The Finest Hours opens in theaters.


March 4


Zootopia opens in theaters.

Parks


September 15, 18, 20, 22, 25, 27; October 1, 2, 4, 6, 8, 9, 12, 13, 15, 16, 18, 20, 22, 23, 25, 27, 29, 31; and November 1


Mickey's Not-So-Scary Halloween Party at Magic Kingdom Park


September 25, 28, 30; October 2, 5, 7, 9, 12, 14, 16, 19, 22, 23, 25, 27, 29, 31


Mickey's Halloween Party 2015 at Disneyland


September 25-November 16




Epcot International Food & Wine Festival




November 8, 10, 12, 13, 15, 17, 19, 20, 29; and December 1, 3, 4, 6, 8, 10, 11, 13, 15, 17, 18


Mickey's Very Merry Christmas Party at Magic Kingdom Park


Television




September 22


The Muppets premieres at 8 p.m. ET/PT on ABC.


September 26


Marvel's Guardians of the Galaxy premieres at 9:30 p.m. ET/PT on Disney XD.


November 30


It's Your 50th Christmas, Charlie Brown airs at 9 p.m. ET/PT on ABC.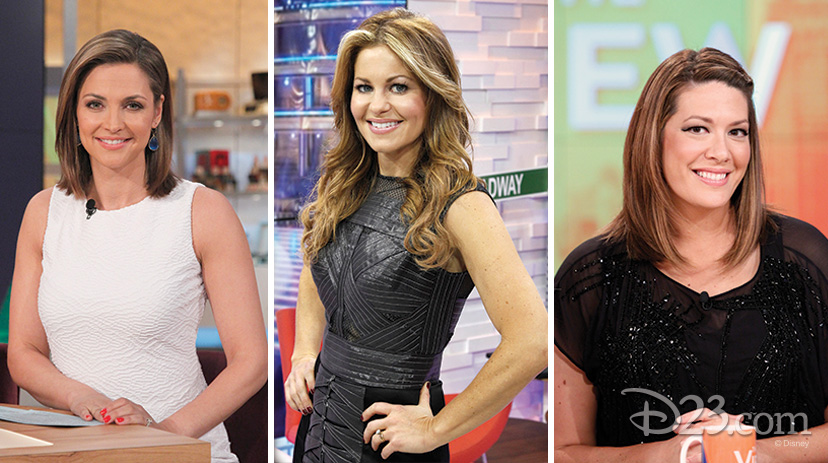 Three New Co-Hosts Will Take Time to Enjoy The View
When The View returns to ABC for its 19th season on Tuesday, September 8, there'll be three more chairs at the roundtable! Recent Dancing With the Stars competitor Candace Cameron-Bure (Full House) and Good Morning America Weekend co-anchor Paula Faris will join moderator Whoopi Goldberg and previously announced co-hosts Raven-Symoné and Michelle Collins. But that's not all: Original The View co-host and comedian Joy Behar, who left the show in 2013, will team up with the panel once again!
This fall, The View will air live five days a week—and the ladies will also welcome a brand-new team of contributors on politics, style, food, culture, beauty, and wellness. Former The View co-host Sherri Shepherd, Top Chef host Padma Lakshmi, style expert Stacy London, political analyst Ana Navarro, and former model Molly Sims will all make regular appearances on the show. Get ready for more opinions, more points of view, and more "Hot Topics" than ever before!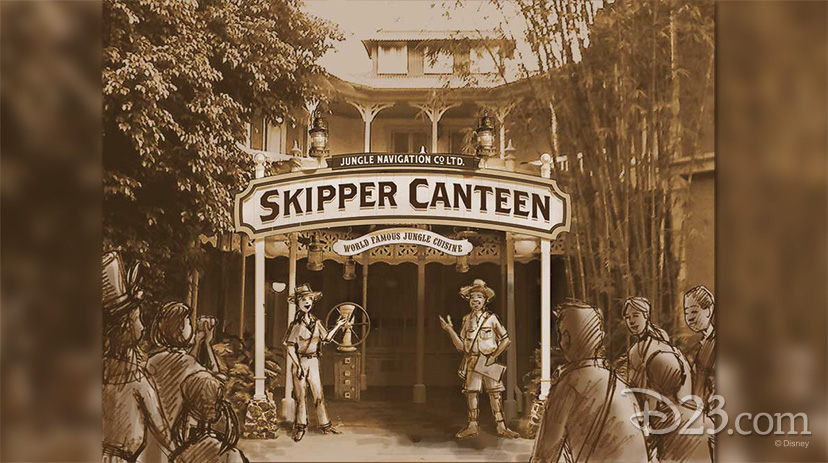 Enjoy the Jungle Cruise in a Whole New Way at Magic Kingdom Park
All you Jungle Cruise fans (and really, who amongst us isn't?) may have already heard this awesome news out of the recent D23 EXPO 2015, but it bears repeating: a brand-new Jungle Cruise-themed restaurant is coming to Magic Kingdom Park at Walt Disney World! The Jungle Navigation Co., Ltd. Skipper Canteen, located inside Adventureland, will give guests the chance to sample "World Famous Jungle Cuisine" in one of several unique dining rooms—including a crew mess hall and a once-hidden secret meeting room of the famed Society of Explorers and Adventurers.
Staffed by Jungle Cruise Skippers, the Canteen is set to open to the public in late 2015. No word on whether the décor will include the amazing "back side of water"…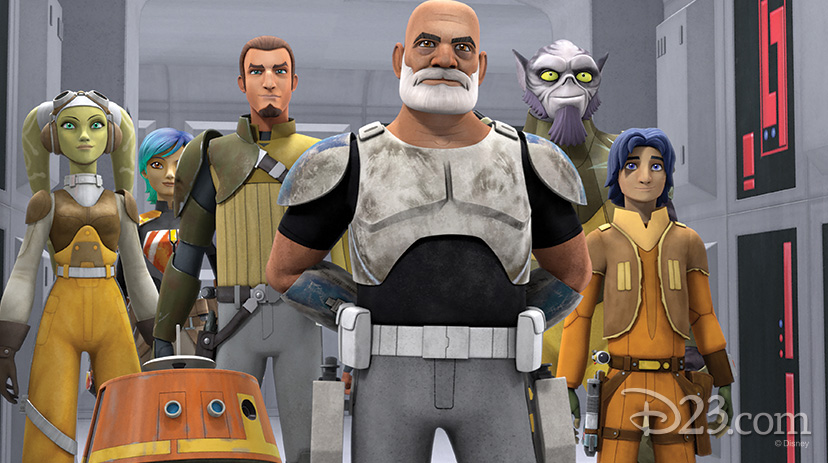 Star Wars Rebels Brings a Dash of the Force to New York Comic Con
Going to New York Comic Con on Thursday, October 8? You're in luck! Visitors will get an exclusive sneak peek of what's to come in the second season of Star Wars Rebels with a panel featuring some very special guests—plus a preview screening of new episodes from the series.
The Star Wars Rebels panel will take place on the Empire Stage from 1:30–2:30 p.m. and will be followed by an exclusive screening of two new episodes later on the same stage (from 5:30–6:30 p.m.). These all-new episodes will feature the series debut of Captain Rex, Captain Gregor, and Commander Wolffe—three characters from the previous Star Wars animated series, Star Wars: The Clone Wars. They join another fan favorite from The Clone Wars—Ahsoka Tano—who made her Star Wars Rebels debut in the final episode of Season 1. Look for the new season of Star Wars Rebels this fall on Disney XD!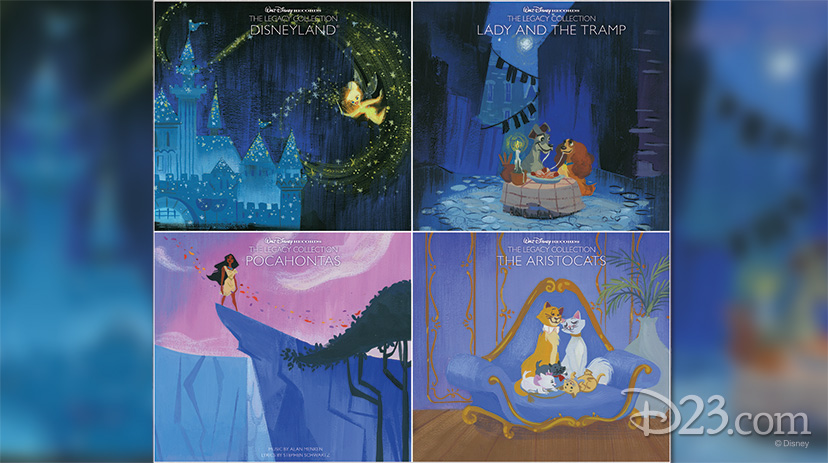 Walt Disney Records The Legacy Collection: Final Four Releases
Walt Disney Records has announced the final four installments that complete their coveted The Legacy Collection series. Lady and the Tramp, Pocahontas, The Aristocats, and Disneyland wrap up the 12-set series that launched with The Lion King back in June 2014.
Each CD cover and booklet features newly created artwork from Lorelay Bove, a visual development artist at Walt Disney Animation Studios (Big Hero 6, Wreck-It Ralph, Tangled) who was recently named one of "10 Animators to Watch" by Variety.
Walt Disney Records The Legacy Collection is a Disney music lover's dream; each CD contains beloved original soundtracks plus valuable documentary content that tells the story behind the music. Where else can you find gems like Richard and Robert Sherman's demos from The Aristocats or a cut Alan Menken/Stephen Schwartz song from Pocahontas? Walt Disney Records The Legacy Collection is available now from www.disneymusicemporium.com.
New Disney Infinity 3.0 Edition Trailer for Star Wars Twilight of the Republic
It debuted for the lucky folks at D23 EXPO 2015—but now it's online for the whole wide world to enjoy! On August 19, Disney Interactive released the new trailer for Star Wars Twilight of the Republic, one of three Star Wars Play Sets to be released for Disney Infinity 3.0 Edition, which launches in North America on Sunday, August 30.
The Star Wars Twilight of the Republic Play Set will be included in the game's Starter Pack and lets players embark on an intergalactic adventure with Jedi Knight Anakin Skywalker and his trusty Padawan Ahsoka Tano to uncover hidden plots, defeat villains, and bring peace back to the galaxy. Featuring an original story set in the Episodes I–III trilogy timeline, players will travel through four iconic locations; use the Force and Lightsabers in epic battles; and master their combat skills.
Look for two more Play Sets—Star Wars Rise Against the Empire, following the classic trilogy, and one based on Star Wars: The Force Awakens—later this year.