By Courtney Potter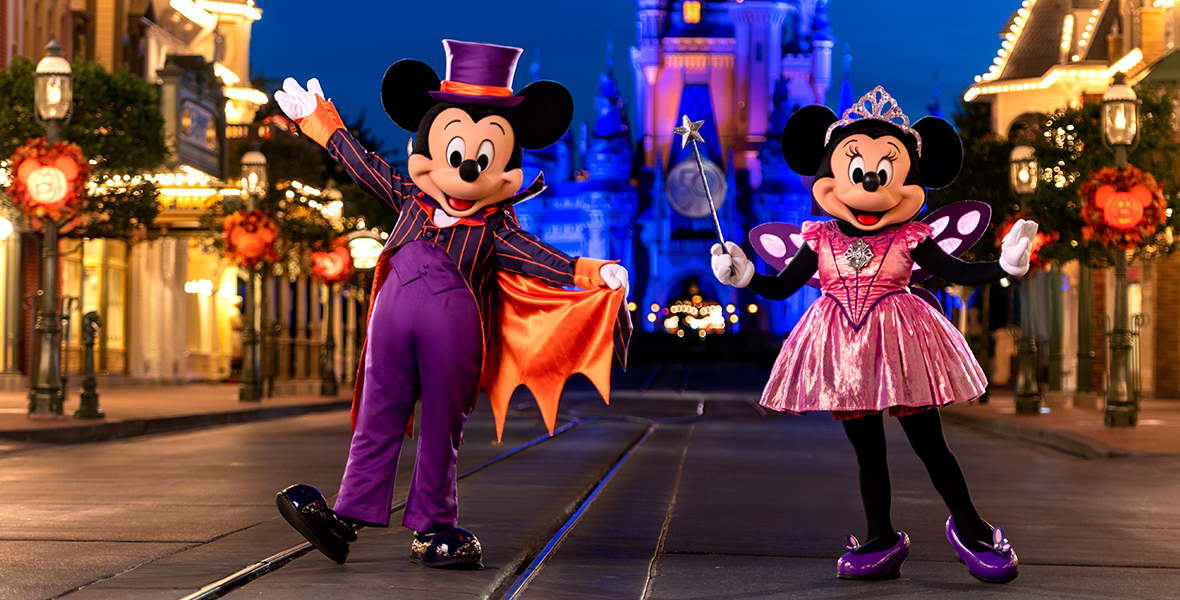 Halfway to Halloween: All the Spooky Fun in Store from Disney Parks
Here's some truly spook-tacular news from Disney Parks, Experiences, and Products: Halfway to Halloween is here, and with it comes announcements of some frightfully fun festivities!
Haunted highlights include the return of both Mickey's Not-So-Scary Halloween Party on select nights at Magic Kingdom Park inside Walt Disney World Resort, and Oogie Boogie Bash at Disney California Adventure Park at Disneyland Resort this fall. At both resorts, throughout the spooky season, you can expect all manner of new Halloween-themed merchandise as well as delicious eats and treats—both returning favorites and brand-new delights.
But that's not all: To really get into the Halloween spirit, Walt Disney Pictures joined the swinging wake by revealing the logo for the new Haunted Mansion film—slated to open in theaters March 10, 2023.
In this mysterious adventure, a doctor (Rosario Dawson) and her 9-year-old son (Chase Dillon), looking to start a new life, move into a strangely affordable mansion in New Orleans, only to discover that the place is much more than they bargained for. Desperate for help, they contact a priest (Owen Wilson), who, in turn, enlists the aid of a widowed scientist-turned failed-paranormal expert (LaKeith Stanfield); a French Quarter psychic (Tiffany Haddish); and a crotchety historian (Danny DeVito).
Foolish mortals would be wise to keep their eyeballs peeled for more Halloween-related hijinks from Disney Parks as we creep ever closer to fall…
5 Fantastic Things to Watch This Weekend Presented by State Farm®
This weekend kicks off the merry month of May (honestly, has this year flown by so far or what?!)—and there's so much good viewing to look forward to from around the worlds of Disney. The return of ABC's The Wonderful World of Disney; Pretty Woman arriving on Hulu; the always show-stopping "Disney Night" episode of ABC's American Idol; and so much more.
Meet The Villains of Valley View and Ultra Violet & Black Scorpion This June
Mark those calendars, friends: Disney Branded Television just announced the premiere date for its two newest, highly anticipated Disney Channel series: The Villains of Valley View and Ultra Violet & Black Scorpion… you'll get to officially meet 'em all beginning Friday, June 3!
The Villains of Valley View follows teenage supervillain Havoc (Isabella Pappas), who—after standing up to the head of the League of Villains—is forced to relocate with her family, who've all changed their villainous identities, to a sleepy Texas suburb. With the help of effervescent new neighbor Hartley (Kayden Muller-Janssen), Havoc—now going incognito as Amy—must somehow hide her superpowers and quell her villainous nature in favor of something she and the rest of her family have fought against all their lives: being normal. The series also stars Lucy Davis, James Patrick Stuart, Malachi Barton, Reed Horstmann, and Patricia Belcher.
Meanwhile, in Ultra Violet & Black Scorpion, everyday Mexican American teen Violet Rodriguez (Scarlett Estevez) is "chosen" by a magical luchador mask, which transforms her into Ultra Violet—a superhero fighting crime alongside her luchador uncle, Cruz (J.R. Villarreal), also known as Black Scorpion. Although Cruz takes Violet under his special-powers wing, she doesn't always see eye to eye with him when it comes to his methods for capturing crooks. In the meantime, she must keep her superhero identity secret from her parents Nina and Juan Carlos (Marianna Burelli and Juan Alfonso) and her older brother Santiago (Brandon Rossel), as well as her friends and schoolmates. However, she does lean on one close confidante: her best friend Maya (Zelia Ankrum), who provides advice and assists with documenting Ultra Violet's adventures on social media.
Look for two back-to-back episodes of both The Villains of Valley View (8 p.m. EDT/PDT) and Ultra Violet & Black Scorpion (9 p.m. EDT/PDT) on June 3… with both series streaming shortly thereafter on Disney+.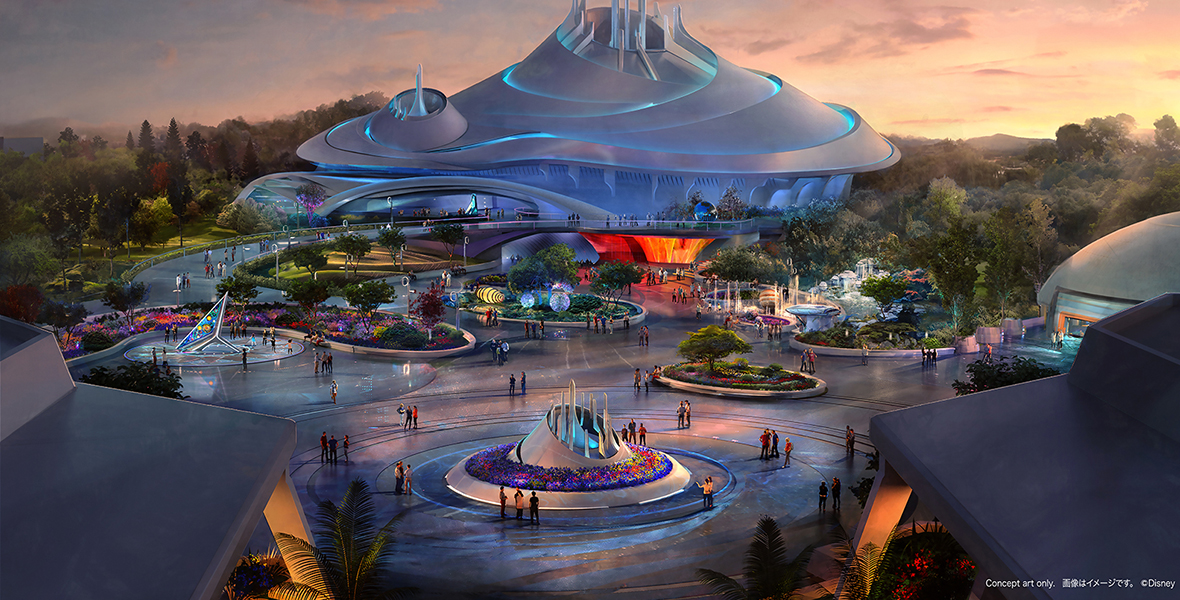 Tokyo Disneyland Unveils Plans for Space Mountain Transformation
Earlier this week, our friends at Tokyo Disney Resort announced that Space Mountain will be closing as part of a major renovation of Tomorrowland, beginning in 2024. By 2027—which will be here before we know it! —the new area will feature a newly rebuilt Space Mountain attraction, keeping the original concept as a thrilling indoor coaster but including enhanced performance and sure-to-be-amazing immersive special effects.
As Walt Disney Imagineering producer Kathleen Davis recently told Disney Parks Blog, "I'm thrilled to introduce this attraction to guests. It's not only a whole new ride experience, but the story also has so much emotion. Through the queue and then on the ride, we see our connection to our planet and gain a new perspective for how special it is in all the universe. It's a roller coaster with both thrill and heart."
In addition to Space Mountain's transformation, an all-new plaza in Tomorrowland will represent a future where humans are in harmony with nature. The area will offer guests areas to recharge and relax, and will include lighting and sound effects in the evening.
Stay tuned for more info on the transformed attraction as it becomes available…
No Case Too Small: New Trailer for Disney+'s Chip 'n Dale: Rescue Rangers
Yep—once they're involved, somehow whatever's wrong gets solved! Disney+ recently released a new trailer for their upcoming original movie Chip 'n Dale: Rescue Rangers; a comeback 30 years in the making, the hybrid live-action/CG animated action-comedy catches up with the former Disney Afternoon television stars in modern-day Los Angeles.
Chip (voiced by John Mulaney) and Dale (voiced by Andy Samberg) are living amongst cartoons and humans in L.A., but their lives are quite different now. It's been decades since their successful television series was canceled—and Chip has succumbed to a life of suburban domesticity as an insurance salesman. Dale, meanwhile, has had CGI surgery and works the nostalgia convention circuit, desperate to relive his glory days. When a former castmate mysteriously disappears, Chip and Dale must repair their broken friendship and take on their Rescue Rangers detective personas once again to save their friend's life.
Also featuring KiKi Layne, Will Arnett, Eric Bana, Flula Borg, Dennis Haysbert, Keegan-Michael Key, Tress MacNeille, Tim Robinson, Seth Rogen, J.K. Simmons, and Chris Parnell, Chip 'n Dale: Rescue Rangers is directed by Akiva Schaffer. Look for the film to premiere exclusively on May 20—only on Disney+.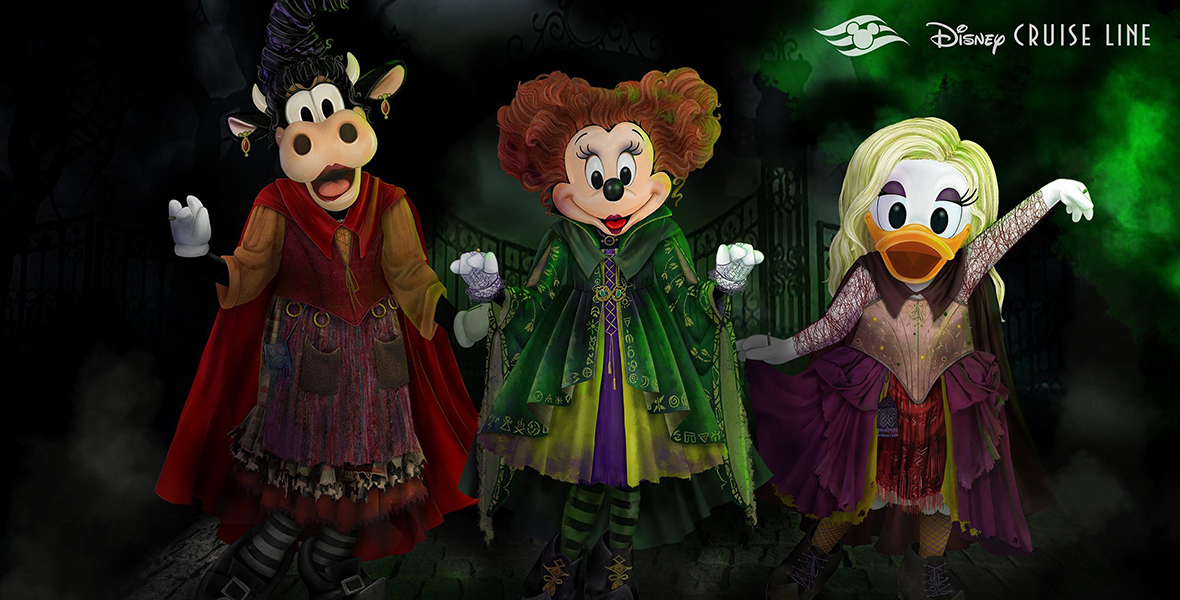 Spellbinding New Experiences for Disney Cruise Line's Halloween on the High Seas
With Disney Parks celebrating Halfway to Halloween (scroll up for a reminder!), this update from the good folks at Disney Cruise Line fits right in: This September and October, Disney Cruise Line guests will run "amuck! amuck! amuck!" on several Halloween-themed cruises featuring special entertainment and activities, including trick-or-treating, spooky parties, elaborate décor and limited-time food and beverage items.
But that's not all: These cruises will include a first-of-its-kind character meet and greet inspired by Halloween's favorite sisters; while all characters on board will appear in Halloween costumes as part of the festivities, Minnie Mouse, Daisy Duck, and Clarabelle Cow will debut a never-before-seen look as they dress up as the iconic Sandersons from Disney's Hocus Pocus!
Plus, as part of its inaugural season of Halloween cruises this fall, the Disney Wish—the newest Disney Cruise Line ship—will also introduce a unique twist on a Halloween on the High Seas hallmark…Guests will witness the debut of an all-new magical Pumpkin Tree (adorned with lighter bark, graceful branches, and a mystical face) in the Cinderella-inspired Grand Hall.
For more info on all this fa-boo-lous Disney Cruise Line fun, visit disneycruise.com.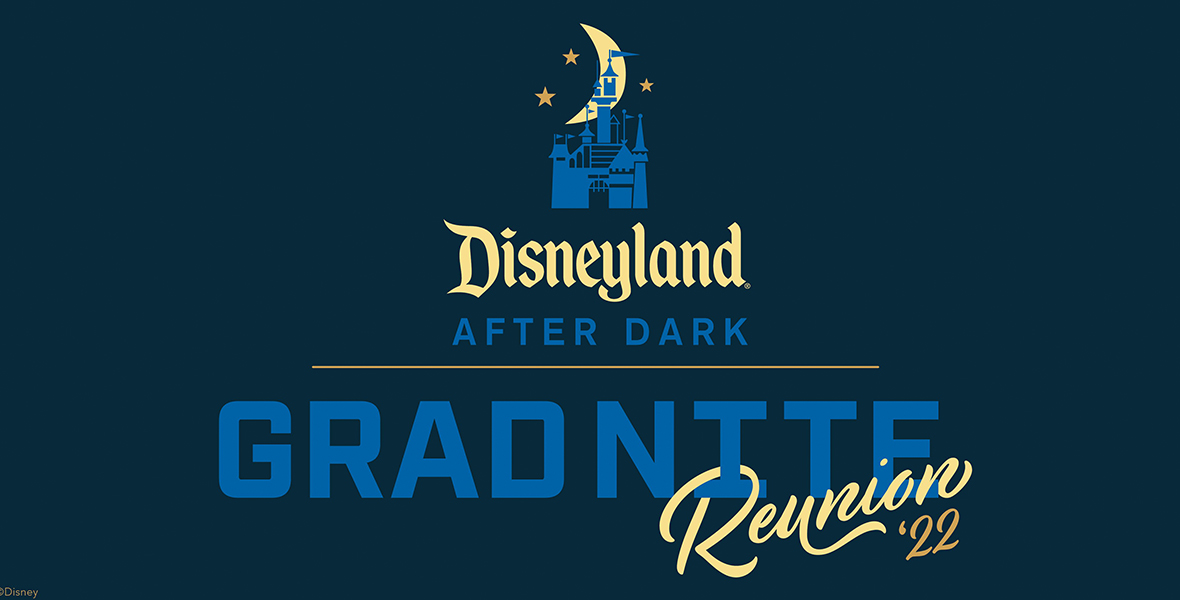 Show Your School Spirit at Disneyland After Dark: Grad Nite Reunion
Speaking of Disneyland Resort, a fun new special event is coming to Disney California Adventure Park this summer… and you'll wanna break out the letterman jackets and "Phys Ed" T-shirts!
Debuting on select June nights, Disneyland After Dark: Grad Nite Reunion is the ultimate class reunion filled with dancing, fun, and nostalgia celebrating classes of the last six decades. The event grants "grads" after-hours access to Disney California Adventure after the park closes to daytime guests; plus, the night will feature cafeteria-inspired eats and treats, special character experiences, fun-filled entertainment, and shorter wait times for fan-favorite attractions. In addition to these special offerings, * guests will receive a commemorative credential and guide as well as unlimited downloads of Disney PhotoPass** digital photos captured during the party. Party attire encouraged—and don't forget to show your school spirit! (Please read the Disneyland Resort Attire Guidelines).
This after-hours event will be offered on June 23, 28, and 30, 2022. To purchase tickets, and for more information, visit Disneyland.com. Be there or be square! (Do note there are a limited number of tickets, so grab 'em while the gettin' is good.)
*Certain attractions, experiences, and offerings will not be available during the events. Please check the event's webpage for updated information. Available experiences, attractions, and offerings may be modified and limited in availability, and are subject to restrictions, and change or cancellation without notice. No refunds given for any changes or cancellations whether due to inclement weather or otherwise.
**Disney PhotoPass service is subject to the Disney PhotoPass terms and expiration policy found at Disneyland.com/photopass-terms-conditions/. Online registration required.
ICYMI: Every A-MEI-zing Easter Egg in Disney and Pixar's Turning Red
We're big fans of Pixar's Turning Red 'round these parts—and as such, we recently took a deep (and totally entertaining) dive into the film to find any and all Easter eggs, hidden details, and Disney references to help "U Know What's Up" the next time you watch. It's almost too much panda-monium for one article to handle…