Doctor Who? Find Out on Disney XD Beginning May 9
If you're already a fan of Doctor Who, BBC's wildly popular science-fiction drama, then you'll be thrilled to learn that Disney XD has picked up seasons two through four of the worldwide hit. If you've never seen Doctor Who, then you're about to have the perfect opportunity to see how this show has amassed its devoted following. The landmark series depicts the adventures of the Doctor, a time lord who travels through space and time in his TARDIS, combatting various enemies to save civilizations around the globe.
On Saturday, May 9, Disney XD will feature a preview airing of Doctor Who (season two, episode one—"New Earth"), following the Disney XD premiere of Fantastic Four (6:45 p.m. ET/PT). In "New Earth," the Doctor and Rose board the TARDIS for new adventures in time and space. But when they visit mankind's new home, far in the future, they find gruesome secrets hidden inside a luxury hospital. And an enemy thought long-since-dead, the paper-thin Cassandra, is out for revenge. Season two, "Adventures in Time and Space," will continue to roll out on Disney XD beginning Saturday, June 13. The special weeklong programming event will give fans eight episodes, airing daily Saturday, June 13 through Saturday, June 20.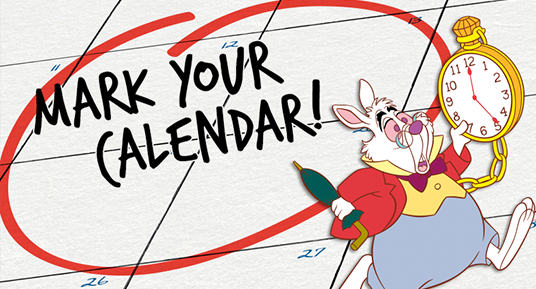 Save the Date!
Be sure to mark these upcoming Disney events on your calendar:
D23 and Walt Disney Archives


Fall 2014-2015


D23 Member Nights at Newsies—On Tour


April 25


D23 Day at Walt Disney Studios and Archives


May 9


The Parent Trap Party at Camp Inch


May 29


VIP Studio Tour with Disney Legend Dave Smith


June 20


D23 Day at The Walt Disney Studios and Archives


August 14-16


D23 Expo 2015 returns to Anaheim, California


Studios




May 1


Avengers: Age of Ultron opens in theaters.


May 22


Tomorrowland opens in theaters.


June 19


Inside Out opens in theaters (along with the short Lava).


July 17


Ant Man opens in theaters.


December 18


Star Wars: The Force Awakens opens in theaters.
Parks


March 4–May 17




22nd Epcot International Flower & Garden Festival.




May 15–June 14


Star Wars Weekends Returns to Disney's Hollywood Studios.


May 22–23




24-hour event kicking off Disneyland Resort Diamond Celebration at Disneyland Resort




May 22–23




24-hour event kicking off "Coolest Summer Ever" at Walt Disney World Resort




September 15, 18, 20, 22, 25, 27; October 1, 2, 4, 6, 8, 9, 12, 13, 15, 16, 18, 20, 22, 23, 25, 27, 29, 31; and November 1

Mickey's Not-So-Scary Halloween Party at Magic Kingdom Park


November 8, 10, 12, 13, 15, 17, 19, 20, 29; and December 1, 3, 4, 6, 8, 10, 11, 13, 15, 17, 18


Mickey's Very Merry Christmas Party at Magic Kingdom Park


TV




April 28


Dancing with the Stars 10th Anniversary Special airs on ABC (8–9 p.m. ET/PT)


May 9


Doctor Who Debuts on Disney XD (9 p.m. ET/PT)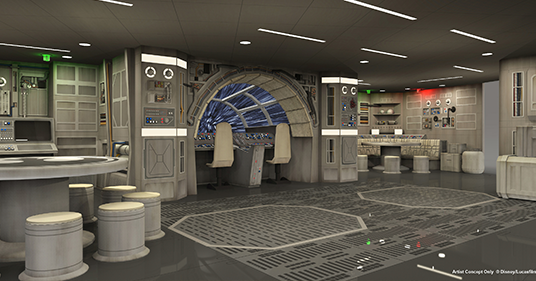 Disney Cruise Line Makes A Dream Even Dreamier
Once upon a Disney Dream, travelers and families could have wonderful vacations at sea, on board one of Disney Cruise Line's finest ships. But now, the Disney Dream is undergoing new enhancements that will make its sailings even more exciting, even more delicious, and even more magical. You might say that the potential for fun is infinite! The Disney Infinity Toy Box Area (in the Oceaneer Club), a high-tech interactive space based on Disney Infinity, will offer kids exclusive in-game content that they will only be able to unlock on the Disney Dream (but can continue to enjoy when they get home), and will also allow kids to take the place of character figures on a life-size Disney Infinity Base. The Force will be with young travelers as they take part in a shipboard version of the Disney parks' Jedi Training Academy experience, explore a Star Wars: Millenium Falcon play area inspired by the iconic spacecraft from the Saga, and express their creativity through Star Wars-themed crafts, games, and activities. Vanellope's Sweets & Treats—inspired by Wreck-It Ralph—will feature a delectable assortment of candy, handmade gelato and ice cream, and more. And the Bibbidi Bobbidi Boutique will transform young guests into royal princesses and knights—or maybe even swashbucklers. Adult guests will see their "Disney Dream" of relaxation come true at the new water feature, Satellite Falls, a circular splash pool with benches and a gently falling rain curtain. These enhancements make their debut on the Disney Dream's four-night voyage departing Port Canaveral on October 26, 2015.
We're Still Star Wars Celebrating
You'd have to be living in a cave in Dagobah to have missed last week's news that the teaser for Star Wars: The Force Awakens had its world premiere at Star Wars Celebration Anaheim. But just in case you found yourself caught up at Tosche Station buying power converters and missed it, enjoy the video above. The other big news out of Star Wars Celebration Anaheim was the update we received about the upcoming stand-alone film, Rogue One. Director Gareth Edwards revealed that the film will revolve around a rogue band of resistance fighters who unite for a daring mission to steal the Death Star plans and bring new hope to the galaxy. Lucasfilm's Kathleen Kennedy also announced that upcoming big screen adventures that explore the characters and events beyond the core Star Wars saga will be known as the Star Wars Anthology Series. Rogue One is slated to hit theaters December 16, 2016—just about a year after The Force Awakens opens in theaters on December 18, 2015. The Force is strong in December.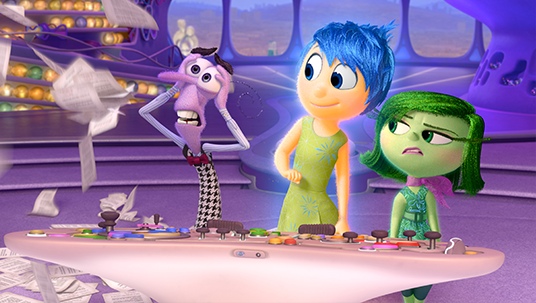 Get an Inside Look at Inside Out
Inside Out opens in theaters on June 19. But three days earlier, on June 16 at 7 p.m. ET, Disney and Fathom Events will present a one-night event that will premiere the feature—including the animated short Lava—and will also include 15 minutes of exclusive behind-the-scenes footage from Pixar Animation Studios and a Q&A with director Pete Docter, producer Jonas Rivera, and the voice of Joy, Amy Poehler, live via satellite from their Australian tour. "Inside Out gives us a chance to take the audience to a world that everyone knows about but no one has ever been before—inside the mind," Docter said in a statement to TheWrap, which reported the news. "So many people contribute to a movie like this and we can't wait to share a little bit of what goes on behind the scenes—it's a long journey, but it's so much fun."
A New Tomorrowland Trailer Now… A Tomorrowland Sneak Peek in IMAX on May 1
The latest trailer for Walt Disney Studios' Tomorrowland shows Casey (Britt Robertson) and Frank (George Clooney) embarking on their danger-filled mission to unearth the secrets of an enigmatic place somewhere in time and space, "Tomorrowland." We can't wait to see what those secrets are when the film opens in theaters on May 22. But in the meantime, you can keep looking for clues in an extended first look at Tomorrowland, which will screen directly in front of Marvel's Avengers: Age of Ultron in IMAX theaters domestically and in select international markets beginning May 1. The special presentation of the film will feature more than six minutes of footage to be introduced by director Brad Bird.
Star Wars Battlefront—The Next Best Thing to Journeying to a Galaxy Far, Far Away
The graphics on this immersive game are so impressive, you might forget that you aren't watching a trailer for an upcoming Star Wars film. Star Wars Battlefront will be available November 17 for PlayStation 4, Xbox One, and on Origin for PC. The game features unprecedented access to original Star Wars props and locations, along with photorealistic visuals and authentic sound design from the talented team at DICE. You can surrender to your dark side and play as Darth Vader or Boba Fett, or be a hero at the intergalactic locales you've loved for years, like Hoth or Endor. Visit StarWars.com for more details and to learn how you could get to play the Battle of Jakku one week early.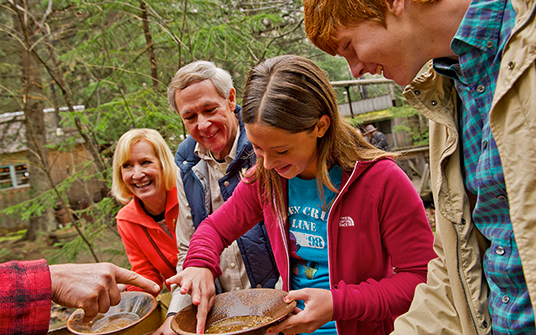 (Port) Adventure is Out There!
Disney Cruise Line has announced a brand-new selection of Port Adventures that are available for travelers on the Disney Wonder's cruises to Alaska. In Juneau, families will be able to pan for gold and explore an abandoned mine. Teens can enjoy exclusive thrills on the Canopy and Zip Line Expedition. In Skagway, travelers can interact with dogs and puppies training for sled dog races, enjoy breathtaking views on the Skagway Adventure Hike, and design their own root beer labels at the Klondike Gold Fields brewery. Beginning June 1, the Disney Wonder will sail a total of 14 seven-night cruises from Vancouver to Tracy Arm, Skagway, Juneau, and Ketchikan, Alaska. To learn more about Port Adventures on the Disney Wonder, visit Disney Cruise Line's official site.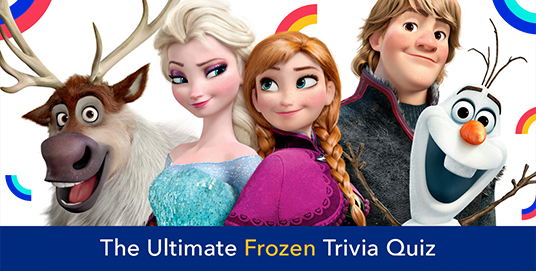 How Well Do You Know Disney? Disney Inquizitive Will Let You Find Out!
Since Disney Inquizitive's launch back in January, we've spent more than a little time on the app's personality quizzes, finding out whether we're Anna or Elsa, learning who should be our Star Wars sidekick, and asking ourselves, "How evil are we?" But now, our friends at Disney Interactive have kicked things up a notch by adding trivia quizzes to the Disney Inquizitive app. These new quizzes will challenge how well players know Disney movies, characters, quotes, and other trivia, and will range from categories including Fantasy & Villains, House of Mouse, Action & Adventure, Style, Love & Friendship, and Throwback. The app also lets users share their scores, see how they rank among friends, and compare results in-app or via Facebook. The app is available for free in the Apple App Store. We'd love to tell you more, but we're dying to "Guess the Disney Character from the Silhouette." Game on!