By Tim Lammers
When Star Wars opened in 1977, the film's stars—Carrie Fisher, Harrison Ford, and Mark Hamill—became household names, seemingly overnight. The young actors breathing life into the brand-new characters being introduced in Star Wars: The Force Awakens are about to become just as familiar to you. At the recent global press conference for the film, John Boyega, Adam Driver, Oscar Isaac, and Daisy Ridley all talked about joining the iconic franchise.
In addition, an exclusive interview for D23.com, movie journalist Tim Lammers talked with Gwendoline Christie, 37, about playing Captain Phasma, and how the Star Wars saga has influenced her life.
Here's what they had to say: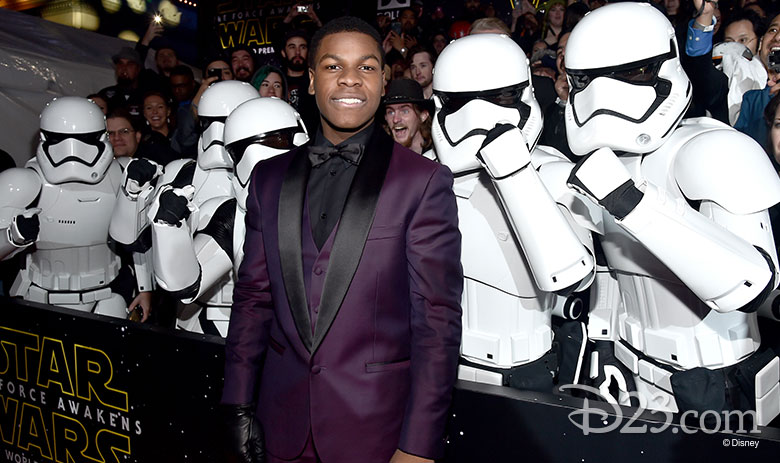 John Boyega (Finn), on the greater cultural impact of Star Wars: The Force Awakens:
"For me, I'm going to be honest. I really don't care about the black stormtrooper stuff. I couldn't care less. This is a movie about human beings, about Wookiees, spaceships, and TIE fighters; and it has an undertone and a message of courage, and a message of friendship and loyalty. And I think that's something that is utterly important. I watched the movie with Kathy [Kennedy, producer and Lucasfilm President] just last week, and I really relate to Rey more than any of the characters. And to be in a circumstance where you have to find something bigger than who you are within yourself is something that's an inspiration to me."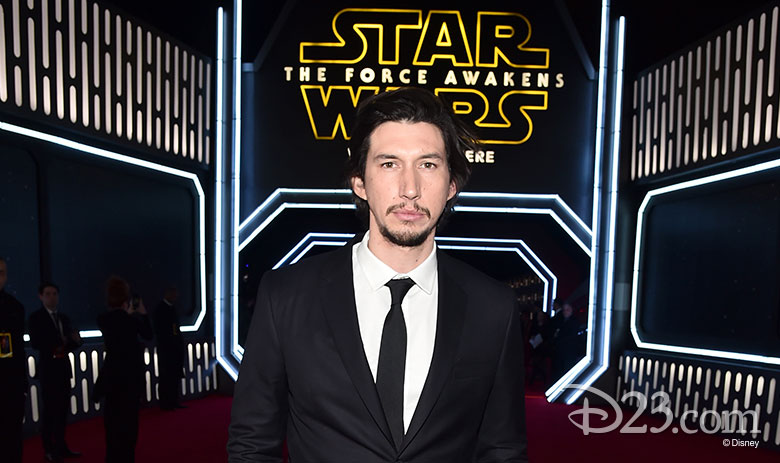 Adam Driver (Kylo Ren) on carrying on the Star Wars Saga's legacy of great antagonists:
"Early on, we tried to not think of him being bad or evil or a villain and tried to make something that was more three-dimensional, because that—to me—seemed more dangerous and unpredictable. Someone who feels morally justified in doing whatever they need to publicly kind of state that what they're doing is right seems more active to play than just being evil for the sake of it."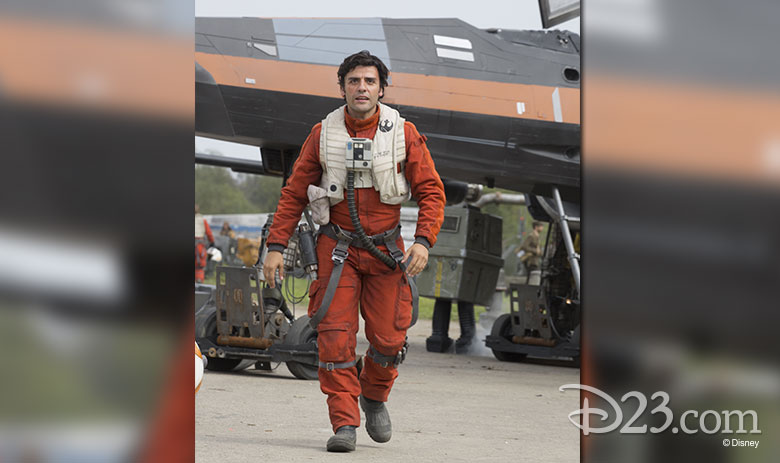 Oscar Isaac, on crafting his character, Poe's, possible backstory:
"I think that one of the coolest things about working on this with J.J. [Abrams] and with Lucasfilm is that there's been a real sense of collaboration with that kind of thing. It was almost a bit of a sandbox element to it… I mean, for example with me, after we started filming I was talking a bit about where Poe could have been from. And the thing is, in A New Hope [Star Wars: Episode IV], at the very end at the Medals Ceremony, one of Guatemala's claims to fame is that the last shot where the ships are leaving, where you see the temples, was shot in Guatemala. And for me, the fact that I was born there and that's a rebel base, and I'm playing a rebel—a resistance fighter, a rebel fighter—I thought, 'You know, maybe Poe was there. He was—you know, that's where he's from.' And then this comic book comes out, called Shattered Empire, where Poe's parents ended up going to Yavin 4 and making sweet love… And it's kind of a beautiful thing, that it feels like we're creating these things together."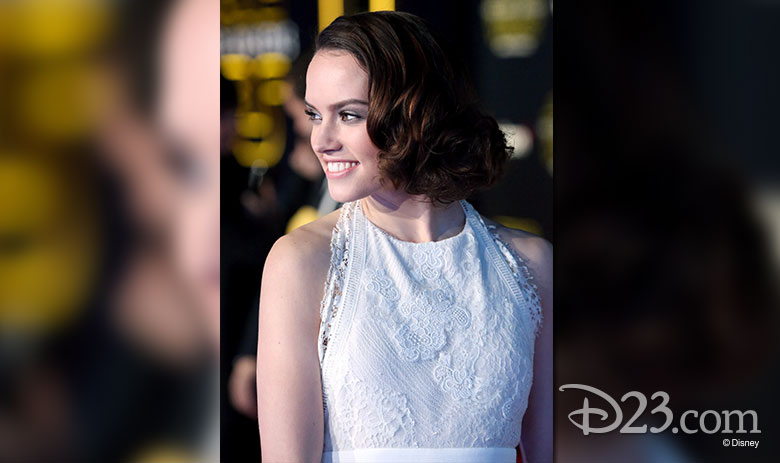 Daisy Ridley (Rey), on her character's "walk-up song," the song that "pumps [a character] up, and expresses who they are":
"I actually have one—it's Mulan, "I'll Make A Man Out of You." I used to play it in the trailer before I went on set."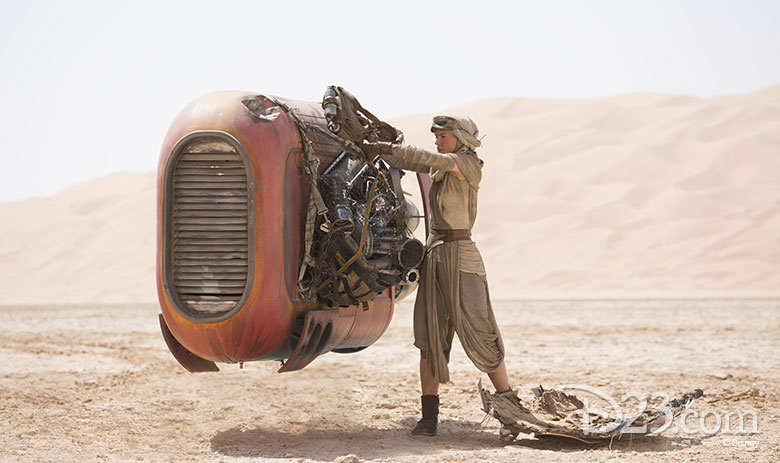 And Ridley on how her character is adding "girl power" to the franchise:
"She's brave and she's vulnerable and she's so nuanced. That's what's so exciting playing a role like this. She doesn't have to be one thing to embody a woman in a film and, for me, she's not important because she's a woman—she's just important. It just so happens that she's a woman."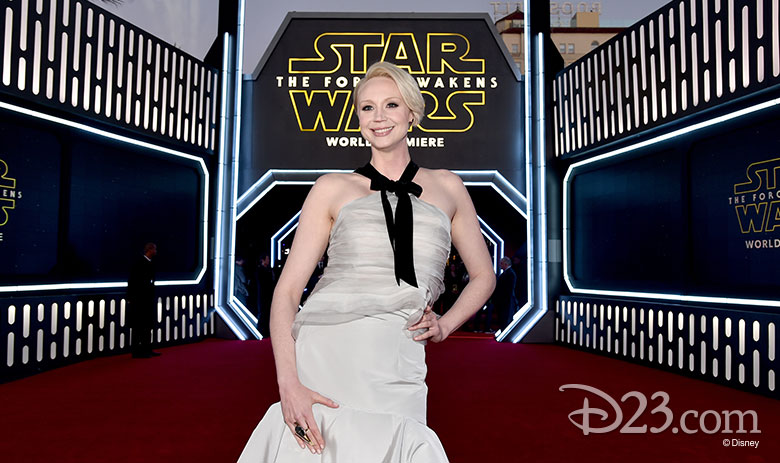 Gwendoline Christie takes command as Captain Phasma:
Continuing the "girl power" theme, without question, one of the most popular characters to emerge out of the trailers for Star Wars: Episode VII – The Force Awakens is Captain Phasma, played by acclaimed British actress Gwendoline Christie from the smash HBO series Game of Thrones. A caped villain suited up in chrome-plated Stormtrooper armor, Captain Phasma is in charge of the Stormtroopers of the First Order in the universe set 30 years after the events of the Star Wars: Episode VI – Return of the Jedi.
Tim Lammers: What are your earliest memories of Star Wars?
Gwendoline Christie: I remember the first time I saw it when I was about 6 years old. It was Christmastime and my family showed me the film, and I remember being totally enthralled by it. I loved the characters – a group of misfits who were thrown together who all seemed so completely unique since they were virtually from other worlds.
TL: Do you remember the sort of feelings it inspired in you?
GC: It had an enormous impact. I just couldn't get over the magic of the whole thing. It seemed to have some kind of spiritual and mythological elements to it, yet it felt like something familiar and something we could connect with. I also found The Dark Side so enthralling. It was terrifying, yet so magnetic … Overall, I loved the film's foundation about good vs. evil, and how it was told in such a genuine and imaginative way that made us all feel like children in awe of the story unfolding.
Christie said while her favorite characters in the first Star Wars film didn't have hearts, they had a whole lot of soul: "The droids, R2D2 and C3PO, I just loved them. I was surprised that I could form such an affection for two machines. They could make me laugh and make me worry for them when they got into trouble. R2D2 was my favorite because I found him so charming and entertaining. I just adored him."
As for the film's human characters, Christie said she was most inspired by the person who gave the famous order, "Would someone get this big walking carpet out of my way?" (poor Chewbacca), and continued to evolve as a life force over the original Star Wars trilogy: "I loved Princess Leia. I remember thinking at such a young age that this is a woman that I really haven't seen before in films. It felt like she got to do the guy stuff and was driven. She got to be powerful, single-minded, witty and uncompromising. I do think that had an influence on me. I remember thinking, 'I want to be like that.'"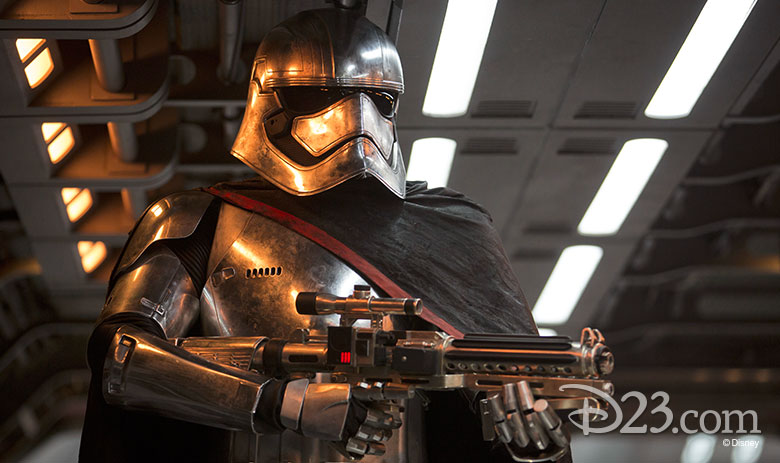 Donning a helmet and being completely covered by armor, the 6 foot 3 inch Christie said playing Captain Phasma afforded her the unique opportunity to tap into some different acting sensibilities: "I was so excited to go about the acting process in a totally different way than I have done before. What happens with Captain Phasma below the neck is just as important as what happens above the neck. When I realized that the costume was so wonderfully imposing and prominent, it became an exploration of physicality, as well as an intellectual exploration. I knew every gesture would mean something. The way I held my hand meant something. The way that I walked and the way that I ran meant something. Everything that I did physically helped illustrate the character of Captain Phasma and her story."
Described by The Force Awakens producer Kathleen Kennedy as the first female villain in the Star Wars saga, Christie pointed out the dramatic differences between Captain Phasma and various femme fatales audiences see in other films: "She's a villain that you relate to as a character initially through her actions, rather than the more conventional form of how she is made in flesh. To me that's very progressive, heartening and refreshing. It's so modern. The reaction to her from fans has been so positive. I couldn't be happier."
Christie said Game of Thrones has no doubt opened doors for other acting opportunities. And while Captain Phasma and Brienne of Tarth both wear armor and capes, Christie said that's where the characters' similarities begin and end: "They're totally different roles in totally different worlds. I will be forever grateful to Game of Thrones for giving me this incredible platform, and to George R. R. Martin for creating the most wonderful character of Brienne of Tarth, who I am so attracted to because she's unconventional and unlike any other character I've seen in a television program. Brienne of Tarth is dedicated to the moral good and what's necessary for her to do her job. Captain Phasma is a member of the Dark Side and part of the First Order, so I would say she's entirely the opposite."
Being released 38 years after the debut of the first Star Wars film, Christie is thrilled that diversity associated with the film saga continues to grow with The Force Awakens: "I was obviously happy to be cast in the role because I desperately wanted to be in Star Wars, but when I really learned who this character was and what the filmmakers were doing with her in the film, that's when I was truly delighted. J.J. Abrams has been open about the fact that the filmmakers want to honor the authenticity of the previous films, yet are really bringing things up to date by immersing The Force Awakens with a more diverse cast."
Christie said she was thrilled to be cast in The Force Awakens by director and co-screenwriter J.J. Abrams, since she's long been a fan of his films: "I loved his Super 8 because it was such a brilliant piece of work and so multi-dimensional, and I loved what he did with the Star Trek movies, which were so fantastic and a breath of fresh air."
The ultimate geek-out, Christie said, was taking direction on the set by Abrams: "Meeting him and working with him on The Force Awakens, I can't think of anyone better to have made this film. It was a very creative opportunity, very inspiring and very collaborative, and I felt that we were all shown such great respect and support. He would listen to us and had such great enthusiasm and was so hilarious. It was a real great time."