By Steven Vagnini
The tale as old as time is told anew, as guests aboard the Disney Dream can now experience Beauty and the Beast, a brand-new musical spectacular inspired by Disney's 2017 live-action adaptation of the animated classic. One of the largest and most elaborate productions ever brought to Disney Cruise Line, the new show in the Walt Disney Theatre invites audiences to fall in love with their favorite characters, songs, and adventures all over again, while cutting-edge technology and new storytelling methods bring a fresh perspective to the beloved story.
To embark on this ambitious approach to the timeless fairy tale, Disney assembled an all-star creative team shining with Broadway and entertainment accolades—including director and choreographer Connor Gallagher (Tangled: The Musical, Found), writer Sara Wordsworth (Frozen, A Musical Spectacular; Broadway's In Transit), costume designer Sarah Cubbage (Broadway's Skylight), and puppet designer Jeff Conover (Tangled: The Musical, Aladdin: A Musical Spectacular)—who were challenged to transform the acclaimed live-action feature into a 70-minute stage production aboard a Disney Cruise Line ship.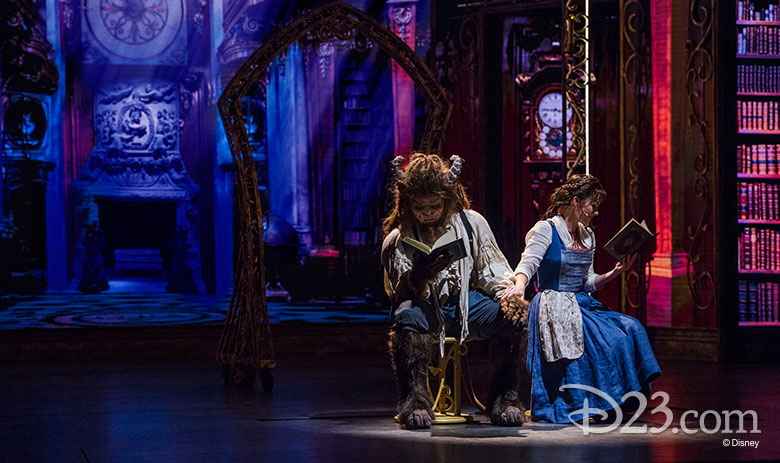 "When I was first brought in, the film was still in production," Wordsworth explains. "I had a copy of the screenplay, and at first I thought, 'Oh boy, that's going to be a challenge!' But then I embraced the words on the pages… It's really a gift to be able to use them and see what are the major themes and what are the things they changed from the different versions. We worked very closely to condense which elements we were going to tell in song, what were we going to do in dance, what were we going to do scenically—all working together to tell the story so that you feel like you haven't missed a thing."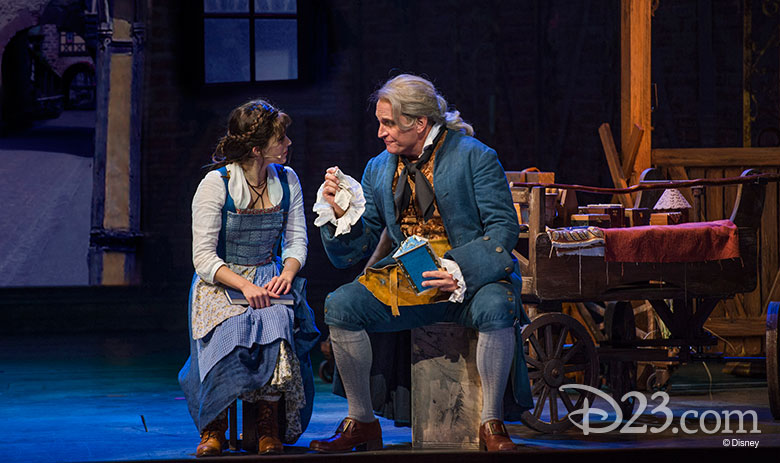 With so many iconic and elaborate settings to create—from Belle's provincial French town to the Beast's mysterious castle—the team developed an elaborate transforming set that takes audiences on a magical journey through the scenic motif of a music box. "Belle's father was an inventor, as we had seen in the animated feature, but he was also a music box maker and a craftsperson," observes set designer Jason Sherwood (Paint Your Wagon; Frozen, A Musical Spectacular). "And that music box contains a story. That felt like an interesting way into the idea that we could take a different vantage point… The idea that the characters, the people, the story are inside a coveted object became a huge aspect to what we wanted to create visually on stage." The result is a dynamic combination of dimensional scenery and high-definition projections that combine into a visual panorama that reaches beyond the stage. "From every single seat in the house you get a complete view of what's happening," he continues.
"Having the opportunity to design something so big and so bold that doesn't exist yet is incredible," adds video designer Aaron Rhyne (Frozen, A Musical Spectacular; Broadway's Anastasia and A Gentleman's Guide to Love and Murder). "We were early on inspired by the new live-action film, that we wanted to bring that sensibility to the stage and have it feel very real,,, And we were excited about utilizing video, but we didn't want you to feel like you were watching the movie. We came up with the idea that we would use video as though they were set pieces. So that's why things turn in, as though it was a three-dimensional set. Or trees slide up like it would be an old-fashioned flat. So we really tried to make this merger of old-school and new technology and explore that visually, but also keep it very inherently theatrical."
The intertwining of sets, video, choreography, and storytelling are especially impactful during the show's musical numbers. Drawing inspiration from Disney's animated, live-action, and Broadway tellings of the story, the show is anchored by Alan Menken and Howard Ashman's classic songs from the 1991 animated feature and includes two of the pieces written by Menken and Tim Rice for the live-action adaptation: "How Does a Moment Last Forever" and "Days in the Sun." Songs like "Belle" and "Beauty and the Beast" have been reimagined to reflect the show's stylized approach, while "Gaston" and "Be Our Guest" offer exuberant spectacles through rousing choreography and visual effects. The creative team also developed ways to continue telling the story through musical transitions, incorporating elements from the films' iconic underscores and bringing a unique musical identity through new arrangements by Matt Castle and Frank Galgano (Into the Woods).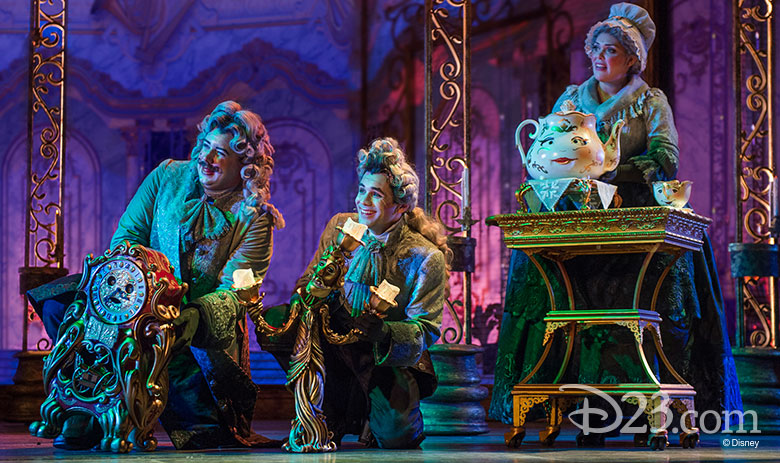 Even the enchanted objects, such as Lumiere, Mrs. Potts, and Cogsworth, are brought to life in a whole new way through innovative puppetry and costumes. "We really follow the emotional arc of the objects more so in this production than ever before," Gallagher reveals. "You have these scenes where you're asking the actors to carry a lot of the emotional weight, and if they're hidden behind a puppet and we don't have access to them as human beings, it's going to create a real barrier between them and the audience. So sometimes you're looking at the puppet, a lot of times you're looking at the actor."
"Story-wise, we need to remember that they were humans and that their human form is still there," Wordsworth emphasizes. "The costume design for the characters is so beautiful because it's this white ombré that transitions into a dark, dark blue, and it's sort of like their life being sucked out of them. And I think that we were all really thrilled with how that turned out because the audiences could connect with the characters' backstories."
Reflecting on their greatest joys bringing the show to life, members of the creative team are quick to point to their personal memories growing up with Beauty and the Beast—a connection they share with different generations of guests. "This is a story where people are going to walk into the theater, and the parents are already going to have a relationship with these characters and this story, and their children do as well," Wordsworth explains.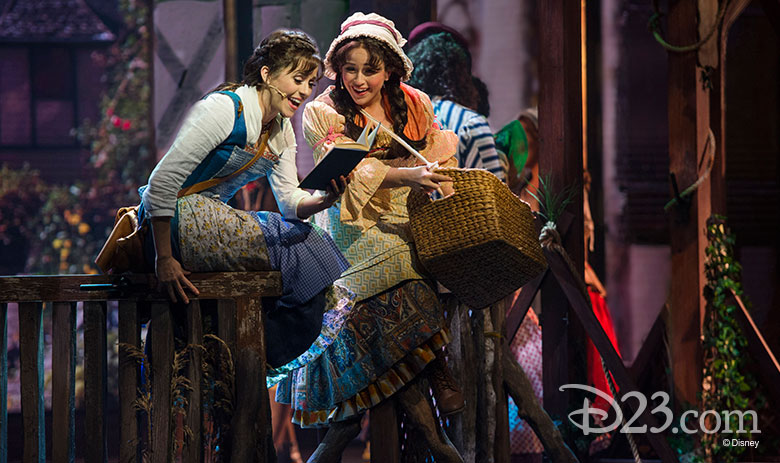 Gallagher fondly recalls a special moment that took place during one of the first shows he experienced: Beauty and the Beast—Live on Stage at Disney-MGM Studios (now Disney's Hollywood Studios). "I remember sitting somewhere in the first, second, or third row, and I remember a performer just looking at me and feeling sort of very intimate and special. And I'll never forget those moments as kids that sort of burn in your brain, and that's one of them. Here [on Disney Cruise Line], the fact that a little kid who has no interest in theater can wander in and take a seat, and maybe be swept away with how magical it is—by the video, by the costumes, by that something that gets them inspired—and that could be their introduction to theater is really exciting to me."
Beauty and the Beast debuted during the Disney Dream voyage departing November 6, 2017, joining an incredible lineup of Broadway-style stage productions aboard the ship, including The Golden Mickeys and Disney's Believe. The Disney Dream sails three- and four-night cruises to the Bahamas from Port Canaveral, Florida.
Get a sneak peek at the new show here: