As cookbook author Pam Brandon writes, "Vacations are often a time for indulgence, and a meal shared around a table on holiday is often the best time of day, especially for families who 'divide and conquer' the theme park experience—and then gather at day's end to share stories and memorable moments." In Brandon's newest cookbook, Delicious Disney: The Fresh Edition, she serves up a collection of mouth-watering recipes from interesting venues across the domestic Disney Parks and Resorts. "Once you're back home, we hope you can have fun, amaze your family and friends, and rekindle a memory around your own table," she notes in her book.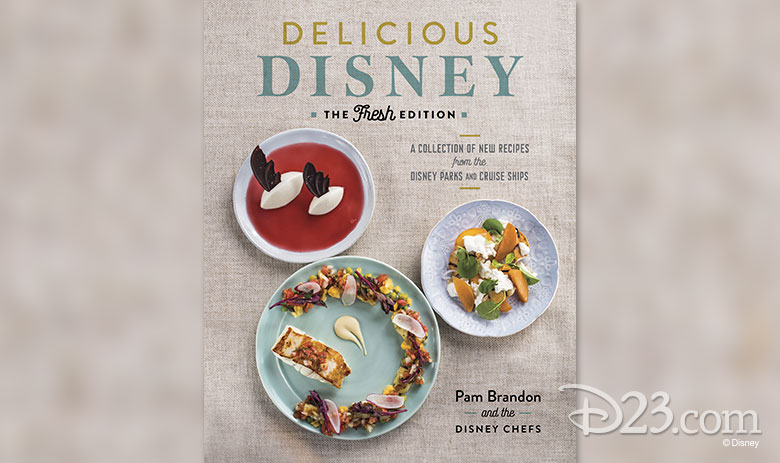 As a special treat, our friends at Disney Editions have served up three of the book's delightful recipes for us, which we'll be sharing during the month of January. So while you wait for your next Disney excursion—after all, Brandon's book is on-sale as an exclusive souvenir only available at the Walt Disney World and Disneyland Resorts—feast your eyes on these delicious dishes, Disney-style. Check back next week to see the next recipe!
Mushroom Arancini
DISNEY'S GRAND FLORIDIAN RESORT & SPA
WALT DISNEY WORLD RESORT
CÍTRICOS
With an open kitchen and airy dining room, Cítricos offers a taste of the Mediterranean, like these crispy, deep-fried balls of rice. (The name "arancini" comes from the little oranges that these rice balls are said to resemble.) Carnaroli rice is best for making the appetizer, as it keeps its shape better, thanks to a higher starch content and firmer texture.
MAKES 16
POMA ROSA SAUCE:
1/4 cup extra-virgin olive oil
1 tablespoon sliced garlic
28-ounce can tomato puree
1 pinch crushed red pepper flakes
1 teaspoon coarse salt, plus more to taste
1 pinch freshly ground black pepper, plus more to taste
1 pinch sugar
1 teaspoon chopped fresh Italian parsley
1 teaspoon sliced fresh chives
ROASTED MUSHROOMS:
1 tablespoon extra-virgin olive oil
1 pint cremini mushrooms, cleaned and quartered
1 small shallot, sliced
1 garlic clove, crushed
1 small sprig fresh rosemary
1 sprig fresh thyme
Coarse salt, freshly ground black pepper, to taste
ARANCINI:
3 cups low-sodium vegetable stock
1 bay leaf
1 sprig fresh thyme
1/4 cup extra-virgin olive oil
1 large shallot, finely diced
1 garlic clove, minced
1 cup carnaroli rice
1/2 cup dry white wine, such as Chardonnay or Pinot Grigio
1 tablespoon mascarpone cheese
1/2 cup grated Parmesan cheese
Chopped roasted mushrooms (from recipe)
Coarse salt, to taste
1 tablespoon chopped fresh parsley
1/2 tablespoon sliced fresh chives
Vegetable oil, for frying
1 cup all-purpose flour
1 cup unsweetened almond milk
2 cups panko bread crumbs
FOR POMA ROSA SAUCE:
Combine oil and garlic in a large skillet over medium heat. Cook until garlic turns golden, being careful not to burn garlic. Add tomato puree and red pepper flakes.
Bring to a light simmer and stir in salt, pepper, and sugar. Simmer 10 minutes. Season to taste.
Add parsley and chives just before serving.
FOR ROASTED MUSHROOMS:
Preheat oven to 400°F.
Toss mushrooms, shallot, garlic, and herbs in olive oil. Season with salt and pepper.
Roast 10 to 12 minutes on sheet pan, or until golden.
Remove from oven and cool. Cut mushrooms into small dice and set aside.
FOR ARANCINI:
Heat vegetable stock in a medium saucepan over medium heat. Add bay leaf and thyme sprig.
Heat oil in a large sauté pan or deep skillet over medium heat. Add shallot and garlic; cook until soft, stirring often, about 1 1/2 to 2 minutes.
Add rice to oil and cook, stirring constantly for 2 minutes. Add wine and cook until wine is almost completely absorbed.
Ladle in 2 cups vegetable stock. Cook, stirring almost constantly, until completely absorbed. Continue adding stock, 1 cup at a time, stirring constantly and allowing each addition to be absorbed before adding the next.
Cook until rice is tender but not mushy. (You may not need all of the stock.)
Add mascarpone and Parmesan, stirring to combine. Add chopped roasted mushrooms. Season with salt.
Stir in parsley and chives, then spread rice mixture on a baking sheet to cool to room temperature. Once cooled, cover tightly with plastic wrap and refrigerate 30 minutes to 1 hour.
Pour vegetable oil to a depth of 3 inches in a heavy-bottomed saucepan or a Dutch oven over medium heat. Heat to 350°F.
Place flour, almond milk, and panko in separate shallow containers.
Scoop a 2-tablespoon portion of cooled rice mixture and gently roll into a compact ball. Set aside. Repeat with remaining rice.
Dredge rice balls in flour, then almond milk, and then panko, packing firmly to adhere.
In batches of 4 or 5, fry rice balls until golden brown, about 3 minutes. Drain on paper towels.
Serve with the poma rosa sauce for dipping.