Becoming Moana: Disney Dream Comes True for Hawaiian Teenager
It's one of those Hollywood stories that's almost too good to be true—but it is! After a worldwide search, 14-year-old Hawaiian newcomer Auli'i Cravalho has been cast as the voice of the title character in Walt Disney Animation Studios' upcoming film Moana. Cravalho joins Dwayne Johnson in the big-screen adventure about a spirited and fearless teenager named Moana (voice of Cravalho) who—with help from demi-god Maui (voice of Johnson)—sets out on a daring mission to prove herself a master wayfinder.
Hundreds of talented people from across the Pacific Islands were eager to try out for the role; luckily, a Hawaiian casting director remembered Cravalho from a past local audition, tracked the teenager and her mother down, and invited her to try out—and the rest, as they say, is history! "Auli'i demonstrated a certain fearlessness in her auditions and callbacks," explained Moana co-director John Musker. "She has a playful, mischievous wit. She can project vulnerability, she doesn't seem intimidated at all by the challenges ahead, and her Polynesian background has helped shape her connection to family, hard work, and music. These are all qualities she shares with Moana."
Look for Moana to sail into theatres in November 2016!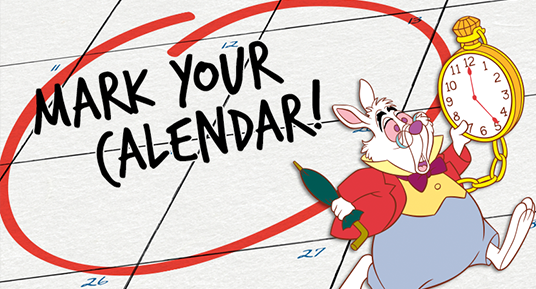 Save the Date!
Be sure to mark these upcoming Disney events on your calendar:
D23 and Walt Disney Archives


Fall 2015


D23 Member VIP Nights at The Lion King


October 25


Haunted Gingerbread House Building Workshop


November 6


VIP Studio Experience with Disney Legend Andreas Deja


November 7


D23 Day at the Walt Disney Studios and Archives


November 14


Pinocchio: 75 Years of a Disney Classic


November 14


Mickey's of Glendale Orlando Shopping Event


December 13


Holiday Gingerbread House Building Workshop


Studios




November 25


The Good Dinosaur opens in theaters.


December 18


Star Wars: The Force Awakens opens in theaters.


January 29


The Finest Hours opens in theaters.


March 4


Zootopia opens in theaters.


April 15


The Jungle Book opens in theaters.

Parks


September 15, 18, 20, 22, 25, 27; October 1, 2, 4, 6, 8, 9, 12, 13, 15, 16, 18, 20, 22, 23, 25, 27, 29, 31; and November 1


Mickey's Not-So-Scary Halloween Party at Magic Kingdom Park


September 25, 28, 30; October 2, 5, 7, 9, 12, 14, 16, 19, 22, 23, 25, 27, 29, 31


Mickey's Halloween Party 2015 at Disneyland


September 25-November 16




Epcot International Food & Wine Festival




November 8, 10, 12, 13, 15, 17, 19, 20, 29; and December 1, 3, 4, 6, 8, 10, 11, 13, 15, 17, 18


Mickey's Very Merry Christmas Party at Magic Kingdom Park


Television




November 30


It's Your 50th Christmas, Charlie Brown airs at 9 p.m. ET/PT on ABC.
The Lion Guard: Return of the Roar to Debut This November
Ready to revisit to the Pride Lands? The sweeping storytelling of Disney's The Lion King continues with The Lion Guard: Return of the Roar—a primetime TV movie event premiering Sunday, November 22, at 7 p.m. ET/PT on Disney Channel. (For those "streamers" amongst us, the movie will also be available on the WATCH Disney Channel app, the WATCH Disney Junior app, Disney Channel on Demand, and Disney Junior on Demand the following day.)
The Lion Guard: Return of the Roar—which kicks off Disney Channel's new series The Lion Guard—is set in the African savannah and introduces us to Kion (Max Charles, The Strain), the second-born cub of Simba (Rob Lowe, The Grinder) and Nala (Gabrielle Union, Being Mary Jane). Kion is destined to become leader of the Lion Guard, a team comprised of the Pride Lands' fiercest, bravest, and smartest. But instead of picking a group of fellow lions (as tradition dictates), he instead chooses friends whom he believes best exemplify those heroic qualities. Throughout the movie (and series), Kion and his motley crew will learn how to use their unique abilities to solve problems, protect the Pride Lands, and maintain balance within the "Circle of Life." The voice cast also includes Modern Family's Sarah Hyland and The Lion King alumni James Earl Jones and Ernie Sabella.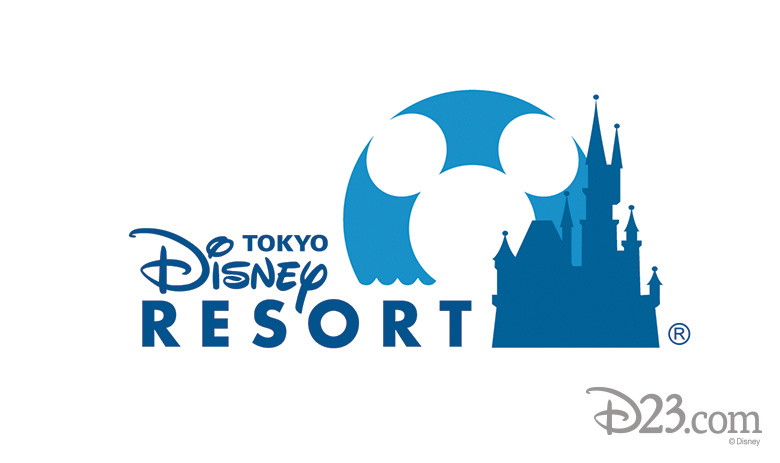 Winter Wonderlands at Tokyo Disney Resort
If you're in the market for a trip to Japan this winter, look no further than Tokyo Disney Resort! Our friends in the Chiba Prefecture just announced a frosty-fun variety of special programs and events from early January through mid-March 2016.
At Tokyo Disneyland Park, guests will once again enjoy a glimmering world of snow and ice with "Anna and Elsa's Frozen Fantasy"—including an updated Frozen Fantasy Parade and a special winter edition of the Once Upon a Time nighttime spectacular (now featuring scenes in Japanese from the Disney animated blockbuster). Over at Tokyo DisneySea, the 10th anniversary of Duffy the Disney Bear continues with "Journeys with Duffy: Your Friend Forever," and a new greeting show called Come Join Your Friends will introduce audiences to Duffy's newest pal, Gelatoni the cat.
That's not all: Tokyo DisneySea will again offer a scarier version of its Tower of Terror attraction called "Level 13: Shadow of Shiriki," and several intriguing mystery-solving programs will be available throughout the resort. Sign us up!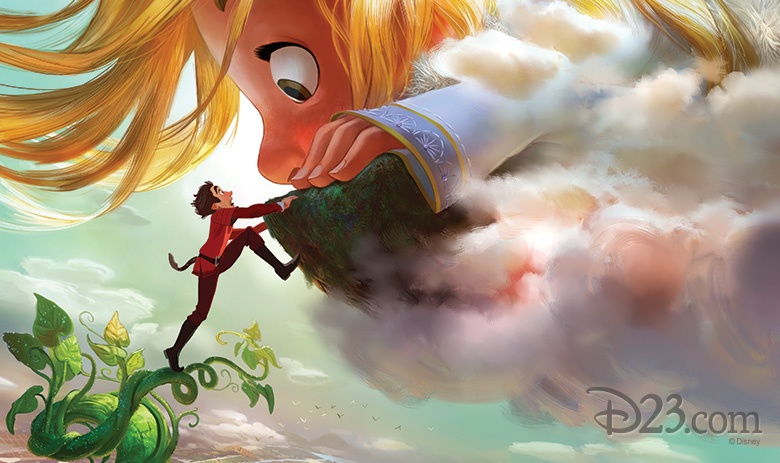 A Treasure Trove of Disney Movies to Come…
Mark your calendars, be they virtual or made of actual paper! Disney has announced a slew of release dates for some sure-to-be-amazing films, and we've got the rundown.
Marvel just unveiled plans for Ant-Man and the Wasp, a sequel to this summer's Ant-Man, set for release on July 6, 2018. Meanwhile, Marvel's Black Panther will open February 16, 2018, and Captain Marvel is set for March 8, 2019. In Pixar news, Cars 3 will hit theatres on June 16, 2017; the Dia de los Muertos-themed Coco is set for November 22, 2017; and The Incredibles 2 will save the world (again) on June 21, 2019. Perhaps most notably, the much-anticipated Toy Story 4 will debut June 15, 2018.
Disney Live Action's The Jungle Book will roar onto a screen near you in April 2016, followed by Alice Through the Looking Glass in May and Pete's Dragon (starring Bryce Dallas Howard and Robert Redford) in August. And Walt Disney Animation Studios got in on the announcement fun, too: Gigantic, a unique take on "Jack and the Beanstalk" featuring music from Oscar®-winning songwriters Kristen Anderson-Lopez and Robert Lopez (Frozen), will be released on March 9, 2018.
The Chew Takes on Epcot International Food & Wine Festival
We clued you into the foodie fun back in July, but now it's official: The hosts of ABC Daytime's The Chew just made their big trip to the Epcot International Food & Wine Festival at Walt Disney World Resort (their first-ever foray outside their NYC studios)… and, by the looks of this behind-the-scenes video from our pals at the Disney Parks Blog, they had an absolute blast!
Hosts Clinton Kelly, Carla Hall, Michael Symon, and Mario Batali took Walt Disney World Resort by storm in early October—riding all the best attractions, catching fantastic performances, and still finding time to make some delectable dishes! (Even Scandal star Bellamy Young got in on the action.)
Look for all the Epcot International Food & Wine Festival fun on The Chew this week, October 12 through 16, on ABC!
Adventures in Babysitting: New Disney Channel Movie in 2016
"Don't mess with the babysitter!" Rarely have truer words ever been spoken—as evidenced by Disney Channel's Adventures in Babysitting, set to debut in 2016. The upcoming TV movie stars Sabrina Carpenter (Girl Meets World) and Sofia Carson (Disney's Descendants) as babysitters Jenny and Luci, respectively; the two competing sitters find a dull night turning into big adventure in the big city as they hunt for one of their charges, who has somehow snuck away. Will they find him before his parents come home? Will they encounter some major fun along the way? You'll have to tune in to find out.
To help tide you over 'til the movie's premiere, check out this brand-new Adventures in Babysitting teaser, above.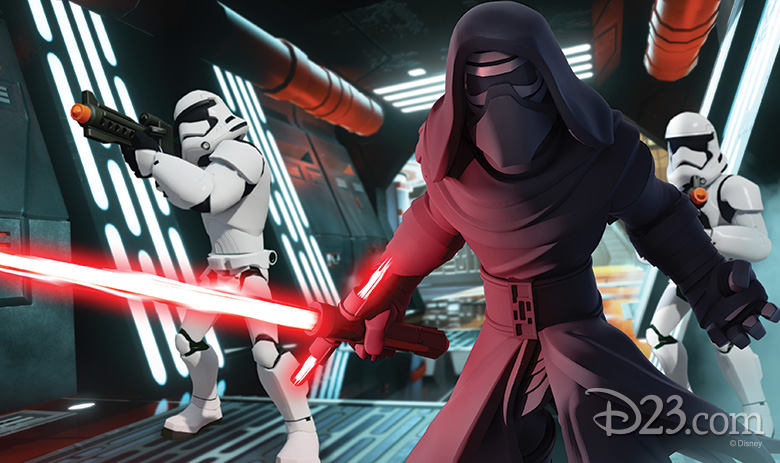 Disney Infinity 3.0 Star Wars Play Set: New Details Revealed
Big Disney Infinity news from the world of Star Wars… Disney Interactive and Lucasfilm just revealed two new characters—Poe Dameron and Kylo Ren—playable in the Star Wars: The Force Awakens Play Set, the third Star Wars Play Set to be released for Disney Infinity 3.0 Edition! Now available for pre-order, the Play Set pack will include both Finn and Rey character figures and will be released on December 18.
In the Star Wars: The Force Awakens Play Set, players travel to a galaxy far, far away alongside new heroes and old friends in search for a much-needed ally. Playable characters include soldier Finn and survivor Rey, who join Poe Dameron—the pilot of the Resistance—and devious Kylo Ren as they find adventure at every turn. In addition to the characters native to Star Wars: The Force Awakens Play Set, fans will also be able to unlock and play with all other Star Wars characters from Play Sets like Star Wars: Twilight of the Republic and Star Wars: Rise Against The Empire, as well as Star Wars Rebels characters. "Ready, are you?"
Behind the Scenes at Disneyland Park's Paint the Night
The Paint the Night parade has been helping guests at Disneyland Park get in the Diamond Celebration mood for the last few months—and now, we can get a peek into how the magic was actually created… or should we say, "illuminated"?
Take a gander at this new video, above, for an early-stage look at some of the floats, and inside scoop from the Walt Disney Imagineers tasked with bringing the parade to life.