By D23 Team
The newest book from award-winning author and historian Mindy Johnson, Pencils, Pens & Brushes—A Great Girls' Guide to Disney Animation, is dedicated to "Dreamers in search of their Greatness." And, with the help of illustrations by Disney artist Lorelay Bové, Johnson shines a light on a host of women trailblazers in animation at The Walt Disney Company—from writer Dorothy Ann Blank, who founded the Story Development Department at the Disney Studios; to Mary Weiser, a talented artist who became an expert in all things related to paint—so much so that she earned two patents for inventing a new animation technique; to Retta Scott, the first woman to receive a credit as an animator on a Disney film. The vibrant book follows Johnson's stunning and comprehensive 2017 book, Ink & Paint: The Women of Disney Animation, which revealed the never-before-told story of the women who made an indelible contribution to The Walt Disney Company in its early days. Johnson recently spoke to D23 about what went into bringing these incredible women's stories to the page.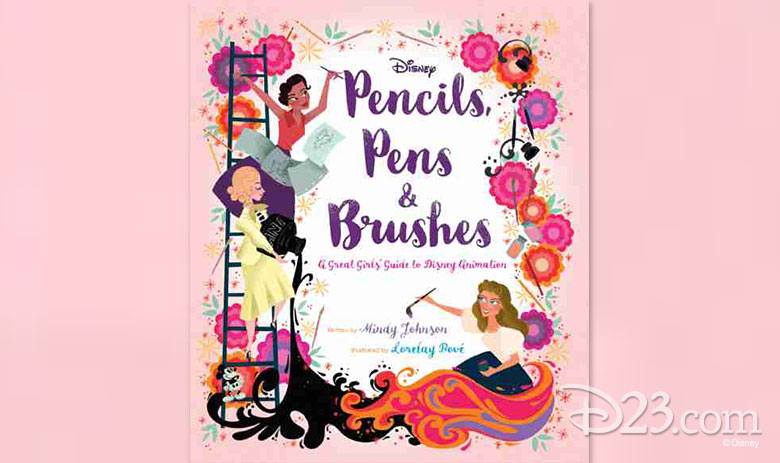 D23: How did you get started with these books?
Mindy Johnson (MJ): Ten years ago, while working on an earlier book exploring Disney animation, I noticed that what I'd written about the women involved with the development of a particular character was the most ever written about women's roles and contributions within any other book about Disney animation—other than Mary Blair. I also noticed there was nothing really that explored the work of the women in Ink & Paint, or whether there were any women who animated besides Retta Scott—the one woman usually mentioned for her work as an animator.
I proposed a book on the women of animation and we presumed it would be a "charming" book about the ladies of Ink & Paint, as well as a few others of note. However, about six or seven months into my research, I began to lock down the growing number of remarkable and influential women who worked at Disney over the decades, and I came to fully understand what their contributions really were. Thus far, I've discovered well over 2,000 women whose talents and contributions throughout the studio advanced animation to an unsurpassed level of artistry—and the list continues to grow! With all these new discoveries and so many wonderful stories, Pencils, Pens & Brushes—A Great Girls' Guide to Disney Animation, was a fun extension of the Ink & Paint volume.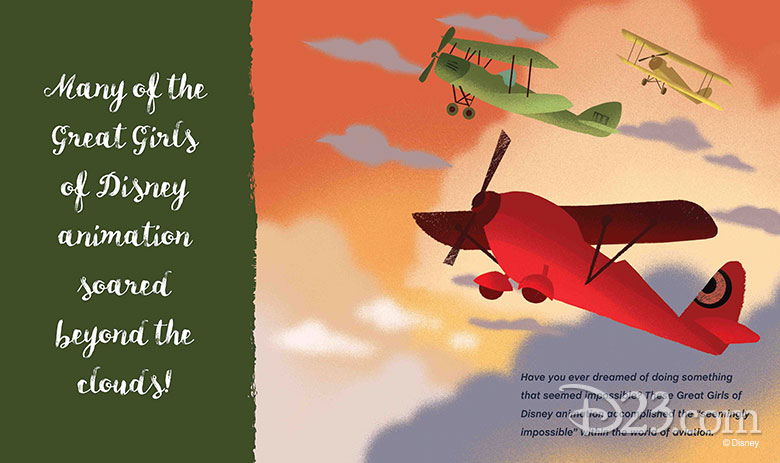 D23: What were some of the surprising things that you discovered?
MJ: No one had ever written about women and their work to this extent before, and the truth is, the contributions, circumstances, and overall numbers of women within the industry were very different than what we ever thought. Clearly, there were countless myths that needed to be corrected, and because no one had written accurately about the women and their contributions, we all bought into these stories, myths, and inaccuracies, thinking that was how it really was.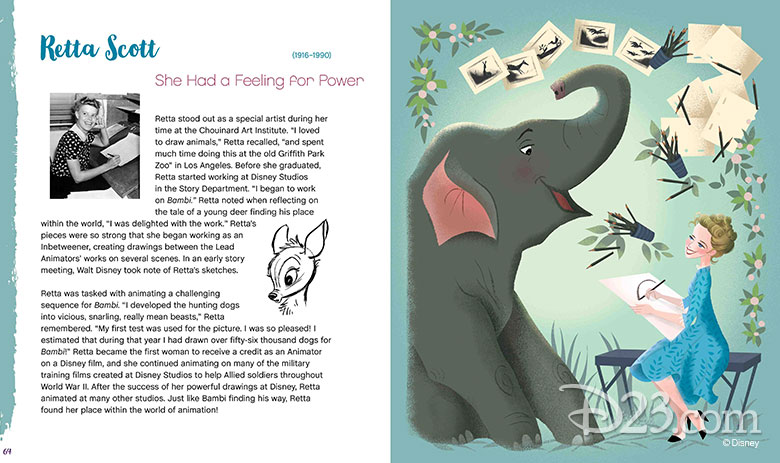 D23: What are some of these myths?
MJ: There are so many myths I work to dispel in my books. Some people thought Disney only had a couple of women in key roles in its early years, but women were at the forefront of a full range of roles. Walt Disney's hiring practices were always ahead of general U.S. industry standards for women. In fact, the very first employee of The Walt Disney Company was a woman! Some people think in the early days women at Disney only worked in Ink & Paint or as secretaries, but there were many women working within story development, Conceptual Design, Special Effects, Camera, Editorial, Backgrounds, and so many other areas where they contributed immensely to the creative storytelling throughout the years. And while there were overall societal differences about women's roles and capabilities in the 1930s and '40s, Walt Disney is on record as seeking to ensure that the women working at Disney Studios had a comfortable and safe place to work.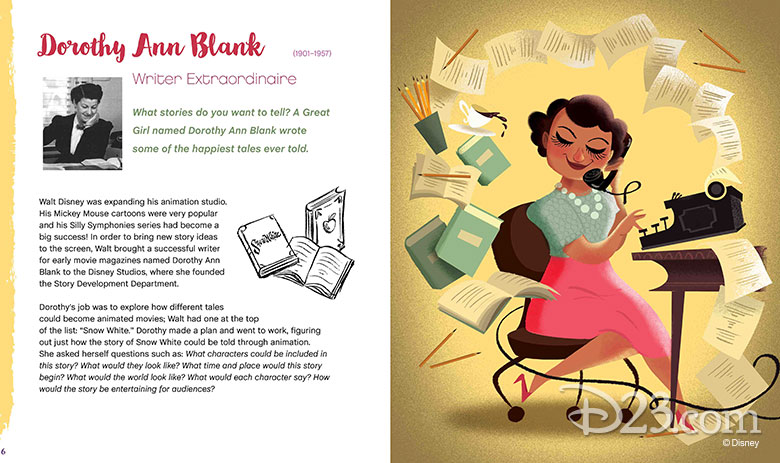 D23: You cover a lot of ground in your books that no one had ever really explored, and you obviously sourced everything meticulously. How did you do it?
MJ: For my previous books on women within animation, I did well over 200 interviews ranging from direct interviews with women who worked within animation, to friends, colleagues, and family members of these women. It's also important to have a working understanding of the larger history and processes involved with animation along with a sense of the records that exist from our animated past. Thankfully these materials exist and they help us to understand what we're researching, but they provide only a portion of the story. Various photos, artwork, journals, and other items were vital and I've been discovering more new materials all the time. With each new discovery, this information advances what we know and will help to complete the overall picture of women and their contributions. Ultimately, this completely changes what we thought we knew about our animated past, and it's exciting to see where this continued work will take us!
Learn more about the pioneering women who brought Disney's classic stories to vibrant, multicolored life in Pencils, Pens & Brushes—A Great Girl's Guide to Disney Animation and Ink & Paint: The Women of Walt Disney Animation, both available now.