By Jocelyn Buhlman
On August 23, the next chapter of Ahsoka Tano's journey begins, on Disney+. In order to prepare for Star Wars: Ahsoka to take us on an adventure through the galaxy, we've gathered up intel on both the familiar and new faces bringing action to the series. Whether they are rebel or imperial or something in between, make sure you've mastered your knowledge of these characters before the series premieres….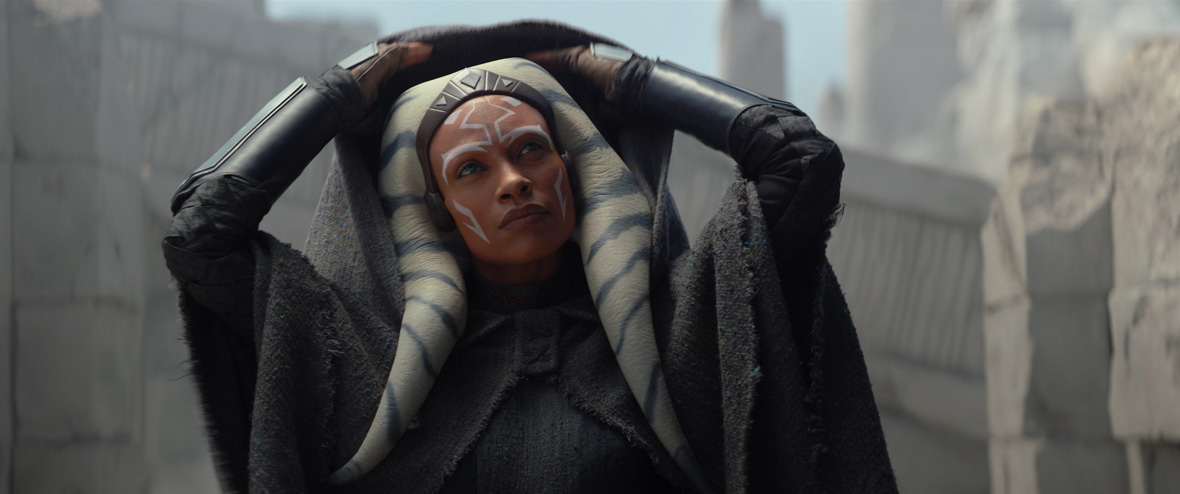 Ahsoka Tano (Rosario Dawson)
The titular former Jedi Knight was introduced to fans a long, long time ago… Well, 15 years ago, to be precise! We first met her as Anakin Skywalker's Padawan learner during the Clone Wars. A respected leader and warrior, Ahsoka grew into a formidable fighter before the Empire's reign changed the course of galactic history. Although she walked away from the Jedi Order, she continued to stand up for those fighting for peace and justice in the galaxy long after the fall of the Republic. Most recently, we've seen Ahsoka appear as a mentor figure in The Mandalorian and The Book of Boba Fett, guiding Grogu on his journey with the Force. Rosario Dawson, a long-standing fan of Ahsoka Tano, was over the moon for the chance to bring the character to life: "As a fan, it's been really incredible to first be a part of The Mandalorian and The Book of Boba Fett, but to now have this show be a continuation of her adventure…it's been exceptional. And I can't wait for you all to see where [Ahsoka] is now."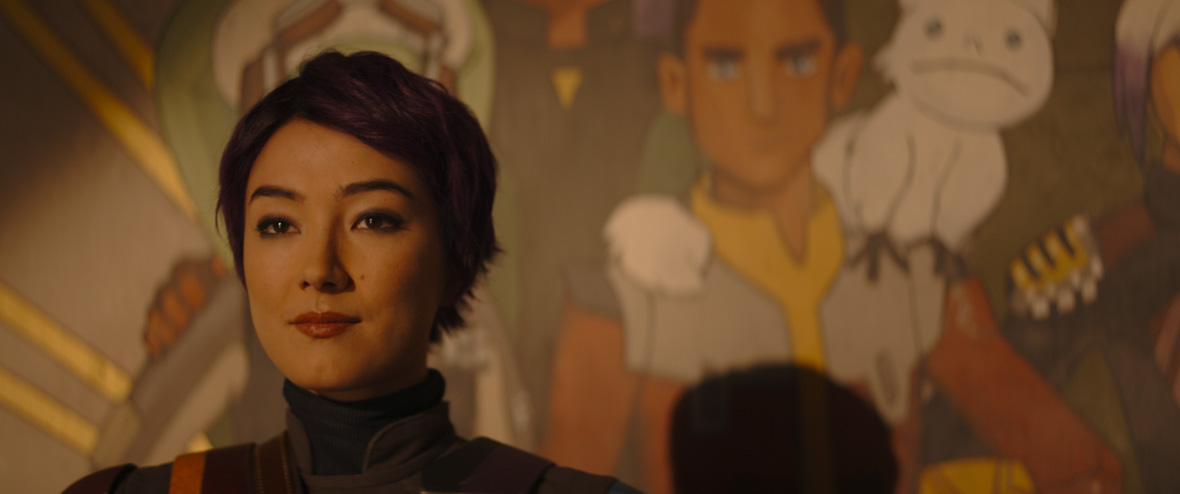 Sabine Wren (Natasha Liu Bordizzo)
A Mandalorian warrior and artist with the flair for the rebellious, Sabine defected from the Imperial Academy of Mandalore to join the crew of the Ghost alongside Hera Sydulla and Jedi Kanan Jarrus. Her creative spirit shines through her colorful explosives and custom painted beskar armor, but her major mark on the galaxy is her signature starbird. While it originally served as a mark to sign her street art, it eventually inspired the symbol for the Rebel Alliance. Additionally, during the events of Star Wars Rebels, Sabine briefly wielded the legendary Darksaber—a symbol of the leader of Mandalore—before handing it to Bo-Katan Kryze, whom she deemed to be the rightful person to lead their fight against the Empire. Most recently, Sabine joined Ahsoka Tano on the search for their friend Ezra Bridger, who disappeared after helping liberate his home planet of Lothal from the Empire. In memory of her found family (including Ezra and Hera), Sabine immortalized them all in a mural—which you can spot in the trailers for Ahsoka.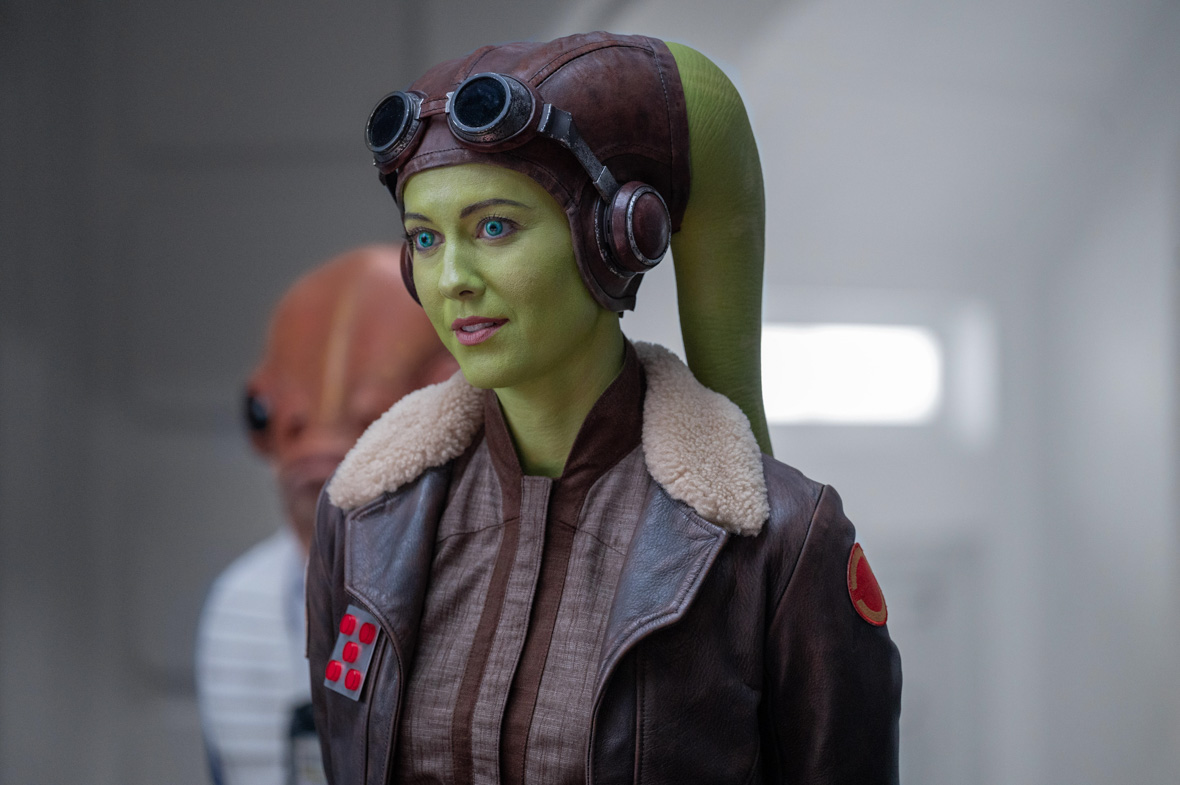 Hera Syndulla (Mary Elizabeth Winstead)
The captain of the Ghost, Hera Syndulla has been a fixture in the fight against the Empire since Star Wars Rebels, acting as a general in the New Republic. Hera was instrumental in the Lothal rebellion and now, beyond being a general, is mother to her child with the late Kanan Jarrus. Mary Elizabeth Winstead, who brings the character to life in Ahsoka, reflected on Hera's legacy, saying, "There's a pretty rich history that we've seen in Rebels, and what happens at the end has had a great effect on her. I had to try to be all that she is, which includes being a leader and a maternal figure: leading an army and being everyone's mom. Those are such different personality traits, but somehow, she encompasses them all. I tried my best to rise to her level."
Chopper (Voiced by Dave Filoni)
C1-10P, affectionately known as "Chopper," is the Ghost crew's resident droid, assisting in everything from ship maintenance to combat—even though he didn't always want to. Recovered from a crashed ship on Ryloth, Chopper was pulled from the wreckage and became a loyal companion to Hera Syndulla when she was still just a child. He may be cranky inside and out, but his dedication to Hera and her crew is unmatched, becoming an essential member of the rebel team.
Grand Admiral Thrawn (Lars Mikkelsen)
The legendary Star Wars villain proved a mighty enemy to the rebellion during the Galactic Civil War, determined to "pull the rebels apart piece by piece." Although his brilliant mind and ruthless nature made him a formidable foe for the crew of the Ghost, he was eventually defeated in a move of self-sacrifice by Ezra Bridger—both he and Ezra were carried away by a pod of purrgil, seemingly disappearing… for now. Actor Lars Mikkelsen, who provided the voice for Thrawn in Star Wars Rebels, is now debuting the character in live action. When asked about what type of villain Thrawn is, Mikkelsen shares "he's strategic; he hasn't got the Force but he can connect with dark forces to meet his end goals."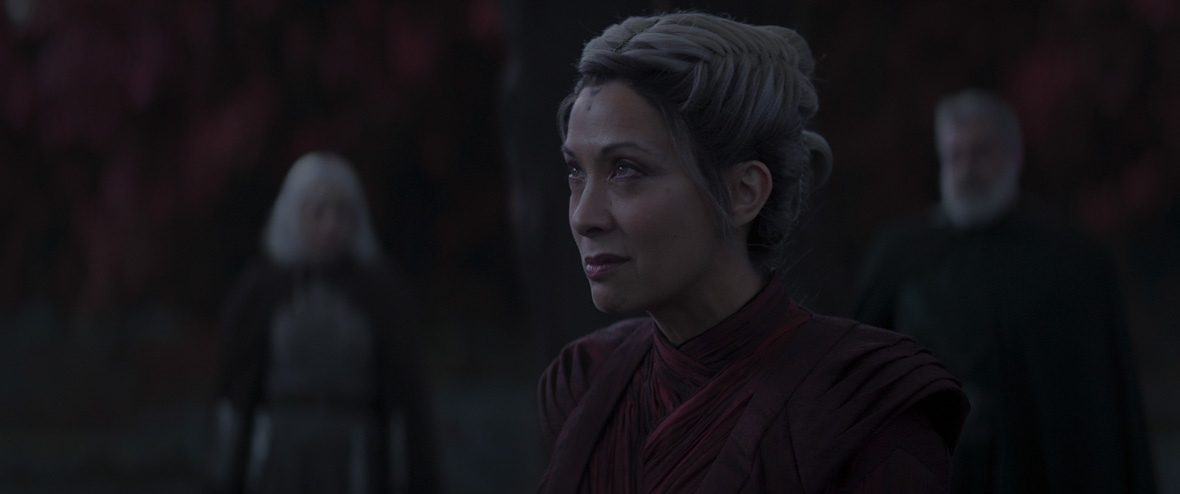 Morgan Elsbeth (Diana Lee Inosanto)
We first met this cruel former Magistrate of Calodan, known as an associate of Grand Admiral Thrawn and an enemy to the New Republic, during season two of The Mandalorian. While we don't know much about her past, we know she has reason to resent Ahsoka—Morgan was bested in battle by the former Jedi and arrested for acting as an Imperial sympathizer.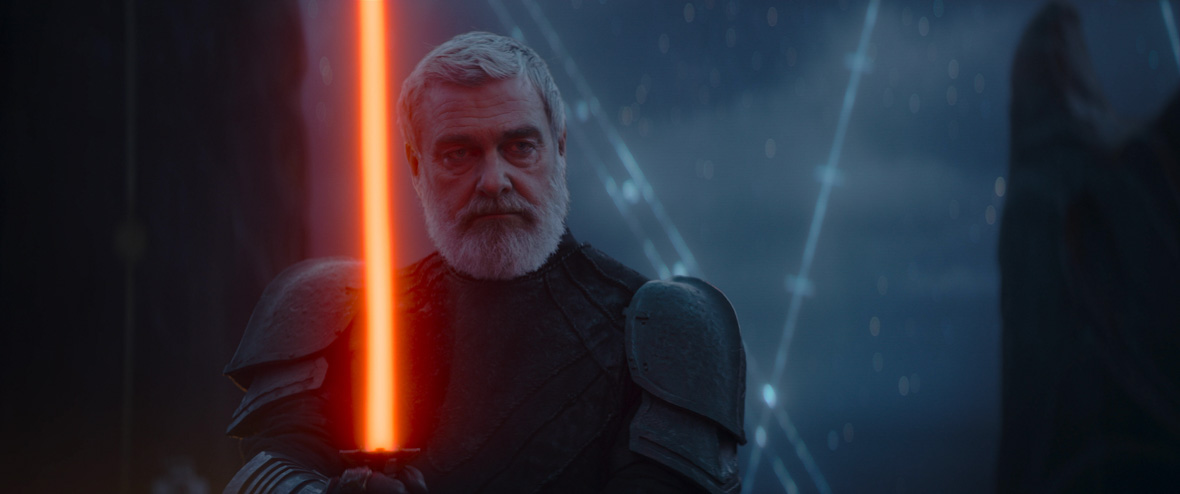 Baylan Skoll (Ray Stevenson)
Baylan Skoll is lightsaber-wielding mercenary-for-hire, overseeing his apprentice Shin Hati. But make no mistake: Although there was a time when Skoll knew the acclaimed Jedi Knight Anakin Skywalker, Baylan is no Jedi. Now allied to Morgan Elsbeth, after the fall of the Jedi and the Empire, Skoll remains a shrewd fighter in search of power who believes that another war is inevitable.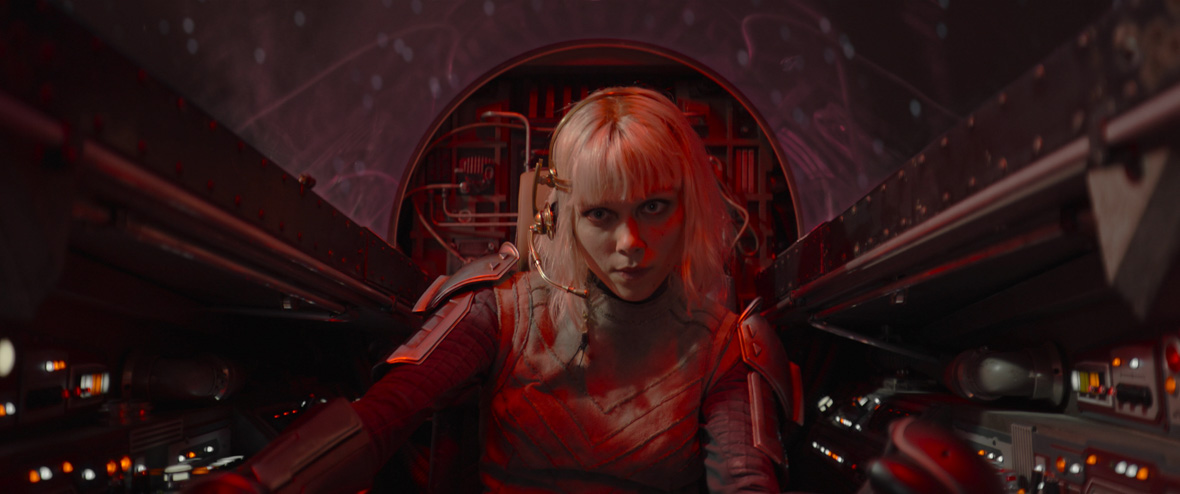 Shin Hati (Ivanna Sakhno)
We don't know much about Shin Hati yet, but what information we do have proves she is a formidable threat. The eager apprentice of Baylan Skoll, Shin is adept at lightsaber combat, a skill she uses in their work as mercenaries.