By Bruce C. Steele
Like the Fire couple Bernie and Cinder at the beginning of Disney and Pixar's new film, Elemental, we all arrive in Element City not knowing who anyone is.
For those who haven't yet seen this colorful, funny, and touching adventure, we're here to make some introductions. Meet some of the many memorable characters of Elemental: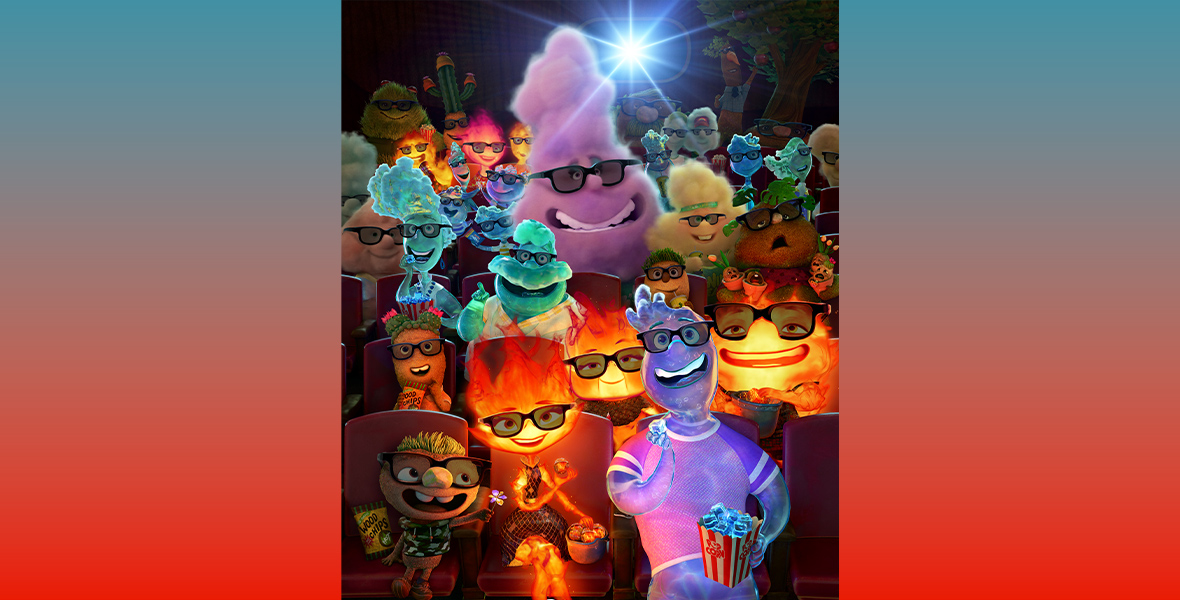 Bernie and Cinder
In search of a new and better life for their family—Cinder is expecting a baby—the Fire couple have taken a boat from the familiar surroundings of faraway Fireland to the daunting metropolis of Element City. The film follows their difficult early days, then picks up with the couple's child, Ember, as she grows up in and around her parents' neighborhood market, Fireplace. We'll learn more about why and how Bernie and Cinder (voiced by Ronnie del Carmen and Shila Ommi, respectively) left Fireland later, but early on what matters is what great parents they are to Ember—having uprooted themselves so she would have more opportunities.
The couple was inspired in part by director Peter Sohn's parents, who emigrated from Korea to the Bronx, in New York City, where Sohn was born. "That was the emotional hook for me, that my parents had come here from another place, a foreign place, to make a better life for [me and my brother]," Sohn said. "And it's something that I grew up not really understanding until I became an adult, when I really began to appreciate that. So it was all tied to my personal experience."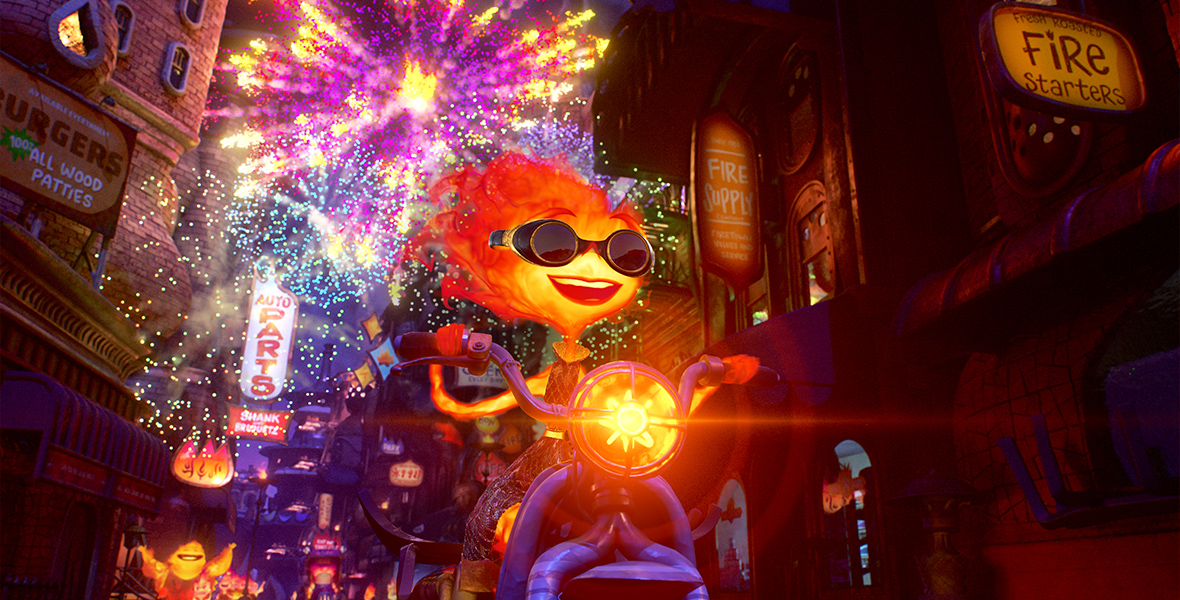 Ember
A neighborhood shop is all about dealing with customers' needs, as well as their moods and missteps—which is a challenge for hot-headed Ember (voiced by Leah Lewis). After years of apprenticing with her father, and occasional scorching outbursts of temper, Ember gets the chance to run the shop on her own for one important day. She just needs to keep her cool.
Performing the emotional roller coaster that is Ember was sometimes a challenge for Lewis. "A lot of the stuff mirrored real-life emotions or things that I have gone through," she said. "There were certain times when I disagreed with how explosive she was, but I was also like, 'She's on a journey here. She has to start somewhere, then go somewhere else.' There were times when I was getting very vulnerable, and Peter would turn the lights down low and just be like, 'Just take a second.' Because I also think he understood, when you're bringing your real-life experience into something, it can be very tender work."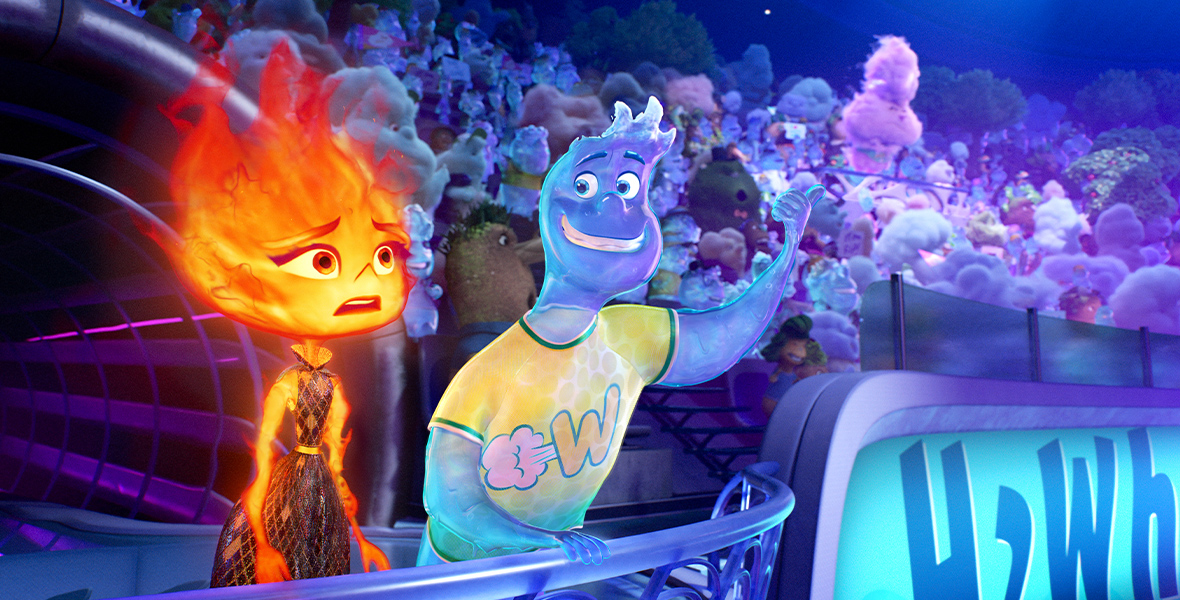 Wade
Water guy and Element City building inspector Wade (voiced by Mamoudou Athie) splashes into Ember's life on that very important day in Fireplace—and brings a number of urgent problems with him. In many ways, he's the opposite of Ember: cool-headed, quick to (gushing) tears, and a strict follower of the rules. They both have a lot to learn from one another.
Athie was in tune with Wade as soon as he dove into the script. Before he even had the part, he said, "I spoke with Pete and I was like, 'I know who this guy is so well.' Wade is very intentionally simple, like, 'I'm going to live my life like this.' And [like him,] I try to find simplicity in my life—the world is complicated enough." Also like Wade, Athie added, he asks himself constantly, "What is the best version of me? I think Wade is better at it, but I certainly try." Athie credited Sohn and the screenwriters for making Wade such a clear character: "When something is well-written and defined, all you have to do is follow the blueprint in front of you and fill it in."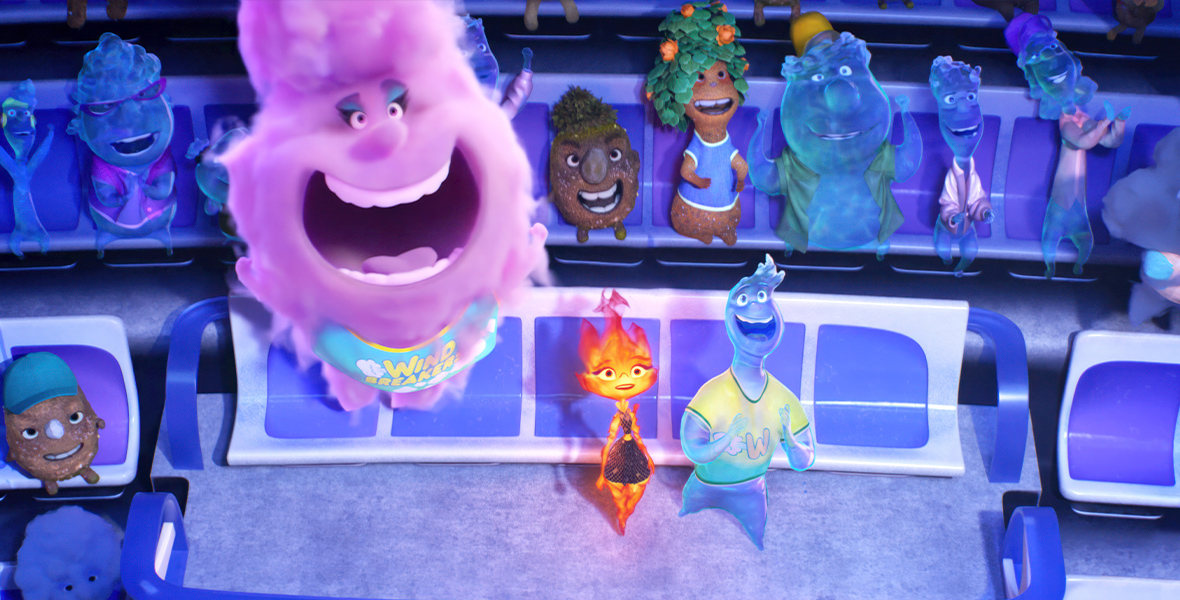 Gale
In addition to Fire and Water people, Element City is populated by Air people, who resemble (mostly) friendly clouds, and Earth people, whimsical figures who sprout various vegetation. The Air people are big supporters of the Windbreakers, their local sports team of Air Ball athletes who compete at Cyclone Stadium. And that's where we meet Gale (voiced by Wendi McLendon-Covey), a high-ranking city employee from whom Amber and Wade are seeking help.
Gale is a loud, towering thunderhead of an Air woman who knows how things are supposed to work and seems determined to rain on the parade of anyone who disagrees with her. "There's a great moment in the film where we meet Gale and there's some friction between Ember and Gail," said animation supervisor Mike Venturini. "Gale's a big storm cloud, and there's lightning shooting off of her when she gets angry." For the animation crew, he added, "Visually, it was really fun to figure that out. How does an Air character puff up when they get upset?"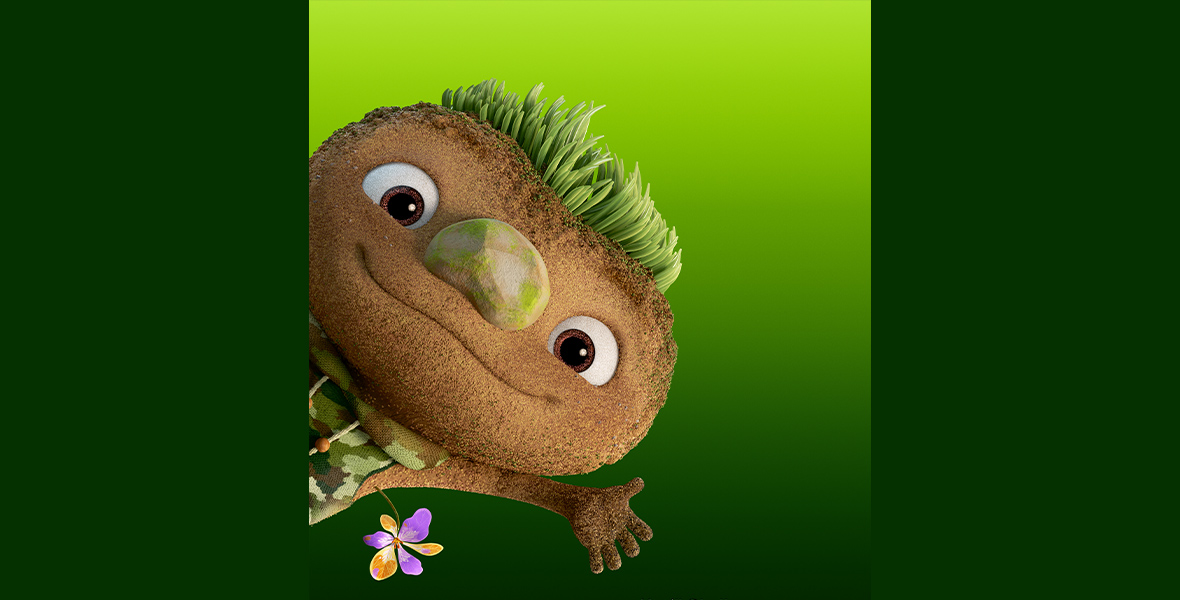 Clod
Representing the Earth people of Element City is Clod (voiced by Mason Wertheimer), a boy who likes to hang out near Fireplace, hoping to run into Ember, the "older woman" he has a crush on. "I absolutely love Clod," Sohn said. "He's 10 or 11 and always asking Ember out on a date. He's going through puberty, and he's like, 'Look what I can grow.' And he lifts up his arm and he's got this little flower armpit hair that he's so proud of."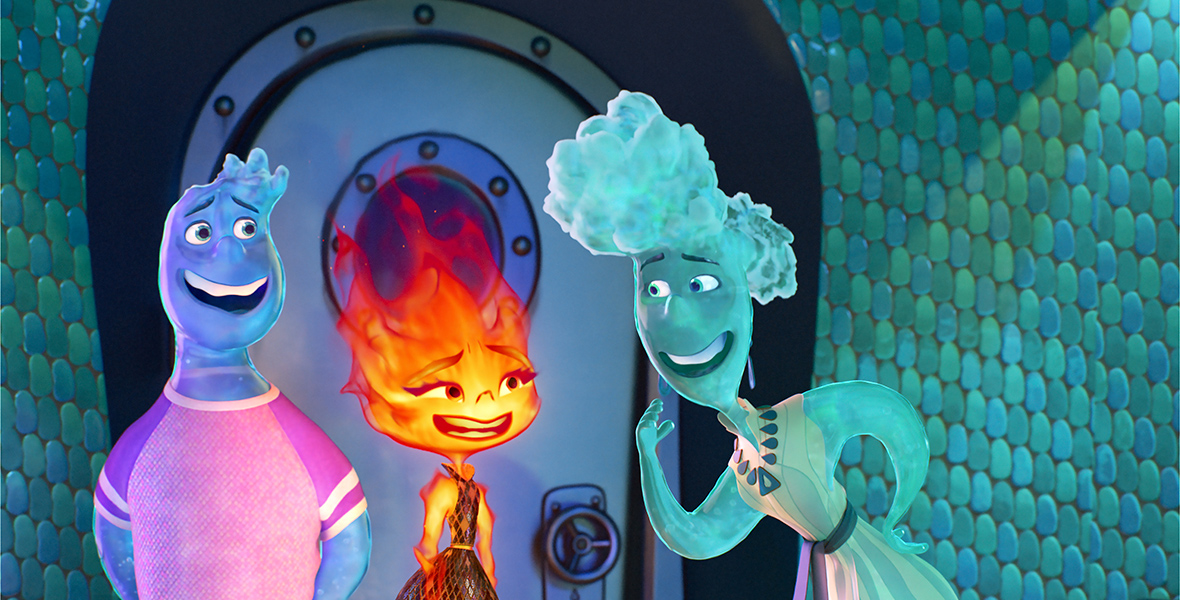 Brook
In one scene, Wade takes Ember to meet his family in their beautiful penthouse-pool apartment in an Element City skyscraper with an intimidating doorman. Wade's brother's family is there, including children named Marco and Polo, as is Wade's mom, Brook (voiced by Catherine O'Hara), an elegant and friendly Water woman who's also a successful architect. She does her best to accommodate—and not extinguish—the Fire woman her son has brought home. A minor accident during the visit turns into an important point in Ember's journey, and Brook's inclination to encourage the younger characters also plays a role.
In real life, Athie got to bring his own parents to Pixar Animation Studios to meet Sohn and the team and screen the film before it opened in theaters. "It was really cool to have my parents there, meet everybody at Pixar, and watch the movie [together]." Athie said. "This is their favorite movie of mine by a long shot."