By Zach Johnson
When Toy Story 4 is unboxed June 24, 2019, audiences will be reunited with fan-favorites like Woody (voice of Tom Hanks) and Buzz Lightyear (voice of Disney Legend Tim Allen), as well as Bo Peep (voice of Annie Potts), who was last seen onscreen in 1999's Toy Story 2. (Find out why Bo was M.I.A. in Toy Story 3.) "There is such a deep love within the studio for these characters," producer Mark Nielsen reminded D23 during a recent visit to Pixar Studios. "Everyone was like, 'If we're doing this, it has to be great. We've got to give it everything we've got to make it worthy.'" Toy Story 4 will venture outside Bonnie's bedroom and introduce new characters, including a vintage pull-string doll named Gabby Gabby (voice of Christina Hendricks), an arts-and-crafts project come to life named Forky (voice of Tony Hale), and a pair of plush pals named Ducky (voice of Keegan-Michael Key) and Bunny (voice of Jordan Peele), to name a few.
Adding to the ensemble was an enormous task, and it took years to get all the details just right. Supervising animator Scott Clark explained, "As animators, we craft the physical and emotional performances of the characters in our films. You could say that we're both the actors and the stunt doubles in a movie. We base our performances on the voice recordings of the actors, visual reference, and our own inspiration. Typically, the actors' voices are recorded first. We then draw inspiration from the tone, the texture, and the cadence of their vocal performances."
Before Toy Story 4 hits theaters, get to know the new toys on the block: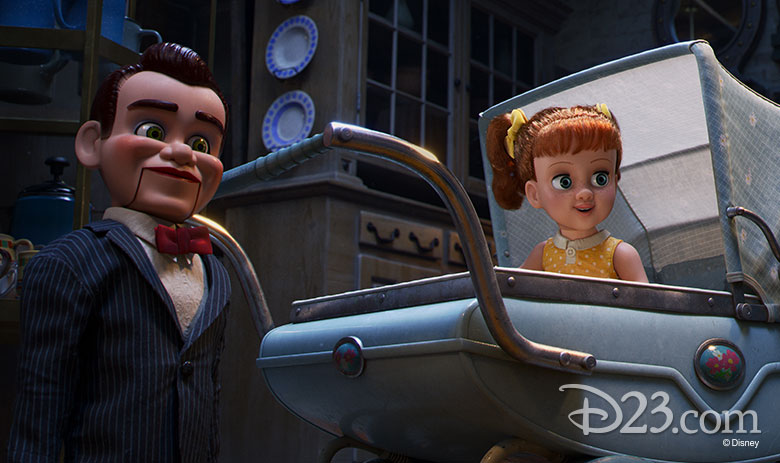 Gabby Gabby (Voice of Christina Hendricks)
"We went to a lot of antique stores for reference in this film, and there was always a creepy doll in the corner," director Josh Cooley laughed. "We were like, 'Well, that's a perfect villain!'"
A talking pull-string doll mass-produced in the 1950s (around the same time as Woody), Gabby Gabby has been collecting dust in the antiques mall for decades. The reason? A manufacturing defect has warbled her voice box, making her less attractive to potential collectors. Bitter but not broken (mentally, that is), Gabby Gabby surrounds herself with four voiceless ventriloquist dummies, led by Benson (the one in the red bow-tie). It was an easy sell for Hendricks. "In her first recording session, I pitched the whole story," Cooley recalled. "She said, 'This is great! I actually didn't want Barbie dolls when I was a kid; I wanted ventriloquist dummies.'"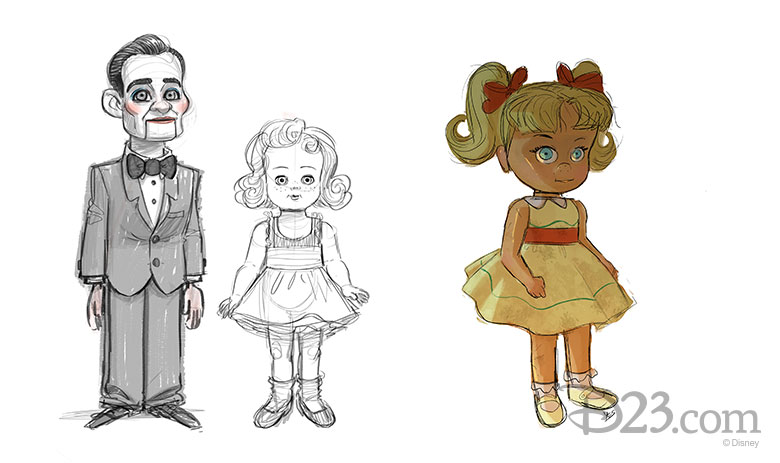 Rendering Gabby Gabby was no small feat, as she had to appear both scary and sweet. According to supervising technical director Bob Moyer, "The challenge while we were building the character was to make her a realistic doll without looking too much like a human." For example, Gabby Gabby's curvature and deformations "had to look like hard plastic, not flesh and muscles," Moyer explained. "We worried about how the eyeball would sit in the eye socket, how the hair was rooted, how the baby fat creased, and how the head fit into the neck."
 Taking those elements into consideration, Clark said they "decided to embrace the limitations she has as a toy." That was a game-changer, characters shading lead Alex Marino told D23: "One of the benefits we had as shading artists working on Gabby Gabby is that we knew she was going to be the antagonist of the film. We knew that that would allow for some deviations that we wouldn't normally be able to do for some of our other characters."
Not that the shelved doll would mind a touch-up. "In Gabby Gabby's mind, her idea is if she can stay in the most pristine state, then a human might come along and want to adopt her," said Marino. "But, clearly, she hasn't been super successful, and so her clothes have started to age. There's also subtle sun bleaching that occurs from sitting on a shelf and having the sun beating down on her over time." Joking he gets paid to "obsess over the minutiae," Marino added, "It's something we take very seriously, because it helps tell the story of these characters. Hopefully if we've done our job correctly, they add a certain level of believability to all of our characters."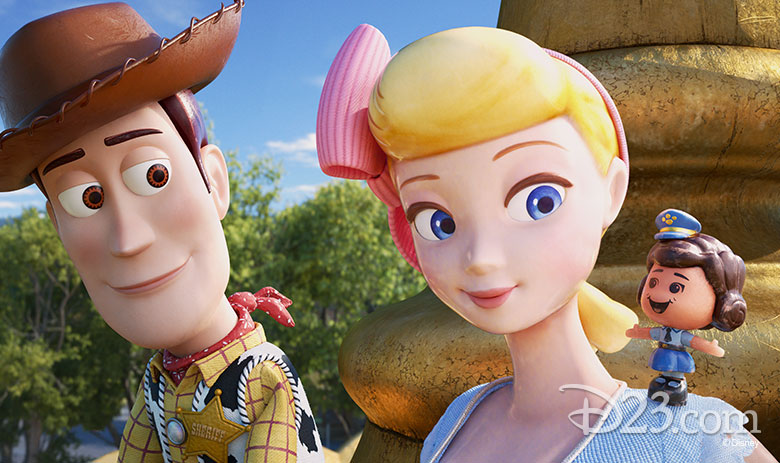 Giggle McDimples (Voice of Ally Maki)
Hailing from a line of miniature playsets and figures in the 1980s, Giggle McDimples is the tiniest toy we've seen in a Toy Story movie. But her small size belies her big personality, as the feisty police officer is never afraid to speak her mind. Small enough to perch on Bo Peep's shoulder (similar to Jiminy Cricket), Giggle McDimples is her advisor, confidant, and supporter.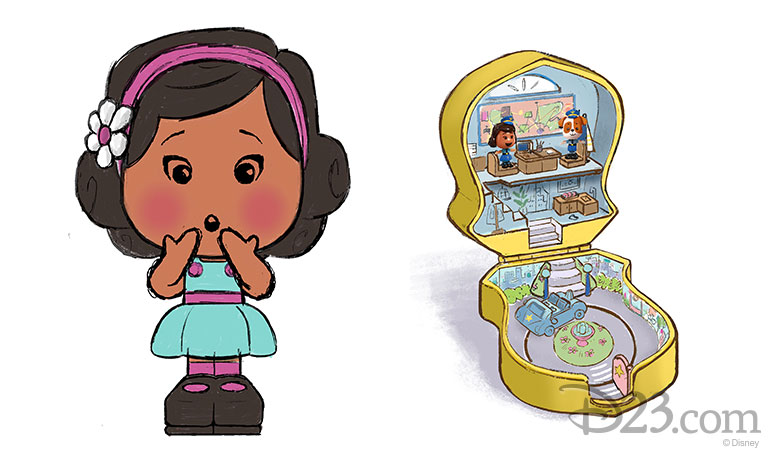 Filmmakers cast Maki in the role after seeing her work on the TBS comedy Wrecked and watching her self-made spoof of Vogue's "73 Questions" series she made with friends in 2016.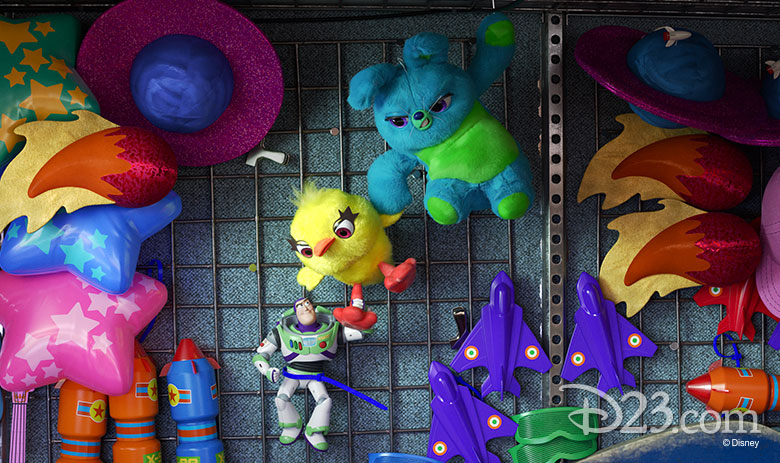 Ducky and Bunny (Voices of Keegan-Michael Key and Jordan Peele)
The comedy duo Key and Peele boarded Toy Story 4 in 2015, around the time their eponymous cable series was ending. "They were on really early, and as the story evolved and changed, they were always a part of it," Cooley recalled. "Those two guys, they know each other so well. We always recorded them together in the same room, because they bounce off each other so well."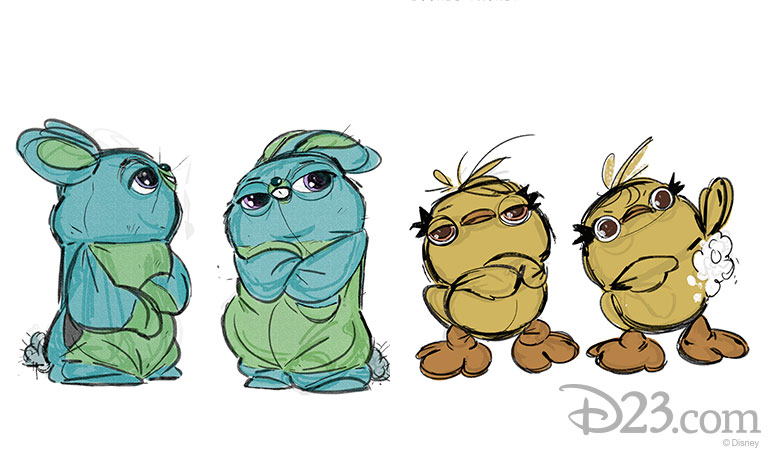 We first meet Ducky and Bunny at a carnival. Eager to be won, the two plush prizes are in for quite a surprise when Buzz winds up in their orbit. "They're hilarious, as we all know, but the thing that blew me away was how they were able to improv but stay on point in the moment," Cooley said of working with Key and Peele. "They weren't just being funny for funny's sake; every take was supporting the story. They were a joy to work with."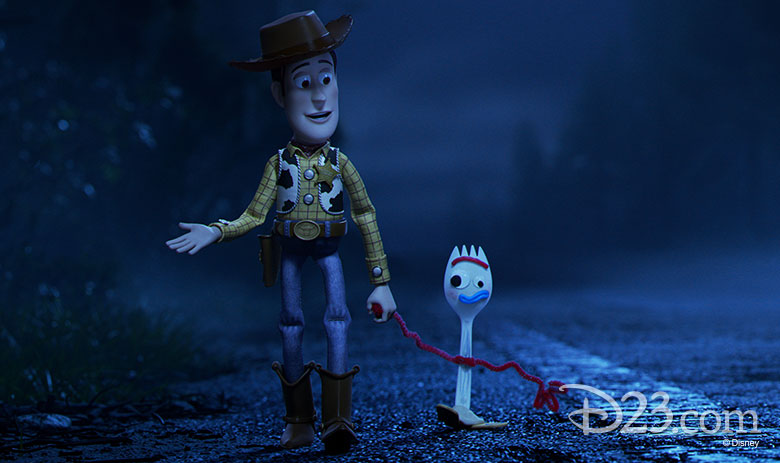 Forky (Voice of Tony Hale)
By his own admission, Forky is "trash." While that's not exactly true—he's an arts-and-crafts project brought to life—he lacks the same purpose that drives the manufactured toys. But Woody is determined to help him realize that there's no greater job than bringing Bonnie joy. Forky has a hard time accepting that idea, and when he tries to escape in the midst of Bonnie's family road trip, Woody sets off to find him and bring him back before it's too late.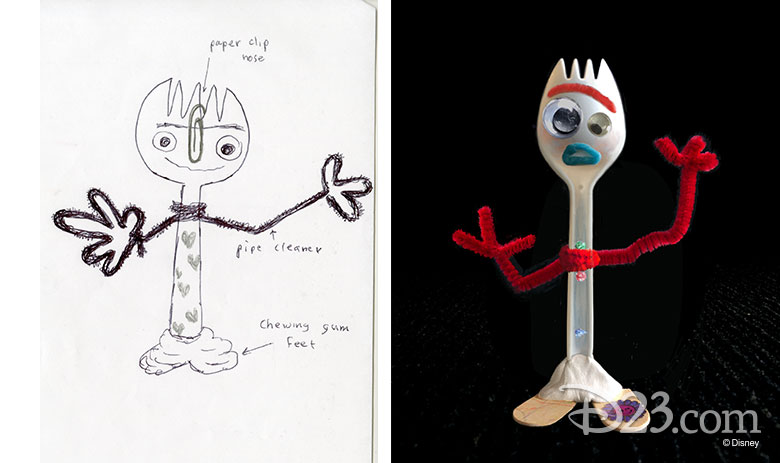 Unlike the other toys in Bonnie's collection, Forky was always imperfect. "Forky had to look like a 6-year-old kid's creation and also had to hold up as an appealing main character who would fit in with the rest of the Toy Story characters," Moyer said. "We figured out a lot of the design basics in a workshop where the crew built their own versions of Forky. He looks deceptively simple, but in fact, he's made up of more materials than our other characters: pipe cleaner, glitter glue, googly eyes, popsicle sticks, soft clay, Wikki Stix, stickers, and crayon marks." Of course, animating such a malleable character had its challenges. "He's made of many different materials," Clark said. "They all have a different style of movement."
Dummies
Gabby Gabby picked the perfect lackeys. "Dummies naturally have a creepy quality to them," said Moyer. And because they're in an antiques mall, the four who appear in the movie aren't in mint condition: "There's fading, paint peeling off, scratches, and paint spilling across edges."
The team studied the complex internal mechanics of ventriloquist dummies to mimic their alarming attributes onscreen. For example, Moyer said, "The body was designed to move very awkwardly, like someone was supporting them from the inside. Clothing was a critical part of the silhouette; it was designed to be ill-fitting and helped add variation to the four dummies."
Special attention was paid to Benson, the dummies' leader. "The movement is driven from his core, and he has loose, floppy limbs—very much like Woody," Clark said, echoing Moyer. "But we treat them differently where they hang, almost lifeless. He has barely any expression at all."
No matter what, Moyer told D23, "Everything had to feel slightly off."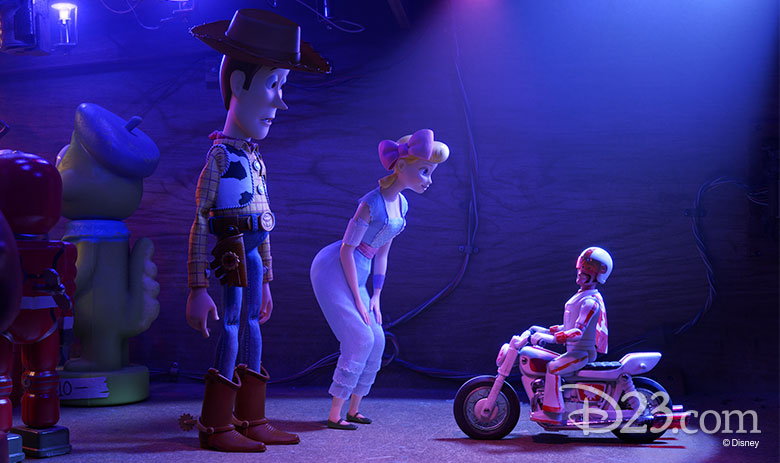 Duke Caboom (Voice of Keanu Reeves)
A 1970s action figure based on Canada's greatest stuntman, Duke performs stunt poses with swagger—even though he's never been able to do the awesome tricks advertised in his own commercial. For years, he's been reliving the failures of his past inside an antiques mall. In fact, when Bo introduces him to Woody, the down-on-his-luck daredevil can't help but complain about his prior shortcomings. "It's a commercial! It's not real!" he says. "I can't jump that far!"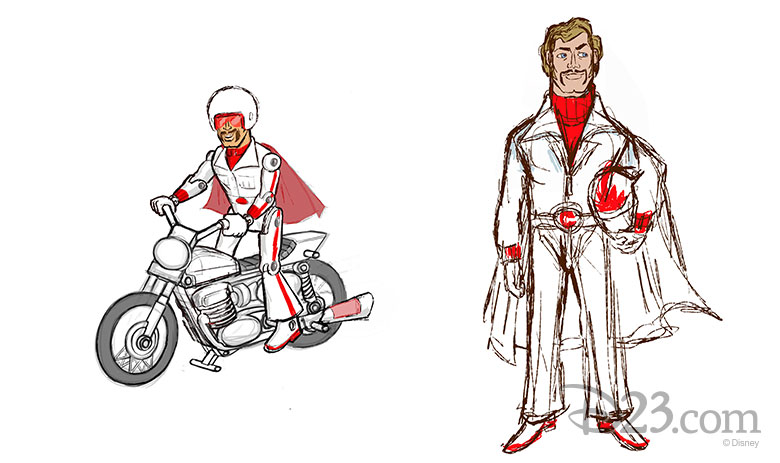 Reeves was a casting coup, as his gravelly voice and Canadian roots were suited for Duke.
"We always create the character first. Then, we see who's the right actor for it," Cooley said. "We went after Canadian actors, and he was the first one on our list. I'm so thrilled he said yes."
Keep checking D23 for all things Toy Story 4 before it hits theaters June 21!