By Zach Johnson
After a 20-year absence from the big screen, Bo Peep (Annie Potts) will make her long-awaited return when Disney and Pixar's Toy Story 4 opens in U.S. theaters June 21, 2019. After a teaser trailer was released in January, fans were understandably curious about Bo's new look. So, when we visited Pixar Animation Studios in Emeryville, California, last month, we corralled "Team Bo" to give us the inside scoop on where she is now—and, of course, where she's been hiding.
Toy Story 4 opens with a flashback that shows Bo leading a rescue mission for RC car, who's stuck in the rain and runs the risk of being washed away. As Bo enlists Woody (Tom Hanks), Buzz Lightyear (Tim Allen), Jessie (Joan Cusack), and others to jump into action, it reminds the audience that she is, and always has been, a leader. Though the mission is a success, Bo doesn't have time to celebrate, as she's about to leave Molly's room—for good. "Being a baby lamp, she's given away a lot sooner than other toys," story supervisor Valerie LaPointe said. "Once that little girl turns 5 or 6 years old, she's like, 'That's for babies. I don't want it anymore.'" While the other toys stay with Andy—and are later given to Bonnie—Bo begins a journey all her own.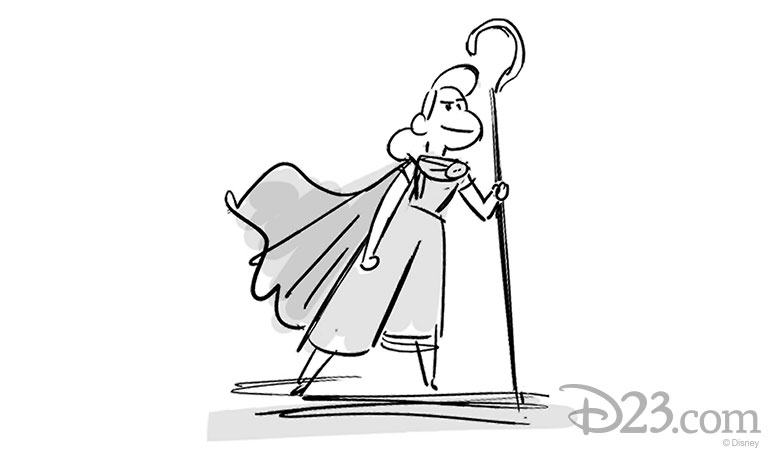 "Team Bo" assembled five years ago, and to better understand the character, they began by watching every clip of Bo from the first two Toy Story films back-to-back. "Annie Potts' voice is such a nice contrast to her being this pretty, pink, porcelain doll. She's confident. She's flirty with Woody, she's often the voice of reason to him, and she's a confidante to him," LaPointe said. "He talks to her and shares his feelings in a way that's beyond his relationship with Buzz."
When Toy Story 4 was announced in 2015, it was described as a "romantic comedy." But what was originally conceived as a love story between Bo and Woody evolved into something else. "It was clear it couldn't just be that. It would become a tiny people movie as opposed to a Toy Story film," director Josh Cooley explained. "There's a ton of adventure in it. Raiders of the Lost Ark isn't a love story, but it has great romantic elements in it. So, I kind of think of it more like that."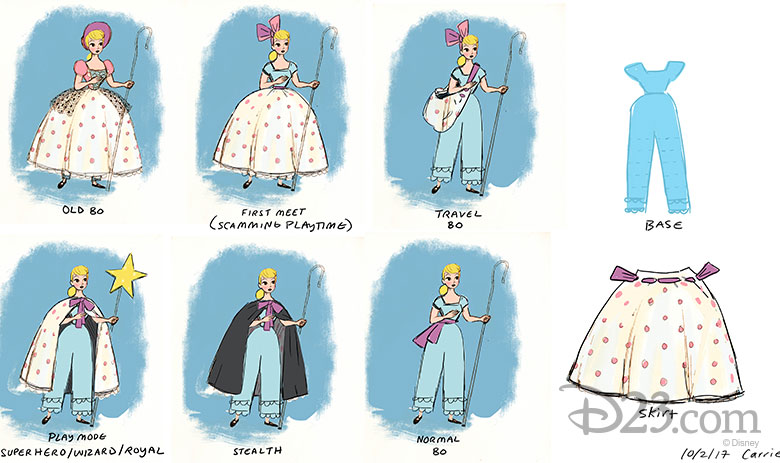 Producer Jonas Rivera, who worked on Toy Story and Toy Story 2, realized Bo could serve a larger purpose. "Although she was a worthy character and there was something interesting to us about paying off their relationship, it wasn't until probably two years ago that we started going, 'Well, what if we've made it Woody-centric? His worst fear—he said it all along—was to be a lost toy. What if she represented something that would challenge his place in the world?'" he recalled. "It was almost like a Lady and the Tramp analogy, where one's out in the world asking, 'Why wouldn't you want all this?' and the other one says, 'No! I want to be at home.'" Out of anyone, he added, "Bo had the potential to change him more than anything ever has."
But for a long stretch of time, Bo's journey was independent of Woody's, and where she landed after leaving him provided "Team Bo" with endless possibilities. "Did she end up in a thrift store? On the street? How far can we push it? We explored every possible thing that she could have gone through, knowing that eventually she would end up in an antiques store," LaPointe said. At one point, "Team Bo" toyed with the idea of making her a "survivalist character," where she and other toys would try to repair themselves to make it out of the antique store. They contemplated having her retire as a figurine, choosing a "safe life up on a shelf." Nothing felt right, until they asked themselves, "Does Bo just want to be a toy again, like Buzz and Woody?"
The latter option is ultimately what Bo decided for herself, and "Team Bo" came to that conclusion by considering two key elements: entertainment value and story motivation, LaPointe said. "So," she said, "we decided that Bo went from being a baby's lamp to a lost toy."
Because Bo didn't have much screen time before, "Team Bo" had more wiggle room to make subtle yet significant tweaks. "It was really essential that we redefined Bo for this movie," story artist Carrie Hobson explained. "As a story team, we worked really hard to figure out what exactly her personality traits were after all this time." But, of course, they wanted to keep Bo's integrity intact. "We got a lot of freedom to redesign her, but still wanted be true to what she was in the first Toy Story," character modeling artist Tanja Krampfert said. "To figure that out, we went all the way back and looked at original 25-year-old drawings and artwork that was made for the first movie. We also looked at every shot of her in the movies to figure out her shapes, her movements, and her facial features to be true to what the audience remembered."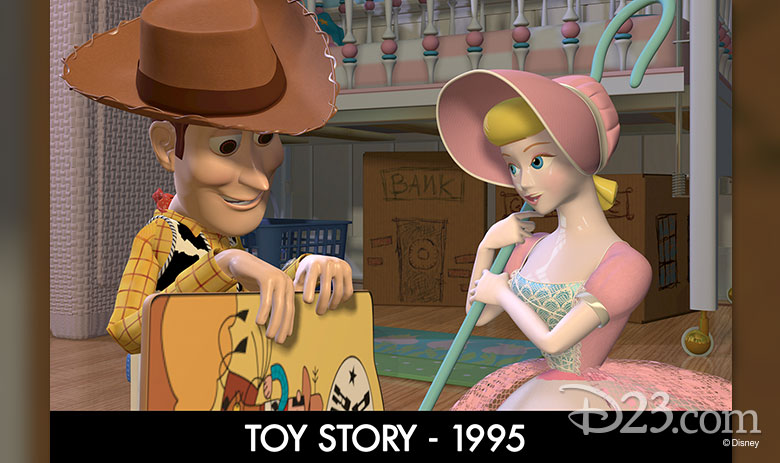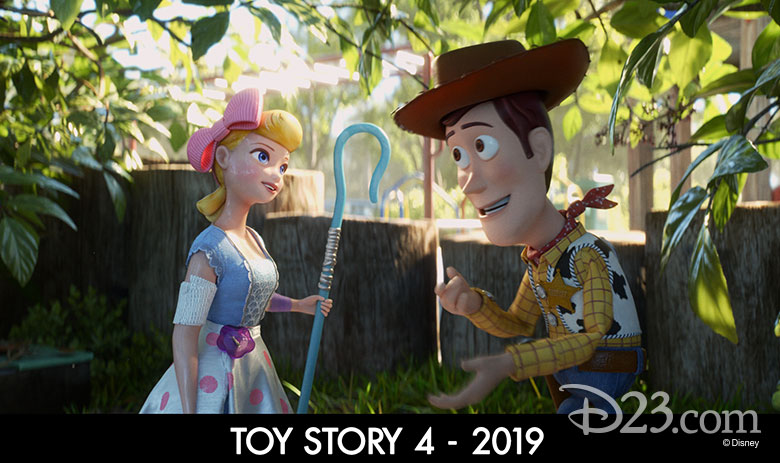 Advances in technology allowed animators to incorporate richer details. For example, a cracking glaze was used in Bo's hair, Krampfert said, "to remind the audience she is porcelain."
Ironically, Bo was a hard one to crack in terms of deciding what her movements would be. "We have the fragility of porcelain right up against the needs of an action hero, so we knew this was going to be a dynamic combo," directing animator Becki Tower said. Describing Bo as "poised" and "purposeful," Tower added, "She is graceful and strong, much like a dancer or a gymnast."
"Team Bo" took movement cues from strong female athletes and movie characters. "As an animation team, we talked about how we set our parameters for each character. 'Would Bo do this? When would she do this? Is it appropriate for this shot or that shot?'" Tower told D23, adding, "It's all about what's out there that we can mine for gold."
Those parameters worked to the team's advantage. As directing animator Patty Kihm explained, "From the start, we could have fudged it and pretended she had been plastic the whole time. Maybe the audience wouldn't have remembered. But we thought it's easier to embrace this weakness, or this delicacy of hers, and see how that would change her character."
Bo was always a spitfire, but in Toy Story 4, she's feistier than ever. "Ultimately, she's just a character who decided she's tired of sitting on a shelf and waiting for life to happen," Hobson said. "She learned to adapt. She takes chances and she's somewhat unpredictable. She doesn't play by toy rules, so unlike a normal toy, she can literally change her default toy mode. This means when a kid picks her up, she can change what pose she's locked into it, enabling her to be whatever kind of toy she wants to be. She's also active and resourceful in her life as a lost toy. She has to be really smart about how she gets around. Something that we always had fun with was that she's not immune to fumbling. She's not immune to messing up." In fact, as character modeling artist Mara MacMahon noted, "If you look at some designs, there's tape around her arms. We didn't want to hide the fact that over the 20 years and the transition she's made, there's probably some tough spots. She is porcelain and she might have broken and put herself back together."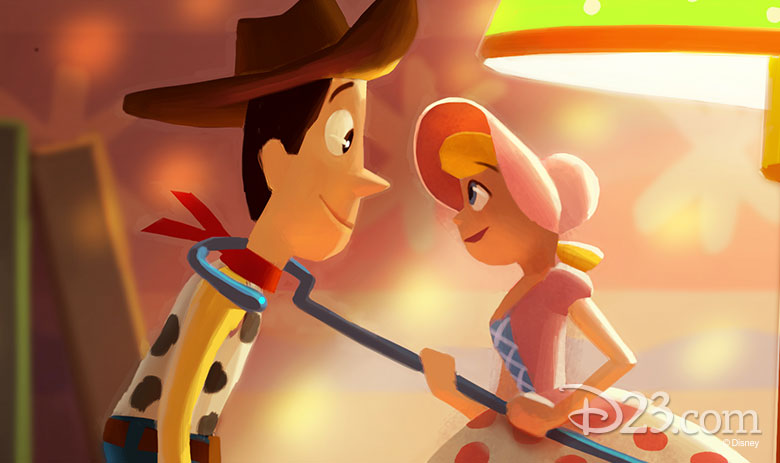 To service the story, producer Mark Nielsen said, "It was very important to us that Bo had a different worldview than Woody." That's where "Team Bo" came into play. LaPointe added, "We decided that through all the trials of being given away, wherever she ended up in this space and time, she took her own life into her own hands and decided, 'I want to be a toy. I want to have play time.' She chose to be a lost toy. Of course, we know from the other films that being a lost toy is the 'worst possible thing that can happen to a toy'…according to Woody, at least! He is the character whose mind we really needed to change and evolve… Her perception of this 'terrible' thing is not terrible. In fact, it's great! And that brings us to our new Bo Peep."
As Hobson told D23, "She has this sense of humor, this go-with-the-flow mentality to life now… True to the old Bo, she loves messing with Woody. She was always very sarcastic in the original movies. We wanted to pull upon that wit, but also allow her to be silly and playful. She's also a little rougher than Woody because she's seen things. She knows what it takes to get a job done, and she's not afraid to do it. This new Bo, while she is tough, is also very caring. Her sheep are very important to her, so she's like a good mom to them. She also loves her BFF, her buddy, Giggle McDimples (Ally Maki). "All in all, we wanted to stay true to the core of who Bo was, but allow her to grow as a character to show that she's adapted and changed. She's a lost toy now, which Woody doesn't really get. He's trying to wrap his head around it all. But together, with their strengths combined—he's a sheriff, she's a shepherdess—they make a really great team."
Keep checking D23 for all things Toy Story 4 before it hits theaters June 21!