By Beth Deitchman
A milestone anniversary at Disney is always cause for jubilation, but in the case of Disney Conservation Fund's (DCF) 20-year anniversary, it's a celebration we can all join in. DCF's two decades of protecting nature for children around the world were heralded at an event that took place at Disney's Animal Kingdom, a park that is very much a part of DCF's history—a history that has included Disney fans from all around the globe. D23 was lucky enough to be part of this celebration and to speak with the inspiring conservationist, Dr. Jane Goodall, DBE, PhD—Founder of the Jane Goodall Institute and UN Messnger of Peace—about the theme park's role in connecting children with nature.
If you've been to Disney's Animal Kingdom since the park opened in 1998, you may have supported the fund with an added contribution to one of your purchases at a park shop or restaurant, or you might have learned more about DCF's commitment to the preservation and conservation of animals at Rafiki's Planet Watch, where a visit to Conservation Station inspired you to seek out conservation efforts in your own community. Or maybe you've been inspired by initiatives like Disney Friends for Change and have spent more time in nature as a result.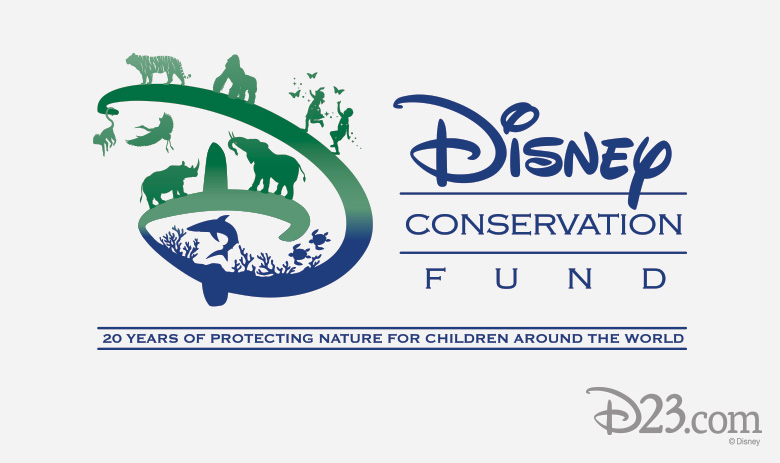 Disney Conservation Fund's mission—protecting wildlife and wild places and connecting kids with nature—can be traced all the way back to the company's beginning. In 2000, Roy E. Disney—Walt's nephew—said, of Disney's commitment to wildlife conservation, "At The Walt Disney Company, our strong connection to the animal world goes all the way back to the beginning of the century, when my dad and Walt were growing up on a farm in Marceline, Missouri. It was there that they became intimately familiar with a barnyard full of cows, horses, dogs, ducks and yes—you guessed it—mice."
On April 22, 1995—Earth Day—the Disney Wildlife Conservation Fund (as it was then called) was established and awarded its first grants to 39 projects. Since then, DCF grants have supported hundreds of nonprofit organizations working in 115 countries, helped protect more than 400 different species, and connected millions of kids and families with nature.
When Disney's Animal Kingdom opened in 1998, the park's Conservation Station—which is now a part of Rafiki's Planet Watch—served as the headquarters for conservation and species survival activities. And, as visitors to the park well know, so many of the themes and stories associated with Disney's Animal Kingdom communicate a conservation message and raise public awareness of the extinction crisis that many species face worldwide. One needs to look no further than the park's iconic Tree of Life to see how the roots of both DCF's mission and Disney's Animal Kingdom are intertwined. The park is home to so many amazing animals, and it's also the home base to some of the world's leading wildlife conservationists, animal care experts, and educators.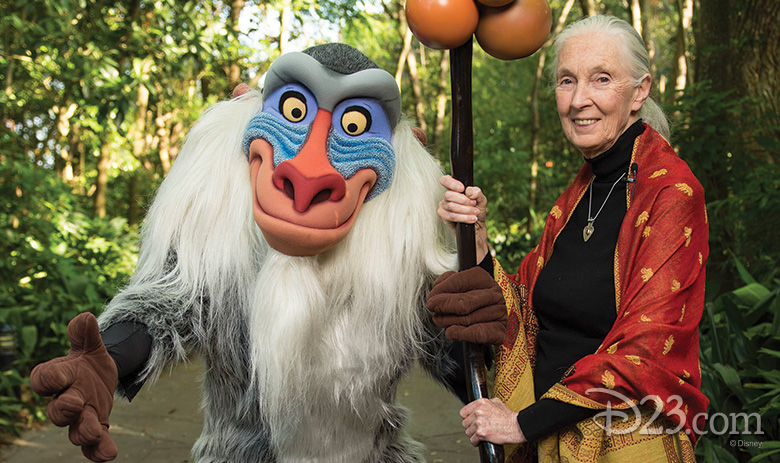 True to DCF form, the organization is commemorating 20 years of protecting the planet by continuing to do what it does best. DCF has announced a new initiative, "Reverse the Decline, Increase the Time," aimed at reversing the decline of 10 threatened species through scientific research, community collaboration, and increasing the time kids spend in nature. By supporting a network of leading conservation nonprofit organizations like the Jane Goodall Institute and the Wildlife Conservation Society, DCF aims to help "reverse the decline" of species such as great apes, African elephants, and Sumatran tigers. To "increase the time" kids spend in nature, DCF is providing grants to leading nonprofits that engage young people in discovering the magic of nature and protecting the planet, like 4-H, the National Park Foundation, and the Jane Goodall Institute: Roots & Shoots.
World-renowned primatologist Dr. Jane Goodall said in the announcement, "The Walt Disney Company's focus on protecting the planet over the past 20 years has made a significant contribution to conservation, including our work to protect chimpanzees and the forests where they live."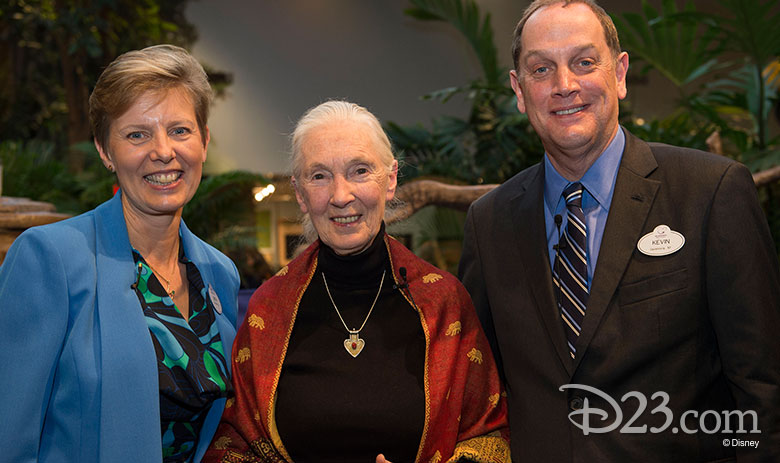 Walt Disney Imagineering's Joe Rohde kicked off the DCF anniversary event by declaring that he takes personal pride in the Fund through his involvement with Disney's Animal Kingdom. He explained that the park is founded on a set of values that tie everything together: respect for the essential value of nature, transformation through adventure, and a personal call to action. "This personal call to action manifests itself in the Disney Conservation Fund. This is the mission that binds the park and the Fund. They're not really two things, but two sides of the same thing," Rohde said in his remarks, adding that he's considered it "an honor and a joy" to work with the Fund for the past 20 years.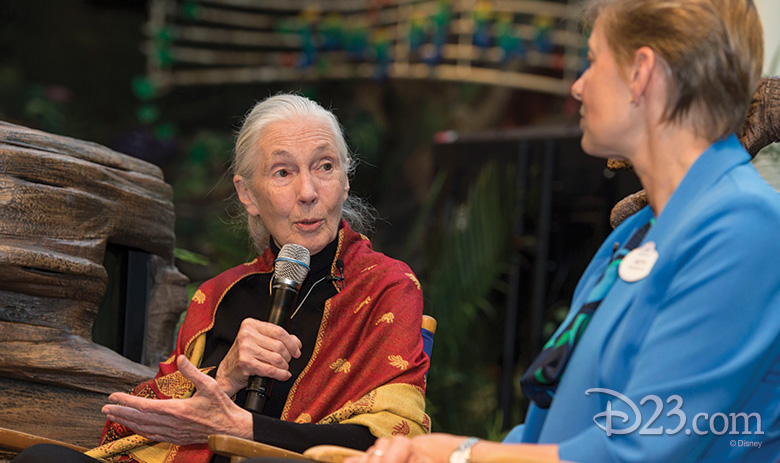 Dr. Goodall was a guest speaker at the DCF anniversary event at Disney's Animal Kingdom, where she stressed that inspiring children with a love of nature is our best bet for raising future conservationists and protecting the planet. She spoke with D23 about how Disney's Animal Kingdom has inspired children who visit the park to become more conservation-minded. "I think Disney's Animal Kingdom is a wonderful way for children to become interested in and excited about conservation. First, when they come here they are having fun and fun is important; but then they get to talk with these amazing caretakers who do such a wonderful job of telling the stories of the animals in their care. I think it has made an enormous difference in helping new generations of young people care about conservation and care about protecting wildlife."
If you would like to learn more about the Disney Conservation Fund and the "Reverse the Decline, Increase the Time" initiative, visit Disney.com/conservation. D23 congratulates DCF for 20 years of helping to protect the planet—here's to the next 20 and beyond!