By the D23 Team
This item is SOLD OUT. Be sure to check out our limited-edition pin set for D23 Fantastic Worlds.
Experience all the colors of the wind with this D23 Gold and Gold Family-exclusive limited-edition pin celebrating 25 years of Disney's animated classic, Pocahontas. Taking a note from the film's vivid colors, Meeko points the way for you to chart your own path and commemorate this milestone silver anniversary with this beautiful silver-finished pin gorgeously set on a postcard-inspired background. This pin, a limited edition of 1,750, will be available only as supplies last.*
Please note, that to purchase, you must be logged in to shopDisney.com with the Disney account tied to your D23 Gold Membership.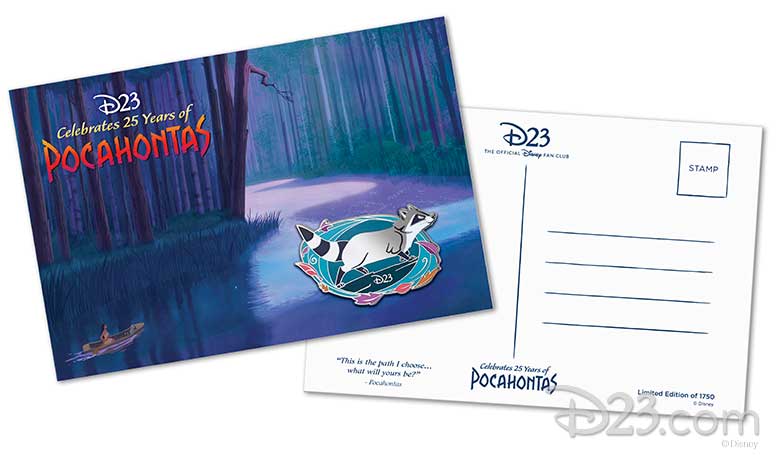 *Available while supplies last. To purchase, must log in to shopDisney.com with the Disney account tied to D23 Gold Membership. Pins are $18.99 each, plus applicable sales tax. Maximum one (1) pin for purchase per D23 Gold Member for online orders. Shipping not available to PO boxes; shipping & handling fees may vary for all online orders. Other restrictions may apply. All information is subject to change including but not limited to artwork, release dates, editions sizes and retail prices.