By Courtney Potter
New Trailer for Jungle Cruise
With this week's brand-new trailer for Disney's Jungle Cruise, we're 100% sure there's all kinds of amazing adventure just around the bend… and we're so ready!
Inspired by the famous Disneyland attraction, Jungle Cruise is a rollicking thrill-ride down the Amazon with wisecracking skipper Frank Wolff (Dwayne Johnson) and intrepid researcher Dr. Lily Houghton (Emma Blunt). We follow Lily as she travels from London, England, to the Amazon jungle and enlists Frank's questionable services to guide her downriver on La Quila—his ramshackle-but-charming boat—in a quest to uncover an ancient tree with unparalleled healing abilities… and the power to change the future of medicine.
Thrust on this epic quest together, the unlikely duo encounters dangers a-plenty and supernatural forces galore, all lurking in the deceptive beauty of the colorful rainforest. But as the secrets of the lost tree unfold, the stakes reach even higher for Lily and Frank, and their fate—and mankind's—hangs in the balance.
Jungle Cruise is directed by Jaume Collet-Serra and also stars Edgar Ramírez and Jack Whitehall, with Jesse Plemons and Paul Giamatti. Look for the film in U.S. theaters and on Disney+ with Premier Access on July 30!
Plus: Updates on Jungle Cruise Experience at Disneyland and Magic Kingdom
The new Jungle Cruise trailer isn't the only "backside of water"-related news to be revealed this week: Our pals at the Disney Parks Blog just announced that the newly enhanced Jungle Cruise at Disneyland Park will officially open July 16, with an updated experience that welcomes new characters from around the world plus even more of the humor, wildlife, and skipper heart that makes this classic attraction a favorite! And at Magic Kingdom Park at Walt Disney World Resort, guests can continue to enjoy the Jungle Cruise while updates are being made, and all changes will be completed this summer.
In a fun new video, above, Disney Imagineer Kevin Lively takes us on recent trip down the river at Magic Kingdom to share a reminder of some classic Jungle Cruise moments. (There are, as you might imagine, a plethora of puns… )
5 Fantastic Things to Watch This Weekend
Yes, we've made it to Memorial Day Weekend 2021, which for most of us means an extra day of rest and relaxation; delicious BBQ (that's our hope, at least!); and some added time to spend watching lotsa good content from around the worlds of Disney. Chiefly, Disney's LAUNCHPAD, a collection of live-action shorts debuting on Disney+; a brand-new episode of FX's Pose; and so much more.
Disney Junior Premieres New Spots Featuring Chip 'n' Dale
The good folks at Disney Junior recently debuted the first in a series of adorable new videos honoring traditions from across the globe and featuring everyone's favorite pals, Chip and Dale!
Shake Your Tail with Chip N' Dale celebrates music and dance from around the world—giving young viewers a connection point to the language and culture of another country. Each spot highlights music and dance from a country or region around the world and encourages preschoolers to get up on their feet and dance. In celebration of Asian Pacific American Heritage Month, the first video, seen above, is India-themed; Gaayatri Kaundinya & Dhruv Goel (Mira, Royal Detective) wrote the song and provide the vocals. Other countries highlighted in the first batch of spots include Nigeria, Brazil, and China.
Look for the videos on Disney Junior now and on the Disney Junior YouTube channel beginning in June.
New Teaser Trailer for Marvel Studios' Eternals
This is a movie we've been particularly jazzed to see… and now we have an amazing first look to tide us over 'til its premiere this fall.
Just this week, Marvel Studios debuted an exciting teaser trailer for Eternals, the third film in Phase Four of the Marvel Cinematic Universe (MCU), welcoming an exciting new team of Super Heroes to the fold. The film's epic story, spanning thousands of years, features a group of immortal heroes forced out of the shadows to reunite against mankind's oldest enemy, The Deviants.
The Eternals' ensemble cast includes Richard Madden as the all-powerful Ikaris; Gemma Chan as humankind-loving Sersi; Kumail Nanjiani as cosmic-powered Kingo; Lauren Ridloff as the super-fast Makkari; Brian Tyree Henry as the intelligent inventor Phastos; Salma Hayek as the wise and spiritual leader Ajak; Lia McHugh as the eternally young, old-soul Sprite; Don Lee as the powerful Gilgamesh; Barry Keoghan as aloof loner Druig; and Angelina Jolie as the fierce warrior Thena… with Kit Harington as Dane Whitman.
Directed by recent Oscar® winner Chloé Zhao (Nomadland), Eternals is set to debut November 5.
The Walt Disney Archives Exhibit is On the Move!
Just this week, we here at D23 announced that the exhibition Inside the Walt Disney Archives—which first debuted at D23 Expo Japan in 2018 before heading to the Bowers Museum in Santa Ana—is making its next stop at the Graceland Exhibition Center in Memphis, TN, beginning this July 23! To read up on what you can expect from this incredible 10,000-square-foot traveling exhibit, click here.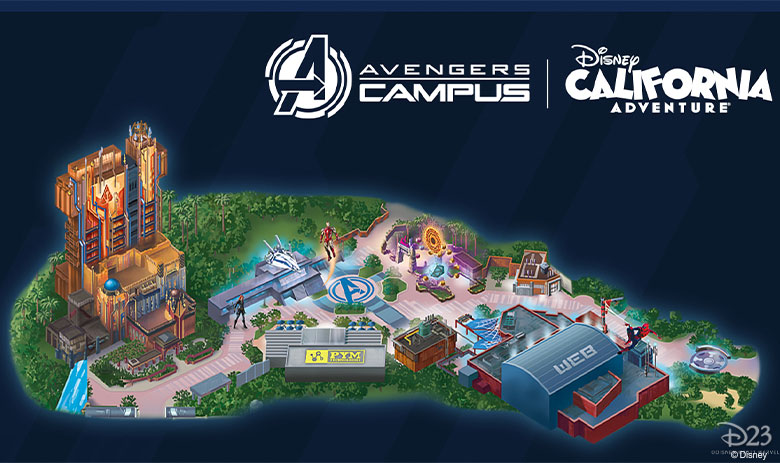 Guide Map Revealed for Avengers Campus at Disney California Adventure Park
Are your Spidey senses tingling with excitement? Ours sure are… and it's because we're just a few days away from the sure-to-be-magnificent opening of Avengers Campus inside Disney California Adventure park at the Disneyland Resort! To that end, Disney Parks Blog recently revealed a first look at the Avengers Campus map, offering a more detailed look at what experiences await.
There are three entrances into the new 6-acre land where you can join the action with the Avengers and their allies, including Iron Man, Black Panther, and Black Widow; sling webs on the first Disney ride-through attraction to feature Spider-Man; taste-test innovative food and drinks; and become part of a bigger universe. Discover your own powers as you train alongside some fan-fave Super Heroes, with a chance to live out your own heroic story! You can plot out your Avengers Campus visit on your mobile phone or desktop; check out the map on Disneyland.com and the official Disneyland mobile app. And don't forget to take a gander at the official Recruit's Guide to familiarize yourself with all the special food, beverage, and merchandise offerings.
Plus, read up on how to utilize the virtual queue system for Avengers Campus' incredible new attraction, WEB SLINGERS: A Spider-Man Adventure, by clicking here. (Hint: Much like the queue for Star Wars: Rise of the Resistance, you'll need that aforementioned Disneyland app.)
We can't wait to see what's in store at Avengers Campus, beginning next Friday, June 4
ICYMI: Winnie the Pooh Musical to Debut in New York This Fall
Our tummies are rumbly (in a good way!) about this recent news: The Hundred Acre Wood will soon come to musical life at Times Square's Theatre Row (410 West 42nd Street) in New York City, beginning this October. Get an idea of what's in store once Winnie the Pooh: The New Musical Adaptation—featuring the Sherman Brothers' classic Grammy Award®-winning music with additional songs by A.A. Milne—hits the stage by clicking right here.