By Courtney Potter
"Zoo-Wee-Mama!" The all-new Diary of a Wimpy Kid is coming to Disney+ this Friday, December 3! Based on the first book in Jeff Kinney's worldwide best-selling series, the animated film follows the story of Greg Heffley (voice of Brady Noon)—a scrawny but ambitious kid with a mega-active imagination and big plans to be rich and famous… he just has to survive middle school first! To make matters worse, Greg's best friend Rowley (voice of Ethan William Childress) seems to just coast through life and succeed at everything without even trying. As details of his hilarious—and often disastrous—attempts to fit in fill the pages of his journal, Greg learns to appreciate true friends and the satisfaction that comes from standing up for what's right.
To celebrate Diary of a Wimpy Kid's release, Kinney and Noon (recently seen in Disney+'s The Mighty Ducks: Game Changers) got together for a rollicking virtual press conference, offering up some memorable, behind-the-scenes scoop on what it was like bringing Greg and his world (full of adventure and cheese-touching) to a streaming device near you.
Kinney on his journey from struggling illustrator to seeing his characters spring to animated life…
"I really wanted to be a newspaper cartoonist," the author explained. "I wanted to be like Charles Schultz or Bill Waterson or Gary Larson. That was my goal, [but] nobody liked my stuff. I spent about three years trying to get syndicated, but nobody was having it. I needed to figure out a different way to get my cartoons published, so I came up with this idea of a long-form cartoon; like a novel in cartoons. I worked on it for a long time—eight years!—and then finally I showed it to somebody who liked it. And that's what got me started in publishing… It's really exciting to see the characters [now] jump from the page to the screen, in a fully rendered CGI environment. Especially doing it with Disney! And Brady has just done such a good job of bringing this character to life that I feel like you're going to be seeing Greg Heffley [from] the page onto the screen for the first time—which is really cool."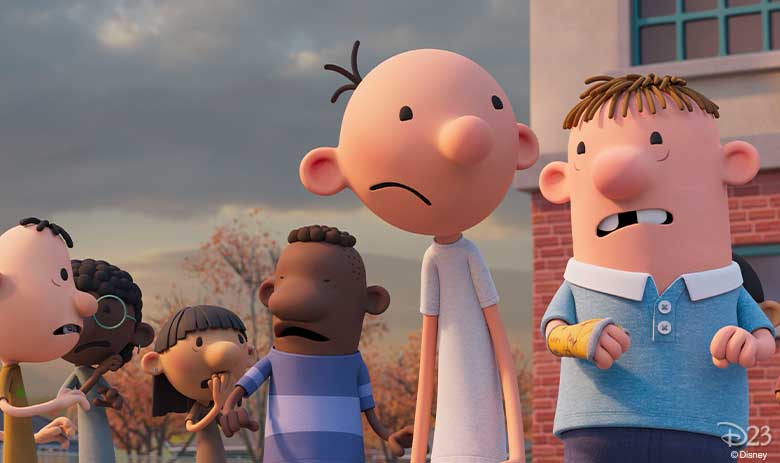 Noon recalls when he first came across the Diary of the Wimpy Kid books…
"I remember when I was in elementary school," said the actor, "when I was very young, my brother and sister and I all had these days of the week in school and we'd go to either art class, the library, the gym, [or] a bunch of other subjects. And every day on library day, we'd all run to the library and fight for a Diary of a Wimpy Kid book, because they were the most prized possessions to have. And I specifically remember always trying to get the next one—after I finished the first one, I had to get the second one the next week, then I had to get the third one. It was just this crazy 'addiction,' this craze that everyone had. It's such a great memory."
Kinney on using himself—and his family—as inspiration…
"Greg is really a version of myself," admitted the author. "So, he's making this mistake of recording his life at a time when nobody should record their life—in the beginning of middle school, nobody wants a record of that, and Greg is doing it. He's thinking, 'One day, I'll be rich and famous'—so he thinks he's telling his autobiography. I was a lot like Greg. I was a messy kid… I made lots of mistakes, things that I wouldn't want put on the record. And my family members are reflected in the Heffleys in some ways; my brother actually lived in the basement, just like Roderick. And he played in a bad band—[although] I'm sure he'd call it a good band," he added, chuckling. "And then the parents are just like my parents in some ways, but everybody's been put through the 'fiction' blender, so it comes out as fiction. Everybody who watches this movie in my family, they know what I'm writing about… Also, in my mid-20s, I did start keeping a journal, to [persuade] myself to work on my comics. I created this journal with text and some cartoon illustrations all throughout. I did it for years. And finally I realized, 'Oh my gosh, this is the answer. This is what I've been looking for; a new format.' So, my real-life journal actually inspired Diary of a Wimpy Kid."
Noon on making the switch from live-action performance to voice acting…
"This was my first voiceover work that I've ever done," he said, "except for ADR [additional dialogue recording] work for live action, but it was incredible. I really liked it. And I liked the concept of being able to come to work in sweatpants and a sweatshirt," he admitted, laughing. "I tried to 'act out' most of the scenes as if it was live action—I pretended like there a camera in front of me, just so you get that 'realness' and that sincerity in my voice. Like, if I had to run during a scene, I was really running in place, or if I had to jump, I jumped. If I'm in an emotional scene, I'm really putting myself in the shoes of Greg and how I would react. And that's how I did it. I do the same thing now with live action, which something that I actually learned from doing voiceover. It's the coolest skill I've learned."
Kinney on where the idea for the "cheese touch" came from…
"The cheese was a real thing in my life," he explained. "I used to go to a church where there was a piece of cheese on the parking lot underneath the basketball hoop, just like in Diary of a Wimpy Kid. And the kids who went to that school—I didn't go to the school, but I knew some people who did—they avoided the cheese, just like the kids in Diary do. And I won't say what happened to the cheese, but I think Brady knows, from the ending of [the film]."
Noon on a favorite scene from the film…
"Definitely the part where we were in the woods, and the older kids run up on us with their truck and they were chasing us," he recalled. "We're running and screaming. That's probably where I laughed the most [watching] the movie. I also really like when Rowley was doing the stuff with the cheese; the unspeakable stuff that I narrated," he added, laughing. "I feel like that's where the movie comes together—their friendship finally shows its strong point and comes together. It's a great moment in the movie that I really enjoyed."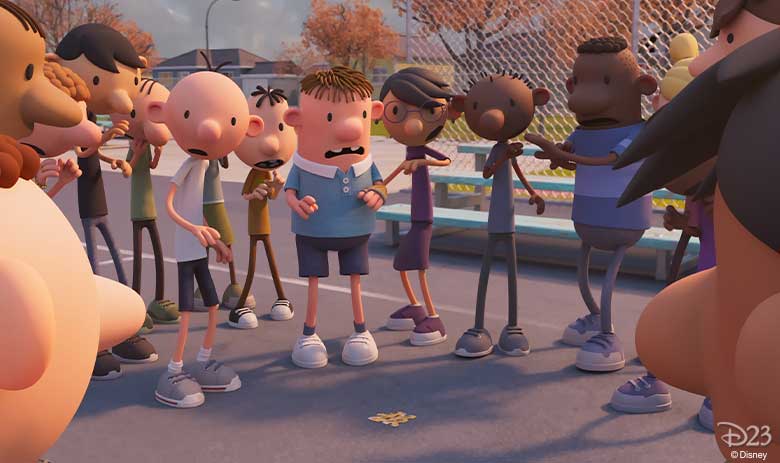 Kinney on why these characters resonate with people around the world…
"I discovered the answer to that question by traveling around the world," the author explained. "I think that everybody's sees Greg as one of them—like if I go to China or Brazil or Israel or New Zealand, they don't think of Greg as this American kid who lives far away. They think he could be their friend or their neighbor. If you think of Greg Heffley, as he's designed on the page, he's really simple… I think that allows people to project themselves onto Greg, which is great. I think that the stories are really relatable—and I think that your family is probably like this in some ways. And of course, hopefully the humor [resonates] as well!"
See Diary of a Wimpy Kid when it debuts on Disney+ this Friday, December 3!