Magic is everywhere, especially for Brad Meltzer. From spontaneous trips to Walt Disney World and first Disney movie experiences to a mission to give kids more—these are just some of the many inspirations behind the 18th edition of Meltzer's bestselling biographic series. Read all about what prompted him to write I am Walt Disney and just how important it is to make these stories available for young readers.
What was it about Walt Disney that made you feel you needed to tell his story?
I started the Ordinary People Change the World series so I could give my kids better heroes to look up to—to give them lessons filled with kindness, compassion, and creativity. With I am Walt Disney, it got extra personal. Every year since my kids were little, on the way to school, I pick a random day and instead of going to school, we drive straight to Walt Disney World. I did it to show them every day can have magic. So with the book, my kids get to see someone who used his ingenuity and creativity to make real magic.
What do you think it is about Walt Disney that resonates with so many people?
Walt Disney is one of the great American success stories. He practically invented "happily ever after." And he helped millions of people find their happy place. That's what Walt Disney World is to me. Same with all the films. They're my happy place from childhood. As the book says: "Your happy place never leaves you. It's your own magic kingdom." Think about it: We can all use some magic in our lives. If you look, it's there. And when you let that magic into your heart… you can fly.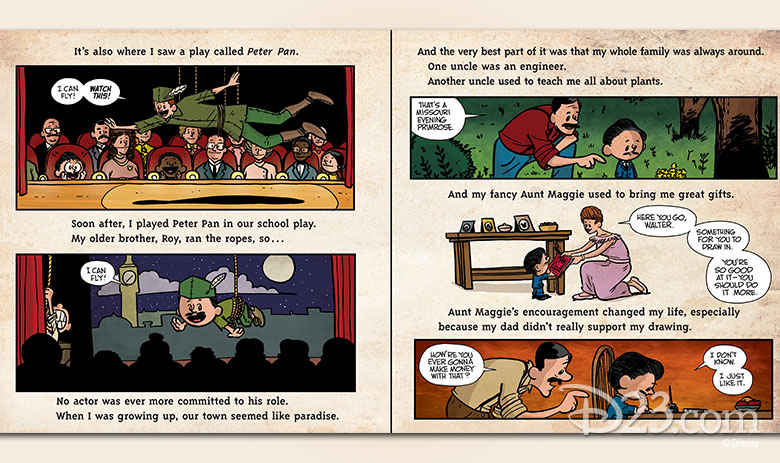 What do you think will surprise people about Walt Disney?
Everyone thinks of Walt Disney as a massive success—and he is—but what I loved was seeing how many times he failed. He failed, and failed, and failed again. But he never stopped chasing his dreams. We need our kids to see that.
Who was Walt Disney's biggest supporter?
His Aunt Maggie. When Walt was little, his own father wasn't very supportive of Walt being an artist. But his aunt… well, she's the one who bought young Walt a drawing tablet and pencils. Aunt Maggie's encouragement changed his life. We all owe her forever.
Why was it important to show Walt Disney as a kid and keep him looking like a kid throughout the book?
In our first book—I am Amelia Earhart —our editor originally asked us to age the character, so as Amelia Earhart got older, she'd look older. So artist Chris Eliopoulos drew that. And all the kids were BORED. For us, it's a very conscious choice: Each book tells the story of the hero when THEY were a kid. We see them as children. So it's not just Amelia Earhart and Abraham Lincoln being famous—it's them being just like us. Then kids can relate. They can see that each hero was just like them. As a result, for our kids and for us, these aren't just the stories of famous people. They're what we're all capable of on our very best days.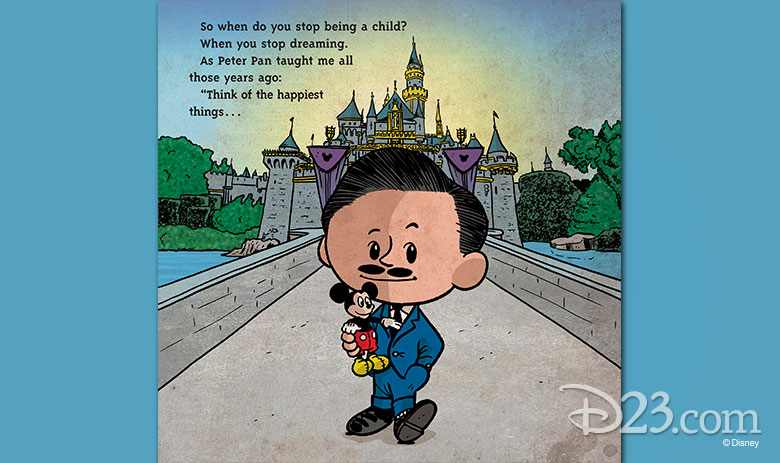 How do you go about doing the research for the book?
In this case, the archivists in the Walt Disney Archives were AMAZING. They gave us access to documents I'd never seen. I also reached out to biographers, researchers, anyone who has a specialty in the subject. And sometimes, like with I am Jane Goodall, well… Jane Goodall helped. 🙂
What was the best part about working on the book?
Watching my kids enjoy it. That's the mission. The same mission Walt Disney himself had. When I was 5 years old, people like Walt Disney, Jim Henson, and Mr. Rogers taught me you could use your creativity to put good into this world. That's all we're trying to do with the I am books—using our creativity to put more good into the world. I can't ask for more.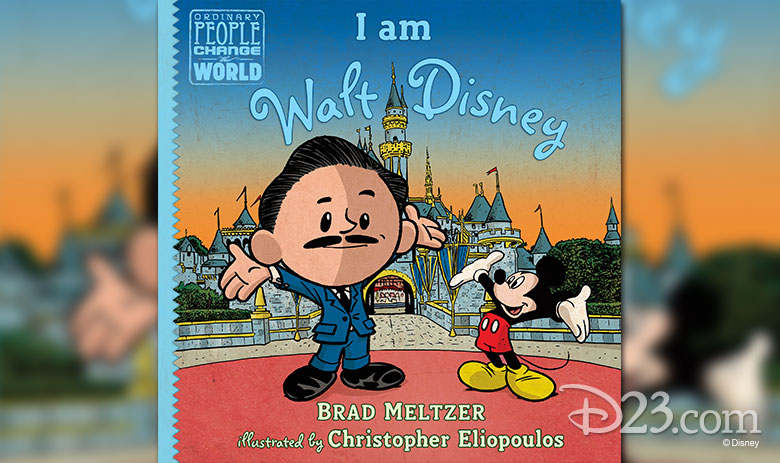 What's your favorite Disney movie and/or Disney character?
The first movie I ever remember seeing in a theater was a re-release of Snow White and the Seven Dwarfs. My grandfather Ben took me—and he was one of my heroes. He used to tell me bedtime stories since he knew I loved stories. So that's always a soft spot for me. That's my happy place.
Make sure to grab your copy of I am Walt Disney here!