By the D23 Team
Most Disney Parks fans can guide you through Disneyland with ease, thanks to their countless trips to The Happiest Place on Earth and a passion for learning the park's history—but perhaps the only person who could explore the park more in-depth is Walt Disney himself! With that idea in mind, author Marcy Carriker Smothers set out to write Walt's Disneyland with the goal of allowing guests to walk around Disneyland identifying the attractions and landmarks Walt championed, touching what he touched, and seeing his original Magic Kingdom through his eyes. To get an inside look at how the book (available for purchase here) was created, we chatted with Smothers about diving into Walt's world: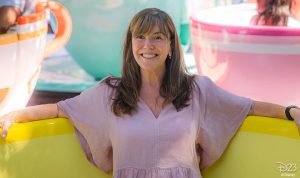 D23: The Official Disney Fan Club: Tell us a little about Walt's Disneyland. How is this book different than any other Disneyland book, and what made you want to write it?

Marcy Carriker Smothers (MCS): After Eat Like Walt was published in 2017, I had lunch with my friend and mentor, Disney Legend Jim Cora. He asked, "What's next kid?" I pitched three ideas. However, when I mentioned that I was considering a guide book of sorts told from Walt's perspective and those that built Disneyland with him, he immediately said, "That's the one—and make it a priority!"
There are many wonderful fact-based and pictorial books about Disneyland. My focus is squarely on Walt, the emotion and excitement he intended to convey, and the feeling we get each and every time we are inside the berm.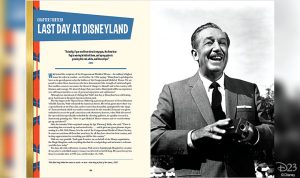 D23: There seems to be a lot of information in here that might be new for even the most seasoned Disneyland fans. What was the research process like for you? Was there anything you discovered in your research that was totally new to you?
MCS: Research is fun. It's the ultimate treasure hunt. I have an insatiable curiosity and happily bounce from rabbit hole to rabbit hole. And I'm always learning something new. A highlight was the 1958 memo where Walt suggested, "Perhaps during peak hours we should… establish a special line for single riders, with the request that they double up." That was a jaw dropper for me and another validation of what a prescient innovator he was.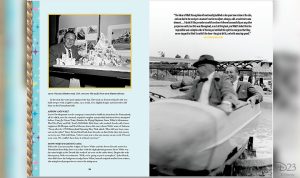 D23: What is your favorite story from the book?
MCS: There are many and some are short and sweet. From a simple sentence I found buried in a newspaper article when the reporter asked Walt what surprised him about Disneyland and he replied, "How early they arrive," to the utterly charming story of Walt Disney Archivist Ed Ovalle finding Walt's No. 1 badge, long believed to be lost.
If I choose one favorite, it would be Walt's last day at Disneyland. In my opinion, it's very important history. I traveled to South Carolina to meet with the Congressional Medal of Honor Society archivist and staff. Their office is at Patriots Point on the USS Yorktown. They were truly taken when I described Walt's unwavering patriotism in detail. There may have been a tear or two. It was after that occasion they agreed to share all their precious assets from that day, including what is believed to be one of the very last photos—if not the last—taken of Walt at his beloved Magic Kingdom. Henceforth, I plan to be at Disneyland every October 14 to honor Walt.
D23: You intentionally wanted this book to be a paperback instead of doing a hardcover coffee table book; can you tell us why you chose the format you did?
MCS: I chose the format with the full support of my Disney Editions editor Wendy Lefkon. While it could have easily been a big, beautiful, hardcover coffee table book, I wanted it to be affordable and portable, perhaps something the reader would take into the park. For me, one of the best ways to celebrate Walt's legacy is by making the book accessible. The "souvenir guide" look may belie the three plus years of research and writing, however the smaller softcover was my intention from the very beginning.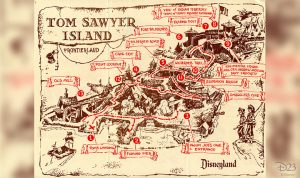 D23: You did a lot of writing for this book from Disneyland. What was that like? Where were your favorite spots to write from?
MCS: I wrote at Disneyland right up to March 13, 2020. My favorite spots are Walt's train (I close my laptop every time we are in the diorama); Walt's box at The Golden Horseshoe (same, closed laptop during performances and watched); Main Street, U.S.A.; on the porch below Disney Legend Rolly Crump's tribute window; the tables near the exit of Walt Disney's Enchanted Tiki Room; and in Frontierland, both Tom Sawyer Island and the landing for the Mark Twain Riverboat and Sailing Ship Columbia. Writing at Disneyland infuses me with the everlasting spirit and energy that Walt created. I am the reader as much as the writer and a proud Disney geek, always.
Walt's Disneyland is now available here to add to your collection.