By Jocelyn Buhlman
It's a chilly day at Disney Springs and you're craving something sweet. The options for treats are endless… But you've only got one thing on your mind, thanks to a video you'd watched earlier: the Olaf Hot Cocoa Surprise, an adorable hot chocolate "bomb" shaped like our favorite snowman. You've been waiting all day to try it—because you can't stop thinking of the video where the treat melted into a cup of warm milk, creating the perfect cup of hot chocolate for a cold day.
This video of the Olaf Hot Cocoa Surprise hot chocolate bomb has a whopping 25.5 million views and nearly 5 million likes, making it the most-viewed and liked video on the @DisneyParks account.
Before you know it, you're sipping your own mug of hot chocolate just like in the video. But who is this secret insider, sharing videos of sweet tips and tricks for the aspiring Disney Parks expert?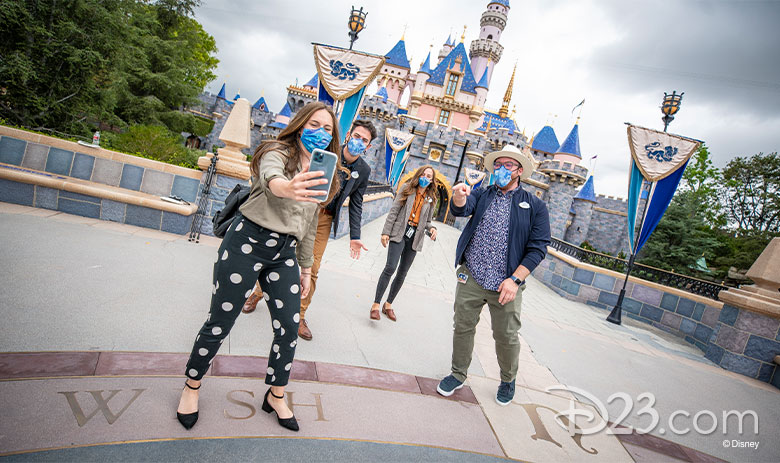 Meet the Team
It's not so much a "who" as it is a team of "whos": Five magic makers on both coasts have been conjuring up videos about Disney Parks and Resorts for TikTok since September 2020. On the East Coast, Andy Crisp (who lent his voice to the Olaf Hot Cocoa Surprise video) and Dom Tucciarone craft content around Walt Disney World Resort, while over on the West Coast, Andi Sakowski and Claudia Landis have been busy prepping content to celebrate the reopening of the Happiest Place on Earth. Along with Sara Sturgess, Digital Integration Specialist, focusing on engagement on the platform and occasionally lending her voice to pickle-related TikToks, the five of them have been hard at work creating the content that ends up sprinkling pixie dust on your For You Page.
The constantly growing social media platform was a perfect fit for Disney Parks. Jason Recher, vice president, Public Relations Content Creation and Digital Integration, explains, "TikTok is a platform where creative storytelling flourishes. For us, it's a powerful and fresh way to build connections and share our uniquely Disney stories in a real and relevant way."
Building a Brand-New Account
TikTok is still an emerging social media platform and is often associated with videos of teenagers doing fun dances to catchy pop songs—but once you've taken some time to scroll the platform's "For You Page," a curated home page serving up videos that the algorithm thinks you might enjoy, you'll discover a variety of communities on the platform sharing their passions with the world. For the @DisneyParks team, you might just find some Disney fans sprinkled in there, too.
Before the team had even filmed their first video, they were digging into what—pardon the pun—makes the app tick. In fact, they were there behind-the-scenes cooking up magic even before that September launch date.
Just like Walt said, the team kept moving forward, experimenting with new content types even after the channel launched. "We really get to test and try so many different things," Sturgess explains.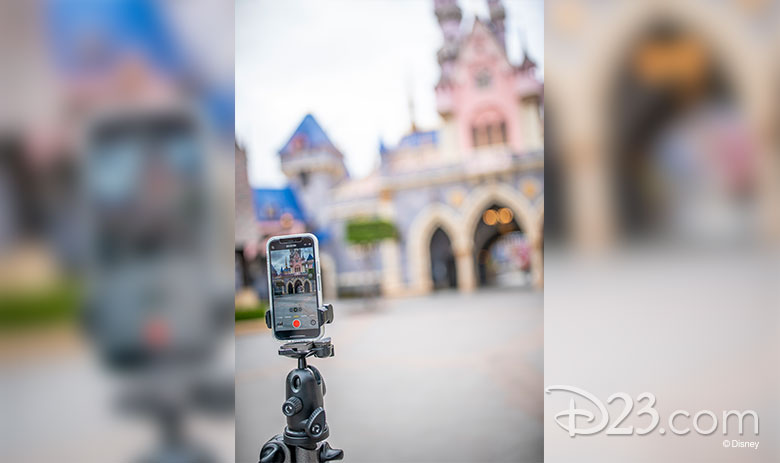 Highlighting Hidden Gems
"It really started with the Olaf video, where Andy's personality showed there were humans behind these videos" Tucciarone explains. The video was one of the first to be narrated by a member of the team, and that narration added extra warmth and personality that made fans click "follow"—and flock to the The Ganachery, where the Olaf Hot Cocoa Surprise sold out the day after the video was posted!
"It's bringing awareness to locations that people didn't know about," Crisp explains, "The Ganachery was around for five years, but now they are reaching a lot more people. People visit because they are interested in the Olaf Hot Cocoa Surprise but then stay to hear the stories about what they create at the shop."
This concept—that the TikTok account was your pocket best friend with all the tips and tricks about Disney Parks—carried on, from a hot dog that could only be bought with a catchphrase the TikTok account shared. The fans loved it— The fans loved it— the hot dog became a top seller at the food truck, all thanks to the power of TikTok.
The "King Dog" could only be purchased by guests who learned the secret catchphrase from this video.
With the team providing voiceover, it's akin to video chatting with your Disney-obsessed friend. Crisp describes his strategy: "Pretend it's your best friend and you're just telling them about your job."
Showcasing the Magic Makers
Ask anyone who's been to a Disney Park, and they'll tell you the same thing: It's cast members who add extra magic to your visit. The @DisneyParks TikTok account has showcased cast members in a variety of roles, from giraffe keepers to sign painters, and there's something extra magical about each video. "When you talk to these people, you really hear their true, authentic selves," Landis explains.
Recently, the team posted a video of Disneyland cast members preparing to open the park, set appropriately to the tune of "For the First Time in Forever" from Frozen. The comments section was in tears—or at least in crying face emojis. Over 10,000 people and counting have joined in to comment on the emotional sight of people standing on Main Street, U.S.A. again after over a year of the park's closure.
This TikTok was the first time many fans had seen people on Disneyland's Main Street, U.S.A. in more than a year.
Getting to make videos for @DisneyParks TikTok account has many perks—after all, someone has to go to all the cool locations to film that viral content, right? One of the earlier videos to generate attention for the account was a tour of the Cinderella Castle Suite at Magic Kingdom. Fans were drooling over the exclusive look inside the rarely visited suite—and the tour made the news, getting coverage everywhere: Reader's Digest, PopSugar, Yahoo!—even news outlets in the United Kingdom!
The Cinderella Castle Suite is rarely seen by the public, so this tour via TikTok was a special treat!
But it wasn't just the fans who were awed at the experience—the TikTok team was surprised with the opportunity to film the video, having been led to believe they were attending a mystery meeting. It was a once-in-a-lifetime opportunity—and they got to share it with all of their followers! "The experience alone was fantastic, and being able to share it on an official Disney platform in such a casual way I feel broke some barriers," Tucciarone recalls.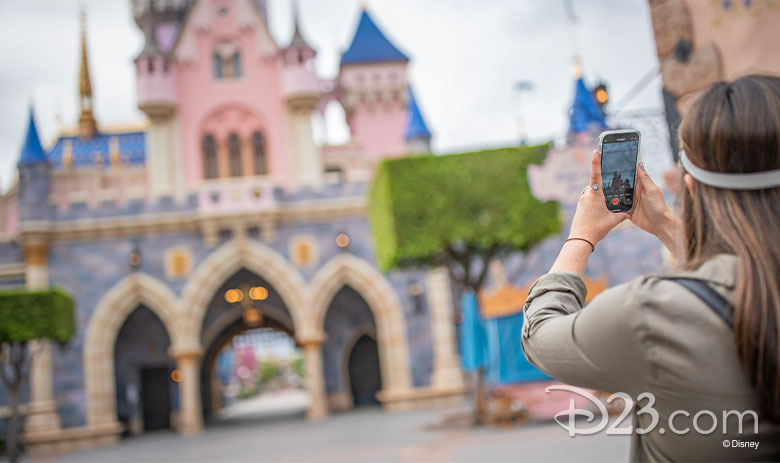 Tell the Guards to Open Up The Gates
With the team divided across two coasts, the magic makers behind the account cherish the chances they have to film together. Now, the team is reunited at Disneyland Resort, having spent the past week filming a variety of TikToks while the empty park is their playground. It's already a special experience—how often do you get to run amok in a near-empty Disneyland, after all? But thanks to TikTok, the fans are right there with them as the park preps for reopening. "It's coming back to life," Landis explains, "and we're out there capturing those moments with a phone!"
On an overcast Monday—the last day before Cast Previews begin and guests are once again roaming the park—the four team members gather in front of Sleeping Beauty Castle for their next video. They don't have much time—the castle is a popular location for filming, so the team only has five minutes to capture what they need.
The team makes the rare choice to step in front of the camera, sitting along the compass rose on the ground in front of the castle. A cast member helpfully brings out a tape measure to make sure the team is seated six feet apart from each other while the team provides instruction to photographer Christian Thompson, who will film them from a distance.
Before they begin, Sakowski explains the classic game to Donald Duck and a representative from the Disney Parks entertainment team—she explains the premise: The team is playing "Duck, duck, goose," and Donald can't wait to have some fun!

No more time for planning—Thompson is filming, turning the camera on each member of the team before rounding on Donald who is shocked to be told he is a goose! He throws a fit-after all, he's not a goose! Not surprisingly, he stomps his feet in front of the gorgeous backdrop of Sleeping Beauty Castle.
They play the game three times while the camera is running and it's almost time to go—but Sakowski asks Donald to play the game one more time.
Thompson rolls camera again: "Duck, duck, duck, duck… Goose!" Donald crosses his arms, perfectly angry at the accusation of "Goose," giving reaction so dramatic that would surely be award-winning… if there was a "Best Angry Avian" award, that is.
The @DisneyParks TikTok team isn't shy about stepping in front of the camera, especially to play a game with Donald Duck!
And that's a wrap! It's time to leave and the team is off. Who can rest when you're getting ready for Disneyland to reopen? That morning they'd already filmed with Dopey in front of Snow White's Enchanted Wish, and now Sakowski and Tucciarone are off to Toontown, having earlier plotted out a concept to reveal the building for Mickey & Minnie's Runaway Railway (opening in 2023) using a popular TikTok trend. They film, edit, and get approvals for video all in the same day, so next thing they know, screenshots of their TikTok have spread far and wide as fans react to the silly reveal of the new building.
The team successfully revealed the goofy sign on the building while utilizing a popular TikTok trend.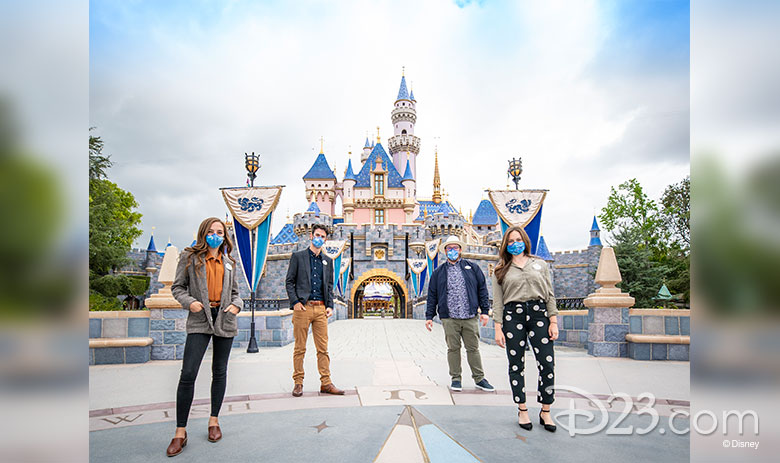 While Disneyland is, for now, opening only to California Residents, anyone can take a quick trip to the park when they open their TikTok account. Will they see a special sneak peek into a new attraction? Meet one of the cast members who makes magic every day? No matter what video is next, you know that your friends at the @DisneyParks TikTok account will make sure you're let in to the magic.
"Our storytelling is perfect for TikTok," Sturgess explains of the combination of Disney and the up-and-coming social media platform, "and our team has done an amazing job of taking everything we know about storytelling at Disney and putting it through that raw, unvarnished look. It's a great way to continue sharing the story of Disney parks."
See what we're Tik-Talking about for yourself by following @DisneyParks on TikTok for more videos about Disney Parks all over the world.