By William Keck
For several years, the genius filmmakers behind this summer's The Lion King created and fine-tuned the most minute of details with the common goal of leaving audiences so mesmerized by the moving story and spectacle on screen that they wouldn't be distracted or even notice them. But they're there, to be sure. And now the film's producer/director Jon Favreau and some of his production team explain how his talented team went about creating a masterpiece with all the photorealism of a Disneynature documentary, combined with the deep emotions, fears, and humor we've come to expect from a Disney classic.
1. MORE TO SEE THAN CAN EVER BE SEEN
Even though you may be watching The Lion King in a theater, you'll probably get a sense that you've landed in the middle of an African desert or savanna. And there's a good reason for that. Prior to the start of production, the filmmakers embarked on a safari field trip to Kenya to study the behaviors of real lions, observing over two weeks how the wild creatures interacted while taking hundreds of thousands of photographs. "I'd only seen these animals in zoos," recalls Animation Supervisor Andy Jones, who found the opportunity invaluable to "really see them in their own environment and get a feel for how they roam around each other. Every time they come up (to each other) they touch heads and they do a greeting and then move on, even the cubs do it. They learn at a young age. It's a really nice kind of family culture." The film's director, Jon Favreau, also had Disney's Animal Kingdom theme park in Orlando at his disposal whenever he needed to further observe the animals his team was animating. "We can go down there without interfering with them… and they don't even know we're there, hopefully."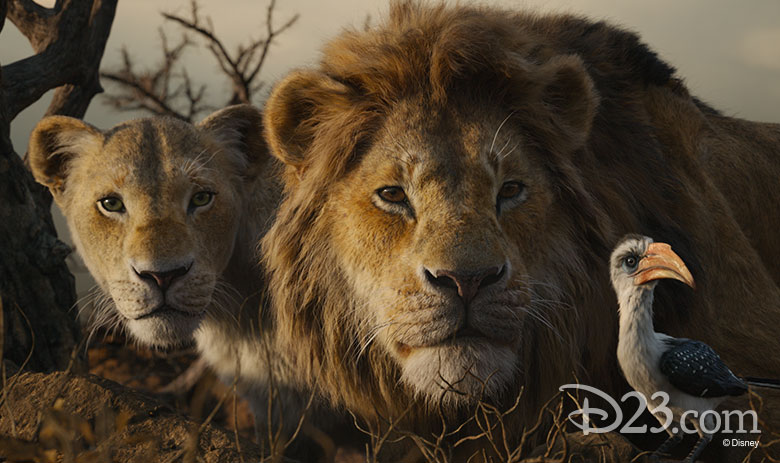 2. TRUTH IS IN THE EYE OF THE BEHOLDER
Believing in the old adage "the eyes are the window to the soul," the filmmakers paid extra attention to each character's eyelids, pupils, irises, and sclera. Visual Effects Supervisor Adam Valdez says, "The classic example is the top lid. If the top lid gets near the pupil you look sleepy." Another pitfall Valdez avoided was having any of the characters exhibit something he calls the dreaded "doll eye," because "we all think dolls are creepy." (Our sincerest apologies to Toy Story 4's Gabby Gabby.) For Valdez, that meant focusing his own eyes on how the light first penetrates the eye before scattering and coming back out. He equates the phenomenon to the way light moves through water. "When you get it right," he says, "the eye is engaging, and it's inviting and it communicates."
3. READ MY LIPS
One of the biggest challenges facing the filmmakers was making the animals speak and sing, realistically, considering… well, animals don't speak or sing. Although, don't tell that to Visual Effects Supervisor Rob Legato, who believes "animals talking is not that extraordinary. A parrot talks, you know. An animal does talk." (Just visit the Enchanted Tiki Room for proof!) While that may be true, they typically don't speak in full sentences and belt lyrics to pop songs penned by Disney Legend Elton John. Jones, who'd worked with Favreau on The Jungle Book live-action retelling, says the approach they took for the speaking animals was to make sure that facial movement stayed true to how that particular animal's mouth would really move. "We definitely tried hard to make it limited to the real physicality of the mouth," stressing that Favreau was insistent that the animals' lips not come off as too perfectly precise when reciting words, as has been the case in certain CG productions. "Jon hates that, because he feels that you're staring at the mouth instead of just enjoying the performance." Aware of similar frustrations Walt Disney faced when he was animating the characters in Bambi soon after the studio's completion of Snow White and the Seven Dwarfs, Favreau had already worked through some of these issues when helming The Jungle Book. "We found certain animals were easier than others," Favreau recalls. "The wolves were hard, the bears were hard, I think because they had big snouts." Favreau realized he got lucky in that two of the film's show-stopping songs—"The Circle of Life" and "Can You Feel the Love Tonight"—are just part of the score, not sung by characters on screen. And two of the main songs the characters do sing on camera—"I Just Can't Wait to Be King" and "Hakuna Matata"—are both more whimsical in nature, which gave Favreau license to be just a bit freer.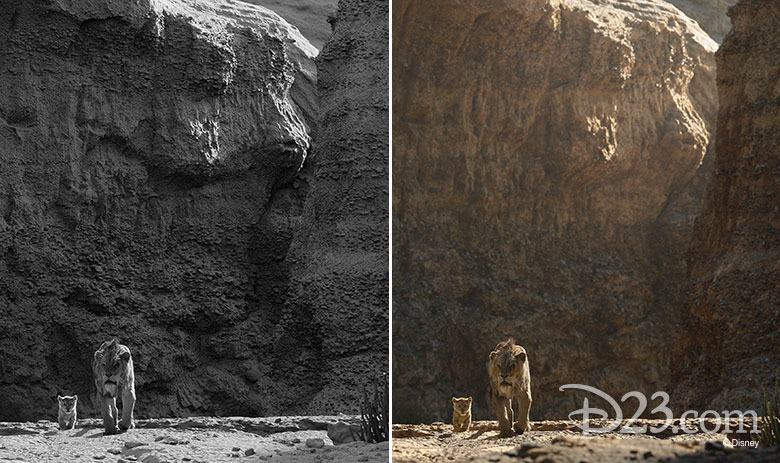 4. EVERYTHING THE LIGHT TOUCHES IN OUR KINGDOM
Having worked on many of the Marvel Super Hero films, Favreau is more accustomed to cutting-edge special effects technology being applied to explosions or fight scenes in space. So getting to apply these techniques to the smaller nuances in The Lion King proved especially satisfying. "I'm a fan of those [large-scale action] movies, too," says Favreau, "but it is nice to be able to be in this part of the garden where we can say, 'Hey let's really look at what a leaf looks like or the way water moves, or the way wind blows grass, and create, just really beautiful arresting images.'" The small touches were, of course, also applied to details on the individual animal characters. "It could be how muscle moves," Valdez explains. "How skin moves and then how wind affects the fur. It can be how animals interact with plants, wind forces, fire, water, and smoke." And by digitally recreating an animal's skeleton (something audiences will never even see), Virtual Production Supervisor Ben Grossman says it helped the filmmakers give a character like Scar a limp, or a shiftier stance.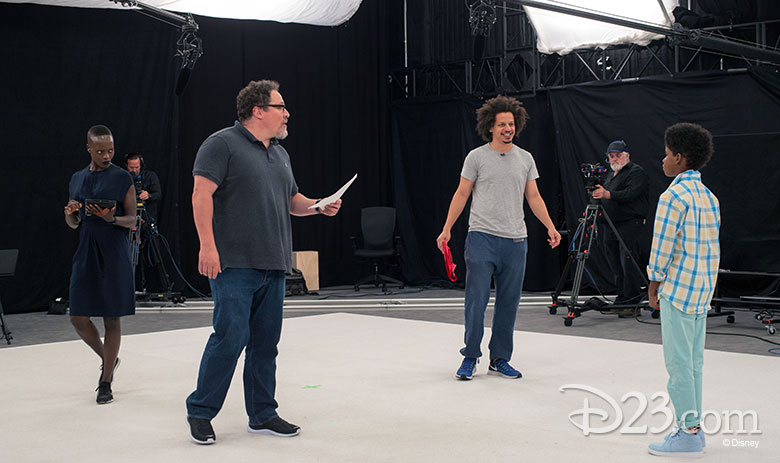 5. THE CIRCLE OF LAUGHS
While it's become customary for most animated films to record their voice talents individually—sometimes remotely from countries far away from one another—Favreau felt it necessary to assemble his actors in one room to record how they interacted from different angles as an added tool for his animators to draw from. His process involved clearing out a soundproof room, with different groupings of actors standing without their scripts in hand performing to each other at microphones. Relating these sessions to "radio plays," Favreau encouraged the voice talent to freely riff off one another and improvise at will, just as he'd previously done with Iron Man actors Robert Downey Jr. and Gwyneth Paltrow. "We're trying to create a naturalism with the scenes between the characters," explains Favreau, who gained inspiration from old recorded footage of the late Robin Williams voicing the animated Genie in Disney's original Aladdin. "The physicality that comes from it inspires [character performance] decisions. Because we find that as good as the animator is, they come from an animation tradition and make different acting choices. Eye contact patterns, status relationships, all of that comes through when you have two actors performing together. It's important to see when they make eye contact, when they break it, who cuts who off in the dialogue." Adds Legato, "That chemistry creates a much more lifelike thing. Particularly enjoyable for Andy Jones was watching Seth Rogen (Pumbaa) and Billy Eichner's (Timon) improv-heavy recording sessions. "It created some interesting takes that the writers hadn't thought about," he says.
With their busy schedules, not every actor was available for every group session. Beyoncé, for instance, proved "logistically trickier than some of the other cast members," says Favreau. "She's a busy person, she has babies, she has albums, she goes on tour, her husband goes on tour." But to no one's surprise, Queen Bey made everyone feel the love tonight, and gave this 2019 Nala all the playfulness and power they'd intended.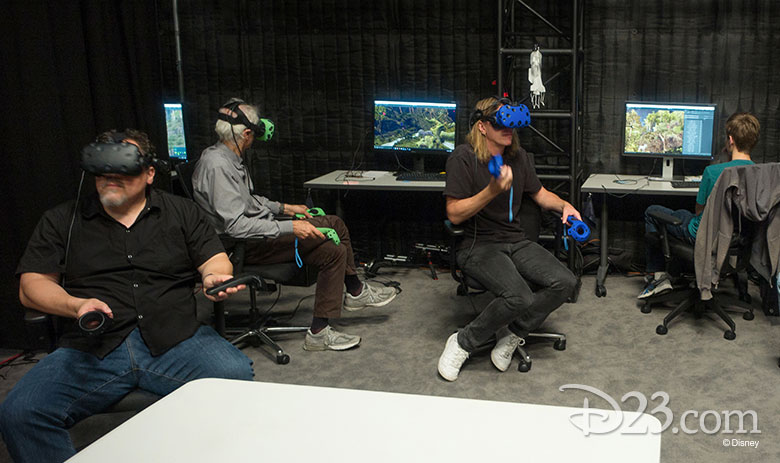 6. LOOK BEYOND WHAT YOU SEE
The film's sets are computer-generated, and virtual technology has advanced to such a degree that allowed Favreau and his crew to wear goggles and VR headsets and enter different scenes as if they were really there. Inside the VR worlds, they were even able to move images around. "We could shrink everything down so we could look at it like a model, and make ourselves tiny," says Favreau of this groundbreaking Honey I Shrunk the Kids-like technology. "So we could go through little tunnels and stuff (with) the cubs and hyenas. If we think there are too many hyenas in a screen we could move them as chess pieces." Trippy, right?
Producer John Bartnicki explains the creation of these VR worlds began with the gorgeous stills taken while scouting in Kenya that were then handed over to the virtual art departments to build sets on their computers. "So, you can actually walk on the savanna," says Bartnicki, "or go up to Pride Rock." Adds producer Tom Peitzman, "You literally can put the goggles on and then you can be in the Pride Lands," recalling how funny it looked seeing all of these adult artists in their headgear waving little wands at each other like sorcerers. "They would point with their lasers and say, 'Come on over here,' and they all go to that spot." Many of the actors also had a chance to put on the goggles and enter the virtual Pride Lands. And producer Karen Gilchrist says, "they had quite a fun time with it!"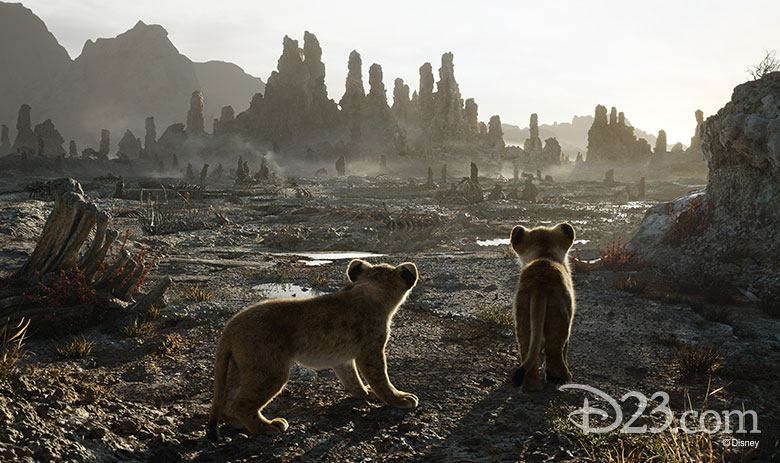 7. A BONE TO PICK
When production designer James Chinlund showed a rough concept of the film's elephant graveyard location to his 12-year-old daughter, her advice to dad was to add more bones. Lots more bones, because that's how she remembered the hyenas' ominous hideout from the animated classic. But Chinlund knew that particular location where the animated cubs slid down larger-than-life tusks as if in a prehistoric playground, wouldn't look realistic with the documentary- style approach they were taking. "If we literally provided these huge bones and all this stuff like it was in the animated film I think you'd be pulled out… I mean it wouldn't feel real," Chinlund explains. As a sinister alternative, Chinlund drew inspiration from a real lake in Ethiopia called Lake Abhe Bad, to create a sort of nightmarish sulfur hot spring pool area, where over time, elephants and other animals had become trapped. "Sort of like the [La Brea] tar pits," explains Chinlund. "So you'll see a lot of bones and the hyenas have decided to occupy this part of the world because as scavengers there's good pickings out there." Of course even though Chinlund found a way to adhere to their documentary-style rules, he didn't ignore his youngest critic. "I listened to her and added more bones," he shrugs. "Yeah, she's the boss."